MANILA, Philippines – Lovers of indie films now have good reason to celebrate.
Starting September 13 up to November 29, 2014, Teatrino – the versatile little theater at Greenhills Promenade that transforms from party place to concert hall to launch venue and seminar place – will be home to independent films that have gained critical acclaim and have become cult classics every Saturday.
Called The Teatrino Film Series' Independent Throwback Treat, opening screening time is at 5 p.m. for the first movie and 7:30 p.m. for the second movie.
"Sana Dati", a 2013 love story starring Lovi Poe and directed by Jerrold Tarog about a woman who puts her wedding on hold when a guy who reminds her of a past love shows up, started the 8-weekend screening going on September 13 at 5:30 p.m., while "Ang Nawawala" (What Isn't There), a 2012 Filipino drama co-written and directed by Marie Jamora and starring Dominic Roco, Dawn Zulueta, Boboy Garovillo, Felix Roco and Annicka Dolonius about a boy who stopped speaking when he was a child, was shown at 7:30 p.m.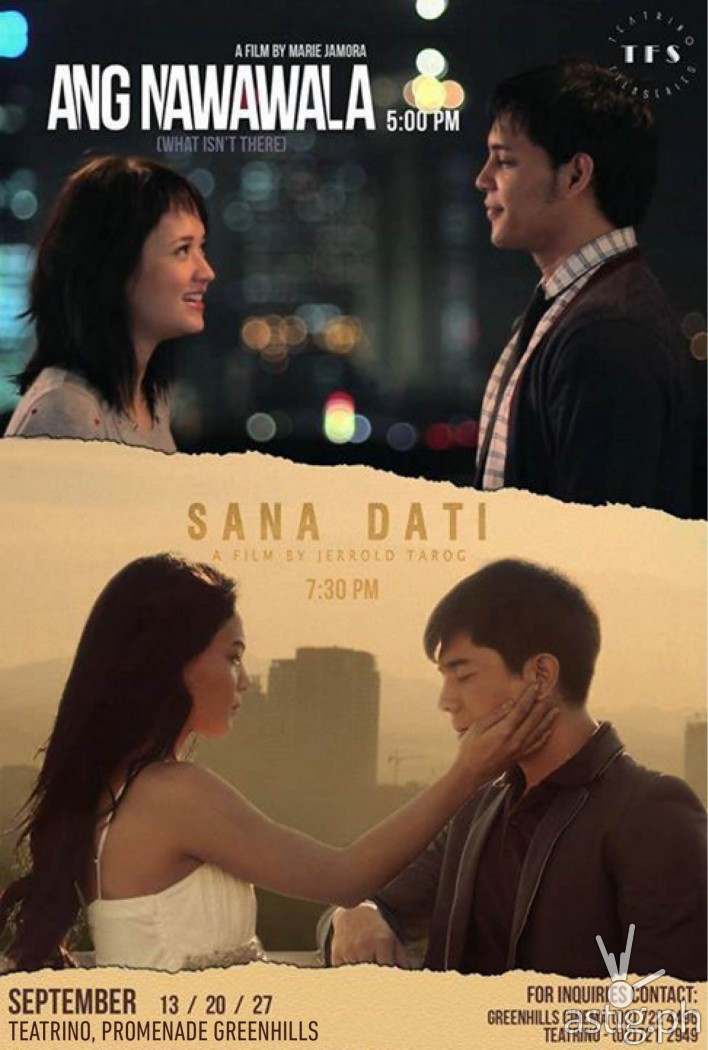 The two independent films will run through September 20 and 27 on the same schedule.
A new set of independent films will be shown on October 11, 18 and 25, and again on November 22 and 29.
The group of independent film directors and producers headed by Jerrold Tarog partnered with Teatrino and the Music Museum Group to bring back these well-loved independent films for popular viewing.
Having independent films shown on a regular run at Teatrino is our salute to the creative genius and artistry of our talented filmmaker – Precy M. Florentino, President, Music Museum Group Inc.
"The Music Museum Group through Teatrino is very proud and happy to partner with independent film makers in enabling more film enthusiasts to experience the beauty and uniqueness of Filipino films. Having independent films shown on a regular run at Teatrino is our salute to the creative genius and artistry of our talented filmmakers, and our small way of helping promote Filipino culture and quality Pinoy cinema," said Precy M. Florentino, president of Music Museum Group, Inc.
"I'm happy there's another way for our films to get an extended life after their festival and theatrical runs. May this endeavor last and may the community supporting Pinoy cinema grow substantially. This is a cultural mission and I'm glad that the people who gave us the opportunity to mount the Teatrino Film Series share this vision," Jerrold Tarog said.
Tickets to Independent Throwback Treat are at 200 PHP each and may be purchased at all Greenhills Cinemas at Theater Mall and Greenhills Promenade. For ticket inquiries, please call Greenhills Cinemas (722-4496) and Teatrino (721-2949).