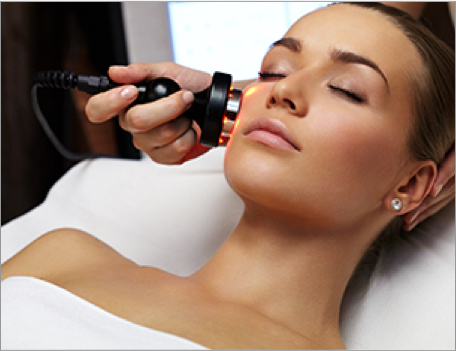 I got a very cool invite to check out a new beauty clinic in my own city. Out of the curious in me, I gladly said "Yes".
The new dermatology clinic in Quezon City is located at Unit 3C, The Symphony Towers, at corner  Sgt.Esguerra and Timog Avenue near GMA 7 Studios. Very accessible thru jeepney, tricycle and MRT rides anong others. You won't miss their building which has a Coffee Project shop at the ground floor as landmark.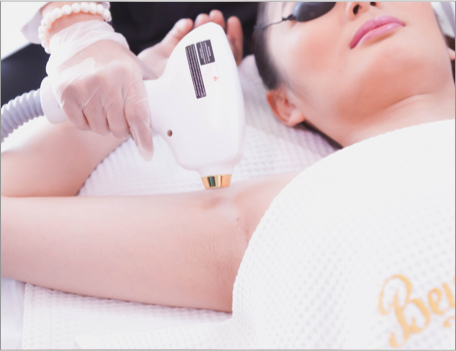 You will be welcomed by courteous and friendly staff upon entry. As much as possible it's advisable to have an appointment first before going to assure that you will be served right away and accordingly. Although walk in's can also be fine and okay.
The clinic is minimalist designed. Nothing fancy or flashy like the others. You will find it serene and calming right before a session in one of the several rooms a-waiting and depending on what kind of treatment.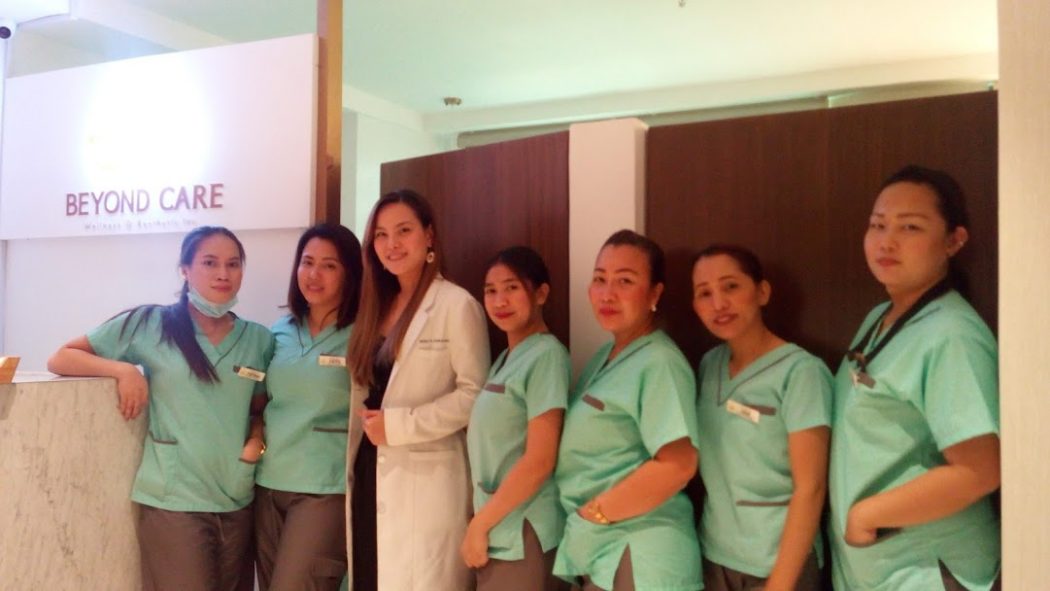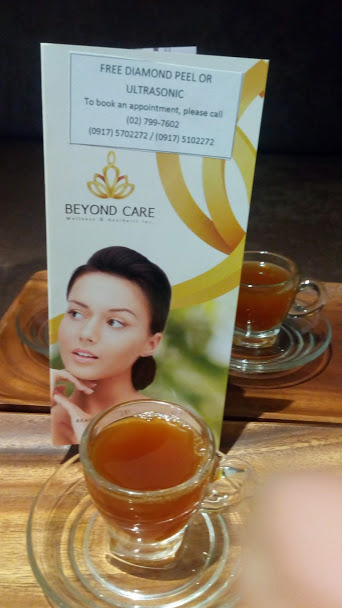 What I really liked is this welcome drink! Very tasty in fact. I asked what was in it? Tea, turmeric and honey. So that's why! It;s nice if Beyond Care QC branch will consider that as their signature drink?!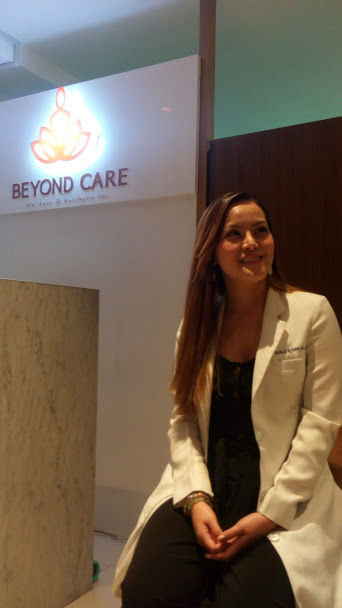 Before my blogger friends and I tried many treatments, we sat with it's very pretty Dr. Cecille Dumlao, who runs this branch. Beyond Care also has an Alabang branch which is the original location that has been running for a good several years now.
Dr. Cecille shared with us the available services in the Quezon City location. She also stressed that their branch serves non-surgical procedures only. The surgeries are done and referred in Alabang. What is interesting is that their youngest client is like 13 year old female! When you are that young, skin bursts are very common concerns.
Having great and presentable skin and overlook physical outlook requires moderation especially with an ideal lifestyle and moderation in one's diet most importantly.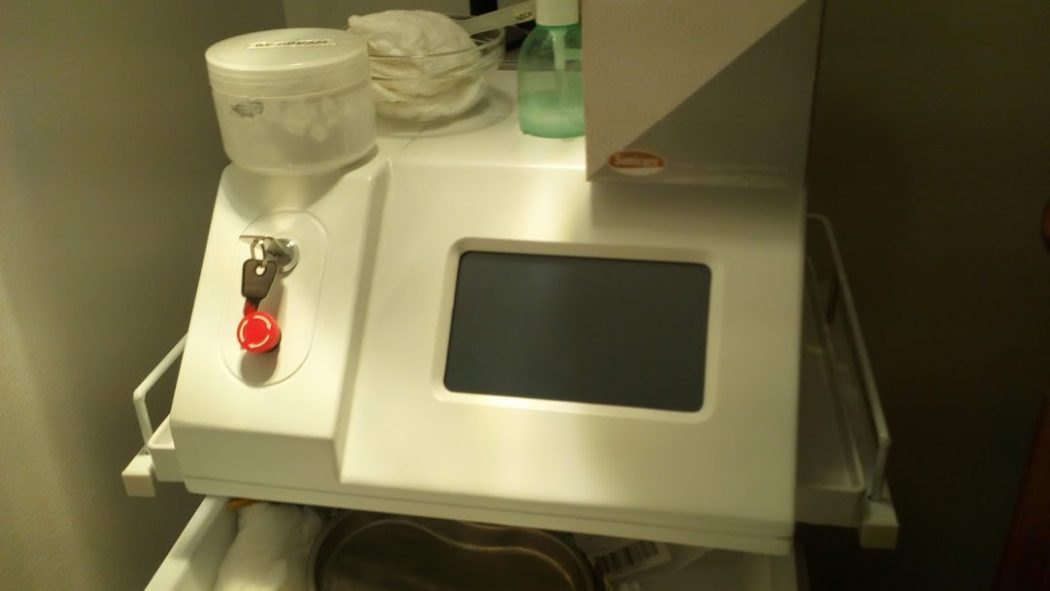 For the very first time, I was going to try their RF Treatment that lasts for 10 minutes.
Radiofrequency (RF) is novel nonablative technology originally used to target photodamage. It differs from lasers in that it uses an electric current rather than a light source. It is frequently used in dermatology to treat skin laxity, rhytides, acne vulgaris and scarring, and cellulite.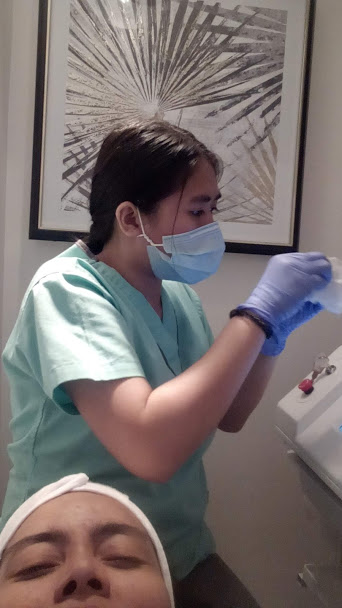 Nica was the nice attendant who managed my RF session. After sanitizing my face, the RF cold cream was applied and then the machine took over that massaged and soothed my face for at least 10 minutes.
Based on facts, this is for the production of collagen, a major building block in parts of our bodies like bones, ligaments, and skin and important to maintain the integrity of the body's structure.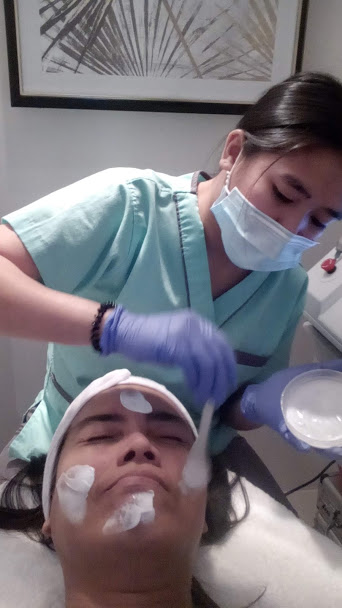 To obtain better results and tighter skin, a few more follow up sessions is required. Nothing is obtained overnight in the derma and aesthetics business. Many thanks Nica! 🙂
My other blogger friends tried Diamond Peeling, Focus Shape, and even Black Doll, a carbonated facial with the aid of led light that requires at least 4 to 6 sessions for one to obtain radiant and almost glass like look just like those Korean actors and actresses including KPop idols.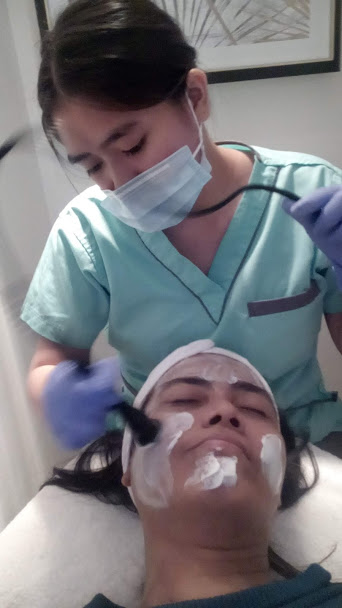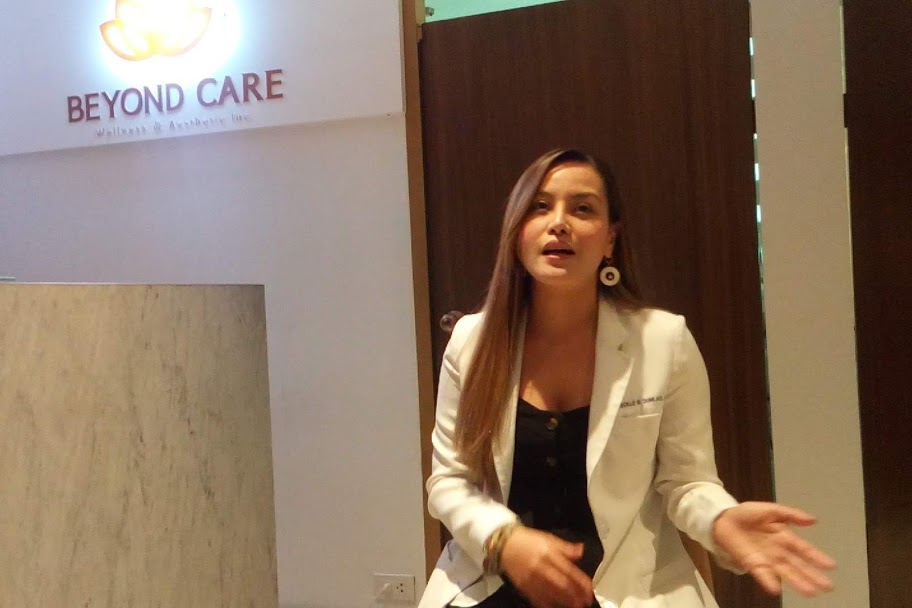 Beyond Care is also selling skin care and beauty products personalized for them in good, reasonable prices. I liked their sunblock cream!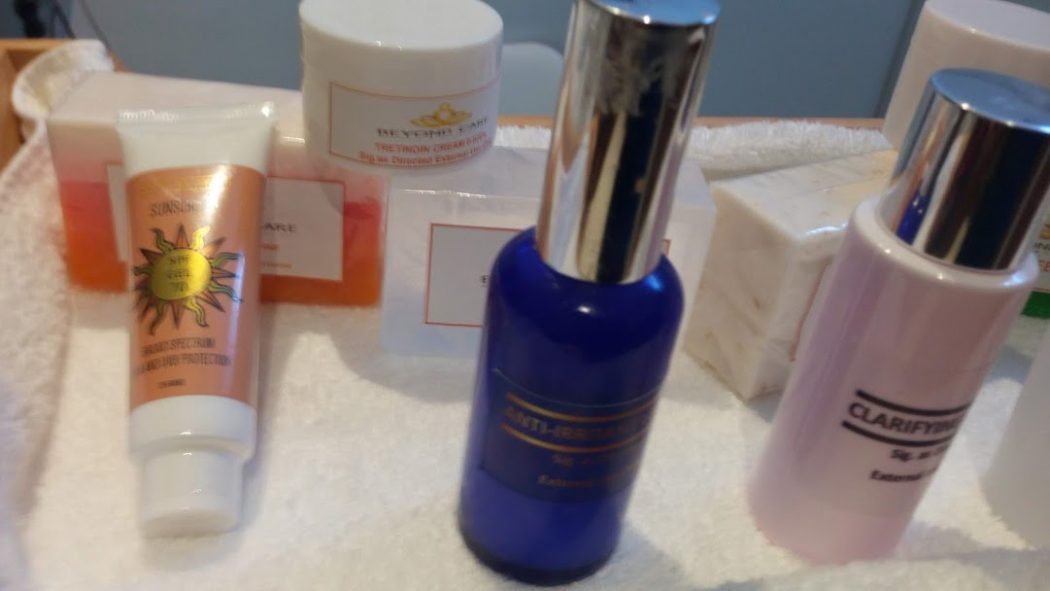 Got Eye Bags? Try Beyond Care's mesolipotherapy or platelet rich plasma (PRP). PRP is effective for undereye circles because of the tissue-rejuvenating ingredients in their serums. It helps repair the collagen and elastin under the skin. The serum is then injected into the skin.
A customer may also try the Power Cell Lift (Fine Threadlift). This requires some anesthesia but the pain is close to negligible. The face will be threaded with the help of tiny needles. The threads are absorbable and are an effective way to help lift the eye area.
Beyond Care QC also has hair revitalization treatments for hair loss and for dull hair. Both treatments are for the sake of hair growth and scalp stimulation. According to some scientific studies, fractional needling is in fact effective for hair regrowth. This is done by causing microtrauma on the scalp which would trigger the wound-healing response of the body. This procedure is similar to those done by plastic surgeons for the treatment of scarring and hyperpigmentation.
How Beyond Care Clinic can take care of your beauty needs and more.

Before the peak of this virus scare, we were able to meet Dr Cecille Dumlao of Beyond care Wellness and Aesthetics who operates the Quezon City branch over at Unit 3C The Symphony Towers, Sgt Esguerra corner Timog Ave. near GMA 7 Studios. They offer non-surgical treatments related to your skin and facial needs plus a little bit more.

Posted by ASTIG.PH on Friday, March 20, 2020
For acne scarring, try the Glow Light treatment or the Mesotherapy. Glow Light uses modern LED technology to target acne scars specifically. Mesotherapy involves the use of needles which merely touch the surface of the skin to allow serums to more easily be absorbed by the skin.
Common to some female customers, they may have skin pigmentation concerns, Beyond Care also provides mesotherapy like what I mentioned earlier for acne scarring. They also provide Glutathione and Vitamin C IVs and laser treatments for hyperpigmentation. Glutathione has become really popular in the Philippines and it has become a key ingredient in soaps. This particular treatment though involves the infusion of glutathione into the veins.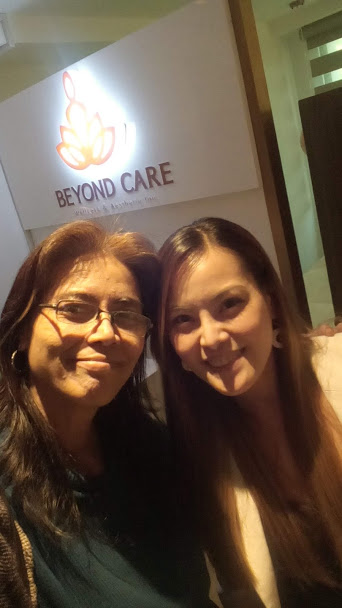 After my brief RF session, I felt my face to be really clean and the skin so supple just like an infant. I did not want to leave their clinic for fear that pollution will welcome by newly RF sampled cara. But that is life. We must move on, haha!
I do look forward to returning to Beyond Care QC especially when they have really great skin care promos.
Many thanks and it was really cool meeting you Doc Cecille who I told her,  resembles a popular female newscaster from a major Philippine TV network. Thank you for new beauty learnings. Thank you also to your kind staff.
Looking forward to seeing you all again. Kudos and thank you much Ms. Bambi for the invite and having us!
I leave you for now with the mission of BEYOND CARE:
Beyond Care Wellness and Aesthetic Inc. is committed to ensure our clients' satisfaction and improving overall health and well-being by providing outstanding, caring and cost-effective service through our skilled and well-trained physicians, nurses, and aestheticians.
Book your next aesthetic appointment with:
Beyond Care QC 
Unit 3C, The Symphony Towers,
Tower 2,
Sgt. Esguerra Cor. Timog Ave.,
South Triangle, Quezon City.
Monday to Friday 10am – 9pm
Saturdays 10am – 7pm
Like their Facebook Page: https://www.facebook.com/BeyondCareQC/
Official Website:  www.beyondcareclinic.com
Email:  [email protected]
For reservations or questions, please contact 0917 570 2272 / 8799 7602.