The heart is the most important muscle in our body. When it stops beating, everything else stops. No more dreams to pursue, no more love to feel, no more plans to make, no more living and existing. This is why we need to take good care of our hearts.
With everything that is happening in the world right now, it's easy to give in to stress. However, stress has been known to be one of the main culprits that induces heart attack. To avoid this, it's important to have a lifestyle that could help strengthen our heart and keep it healthy.
One of the main aspects of our day-to-day lifestyle is the food we eat. While we aim to have a healthy lifestyle, we cannot hide the fact that we also want delicious food for every mealtime. We shouldn't have to give up tasty and appetizing meals to maintain a healthy lifestyle. What we could do is find recipes and ingredients that are good for bodies, especially for our hearts.
Golden Fiesta Canola Oil understands the value of the heart and would like to help you create dishes that will satisfy not just the palate and tummy but will keep your loved ones' hearts healthy.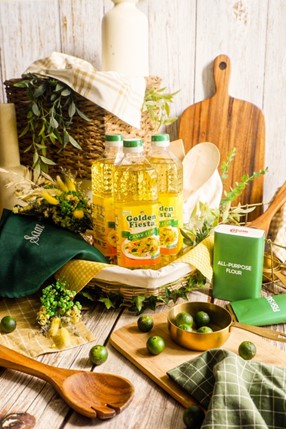 When you use Golden Fiesta Canola Oil, you know that you are not just giving the tastiest dishes but also something that is good for the heart with its added benefits:
Contains phytosterols which may help reduce cholesterol
Phytosterols occur in plants and have been known to reduce the risk of coronary heart disease. It may help lower cholesterol by up to 15% with proper diet and exercise.
Made from the seeds of Canola flowers
Canola oil has the lowest level of saturated fats or "bad fats" compared to other vegetable oils. It is high in unsaturated fats or "good fats" which includes Omega 3 and 6.
Contains Vitamin A
Golden Fiesta Canola Oil also contains Vitamin A which is vital for the different processes in your body, especially when it comes to strengthening your Immune System.
With Golden Fiesta aiming to further promote having a heart-healthy lifestyle and with everyone turning to social media for help and ideas when it comes to cooking, Golden Fiesta has also utilized their Facebook (facebook.com/GoldenFiestaPH) and Instagram (https://www.instagram.com/ufcgoldenfiesta) pages to help people achieve a heart-healthy lifestyle. From their pages, followers could expect different recipes, cooking techniques and hacks that could make kitchen adventures both exciting, delicious, and healthy all at the same time.
Together, let's protect what's most important to us, our heart. Remember that in the kitchen, the one and only partner that is good for the heart is Golden Fiesta Canola Oil.