Two rounds down, two to go for the final four teams in the National Basketball Association (NBA) as the conference finals continue via the special telecast of the Eastern Conference Finals on ABS-CBN with Game 2 on Wednesday (May 21), as well as the live telecast of the Western Conference Finals on ABS-CBN Sports+Action continuing with Game 2 on Thursday (May 22).
Game two of the Eastern Conference Finals pits the two-time NBA Champion Miami Heat led by four-time Most Valuable Player (MVP) Lebron James, Dwyane Wade, and Chris Bosh against the number one seed of the Eastern Conference, the Indiana Pacers led by Paul George and Roy Hibbert. The Heat are back in Eastern Conference Finals looking to continue their drive for a "three-peat" as champions in the NBA.
Standing in their way are the Pacers who are coming off erratic performances during the first two rounds of the playoffs but have come together to take Game 1 of the series at home. Have the Pacers finally shrugged off their issues and return to their formidable form or will the Heat bounce back to show their championship pedigree? Find out via the continuing special telecast of the Eastern Conference Finals on ABS-CBN. Game 2 will air Wednesday (May 21) followed by Game 3 on Sunday (May 25) and Game 4 on Tuesday (May 27). All games will air at 9:15 AM.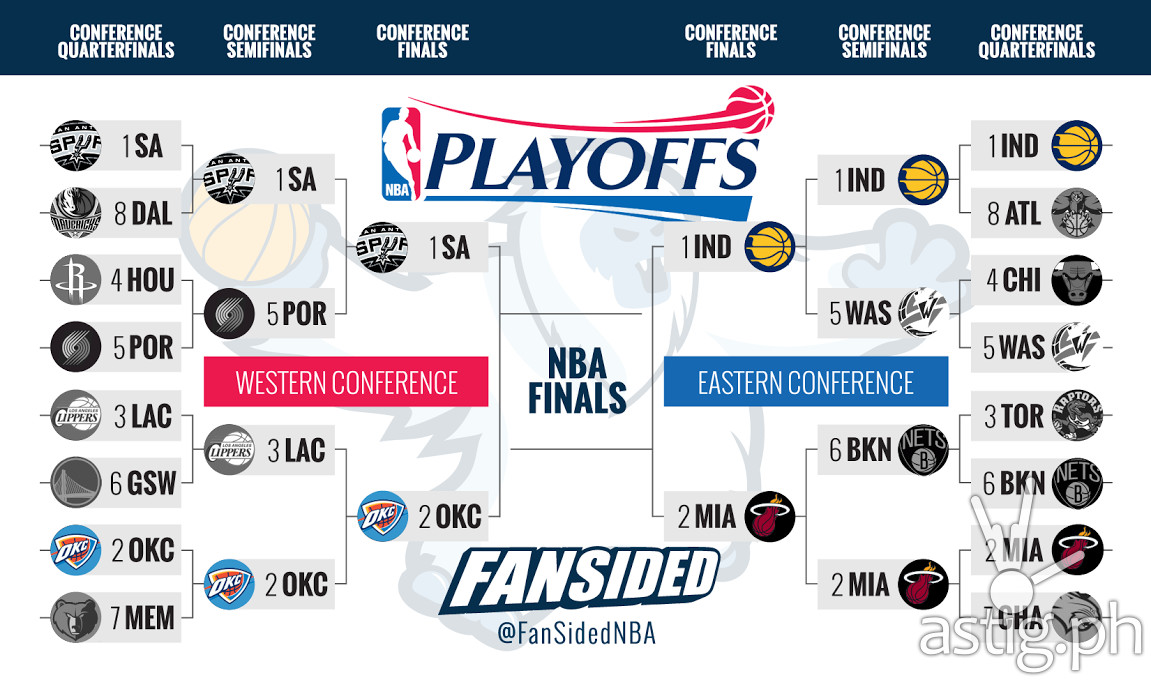 Meanwhile, battling for the Western Conference championship and the other spot on the NBA Finals are the San Antonio Spurs led by future Hall of Famer Tim Duncan and the Oklahoma City (OKC) Thunder led by the dynamic duo of reigning MVP Kevin Durant and Russell Westbrook. The last two finalists from the Western Conference duke it out for a shot at redemption as both lost in their most recent trip to the Finals. Last year's Western Conference champion, the Spurs, were a few seconds and a rebound away from their fifth championship and will rely on their no-nonsense and cohesive style of play to get back to the finals. They took Game 1 of the series convincingly behind a balanced effort and by controlling the paint.
Their counterpart, OKC, is one of the most fast-paced teams in the league look to outgun the Spurs with sharpshooting from Durant and the high-flying acts of Westbrook.
[stextbox id="astig"]Which style will come out on top? Catch Game 2 of the Western Conference Finals live on ABS-CBN Sports+Action on Thursday (May 22), followed by Game 3 on Monday (May 26) and Game 4 on Wednesday (May 28). All games will air at 9 AM.[/stextbox]
Photo credits: Sue Ogrocki
NBA 2014 Playoffs infographic by Fansided.com