In case you missed it, there is a new Tex-Mex restaurant in town!
Hola y Bienvenidos to Fiery Style restaurant located at the Ground Floor of The Rise in Makati.
The Rise is an up and coming intimate mall located along Malugay St. and newly-opened Fiery Style (behind AXA Bldg and stone throw away from the Makati City Post Office and Fire Station as landmarks) is targetting yuppies, millennials including families and clique of friends or dabarkads.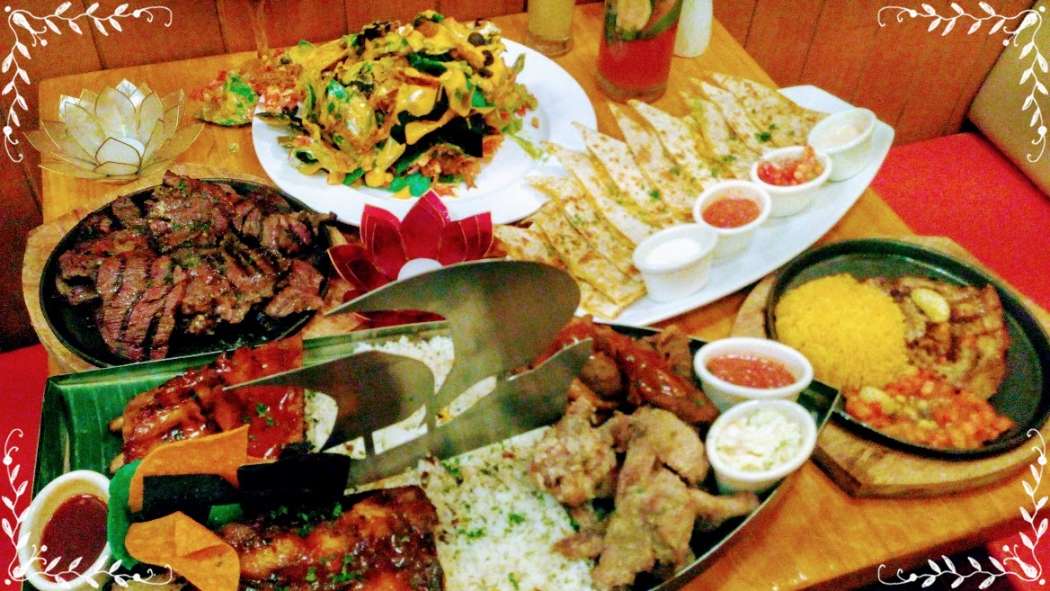 If you are a fan of Mexican food and delicacies, that's known f0r tasty spicy and explosive yet rich in flavors that melt in your mouth, Fiery Style is your latest option and most recommended to try out place in case you haven't done yet.
Enjoy their Tex-Mex Favorites like Fiery Nachos, Tacos, Sizzling Steaks & Unlimited Cocktails! 🌮🌯🍹🍻🍺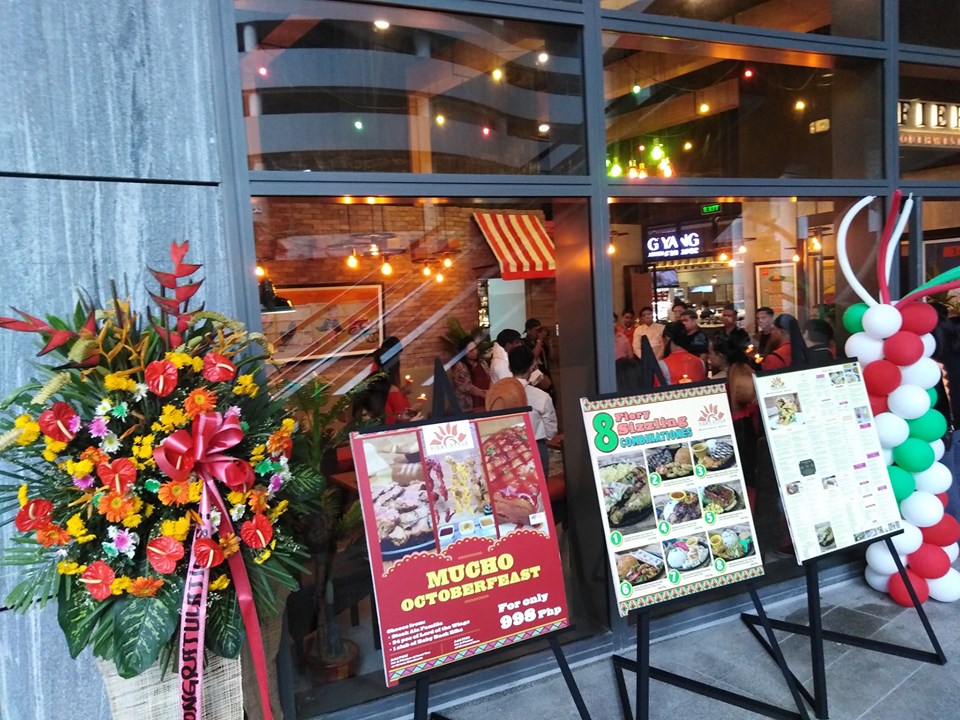 We are grateful to have graced the simple branch opening led by the store owners, some media and personal guests.
The resto is not to be missed when you are in the area of The Rise. Upon entry, you can immediately feel the Mexican vibe of bright colors and interesting Mexican photo frames and will be greeted by a lively "Hola!" by the staff. They will bid you "Adios" and "Gracias" after spending time with them.
With the many food and meal options in the Menu, ordering takes a while because you would want to eat as much.
Here are some of the best sellers and awesome Fiery Style food adventure we experienced!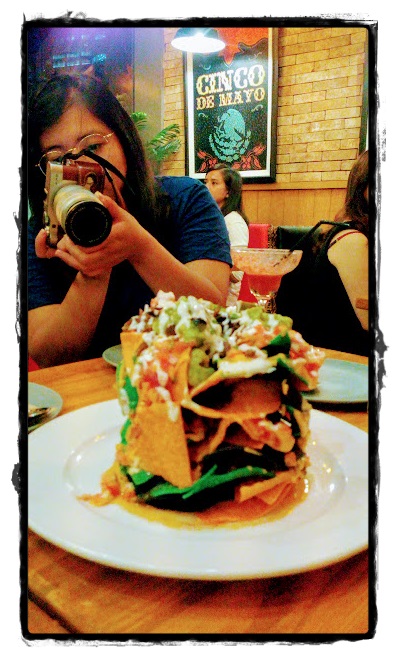 Nachos
For starters, we were made to witness nachos at work! Fiery Style is known for it's Fiery Nachos corn chips, nacho cheese sauce, guacomole, tomato salsa, beans, olives, jalapeños and for the meat, the best tasting beef.  @ P388
One of the managers showed us how this form (on the photo) came about and it's thanks to a silver cylinder turned upside down then slowly pulling it up, the nachos and fillings followed suit and formed this amazing neat shape! It deserved a round of applause!
Galleon Grills
When this miniature ship or galleon (during the early Mexican trades centuries ago) arrived at our tables, we were like, jaw-dropping, "How cuuuuuuute!" reaction in the air. It was a creative way of serving Galleon of Bones consisted of:
BBQ Ribs, Chicken Wings and meaty Pork Hammers, Beef Ribs and including Southwest chips with rice as an option.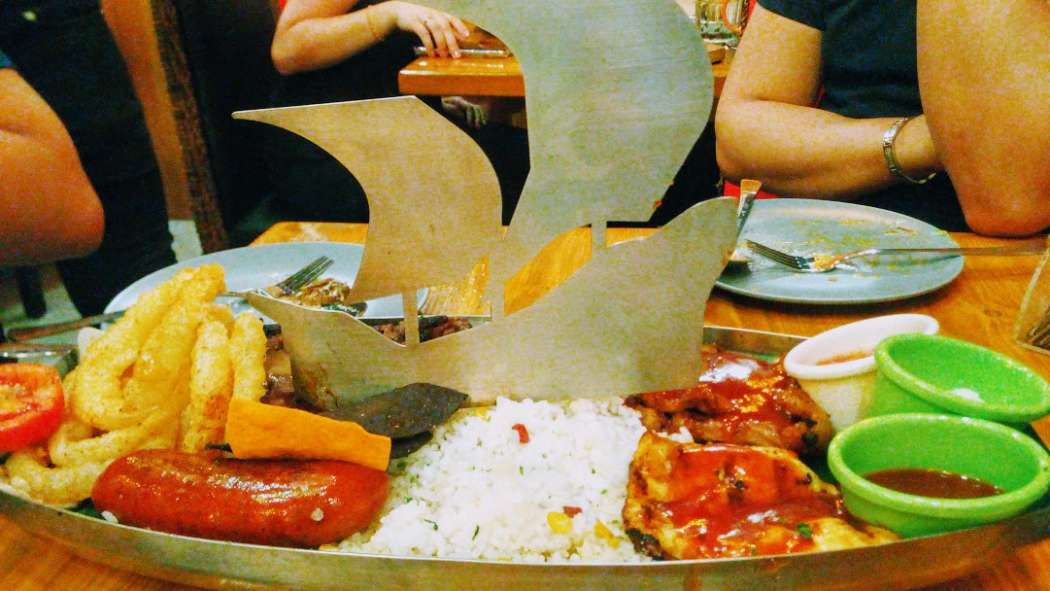 Steak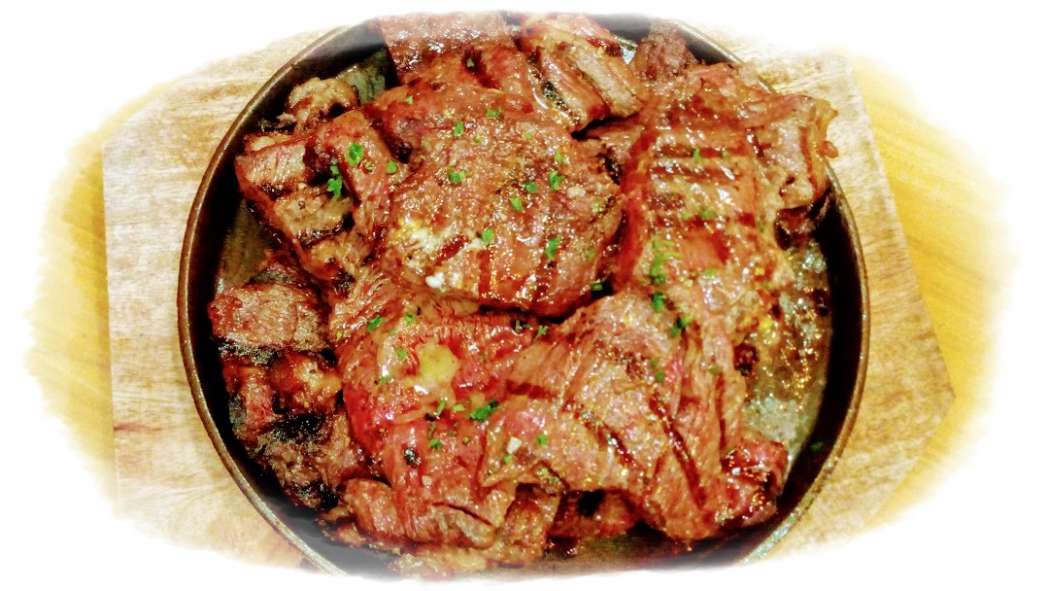 The Steak ala Familia @ P1,198 is another must try at Fiery Style! Would you believe this best seller weighs a kilo? Yes! May call it steak-all-you-can that's tenderly grilled to the hilt and will be enjoyed by steak and meat lovers alike!
I was motivating my tablemates, that we can all eat these mouthful of steak and never before I have seen it this many on an iron plate.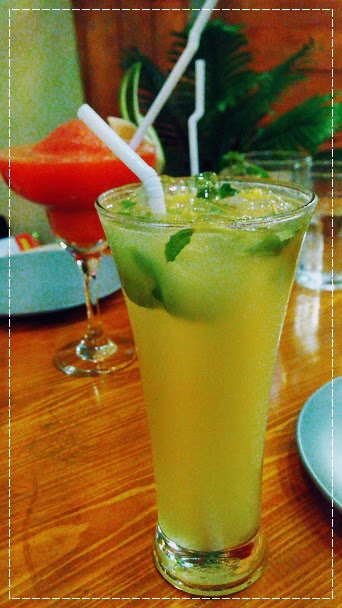 Drinks
Your Tex-Mex foodie experience won't be complete without drinks like the famous mojitos, margaritas and palomas.
We had a good round of southwest margarita, minty mojito, and Fiery Paloma for only p278 bottomless classic/ P378 flavored. Do check out their variety of red or white wines made very affordable.
Combinationes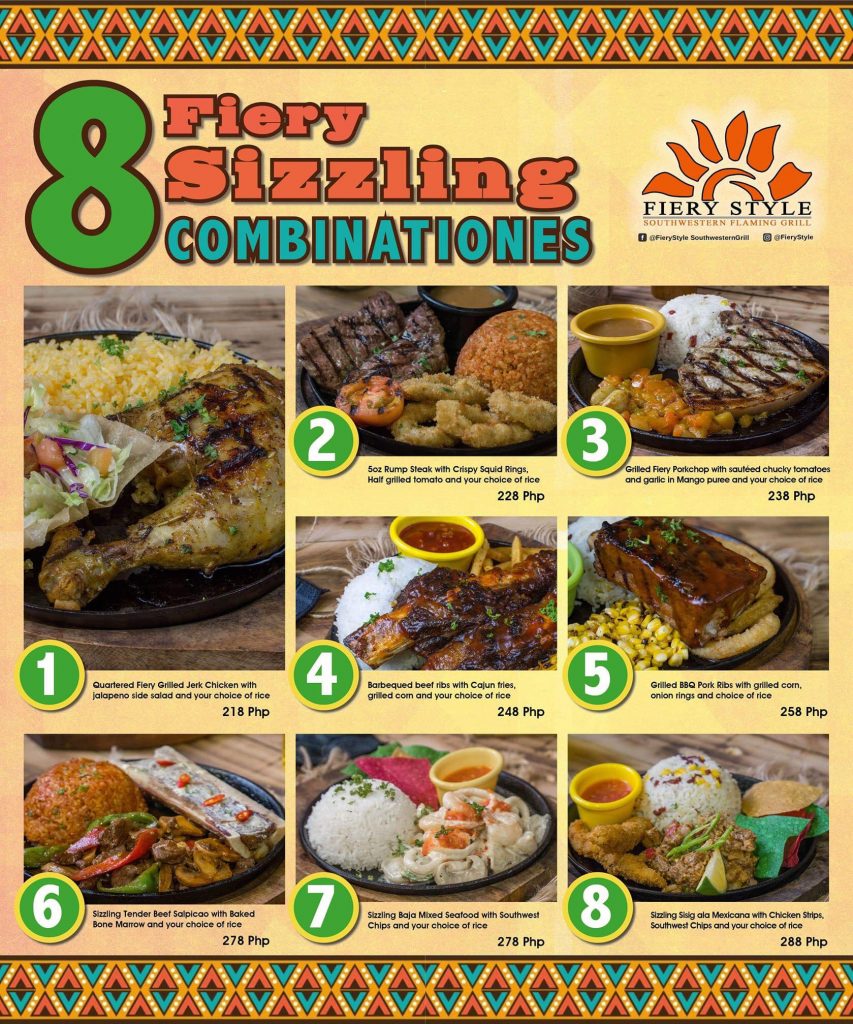 Combo Uno – Quartered Fiery Grilled Jerk Chicken with jalapeno side salad and your choice of rice (PhP 218)
Combo Dos – This combination has 5oz Rump Steak with crispy squid ings, half grilled tomato, and rice. (PhP 228)
Como Tres – Grilled Ferry Pork chop with sautéed chuncky tomatoes and garlic in Mango puree and your choice of rice (PhP 238)
Combo Quarto – Barbequed beef ribs with Cajun fries, grilled corn and your choice of rice (PhP 248)
Combo Cinco – Grilled BBQ Pork Ribs with grilled corn, onions rings and choice of rice (Php 258)
Combo Sets – Sizzling Beef Salpicao with Baked Bone Marrow and choice of rice (PhP 268)
Combo Settee – Sizzling Baja Mixed Seafood with Southwest Chips and your choice of rice (PhP 278)
Combo Otso – sizzling sisig ala Mexicana with chicken strips, southwest chips, and rice (Php 288)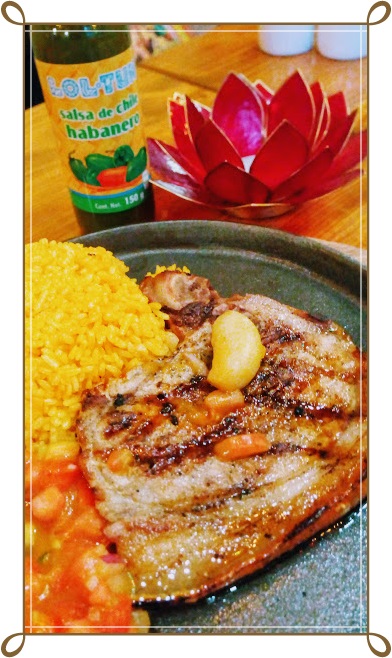 I personally tried out Combo Tres which is Grilled Pork-chop w/ Tomatoes & Garlic in Mango Puree for only P238.00. The puree was to die for!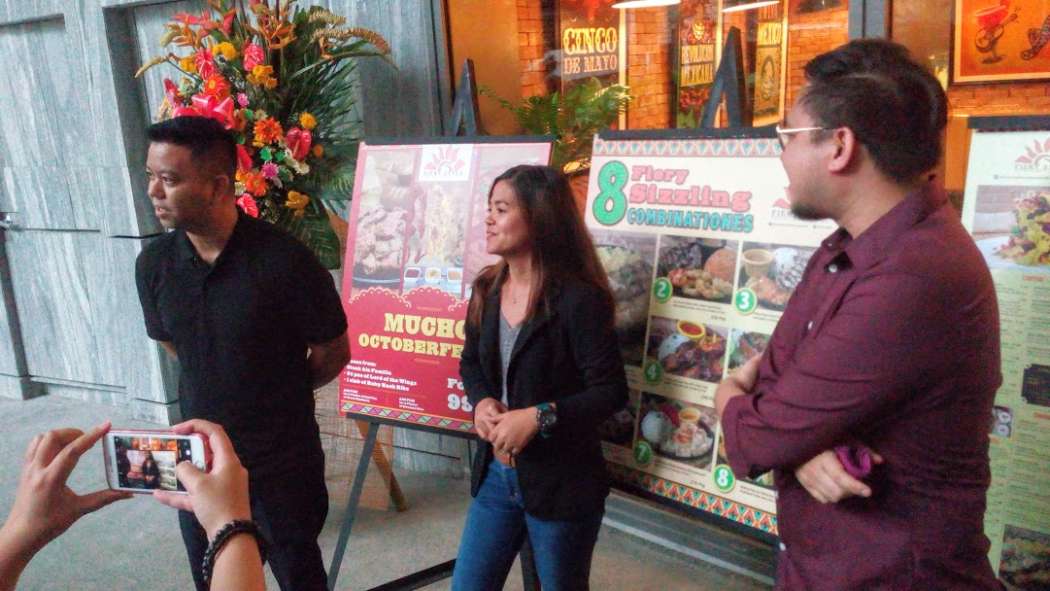 We also had a brief moment talking to the franchise owners, Mon Bautista,Managing Director with Vanni Sanchez Sales and Marketing Director of Fiery Style in The Rise, Makati branch and we are very happy for their latest venture. The tried and tested formula of the restaurant chain works like wonders considering it already has more than 10 branches around the metro in the shortest span of time.
They shared that customers enjoy their steaks and nachos and tacos among many others. The branch location is also an advantage to the people and residing in the area who are into enjoying the best Tex-Mex food experience only Fiery Style can offer.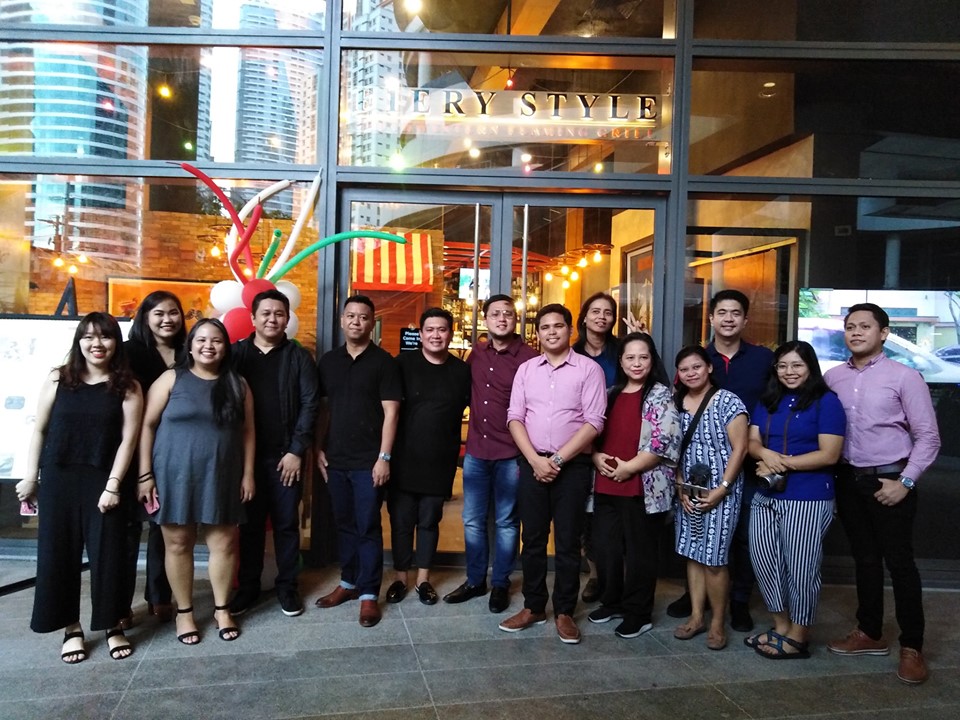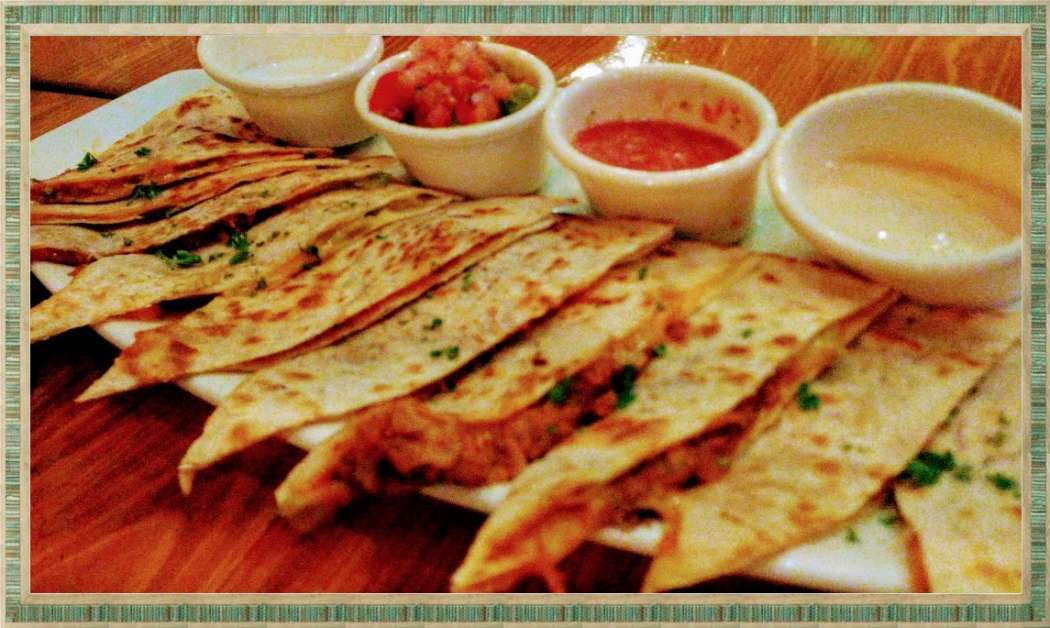 Quesadillas  is another best seller at all Fiery Style restos and you can order it with rich cheesy fillings or porked stuffed that comes in their dip varieties to further enhance the perfectly blended taste and texture of this Mexican classic.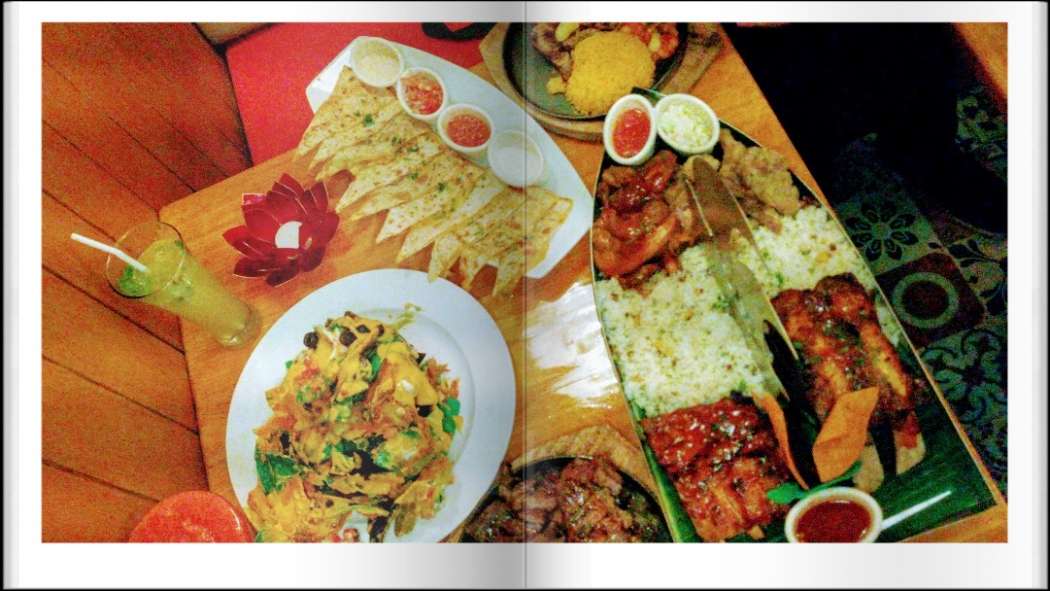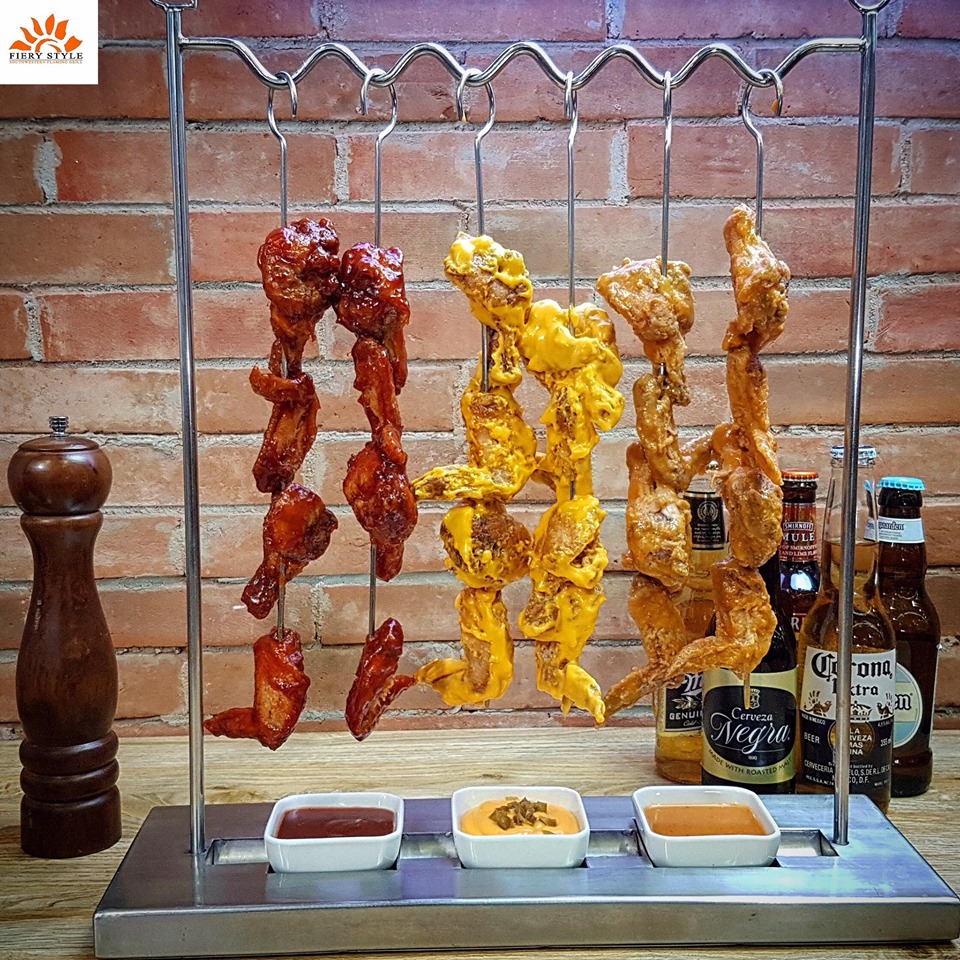 Lord of the Wings
Here is another creative and "astig" presentation only at Fiery Style goes to all chicken wings lovers out there, literally hanging for your picking! Twenty four pieces of yummy chicken skewed up that comes in with three famous flavors, how's that? All aptly called, Lord of the Wings which is sooo witty! Whoever coined this is a genius!
24 Chicken wings with different flavors:
🔥 Hot Sauce & Jalapenos
🔥 Nacho Cheese Sauce & Bacon
🔥 Texan-style BBQ
Lord of the Wings @ P1,198
Dessert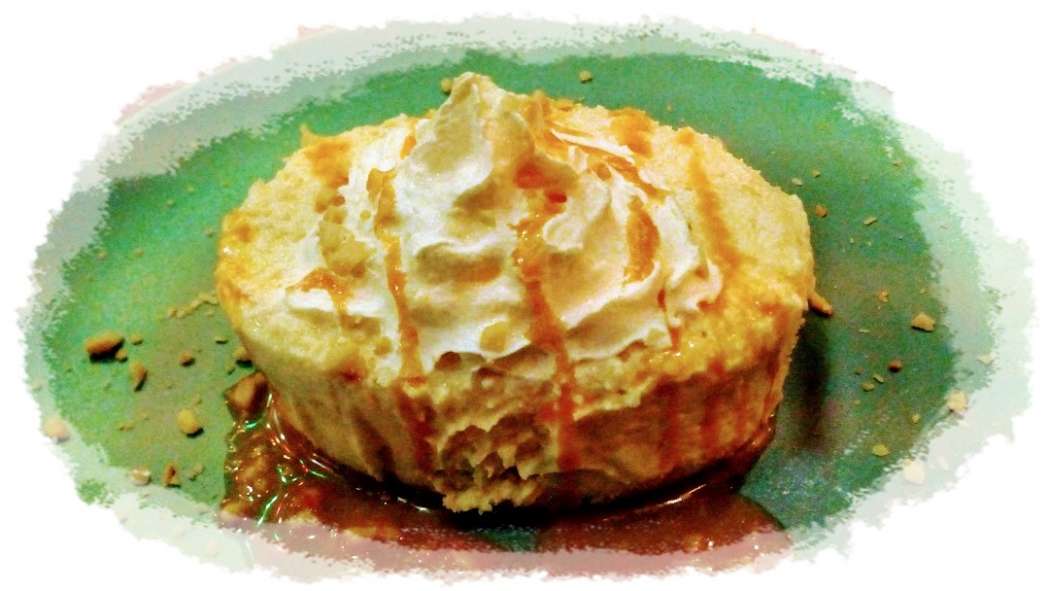 New York Frozen Cheesecake is personally a must-must order dessert in my honest opinion. Not your typical cheesecake, this one comes in with rich and thick tasty texture with the frozen taste and feels that literally melts in your mouth! Woow! Every bite is heavenly! You will forget your name for a moment there, haha! My tablemates and I had a second helping and we couldn't contain ourselves how delicious it is!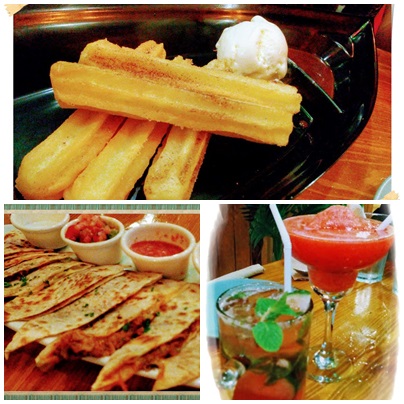 Southwest Churros which is served with vanilla and chocolate ice cream at P188 comes just so right in your palettes and best paired with coffee.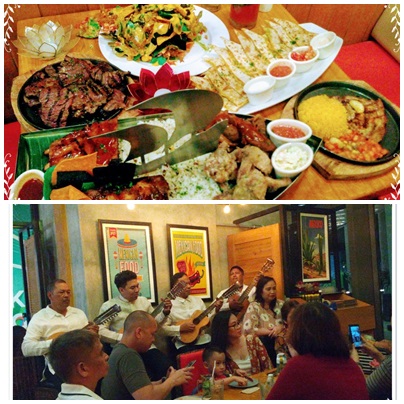 While enjoying your food with family or friends or business associates, you will also be entertained by an accoustic quartet who has a very cool set of musical numbers and cover songs, most of the tunes you are familiar with.  Please do not hesitate to clap in between their guitar selections because these are a talented group of musicians indeed.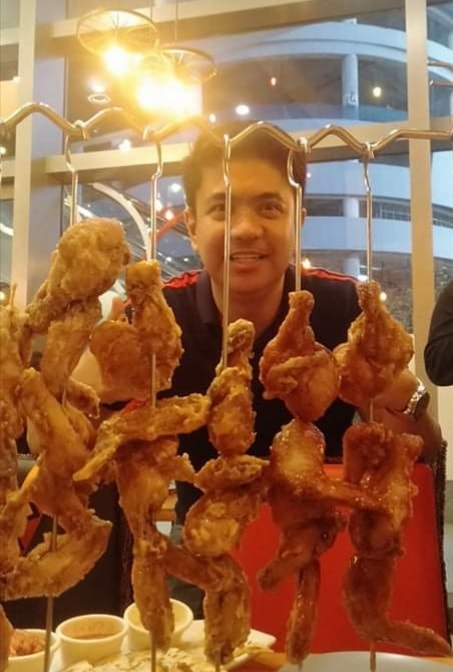 Our gracious host & Marketing Guru, Mr. Miguel dela Rosa aka Sir Migs,  intentionally & gamely photobombs these irresistible Lord of the Wings.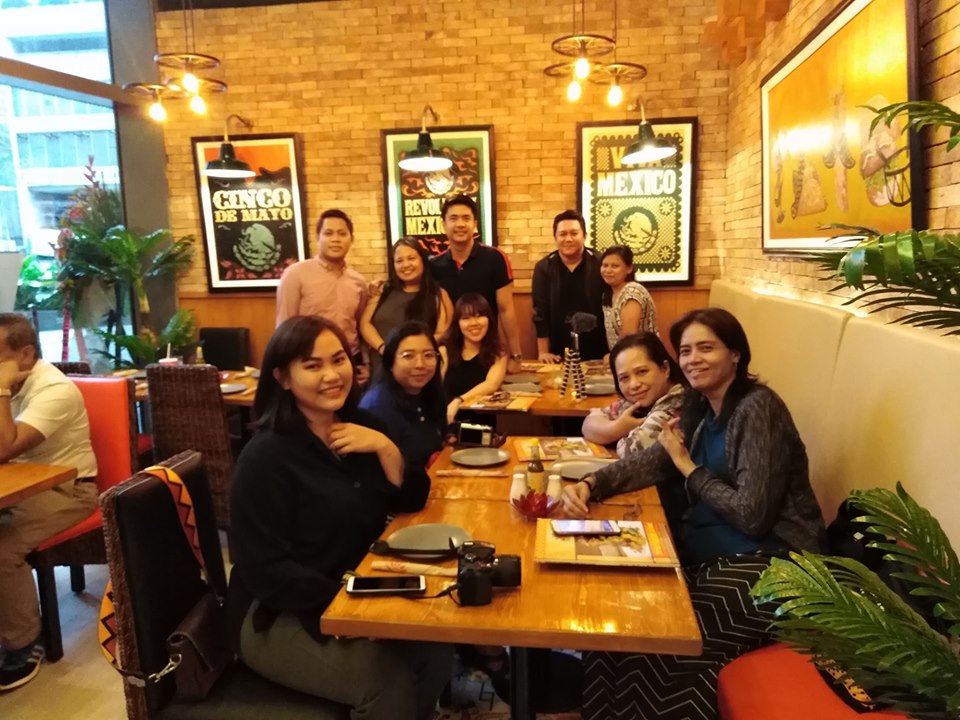 I am very grateful that I got to share some of the best Mexican food and hearty (heavy) meals at Fiery Style in The Rise, Makati with these fellow exciting blogger-mates who when it comes to food know their game. I am also happy to point out, we did not waste any food that was served to us. Sir Migs and the resto owners share the same sentiments of managing food wastage by taking in what you can accordingly.
The staff were nice and courteous and the Manager On Duty will also be at your service helping out with the orders for a more personal approach to customer satisfaction.
The next time you are in this side of Makati, do try out and satisfy your Tex Mex cravings by dining in at Fiery Style for a wonderful foodie experience worth coming to again and again and again…
Check out Fiery Style in:
Facebook: www.facebook.com/fierystyle
Instagram: www.instagram.com/fierystyle
Operating Hours: Mon to Sun (11am-10pm)
See you at the GF Assembly Grounds The Rise in Makati along Malugay St. corner Tindalo St.   🙂 🙂
Muchas Gracias and all the best to the franchise owners of Fiery Style, Makati, and Sir Miguel dela Rosa. Hasta luego!