SINGAPORE – Global interactive entertainment brand HoYoverse has officially announced the highly anticipated Version 1.1 update for Honkai: Star Rail, titled "Galactic Roaming," set to launch on June 7, 2023. This latest update brings a wealth of captivating events, thrilling missions, and exciting gameplay features to the critically acclaimed space fantasy RPG. Trailblazers will have the opportunity to explore new territories within the Herta Space Station, Jarilo-VI, and Xianzhou Luofu, while also unlocking the powers of three new distinctive playable characters: Silver Wolf, Luocha, and Yukong. The update will also include companion missions, enhanced gameplay features, and limited-time events that will keep players engrossed in the game's immersive universe.
Watch the thrilling Version 1.1 trailer:
For further information, access the media kit, which contains the press release and visual assets, at this link: [Media Kit Link]
Honkai: Star Rail is an enthralling space fantasy RPG that takes players on an epic journey through vast, unknown worlds. Seamlessly blending elements of fantasy, mythology, and science fiction, the game invites players to unravel the truth behind the enigmatic "Cancer of All Worlds" as they embark on an intergalactic adventure. Throughout their odyssey, Trailblazers will encounter diverse cultures, breathtaking landscapes, and awe-inspiring scenery. From the knowledge reserve of the universe found within the Herta Space Station to the treacherous frozen conflicts of Jarilo-VI, and the silkpunk-infused Xianzhou Luofu, where immortality is the subject of development and discord.
The Version 1.1 update introduces three new playable characters: Silver Wolf, Luocha, and Yukong, who have previously played significant roles in the game's intergalactic narrative. Players can now officially recruit these extraordinary characters to aid them in their grand space fantasy odyssey.
Meet Silver Wolf, a brilliant hacker from the Stellaron Hunters, whose ability to dismantle defense systems is unparalleled. As a Quantum-Type character following the Path of Nihility, Silver Wolf can debuff enemies in various ways, enhancing her allies' combat prowess. Her formidable Technique allows her to deal damage and reduce the enemy's Toughness, regardless of their weaknesses. When unleashing her Ultimate, Silver Wolf delivers a devastating blow to enemies, dealing substantial damage and weakening their defenses.
Luocha, a mysterious wandering merchant, captures attention with his elegant appearance and gentlemanly demeanor, always accompanied by a mysterious coffin. As an Imaginary-Type character following the Path of Abundance and possessing extensive medical knowledge, Luocha specializes in healing. His unique Skill ensures "emergency healing" for allies in peril, without consuming any Skill points. With his Ultimate ability, aptly named "Death Wish," Luocha dispels one buff from all enemies and deals powerful Imaginary damage.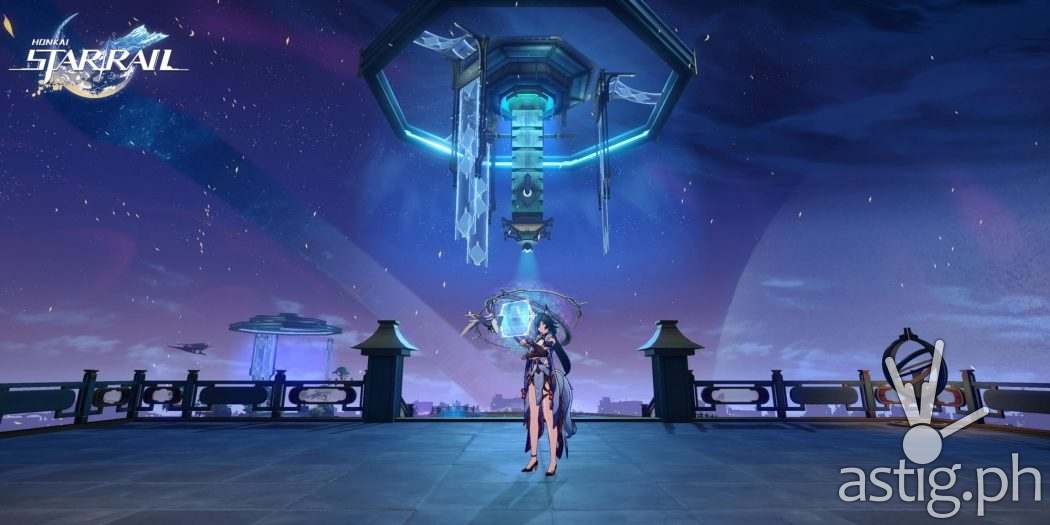 Lastly, we have Yukong, the Sky-Faring Helm Master, who serves as the leader responsible for all matters related to flight, including commerce, cargo, and passenger affairs aboard the majestic Xianzhou Luofu. As an Imaginary-Type character following the Path of Harmony, Yukong's skills revolve around supporting her companions. Although her frontline days may be behind her, her battle mindset and instincts remain as sharp as ever.
In addition to recruiting these compelling characters, Trailblazers will have the opportunity to engage with refreshing gameplay offered by the Version 1.1 update. The "Starhunt Game" event challenges players to locate hidden electronic graffiti scattered throughout the Herta Space Station, uncovering its secrets with the assistance of Leonard, the station's network security engineer. As a reward, players can collect and apply graffiti designs to various in-game surfaces, adding a personal touch to their experience. Moreover, in Belobog, a city recently freed from the clutches of Stellaron's threat, the History Museum is preparing to reopen its doors. In the event "Everwinter City Museum Ledger of Curiosities," Trailblazers will spare no effort in tracking down clues, recovering lost exhibits, and assuming the role of museum manager.
The Version 1.1 update also introduces a series of trials, including "Stellar Flare," "Garden of Plenty," and "Lab Assistants in Position." These challenges will put the combat skills and strategic thinking of Trailblazers to the test, providing generous rewards for their successful completion. Additionally, three new Companion Missions will delve deeper into the intriguing backstories of the game's fascinating characters. Functional improvements, such as friend chat and automatic enemy pinpointing, have been implemented to ensure a smoother gaming experience for players.
Honkai: Star Rail Version 1.1 is set to launch on June 7, 2023, and will be available on PC, Epic Games Store, iOS, and Android. The game is also under development for PlayStation, with further details to be revealed soon. Offering cross-save and cross-play functionality, players can seamlessly enjoy their adventures across different platforms. Honkai: Star Rail has been rated T for Teen by ESRB and 12 by PEGI.
For more detailed information and the latest updates on Honkai: Star Rail, please visit the official website and follow @HonkaiStarRail on Twitter, Instagram, and Facebook.