MANILA, Philippines – Huawei Philippines has just recently introduced the HUAWEI nova Y70, the very first nova Y series line that boasts of a powerful 6000mAh battery, and the HUAWEI P50, that inherited the reimagined camera systems of the HUAWEI P50 Series Roster. Not only packaged with some of the most powerful technological advancements, but with HUAWEI AppGallery's endless possibilities, both make these new HUAWEI smartphones incredible devices that will keep users at the cutting edge of chic and innovation.
Explore all your interests with AppGallery by checking out some of the curated collection of essential and trending apps, all packaged to help HUAWEI users maintain a cool, fast-paced, creative lifestyle:
Share moments on social media – Take snapshots and photographs like no other with the HUAWEI nova Y70's 48MP High-res Main Camera, and HUAWEI P50's 50 MP True-Chroma Camera and share it on social media apps like Twitter (download via Petal Search), and Snapchat. You can also keep in touch and maintain personal conversations with friends and family through secure and private social messaging apps like Viber, WhatsApp, Telegram, and more. If you're into tuning into live streams check out BIGO LIVE! You're also in luck because HUAWEI users can get a BIGO LIVE one-time use online voucher for 20% off on diamonds with no minimum spend! Hurry because there are limited vouchers available, and only valid for 30 days.
Take your productivity to the next level – With HUAWEI SuperCharge capabilities being present in both the HUAWEI nova Y70 and HUAWEI P50, you can expect fast and efficient charging in just a matter of minutes! There are also many apps that can improve efficiency and productivity, like SHAREit, Microsoft Office, WPS Office, Microsoft Teams, ZOOM Cloud Meetings (download via Petal Search) to keep you on top of everything!
Capture life's best moments – With photo enhancement, and video editing apps such as CapCut, FimoraGo, and Picsart Photo Editor, you never have to worry about how to curate your photos and videos the way you've always dreamed them to look like!
Shop to your heart's content – With just a few clicks and taps, you can purchase anything you need on apps like Lazada and Shopee. There are also specialty e-shopping apps that can be found from AppGallery, such as BeautyMNL, and Zalora for fashion items.
Dominate in your mobile games – Popular games in the Philippines like Mobile Legend Bang Bang, Piano Fire, Clash of Clans (download via Petal Search), and many more are available for users to immerse themselves in exciting games and challenges.
Keep your finances up and running – Make your monthly obligations easier, and in just simple easy taps by downloading the country's top banking and financing apps like GCash, Paymaya, BDO, Metrobank, and CIMB Bank PH.
Binge all you can – Keep up and stay up to date on your most loved, and all-time favorite movies, series, and shows by checking out apps like Bilibili, Viu, WeTV, iFlix, and VivaMax.
Indulging in the HUAWEI AppGallery isn't just the best part! With the HUAWEI nova Y70 and HUAWEI P50 and the technology behind the HUAWEI Super Device, working seamlessly with other multiple devices is now possible as it works with one another in harmony, and breaks the barriers between the tools being used every day, making lives infinitely easier.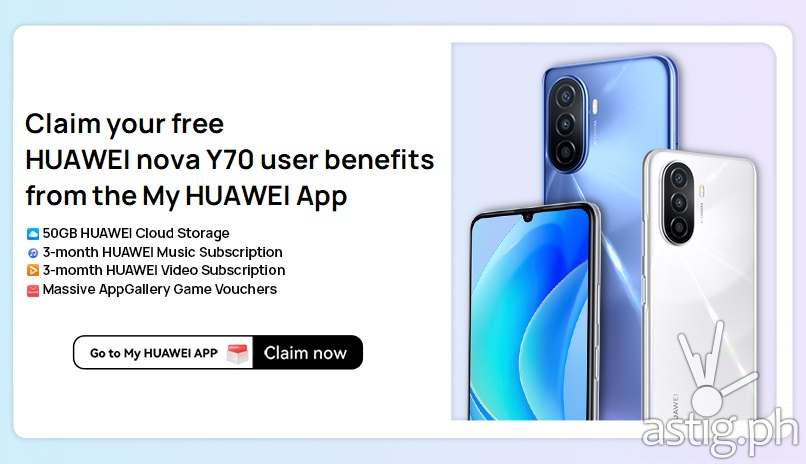 The HUAWEI Super Device Concept allows for easy cross-device collaboration, meaning playing videos on a larger screen for the crowd right from the phone can be done in just a few easy taps. Both the HUAWEI nova Y70 and HUAWEI P50 are also powered by the EMUI 12 which allows a simple, smooth, continuous, safe, and reliable interactive experience.
What are you waiting for? Get your very own HUAWEI nova Y70, and HUAWEI P50 now:
HUAWEI nova Y70: HUAWEI Online Store, Lazada, Shopee
HUAWEI P50: HUAWEI Online Store, Lazada, Shopee
To those purchasing the new HUAWEI nova Y70, it comes along with free user benefits, which can be claimed in the pre-installed My HUAWEI app—an official all-in-one channel for users to get new products, share experiences with others, and get help from Huawei Support. Simply open the preinstalled My HUAWEI app on the phone and you will find the promotion details to help you claim and redeem your benefits.
With the new HUAWEI nova Y70, users will enjoy a series of exclusive benefits, including 50GB HUAWEI Cloud storage, 3-month HUAWEI subscription, 3-month HUAWEI Video subscription, and massive AppGallery Game Vouchers. The benefits may vary in each country or region. Make sure to check the app every now and then as the benefits will be updated regularly. Explore more awesome treats and exclusive benefits of HUAWEI devices via My HUAWEI app, and visit https://appg.al/novay70benefits
To make the most out of your smartphone experience, try out Super Device for yourself, and visit https://appgallery.huawei.com/Featured to learn more about the app offerings on AppGallery.