IBEX Global had recently hired Chef Joey Cabrero to manage and operate their IBEX SM BF Sucat office cafeteria after it opened early this year. The company valuesthe well being of its workforce and ensuring that the employees have access to healthy meals is one way of promoting health and wellness in their organization.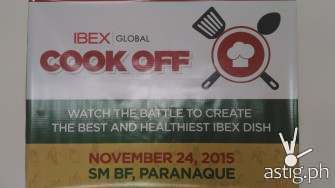 Last November 24, 2015, they invited the media to its Coof Off event. Instead of merely covering the event, we were unknowingly tasked in competing for the best adobo. We were divided to form three groups of six. Each group was asked to get a tray of common ingredients. There were other extra trays from which we may get optional items.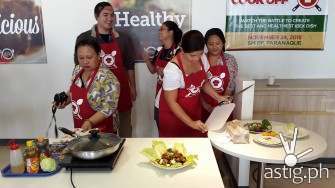 After announcing that mandatory secret ingredient (egg), we were given 30 minutes to come up with the final cooked adobo dish. I was assigned to join the 3rd group. Each one of us worked to prepare our best version of adobo. But the first group topped the competition based on the following criteria:
Taste 30%
Presentation 20%
Audience Impact 10%
Use of Secret Ingredient 25%
Uniqueness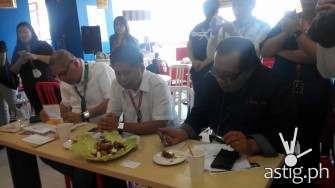 The first team's innovative adobo sa gata won based on the unananimous decision of the IBEX Global panel of judges composed of Chef Joey Cabrero, Michael Guerra and Robbie Berba.
About IBEX
IBEX is the fastest growing leader in the Business Process Outsourcing (BPO) industry. It has created a new definition of how the BPO works. IBEX ensures career advancement. They are the best in work match-making. Qualified employees are assigned to specific accounts they are more interested in. Its unique approach to career and professional growth shows IBEX's commitment to the workforce that drives it.
It goes the the extra mile to engage its employees in activities directed in helping them attain work-life balance. They hold the IBEX Idol and VIP Getaway programs annually among others, to spice up employee incentives.
IBEX Global goes beyond the norms to integrate work-life balance, and this IBEX Cook Off was no different.
Visit www.youdeservemore.ph for more information on IBEX Global's onshore, near shore and offshore solutions in 5 countries, across 20 sites.