Earlier this year, Infinix brought the Helio G25-powered Infinix HOT 10 PLAY (2GB + 32GB) into the Philippines at a very affordable price of only Php4,299. With its massive 6.82-inch display and decent cameras, it was an attractive package for anyone looking for a long-lasting smartphone with a big screen.
Owing to its success, Infinix is bringing the HOT 10 PLAY back, this time with a much larger memory and a faster chipset in the form of MediaTek's Helio G35 SoC.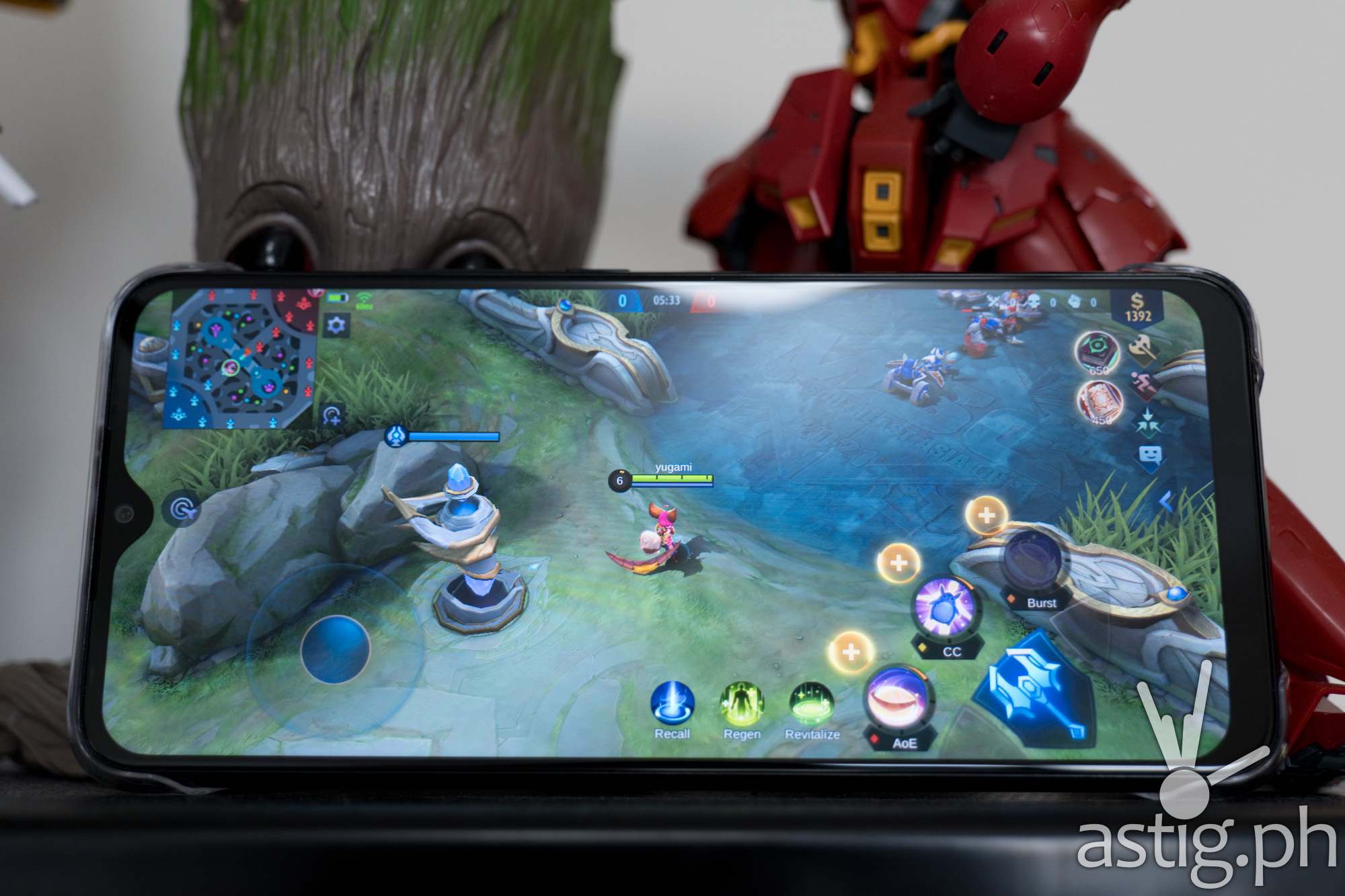 Hit the play button to watch our unboxing video, or read on for our full review of the new, Helio G35-powered Infinix HOT 10 PLAY.
Infinix HOT 10 PLAY highlights
Display: 6.82 inches; 720 x 1640 pixels; IPS LCD
SIM + expansion: dual Nano-SIM + microSD (dedicated slots)
OS Android 10 (Go Edition); XOS 7.0
Chipset (SoC): MediaTek Helio G35
Camera: 13MP + AI lens (rear); 8MP f/2.2 (selfie)
Battery: 6,000 mAh; 10W
Price (Philippines): Php4,990 (4GB + 64GB)
Solid build quality and design
On the surface, the Helio G35 version bears the same reinforced polycarbonate chassis as before, with the 13MP AI dual rear camera module occupying the top portion and the rear fingerprint scanner centered beside it.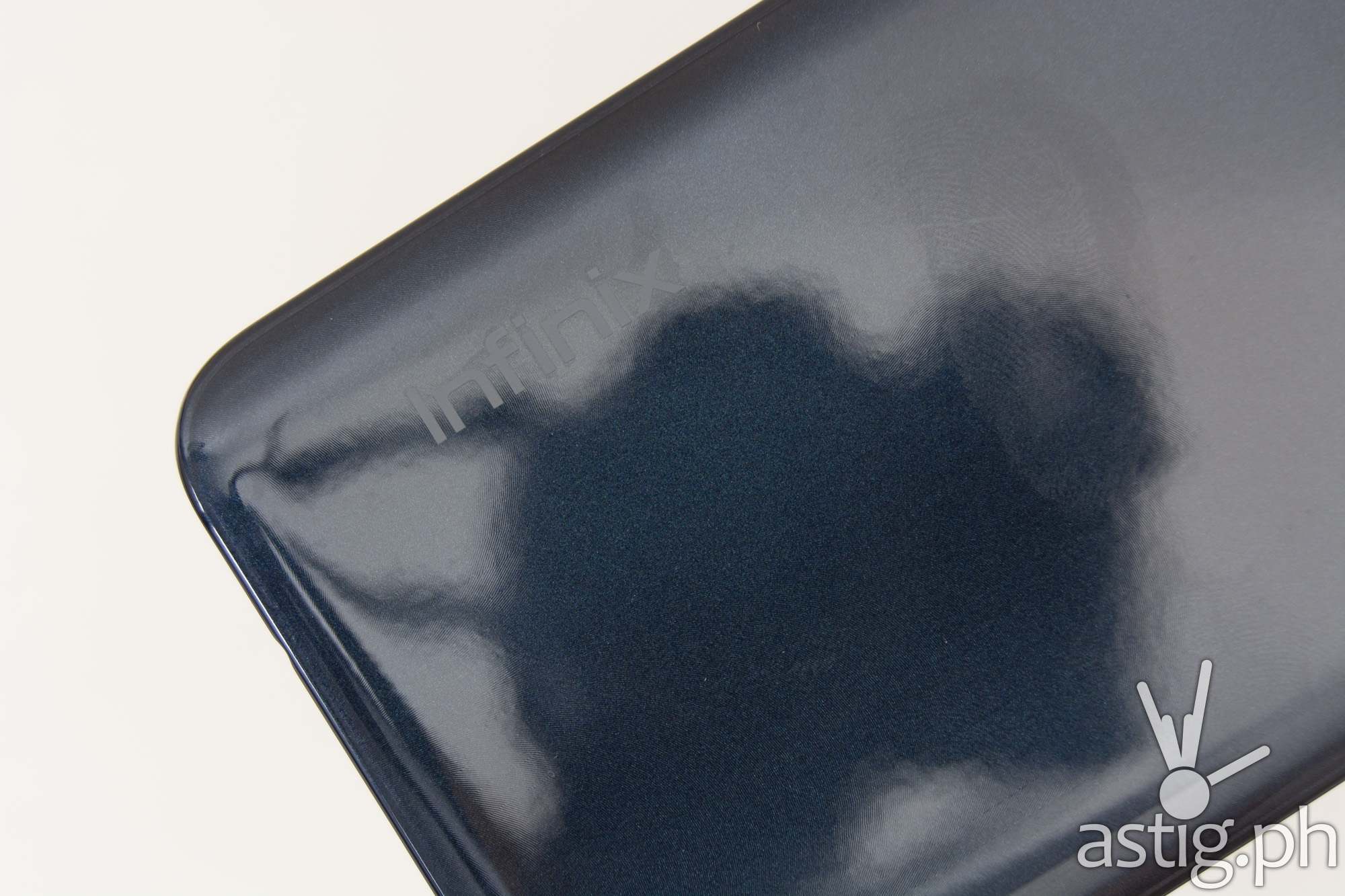 Our Obsidian Black-colored unit looks beautiful and discreet with the Infinix logo subtly etched near the bottom. Neither too glossy nor too delicate, this phone can survive daily use without a case, although there is one provided out of the box for good measure.
Holding the phone against the light reveals an intricate, laser-engraved pattern that shifts colors as you move it around. It's low-key and beautiful to look at without being too distracting.
If you prefer something more exciting, the phone also comes in Aegean Blue, Morandi Green, and a curiously-named color called "7° Purple".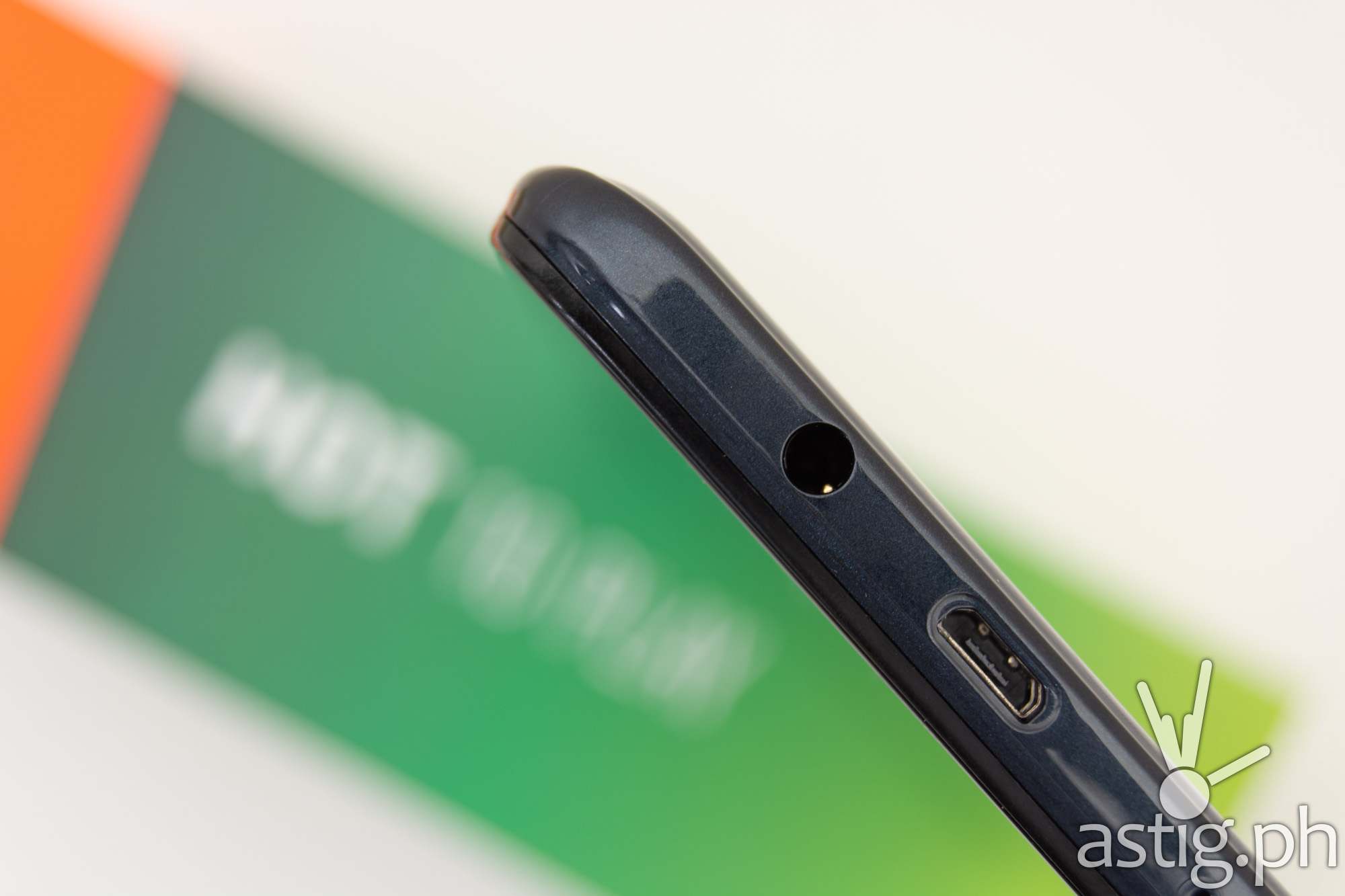 There's a slight camera hump where the dual rear camera module is located, which includes a large circle with the text "AI" printed on the area where another camera might have been – on a higher model, perhaps.
It's a solid device though a bit hefty, and it's not just because of its size. The HOT 10 PLAY packs a 6,000 mAh battery which is well above average.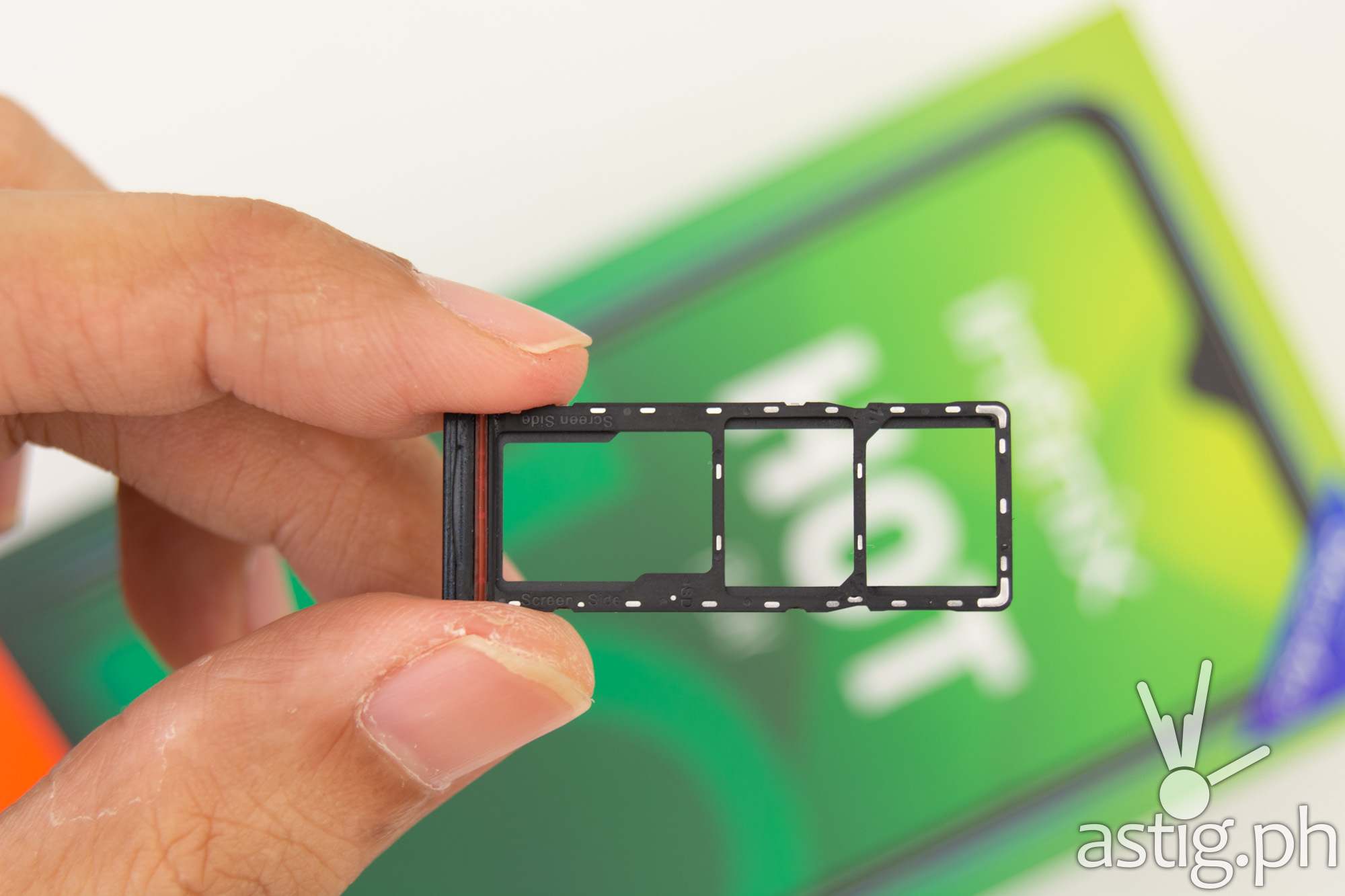 We are happy to report that this phone has dedicated dual SIM and expansion slots, as well as a 3.5mm audio jack. Power delivery and wired data transfer is done via micro USB port. We would have wanted USB-C just for the ease of use, but micro USB is fine.
Immersive 6.82-inch screen for video calls and entertainment
Moving to the front, we find the massive, 6.82-inch IPS LCD display with a waterdrop-type notch to give way to the 8MP front camera. It runs a native resolution of 720×1640 at 60Hz refresh rate. Peak brightness seems a little low however. it struggles against the direct sunlight. In addition to this, the edges appear to be a little brighter compared to the center of the screen.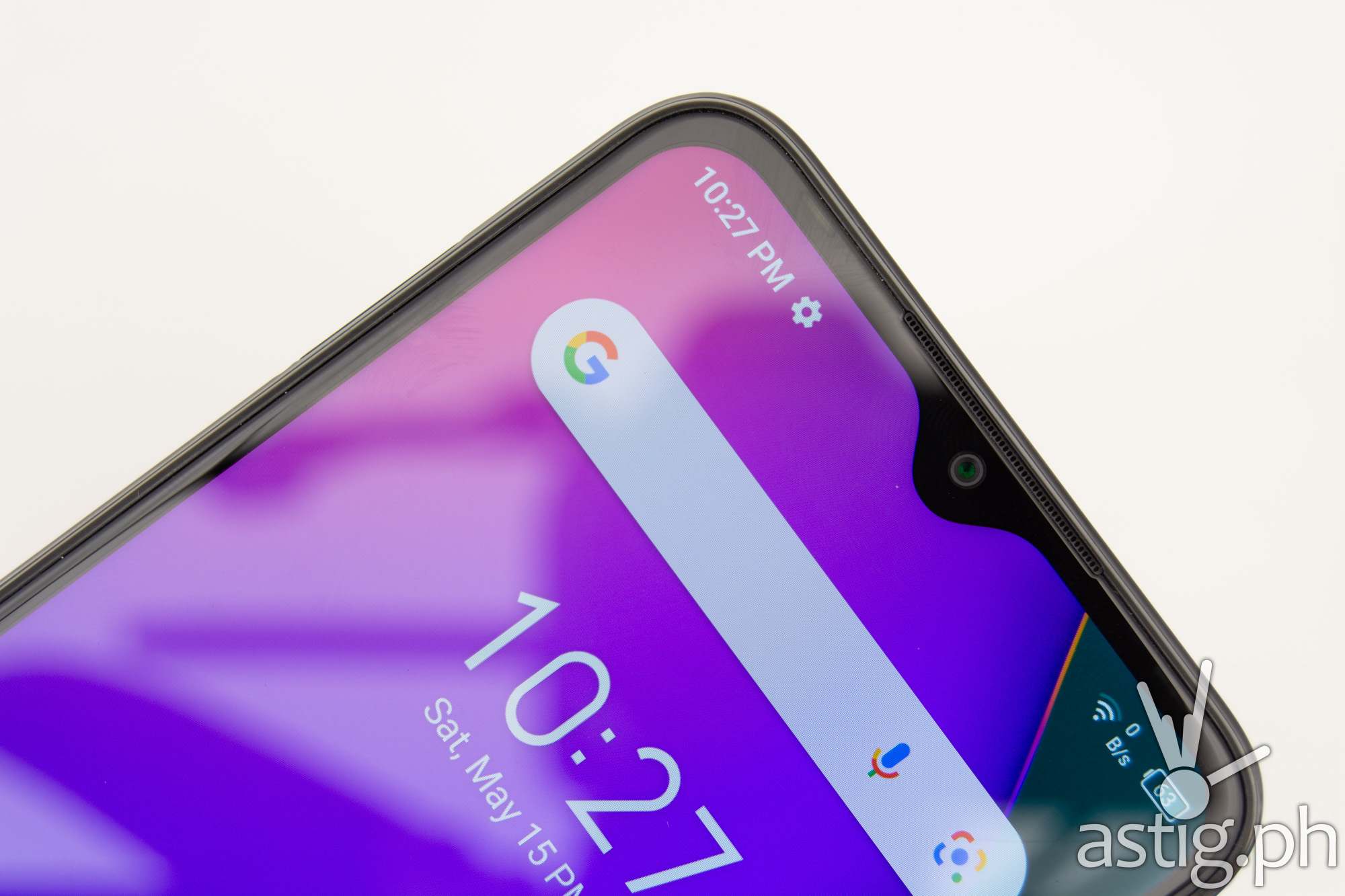 Otherwise, it's a good display for kids and older folk who need a bigger screen for video calls, social media, and video playback.
Speaking of which, Netflix playback is maxes out at Standard Definition on this device. We would have wanted at least HD playback but the difference should not be too noticeable, especially when watching from a distance. SD also consume less data which can be a plus if you're trying to keep your telco bill down.
We also appreciate how thin the display on the NOTE 10 PLAY is this time around. This works in conjunction with the smooth curved back resulting in a profile that's easy to hold, despite its size. Supposedly, Infinix engineered the phone for one-handed use which we can certainly appreciate.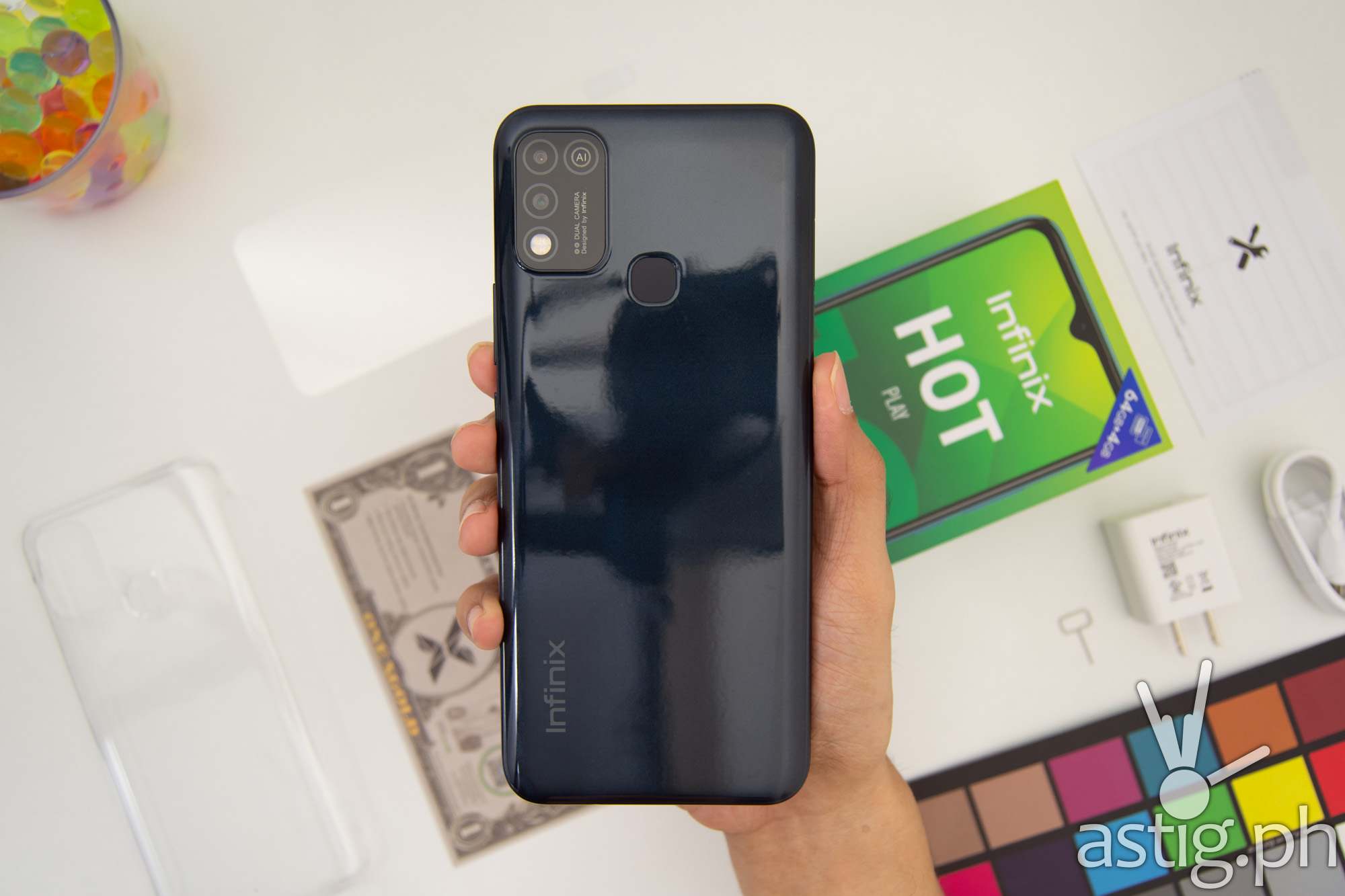 To do this, the XOS UI has a built-in shortcut that minimizes the entire display area, so that everything appears smaller – including the on-screen keyboard.
Single-handed operation is definitely possible this way, but in actual practice it's so much easier to just support it with both hands, especially when typing.
Application performance and software
At 2.3GHz, the CPU on the MediaTek Helio G35 is at least 15% faster than Helio G25.  That said, the Helio G35 is still MediaTek's entry-level gaming chipset, so we need to align our expectations  accordingly.
It's not going to break any benchmark records, scoring a modest 120k points in AnTuTu. This is a low for 2021, but don't let that deter you from picking up this phone. It runs Android 10 out of the box with XOS 7.0 to deliver an enhanced, customized user experience that's unique to the Infinix product line.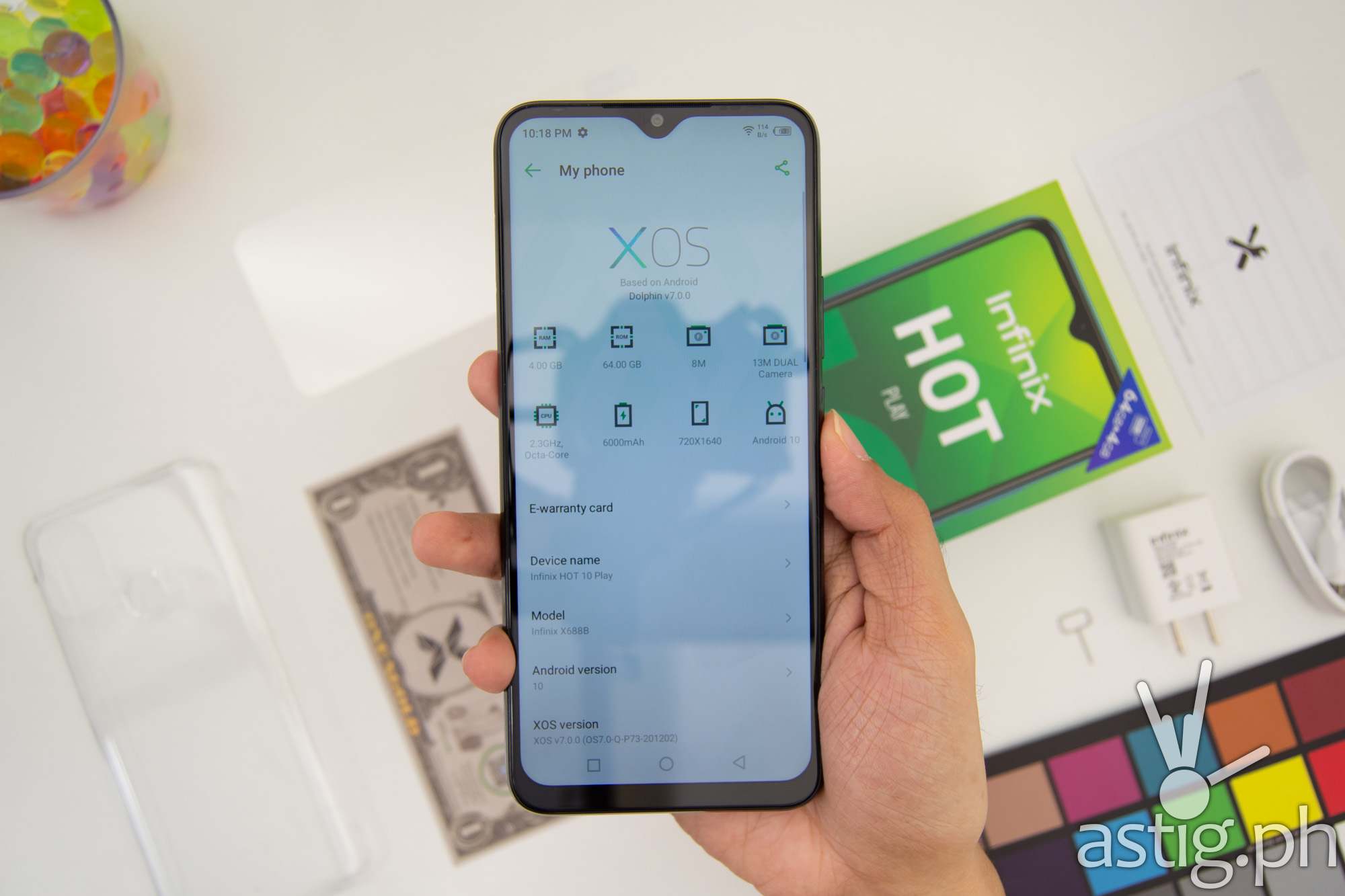 This is our first encounter with XOS 7.0, and we found it very beautiful. According to our friends at Infinix, the system is inspired by the green auroras of Iceland. The icons and the color scheme looks fresh and visually compelling.
The phone comes pre-loaded with a variety of third-party software and games out of the box, which gives a very busy feeling, like wow, this phone is jam packed! As a power user who prefers a near-stock Android experience to start from, we do wish there were an option to disable or remove all the bloat, though.
Thankfully, this updated version has more memory: 4GB of it, and 64GB storage space.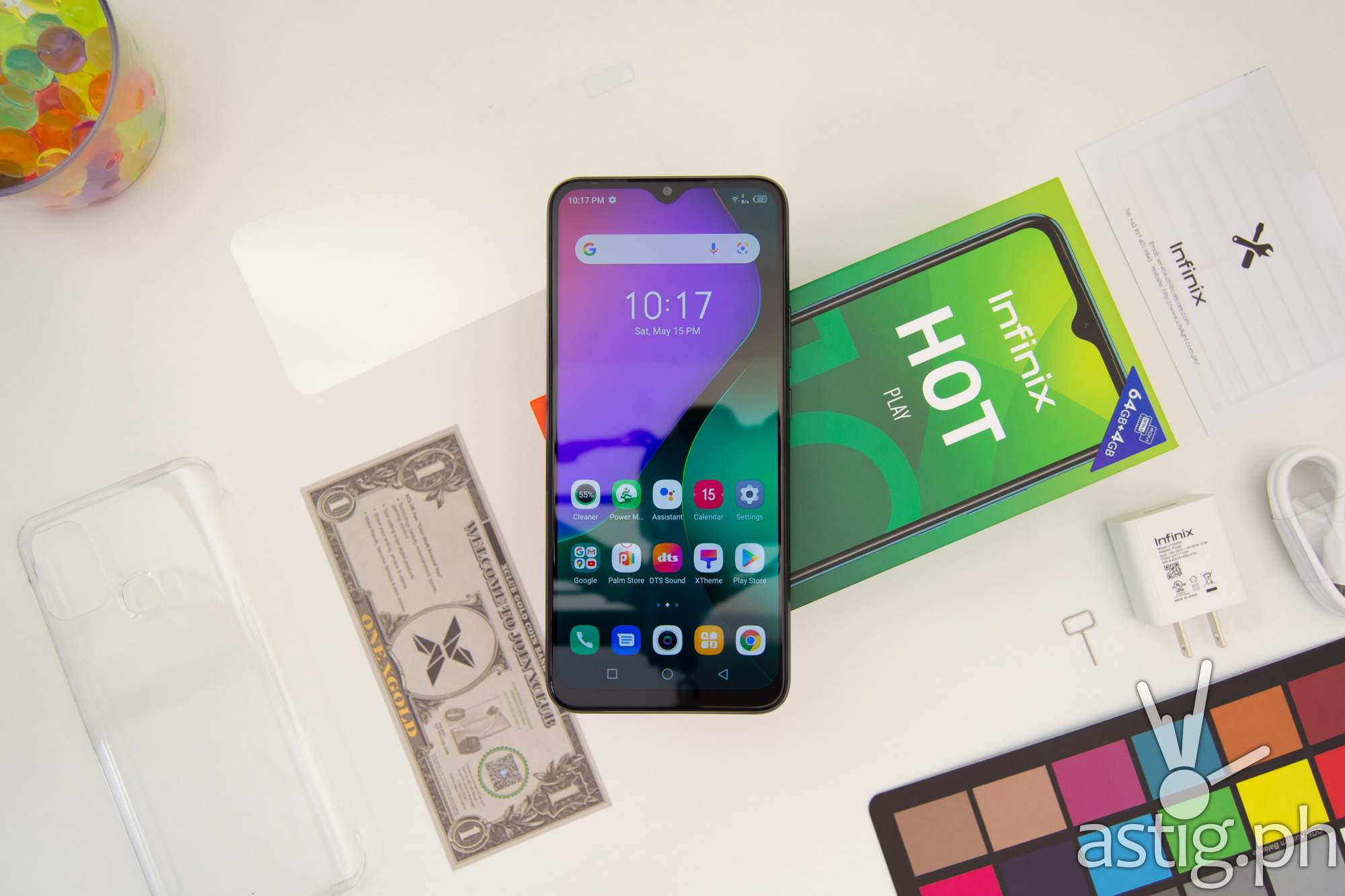 One of the things that we like about XOS is the shortcut menu, which lets you access your favorite apps by simply swiping the edge of your phone.
Audio enthusiasts would be happy to learn that the HOT 10 PLAY comes with a DTS Sound app which tunes your audio experience depending on the situation, so you get the best sound quality when watching videos, paying games, or streaming music. It also has its own graphic equalizer so you can fine tune its settings to your liking.
Casual mobile gamers will love this
As you must know by now, the Helio G35 chipset powering our HOT 10 PLAY is designed with mobile gaming in mind. In fact, the phone has a number of games pre-loaded. The phone is even called "HOT 10 PLAY," as if encouraging us to uh, play.
So how does Mediatek's entry-level chipset fare? We are happy to report that Mobile Legends: Bang Bang (MLBB) is quite playable on High, though there can be frame drops here and there when things get hectic during clashes, so you may want to drop down to Medium for a much smoother gameplay experience.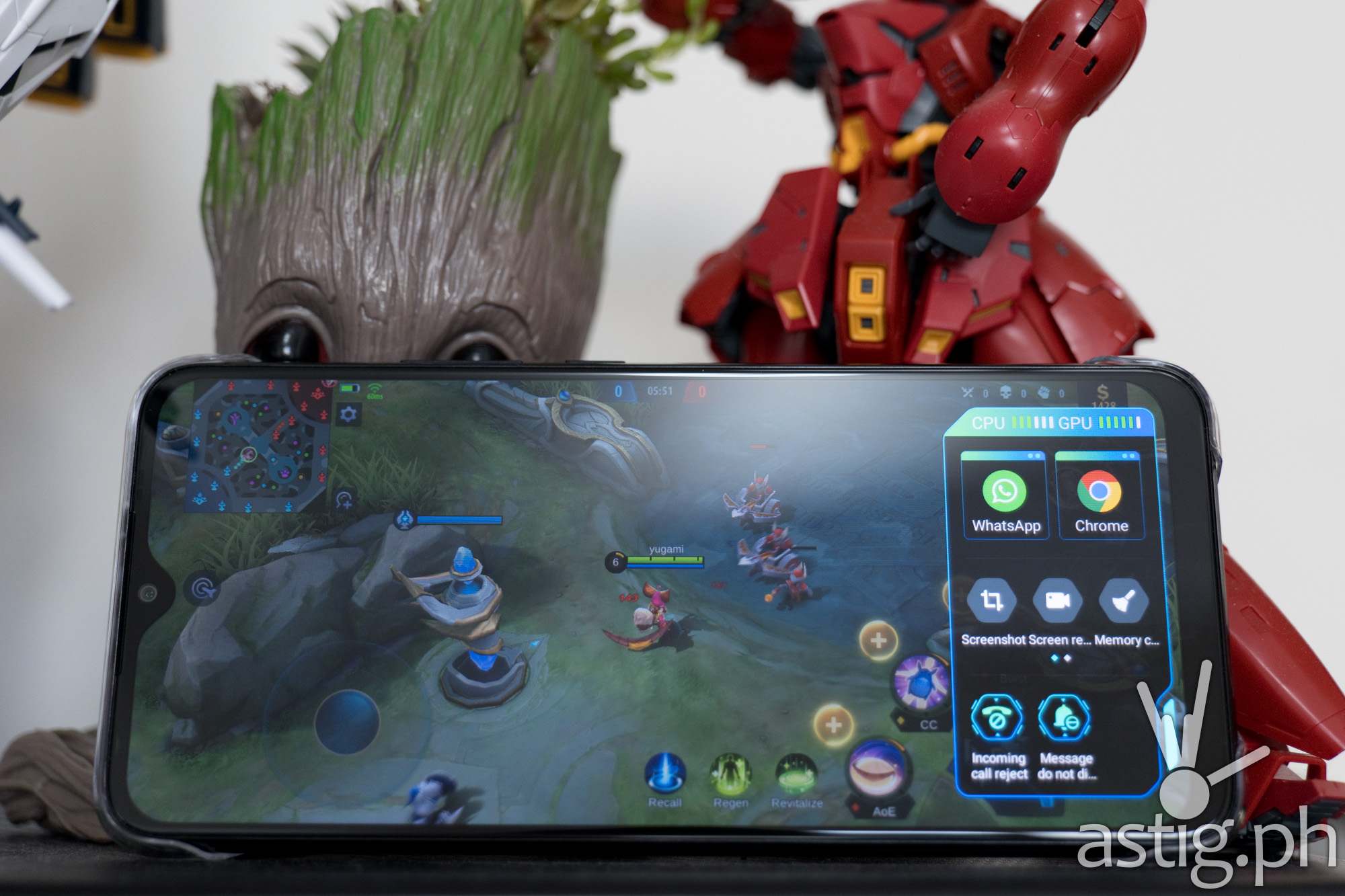 Our reference game Marvel Super War proved a little harder for the HOT 10 PLAY to drive. While we could play the game on low, you could feel the phone struggling. We wouldn't trust it for important matches.
Conveniently, XOS 7 has a built-in Game Mode that optimizes the phone's resources and settings in order to improve in-game performance. It also adds a game assistant panel that you can pull up by swiping at the edges while in-game, allowing you to do things like take screen recordings, chat and browse in a small window, and block calls and notifications.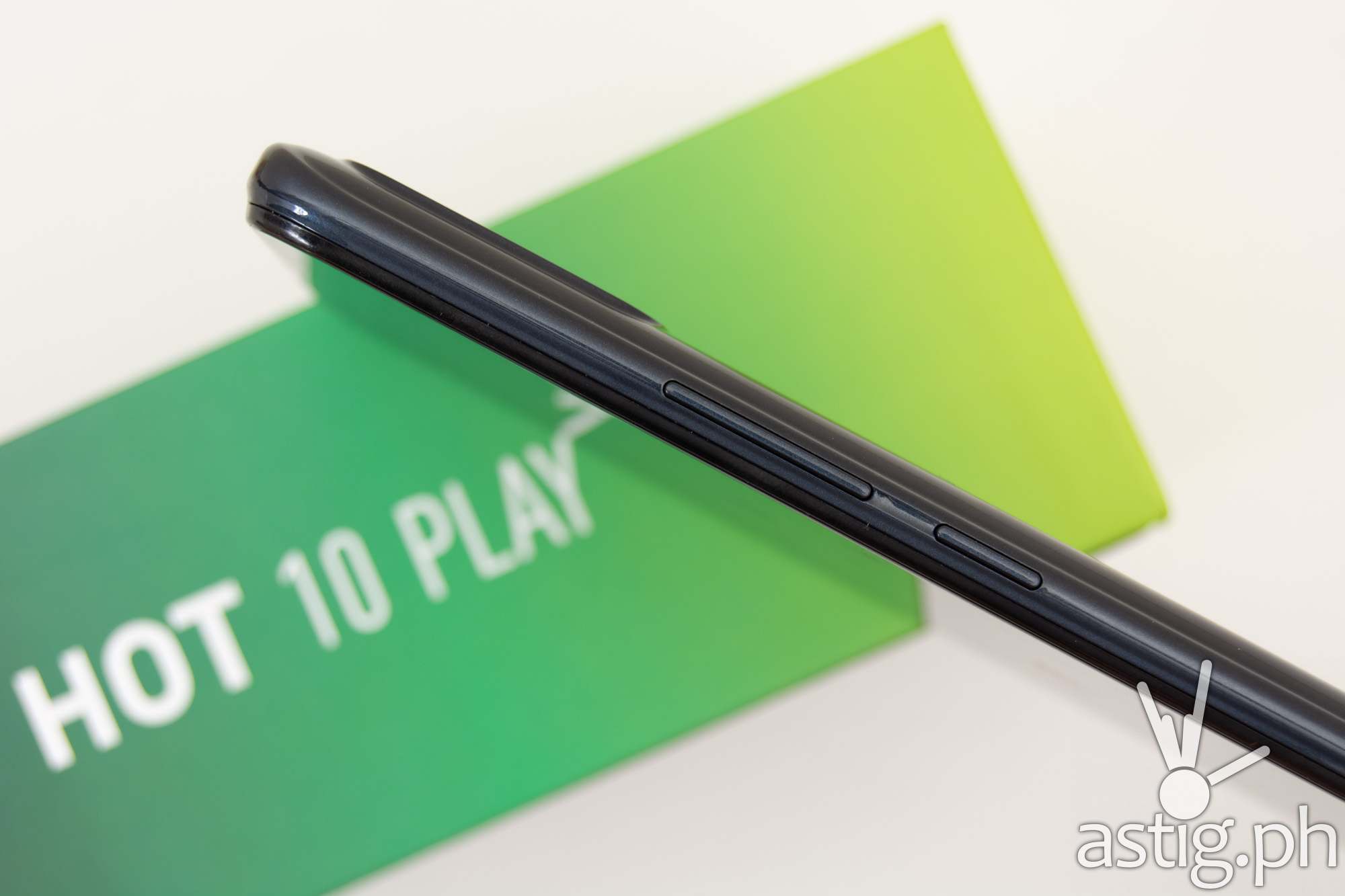 What we liked the most, however, was the Magic Button feature. This lets you re-map the volume up and volume down keys to press specific areas on the screen, which acts like L1R1 triggers for games that benefit from it.
Casual games were a piece of cake for the phone, of course. Additionally, the built-in digital wellbeing and parental controls make it convenient for parents to manage their kid's screen time.
13MP dual AI camera system
The main camera module on the HOT 10 PLAY has a 13MP main sensor and an unknown secondary sensor which you can't really take photos with, so we're going to assume that it's used for depth mapping and/or AI functions, as the phone's branding might suggest.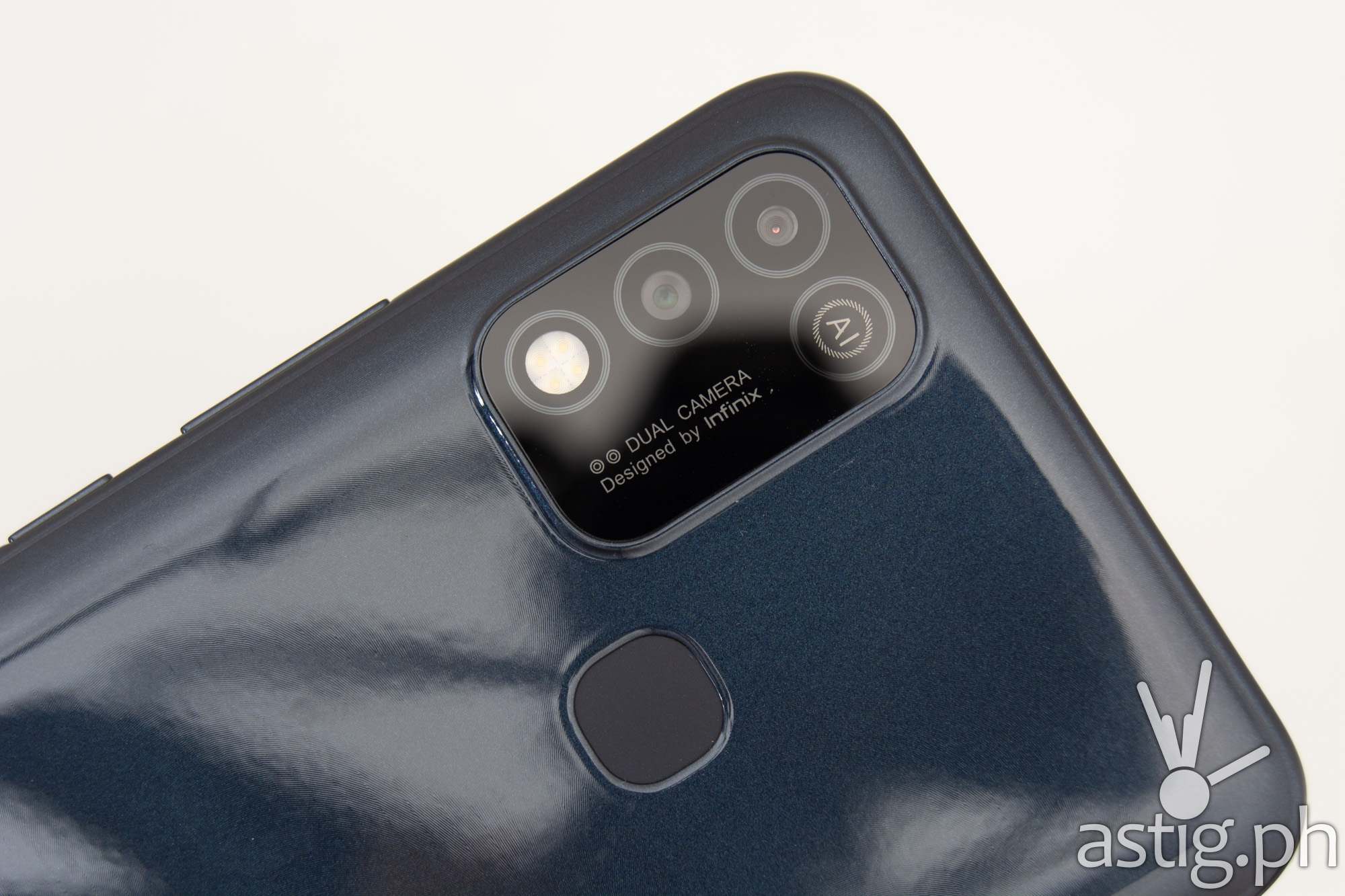 Our best photos came out looking sharp, though it needs a lot of light in order to do so. White balance is on the warmer side with highlights having a tendency to appear blown out due to the camera's narrow dynamic range.
View this post on Instagram
The front-facing camera also takes decent selfies, but besides that, we had a lot of fun taking VR photos. It's one of those gimmicky features that are actually well-executed, so that the resulting images actually look really good.
Click on the sample photos for a large version!
Videos weren't too bad either – we took several samples using both front and rear cameras for you. Hit play to check them out and tell us what you think!
Enough power to last half a week
We've had the phone for about two weeks, and on the average, we got at least 2-3 days of battery life on a single charge. You can easily stretch it further with better power management, though: XOS 7 comes with a built-in power management system called "Power Marathon" that conserves the system's battery life when you're down to your last 5 percent.
According to Infinix, this mode can give you up to 19 additional hours of battery life which can support up to 2.7 hours of calls.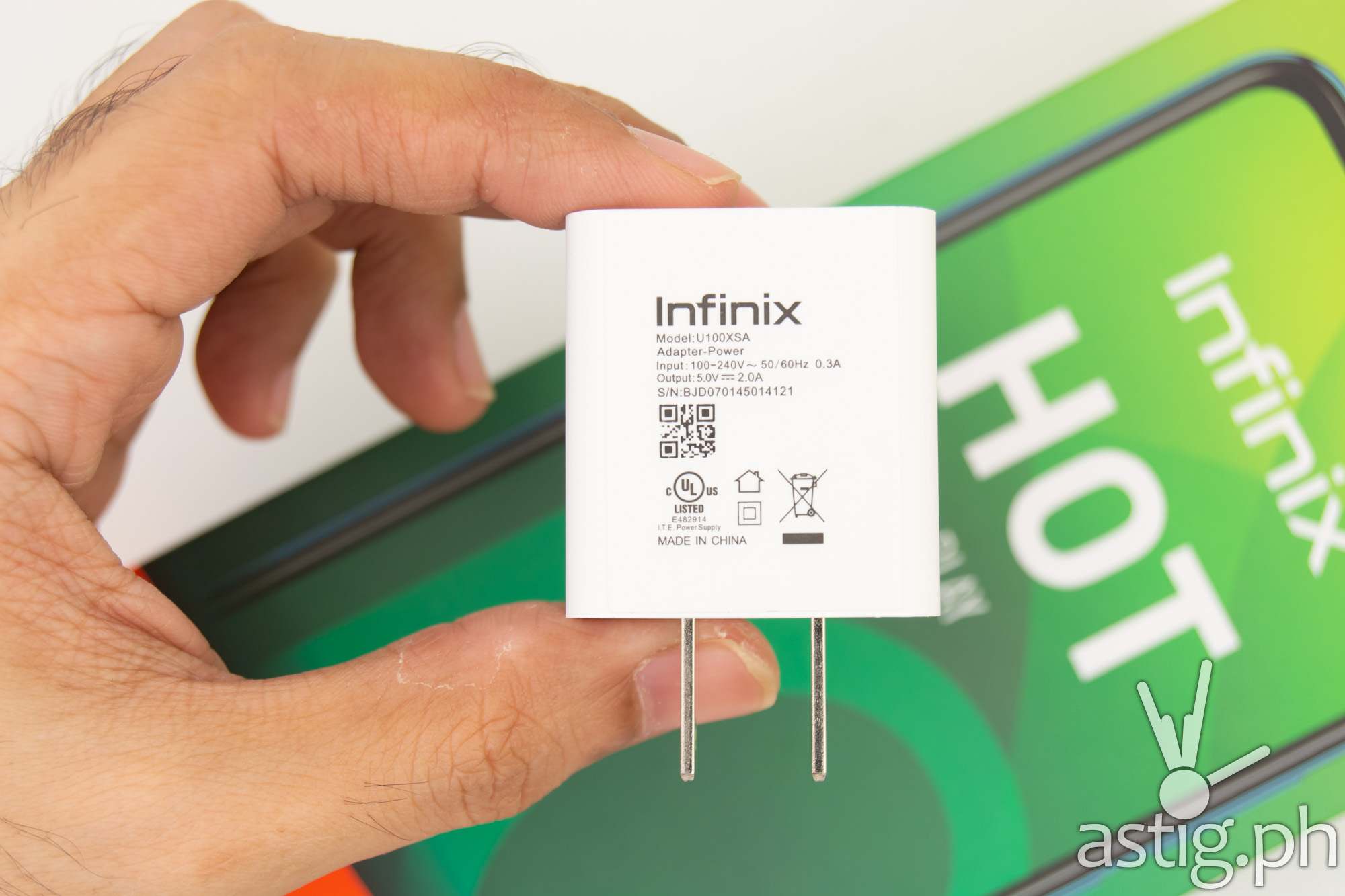 That's absolutely insane, but if you look at the phone's specs, you'll see why: Helio G35 is a very low-powered chipset, and the display panel is only 720P, despite its relatively larger size at 6.82 inches.
Drop a 6,000 mAh battery, optimize your system's resource utilization, and bam – you have a phone that can run for half a week or more.
Verdict
Infinix strengthens its budget offering with the refreshed Infinix HOT 10 PLAY. In addition to more memory and storage, we now get a much faster chipset in the form of the Helio G35.
By re-using the seasoned HOT 10 PLAY framework, Infinix manages to keeps costs low: priced at only Php4,990 or only Php691 more than the Helio G25 version, a small price to pay for double the memory and storage capacity in addition to better performance.
Infinix HOT 10 PLAY: upgraded Helio G35 model arrives May 28
To sweeten the deal, it can even go as low as Php4,990 during the Infinix Super Brand Day sale on May 28, making it one of the most affordable Helio G-series Android phones in the market today.
At that price, the Infinix HOT 10 PLAY with its large 6.82-inch screen offers good value as an all-around entertainment device for casual gaming, video streaming, and social media.
Apart from the big screen, parental controls and decent AI cameras makes it a good distance learning device for kids and students.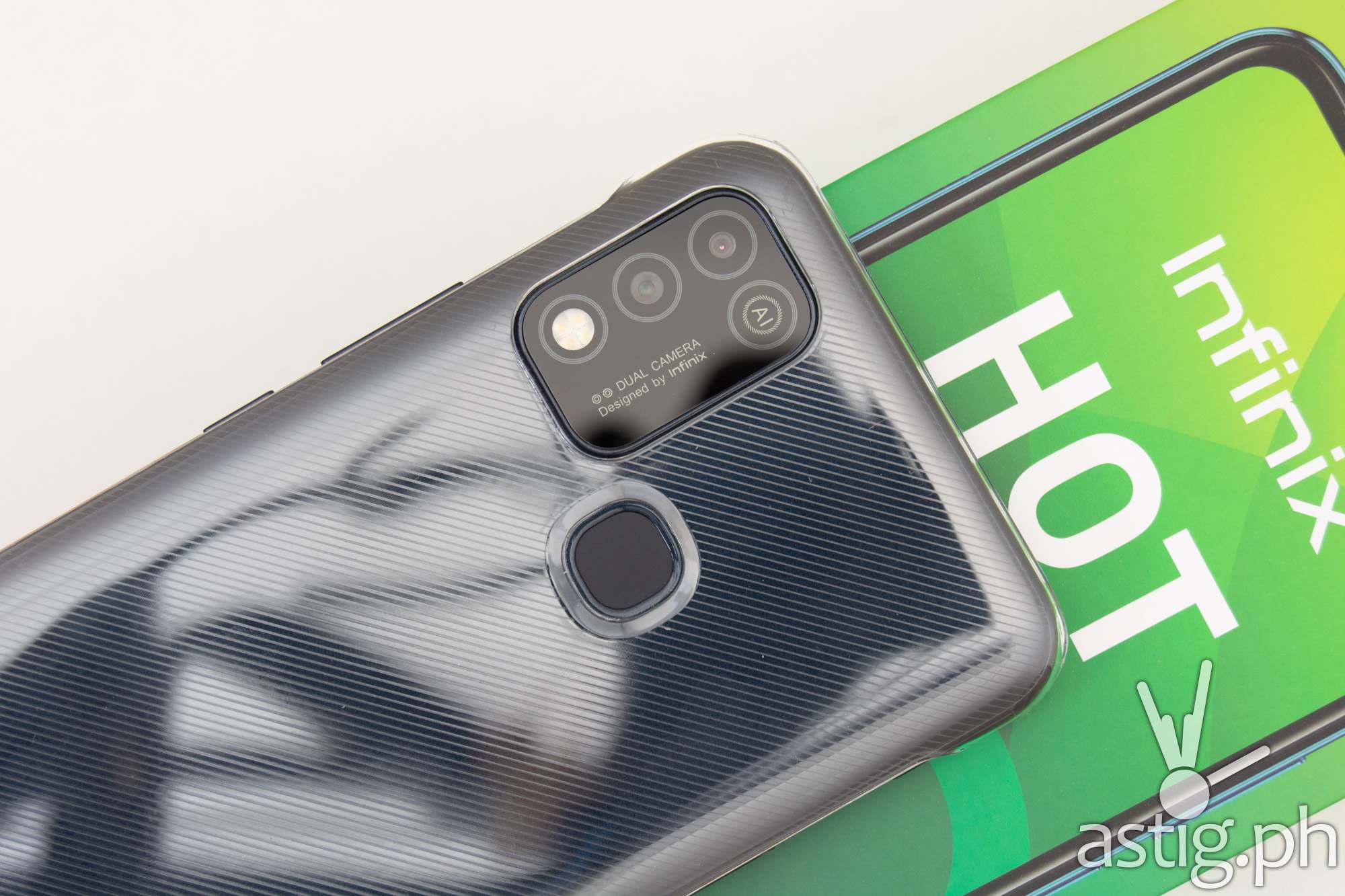 Infinix HOT 10 PLAY technical specifications (Philippines)
Display: 6.82 inches; 720 x 1640 pixels; IPS LCD
SIM: Dual SIM (nano-SIM, dedicated slots)
OS Android 10 (Go Edition); XOS 7.0
Chipset (SoC): MediaTek Helio G35
CPU: Octa-core (2.3GHz max)
GPU: PowerVR GE8320
Memory (RAM) + storage (ROM): 4GB+64GB
Expansion: microSD (dedicated slot)
Main camera (rear): 13MP + AI lens
Selfie camera (front): 8MP f/2.2
Connectivity: 2.4 GHz Wi-Fi 802.11 b/g/n ; Bluetooth 4.2; A2DP, LE
I/O: Micro USB, 3.5mm audio jack
Biometrics: rear fingerprint sensor
Battery: 6,000 mAh; 10W
Colors: Aegean Blue, Morandi Green, Obsidian Black, 7° Purple
Price (Philippines): Php4,990 (4GB + 64GB)