MAKATI, Philippines – In light of the Makati Parking Building issue currently being investigated by the Philippine Senate, a series of social media posts protesting the "Ganito Kami sa Makati" campaign has caught fire lately. According to the post, the "Make It Makati" is a myth that only highlights the Makati Central Business District (CBD), the developed portion of Makati along Ayala and Buendia Avenue.
A large part of Makati has remained undeveloped and impoverished, despite spending 23 years under former Makati Mayor and now Vice President Jejomar Binay Sr. A former lawyer, Binay became Mayor of Makati in 1986, when he was appointed by President Corazon Aquino after the former mayor, Nemesio Yabut, died during the 1986 EDSA Revolution. His wife, Elenita Binay, took office as Makati Mayor during the lull between 1998 to 2001. In the Philippines, Mayoral elections are performed every four years, and Mayors can only be reelected for up to three consecutive terms.
The elder Binay's son, Jejomar Erwin "Junjun" Binay Jr., is currently serving as Mayor of Makati City. This makes for a total of 28 years that Makati has been under the Binays. The city has not seen a non-Binay Mayor since Nemesio Yabut "left" the office in 1986.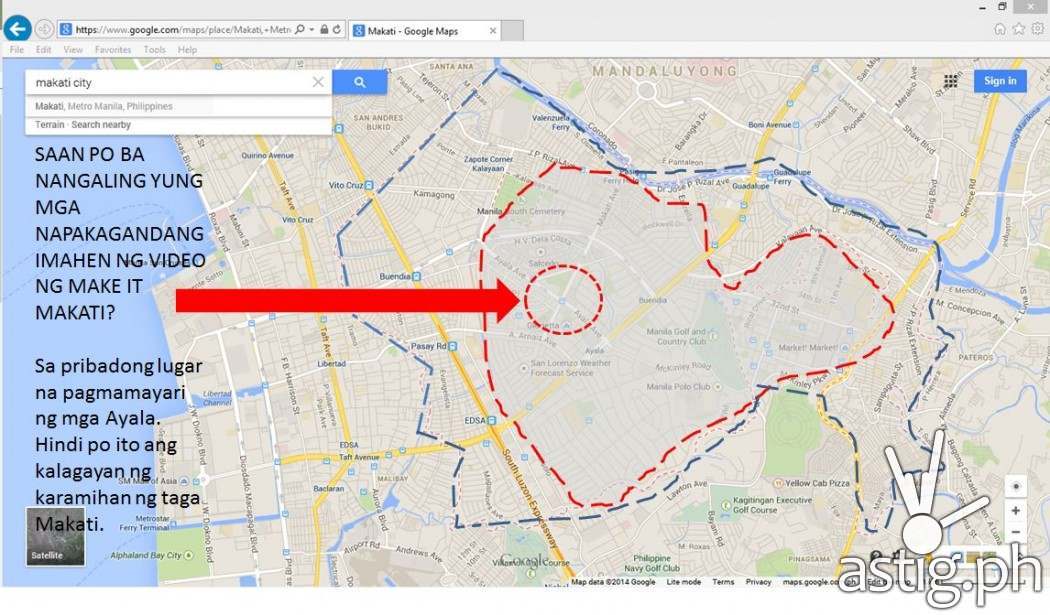 The series of posts argues that claims of Makati's affluence should not be attributed to the Binays, but to the businesses – the Ayala Corporation (PSE: AC), in particular. While the business district continues to flourish, part of it continues to deteriorate, slum areas filled with squatters (illegal immigrants) and prone to flooding.
It aims to expose this as a harsh reality as opposed to the dream-like image presented by the campaign.
Full snapshots of the posts below.
Ganito Kami sa Makati (GKSM) as basis for being elected (Philippine) President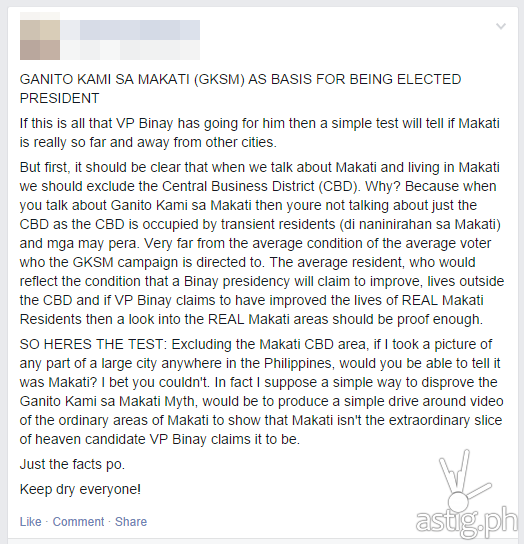 GANITO KAMI SA MAKATI (GKSM) AS BASIS FOR BEING ELECTED PRESIDENT (posted September 14, 2014)
If this is all that VP Binay has going for him then a simple test will tell if Makati is really so far and away from other cities.
But first, it should be clear that when we talk about Makati and living in Makati we should exclude the Central Business District (CBD). Why? Because when you talk about Ganito Kami sa Makati then youre not talking about just the CBD as the CBD is occupied by transient residents (di naninirahan sa Makati) and mga may pera. Very far from the average condition of the average voter who the GKSM campaign is directed to. The average resident, who would reflect the condition that a Binay presidency will claim to improve, lives outside the CBD and if VP Binay claims to have improved the lives of REAL Makati Residents then a look into the REAL Makati areas should be proof enough.
SO HERES THE TEST: Excluding the Makati CBD area, if I took a picture of any part of a large city anywhere in the Philippines, would you be able to tell it was Makati? I bet you couldn't. In fact I suppose a simple way to disprove the Ganito Kami sa Makati Myth, would be to produce a simple drive around video of the ordinary areas of Makati to show that Makati isn't the extraordinary slice of heaven candidate VP Binay claims it to be.
Just the facts po.
Keep dry everyone!
Nasaan ang tunay na Makati: Where is the "real" Makati?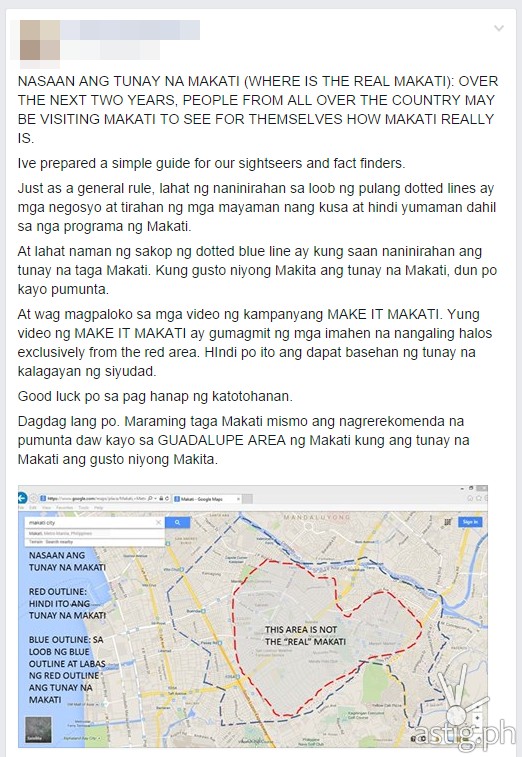 NASAAN ANG TUNAY NA MAKATI (WHERE IS THE REAL MAKATI) (posted September 15, 2014)
OVER THE NEXT TWO YEARS, PEOPLE FROM ALL OVER THE COUNTRY MAY BE VISITING MAKATI TO SEE FOR THEMSELVES HOW MAKATI REALLY IS.
Ive prepared a simple guide for our sightseers and fact finders.
Just as a general rule, lahat ng naninirahan sa loob ng pulang dotted lines ay mga negosyo at tirahan ng mga mayaman nang kusa at hindi yumaman dahil sa nga programa ng Makati.
At lahat naman ng sakop ng dotted blue line ay kung saan naninirahan ang tunay na taga Makati. Kung gusto niyong Makita ang tunay na Makati, dun po kayo pumunta.
At wag magpaloko sa mga video ng kampanyang MAKE IT MAKATI. Yung video ng MAKE IT MAKATI ay gumagmit ng mga imahen na nangaling halos exclusively from the red area. HIndi po ito ang dapat basehan ng tunay na kalagayan ng siyudad.
Good luck po sa pag hanap ng katotohanan.
Dagdag lang po. Maraming taga Makati mismo ang nagrerekomenda na pumunta daw kayo sa GUADALUPE AREA ng Makati kung ang tunay na Makati ang gusto niyong Makita.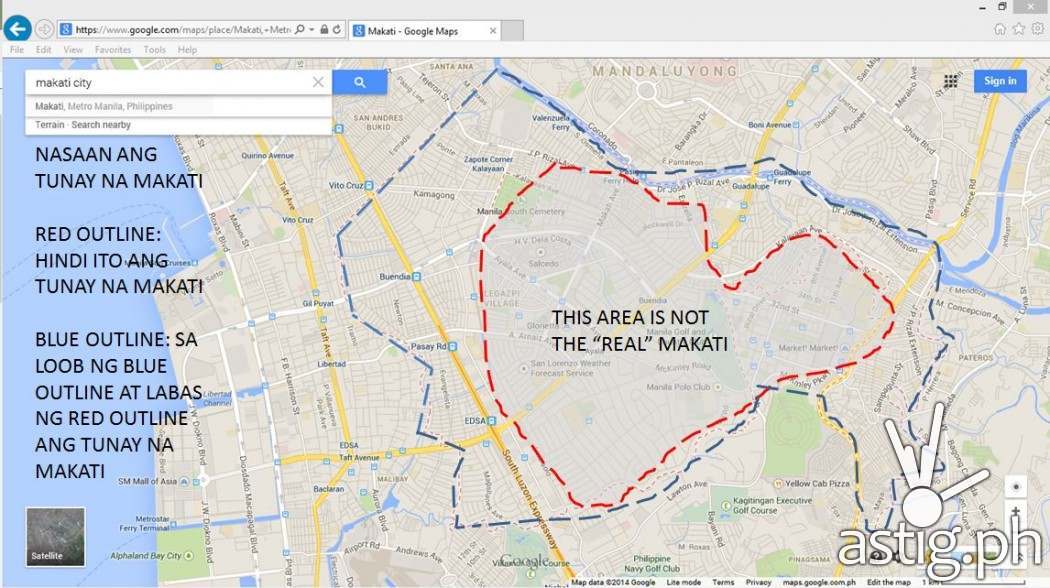 Fun facts on Congresswoman Abby Binay
One more post alleges that perhaps Congresswoman Abby Binay, a resident of the first district of Makati, should not represent the second district of Makati: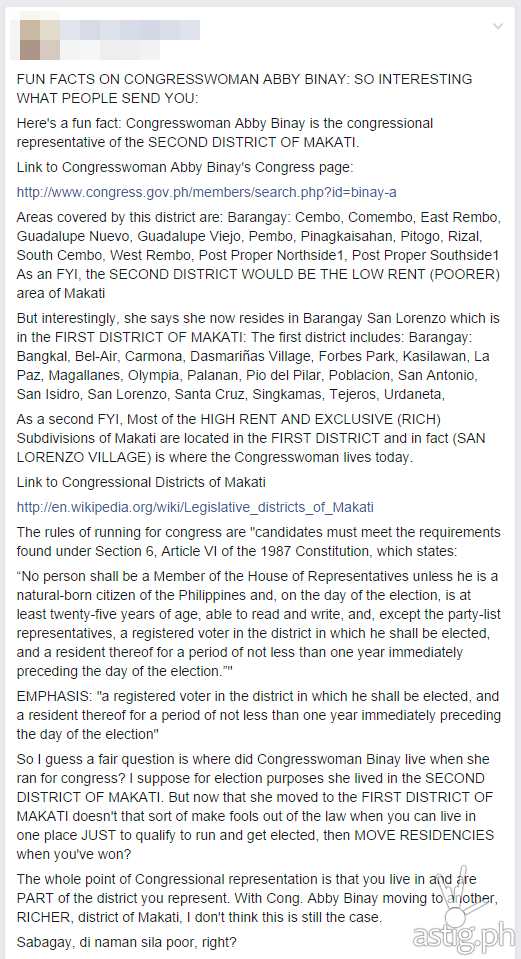 FUN FACTS ON CONGRESSWOMAN ABBY BINAY: SO INTERESTING WHAT PEOPLE SEND YOU:
Here's a fun fact: Congresswoman Abby Binay is the congressional representative of the SECOND DISTRICT OF MAKATI.
Link to Congresswoman Abby Binay's Congress page: http://www.congress.gov.ph/members/search.php?id=binay-a
Areas covered by this district are: Barangay: Cembo, Comembo, East Rembo, Guadalupe Nuevo, Guadalupe Viejo, Pembo, Pinagkaisahan, Pitogo, Rizal, South Cembo, West Rembo, Post Proper Northside1, Post Proper Southside1 As an FYI, the SECOND DISTRICT WOULD BE THE LOW RENT (POORER) area of Makati
But interestingly, she says she now resides in Barangay San Lorenzo which is in the FIRST DISTRICT OF MAKATI: The first district includes: Barangay: Bangkal, Bel-Air, Carmona, Dasmariñas Village, Forbes Park, Kasilawan, La Paz, Magallanes, Olympia, Palanan, Pio del Pilar, Poblacion, San Antonio, San Isidro, San Lorenzo, Santa Cruz, Singkamas, Tejeros, Urdaneta,
As a second FYI, Most of the HIGH RENT AND EXCLUSIVE (RICH) Subdivisions of Makati are located in the FIRST DISTRICT and in fact (SAN LORENZO VILLAGE) is where the Congresswoman lives today.
Link to Congressional Districts of Makati http://en.wikipedia.org/wiki/Legislative_districts_of_Makati
The rules of running for congress are "candidates must meet the requirements found under Section 6, Article VI of the 1987 Constitution, which states:
"No person shall be a Member of the House of Representatives unless he is a natural-born citizen of the Philippines and, on the day of the election, is at least twenty-five years of age, able to read and write, and, except the party-list representatives, a registered voter in the district in which he shall be elected, and a resident thereof for a period of not less than one year immediately preceding the day of the election.""
EMPHASIS: "a registered voter in the district in which he shall be elected, and a resident thereof for a period of not less than one year immediately preceding the day of the election"
So I guess a fair question is where did Congresswoman Binay live when she ran for congress? I suppose for election purposes she lived in the SECOND DISTRICT OF MAKATI. But now that she moved to the FIRST DISTRICT OF MAKATI doesn't that sort of make fools out of the law when you can live in one place JUST to qualify to run and get elected, then MOVE RESIDENCIES when you've won?
The whole point of Congressional representation is that you live in and are PART of the district you represent. With Cong. Abby Binay moving to another, RICHER, district of Makati, I don't think this is still the case.
Sabagay, di naman sila poor, right?
Ganito Kami sa Makati: Make it Happen, Make it Makati video