Ateneo de Manila University confirmed that their varsity player John Apacible was the drunk man behind the viral video posted by Top Gear Philippines.
Apacible is in the center of the controversy after challenging the video-taker to a fistfight while flashing a 'councilor' vanity plate who caused a commotion along timog Avenue in Quezon City around midnight of Sunday.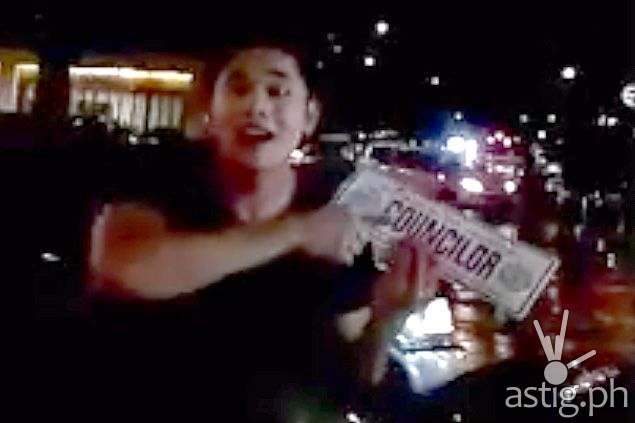 He then left without being reprimanded by responding policemen and traffic enforcers despite being drunk.
Netizens initially thought that the guy is a councilor but it was later confirmed that that Apacible's girlfriend is a councilor in the province.
Ateneo de Manila calls John Apacible's actions 'unacceptable'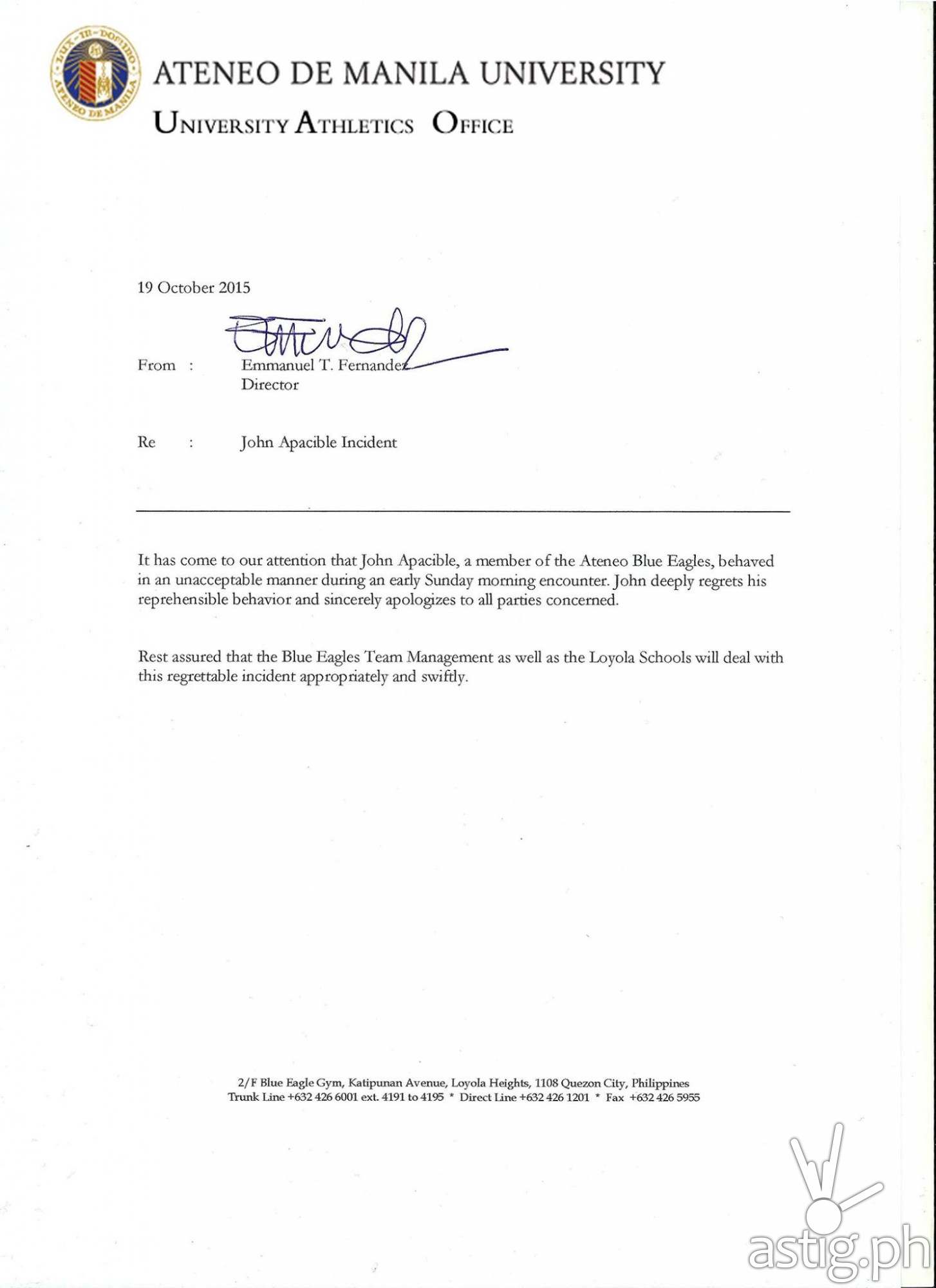 According to the memorandum issued by Director Emmanuel T. Fernandez, it has come to the school's attention that Apacible behaved in an 'unacceptable manner' during the spat where he was caught on video going on a rant and later challenging the one holding the camera to a fistfight.
"John deeply regrets his reprehensible behavior and deeply apologizes to all parties concerned," the memo said.
Director Fernandez further assured that Blue Eagles management and the Loyola Schools will deal with this regrettable incident appropriately and swiftly.
Blue Eagles team manager Epok Quimpo and coaches said that Apacible will face suspension in the UAAP games.
Response from the Ateneo community
Ateneans are quick to shun Apacible's actions. In an open letter, a former Ateneo Blue Eagles team member 'Jobe Nkemakolam' is hopeful that John can learn from his mistakes.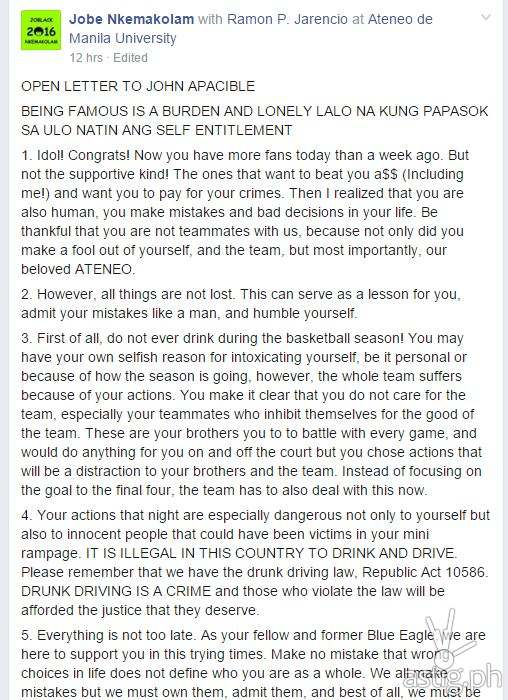 He writes:
OPEN LETTER TO JOHN APACIBLE
BEING FAMOUS IS A BURDEN AND LONELY LALO NA KUNG PAPASOK SA ULO NATIN ANG SELF ENTITLEMENT
1. Idol! Congrats! Now you have more fans today than a week ago. But not the supportive kind! The ones that want to beat you a$$ (Including me!) and want you to pay for your crimes. Then I realized that you are also human, you make mistakes and bad decisions in your life. Be thankful that you are not teammates with us, because not only did you make a fool out of yourself, and the team, but most importantly, our beloved ATENEO.
2. However, all things are not lost. This can serve as a lesson for you, admit your mistakes like a man, and humble yourself.
3. First of all, do not ever drink during the basketball season! You may have your own selfish reason for intoxicating yourself, be it personal or because of how the season is going, however, the whole team suffers because of your actions. You make it clear that you do not care for the team, especially your teammates who inhibit themselves for the good of the team. These are your brothers you to to battle with every game, and would do anything for you on and off the court but you chose actions that will be a distraction to your brothers and the team. Instead of focusing on the goal to the final four, the team has to also deal with this now.
4. Your actions that night are especially dangerous not only to yourself but also to innocent people that could have been victims in your mini rampage. IT IS ILLEGAL IN THIS COUNTRY TO DRINK AND DRIVE. Please remember that we have the drunk driving law, Republic Act 10586. DRUNK DRIVING IS A CRIME and those who violate the law will be afforded the justice that they deserve.
5. Everything is not too late. As your fellow and former Blue Eagle, we are here to support you in this trying times. Make no mistake that wrong choices in life does not define who you are as a whole. We all make mistakes but we must own them, admit them, and best of all, we must be sorry for them. The whole or (most) ATENEO community will be there for you after owning up to your mistakes.
6. In seriousness, I have a number of friends who have died while driving intoxicated, I don't want to hear in the future that something grave will happen to you because you chose to drink and drive again. Do not let innocent people fall victim to this crime, because it tear apart family and friends if their love ones are lost to accidents. You can never replace or bring a life back, and a single night of drinking and driving could shatter the hopes and dreams of others, Imagine if this would happen to your own family and friends, think of the suffering that people endure for the simple mistakes of others.
7. You are lucky that the man you encountered was not insane or luckily did not have a gun. Imagine if the next person you did this to had nothing to lose and would shoot you down. Road rage is real, and sometimes the person in your next encounter may be even more "mayabang" than you are.
8. Think of your family and friends who will also bear your mistakes. Think of them and how they will suffer if you lose your life because of road rage.
9. I hope this will become a lesson for you and turn your life around after this.
10. The Ateneo Community is here to support you as an Atenean and a human. We are here to criticize your actions because it was clearly wrong and "unbecomming" of an Atenean. But at the end, when you have learned your mistakes and reformed yourself, we are definitely here to support and cheer for you again.
-From an imperfect former blue eagle.
#10
2008 UAAP CHAMP AGAINST DLSU
—-> GANYAN DAPAT MAGYABANG
Letter of apology from John Apacible
Ateneo de Manila has released the following letter of apology from John Apacible, signed October 20 2015: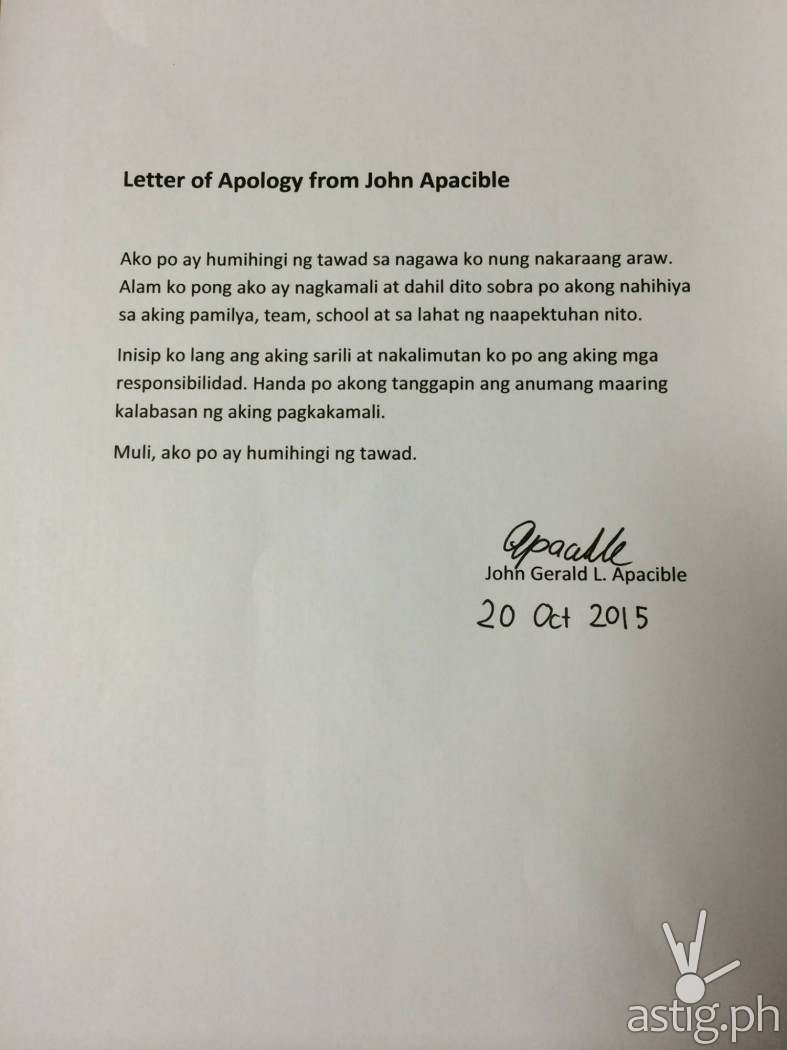 The letter contains the following text, written in Filipino:
Ako po ay humihingi ng tawad sa nagawa ko nung nakaraang araw. Alam ko pong ako ay nagkamali at dhil dito sobra po akong nahihiya sa aking pamilya, team, school at sa lahat ng naapektuhan nito.

Inisip ko lang ang aking sarili at nakalimutan ko po ang aking mga responsibilidad. Handa po akong tanggapin ang anumang maaaring kalabasan ng aking pagkakamali.

Muli, ako po ay humihingi ng tawad.

(signed)
John Gerald L. Apacible
20 Oct 2015
What do you think of John Apacible's actions? How should an institution like Ateneo de Manila handle the incident? Share your thoughts below.