On its fifth year, Philstage Gawad Buhay award-winning theater company, 9 Works Theatrical, invites you to look back, and move forward, with one of the greatest and most poignant musicals of all time, Jason Robert Brown's "The Last Five Years."
In a heartbreaking and moving tale of "he says, she says" told forward and backward, we meet rising young, novelist Jamie Wellerstein (played by Gawad Buhay award-winning actor Joaquin Valdes) and struggling young actress Cathy Hyatt (played by singer-actress and PMPC Star Awards awardee Nikki Gil).
Cathy begins at the rueful end of their marriage and moves towards a hopeful beginning. Jamie begins as a giddy, young 20-something who has just met the girl of his dreams but winds up making less than favorable choices – a story all too familiar but structured in a way that is unique whilst set to Brown's emotionally raw and honest music.
It will be very intimate, deep and painful.  But everyone will love it.
In this exclusive interview, get to know artistic director Robbie Guevara and managing director Santi Santamaria as they talk about the genius that is Jason Robert Brown, company milestones, and what's in store for 9 Works Theatrical in the next five years.
Besides the obvious that 9WT is five years old, what made you decide to do The Last Five Years?
Santi Santamaria: Personally, I wanted something different to offer to our audience this time around. Something that they don't usually see from a 9WT production and something that would also be a challenge to the actors and the director.
Robbie Guevara: Never mentioned it in our meetings but it did occur to me that doing another Jason Robert Brown musical would add a nice touch to the fact that we started out with one as well!
Santi: The Last Five Years has been lingering in our minds in the past years. It has its own following, a unique story line and a difficult and challenging material altogether. With a suitable title to match the occasion, it seemed to be a great choice. We discussed as a team and everyone agreed to do it.
How is this production going to be different from all other musicals that 9WT has staged in the past?
Robbie: To begin with, the rehearsal is currently unlike any other rehearsal process we have done. For the audience, this will be the first fully stylized staging they will experience from us.
Santi: It will be very intimate, deep and painful.  But everyone will love it.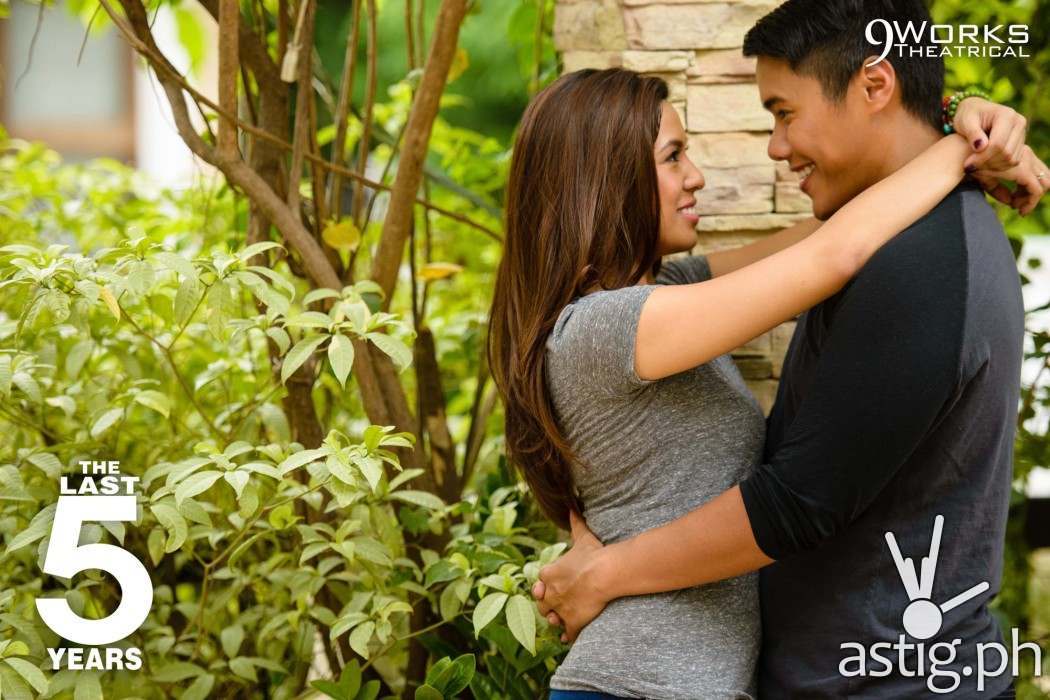 Just curious, what was the selection process like for Nikki and Joaquin to play the role of Cathy and Jamie? Why them?
Santi: The Last Five Years is a difficult material to work on.  We needed the two actors to be experienced and exceptional. Plus, of course, of right age. I'm sure you'll agree with me that both Nikki and Joaquin fit those qualifications.
Robbie: Nikki was a no-brainer given her experience with us. For Joaquin, he auditioned and wowed us simply!
Nikki was a no-brainer given her experience with us. For Joaquin, he auditioned and wowed us simply!
There's something poetic about launching 9WT with a Jason Robert Brown musical. And then celebrating your five years with another one. Was this intentional? What is the significance of Jason Robert Brown in your life as a producer / artist? Or in the journey of 9WT in general?
Santi: Everything just fell into place at the right time.  It wasn't really intentional but a very welcome coincidence since Jason Robert Brown is someone we have much respect for because of his brilliant artistry and music.  He serves as an inspiration to many including us in 9WT.
Robbie: Intentional for me. I think Jason's music, specifically after hearing Songs For a New World, made me "come back" to musical theatre, believing there will be more and more brilliant musicals to come – and with it, more challenging ways to produce them. I came home from the UK Tour of Miss Saigon seriously contemplating leaving theatre for film and TV production. Jason Robert Brown's music, along with a growing local interest in theatre, changed that.
"Have I mentioned today, how lucky I am, to be in love with you?
What's your favorite line / song in the play and why?
Robbie: Favorite song – "If I Didn't Believe in You;" Favorite line – "Have I mentioned today, how lucky I am, to be in love with you?" Both are just too personal for me. I can't ignore it.
Santi: The song "The Next Ten Minutes."  It is very sincere, pure, touching and real. Every couple, especially those who are married, will be able to relate to this song.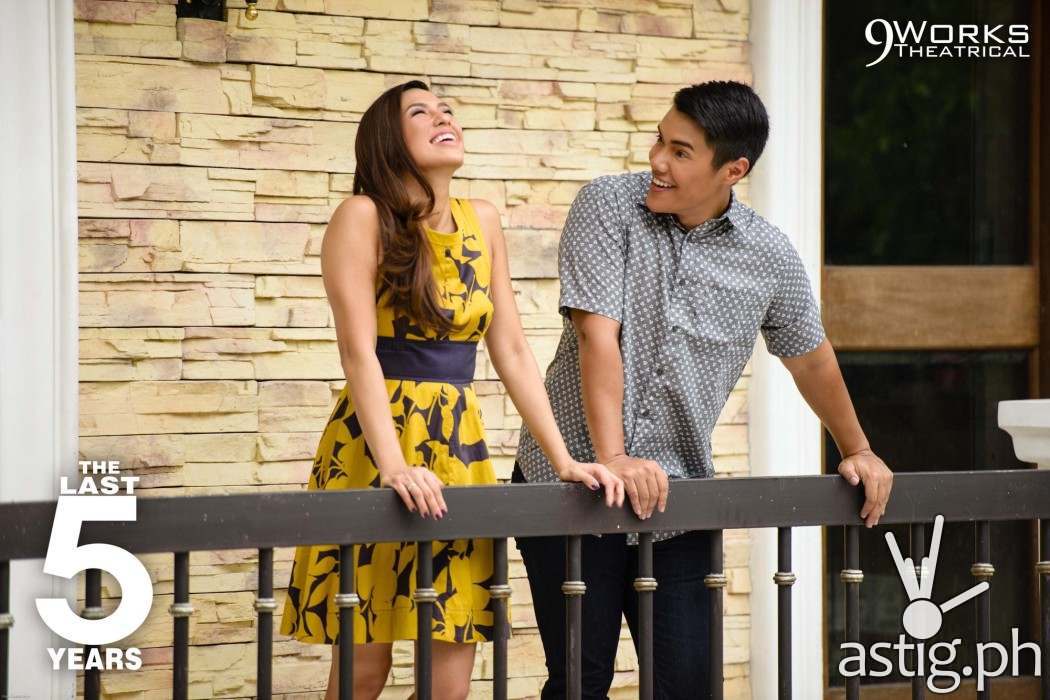 Looking back, what are five of the biggest moments or highlights in your 9WT journey so far?
Robbie: One: Doing The Wedding Singer – the show on which 9WT was founded to begin with. Two: A new family made with friends. Three: Playing one of my dream roles in Charlie Brown. Four: Forming 9PO. We're the only theatre company who breeds musicians as much as we do actors and stage managers. Five: Helping form The Sandbox Collective. Again, we're the only theatre company willing to support a new, daring venture into the unknown, which is non-commercial work.
Santi: First was when we launched the company. The dream officially became a reality. Second, RENT. We were astonished by the reception of the audiences and the demand for more tickets that we had to run it thrice in one year. Third, the launch of Stage Camp & 9PO (9 Works Philharmonic • Pit • Pop Orchestra). Not only are we mounting professional productions to help our local professional actors, we are now honing and guiding amateurs to live their hopes and dreams of being on stage in the future. Regarding 9PO, we now have our own orchestra. Fourth: The Wedding Singer. This was the main reason why Robbie and I decided to put up a theater company. We wanted to stage The Wedding Singer. Fifth: Philstage Gawad Buhay win for Outstanding Musical Production for an Existing Material for Grease. Not bad for a rookie member theater company of Philstage to win the top award from the most credible award-giving body in the industry. In addition, being able to realize our mission of making a significant contribution to uplift the theater industry in the country. Why other theater companies (doing English plays) started sprouting along after we came to be is something I've pondered on and that puts a smile on my face.
Is there a dream show that 9WT would like the mount someday? Why?
Robbie: Les Miz. 'nuff said.
Santi: Jersey Boys.
Les Miz. 'nuff said.
What can audiences expect from JRB's The Last Five Years?
Robbie: Logging into iTunes to download the soundtrack or asking copies of it from friends (assuming they don't have it yet). THEY WILL LOOK FOR IT.
Santi: Expect to hear beautiful music and be touched while you go through a different journey of love through the eyes of Jamie and Cathy.
Finally, what can 9WT audiences look forward to in the next five years of 9WT?
Santi: More world-class productions from 9 Works Theatrical and more exciting and innovative theater. Enter The Sandbox Collective.
Robbie: More and more shows, including original ones!
The Last Five Years
The artistic team of "The Last Five Years" is headed by Robbie Guevara as director, together with Joseph Tolentino as musical director for instrumentation, Lionel Guico as musical director for vocals, Mio Infante as scenographer, GA Fallarme as video & projection designer, Martin Esteva as lighting designer, Chuck Ledesma as sound designer, Gerhard Daco as technical director, Leo Castillo as photographer, Wobbletop Productions as video producer for marketing, Tin Samson as programme editor, and Larry Palma as graphic artist.
Heading the production team is executive producer Santi Santamaria, with Anna Santamaria as company manager, Toff de Venecia as PR director, GM Hernandez as marketing manager, Jonjon Martin and Issa Tuason as PR manager, Sunshine Domine as production manager, and Aries Alcayaga as production stage manager.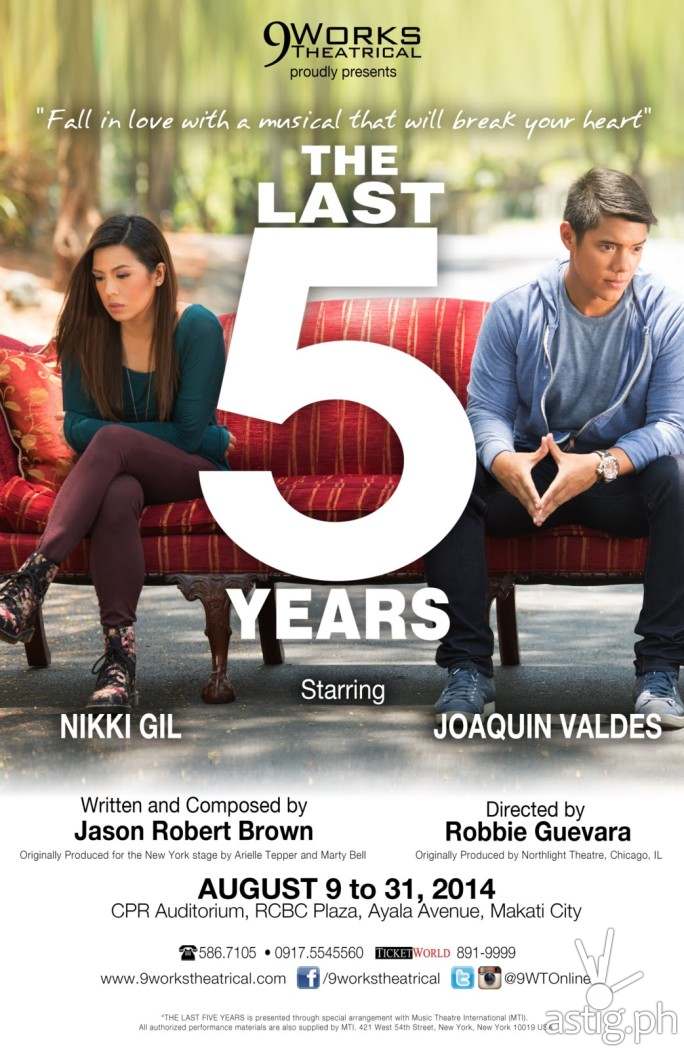 [stextbox id="astig"]"The Last Five Years" will melt your hearts at the CPR Auditorium, RCBC Plaza in Makati, all weekends from August 9 to 31, 2014, Friday and Saturday galas at 8pm, Saturday matinees at 3:30pm and Sunday matinees at 4pm.
For tickets and other inquiries, please call 586.7105 or 0917.554.5560 or email info at 9workstheatrical dot com.
Facebook: 9workstheatrical
Twitter: @9WTonline
Instagram: @9WTonline[/stextbox]