Annyeonghaseyo! If you're craving for authentic Korean food in Quezon City scout area check out Leann's Tea House. Founded by "a family of food-loving entrepreneurs", it is named after the daughter of Jacklyn Chua-Park and Yongbae Park. Situated comfortably along Mother Ignacia Avenue, Leann's Tea House is a favorite in the neighborhood for its eat-all-you-can Korean BBQ Samgyeopsal (grilled pork belly) and Woosamgyeop (grilled beef belly).
Ever since I came back from my trip to Seoul (South Korea) I have been craving for authentic Korean food to re-live the memories of the place. I really enjoyed my trip to Korea where I enjoyed the food as much as the sights and the culture. However, language set some barriers to my enjoyment since nobody in my group could read or speak Korean. At my girlfriend's behest we went to Leann's Tea House one Saturday morning to have brunch with Jiselle Chua, the General Manager.
Location and ambiance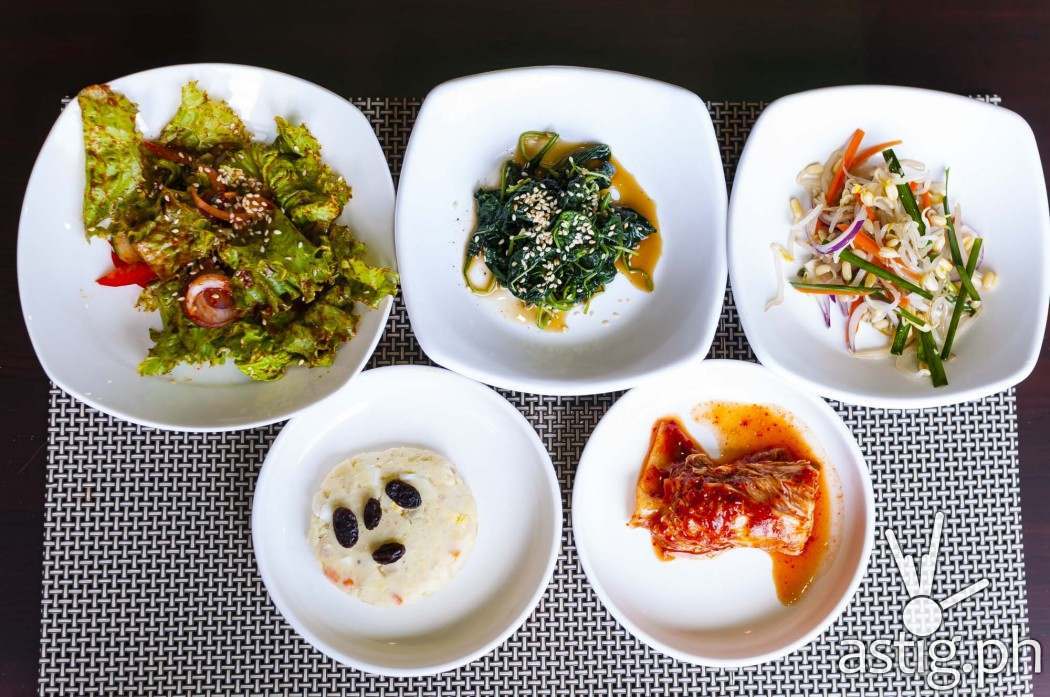 Finding our way to Leann's Tea House was easy once we got to Mother Ignacia, however the frontage is not as wide and can easily be missed. The place was formerly the ancestral home of the Chua Family.
Because of the narrow frantage parking can be a challenge, especially during lunch and dinner. The ongoing construction did not help, and we ended up parking across the street. No surprise here, this is a typical scene for anyone who has been in the busy Scout area of Quezon City.
The inside is spacious, cozy, and clean. The place gives off a hole-in-the-wall vibe, and the place was packed. If the number of Korean patrons are any indication, the place must really be quite popular.
Appetizers: tea, kimchi, and fried sushi, anyone?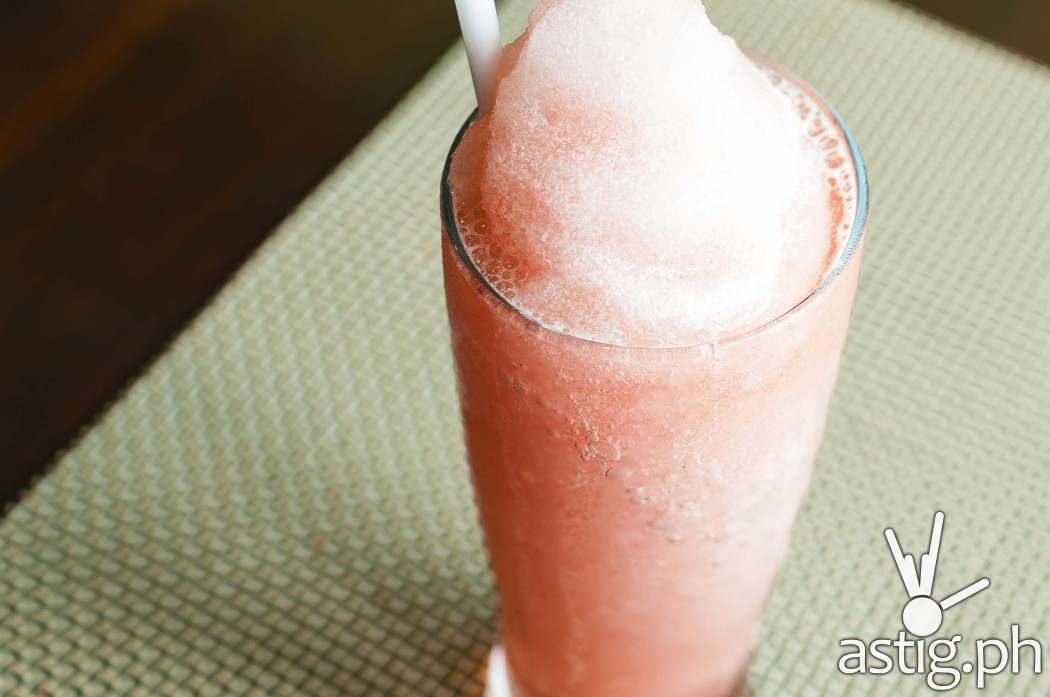 Upon arriving we ordered a type of ice-blended fruit tea called Omija, which turned out to be very refreshing with its fruity flavors and mild sweetness.
In typical Korean fashion we were served appetizers which includes special kimchi that they make in-house. I found their kimchi to be among the better ones I have tried – well-balanced with the right amount of bite. Maybe the hunger added to its experience.
Leann's Tea House sells their special kimchi at P180 per bottle.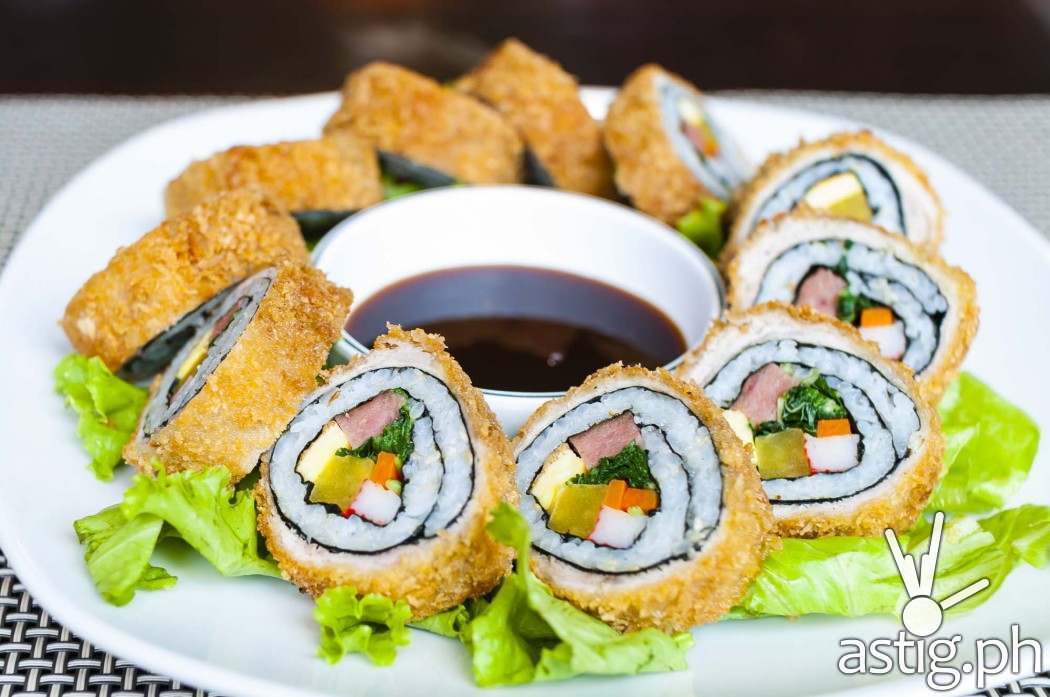 The next dish was a very colorful dish of deep-fried seaweed rice rolls wrapped in breaded pork called Tonkatsu Kimbap.
Imagine your favorite sushi wrapped in flavorful nori (seaweed), coated with a thin layer of pork, encrusted with breading. That's food poetry right there with all the layers and textures playing this harmonious, tasty little dance on your palate. Sushi fans know very well how much skill it takes to pull off a good sushi, and we were impressed.
We think this work of art speaks for itself, but if you're still unconvinced here's another shot from the top. You're welcome.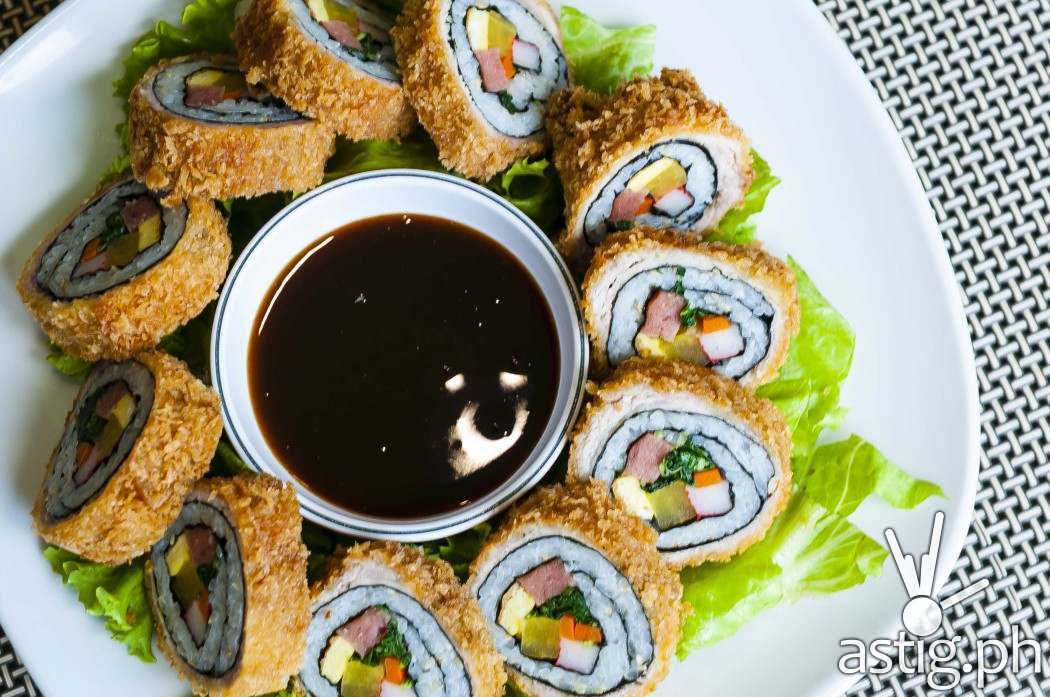 Who knew that Korean beef stew could taste (and look) this good?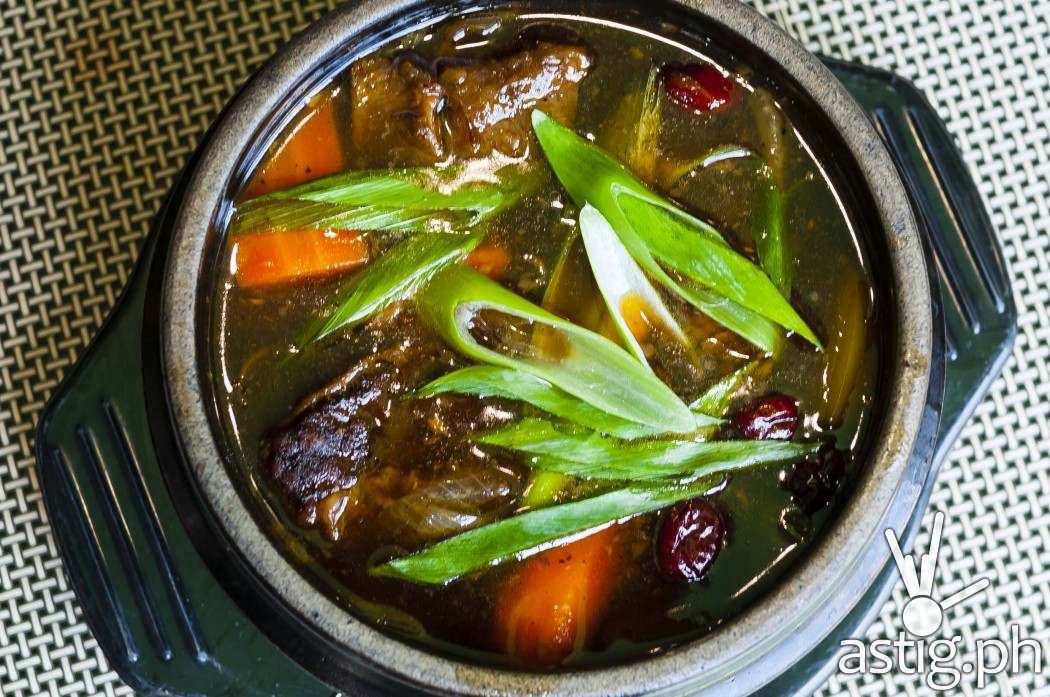 We were then served a steaming bowl of Galbi Jjim (Korean beef stew). I have always been a fan of beef stew which I always order in Korean restaurants but before Leann's only knowledge of Korean beef stew was limited to what I thought was a humble mixture of beef, soy sauce, and sugar.
Galbi Jjim at Leann's Tea House, however, had a lot more going on.
With Jiselle's help I learned that day that Leann's uses quality plums imported from Korea, which gave it a natural, fruity sweetness and aroma. Fresh vegetables add balance, resulting in a broth that is pure bliss and incomparable to the Korean beef stew that I was used to having.
Good quality beef short ribs seal the deal, and I realize that I can never see Korean beef stew in the same way again. I was indoctrinated. All hail the mighty plum.
If you've never had Kimchi Rice (bokkumbap), you don't know what you're missing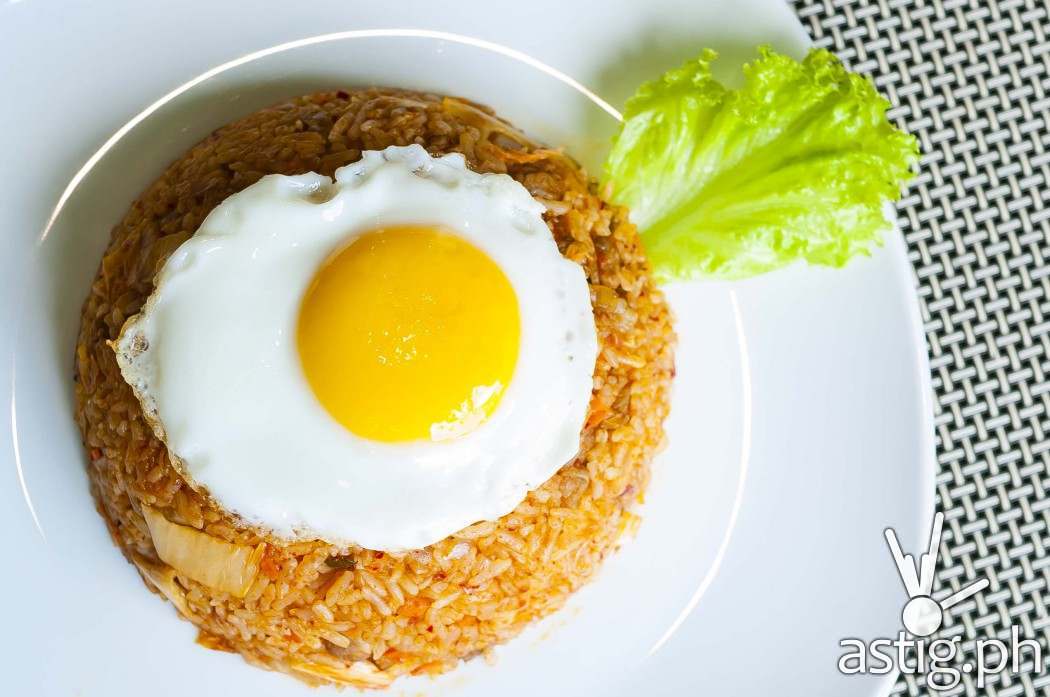 For carbs we tried the Bokkumbap (Kimchi Rice), which I must confess did not sound very appealing to me at first. I like kimchi sure, and I definitely like rice but I wasn't so sure I'd enjoy putting the two together.
So imagine my surprise when I dove in. My mouth is literally watering as I am writing this, so bear with me as I attempt to describe the experience. I would compare it paella, except it uses kimchi so there is no meat, only spices and vegetables.
Leann's version is a little sweet, which may be off-putting to some but I found it comforting. It is served with fried egg, sunny side-up so you can have it as a meal on its own.
LA Galbi: if there's one thing you must try at Leann's, this is it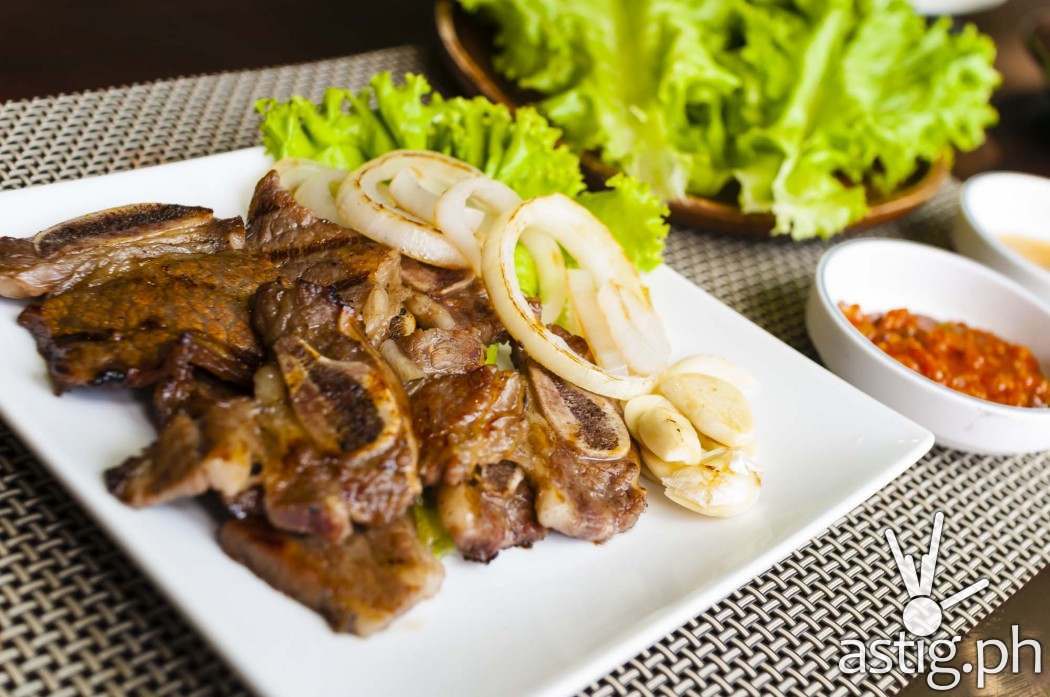 At last we move onto the star of the show, the premium LA Galbi. No, LA does not refer to the city of Los Angeles. It is unclear where the monicker originated, but based on our research it is attributed to the way it is cut – LAterally. Cute. I wonder what would happen if we wanted to cut it differently? But I digress.
Leann's uses premium quality US beef, marinated and grilled to perfection. The beef alone should be enough to satisfy your Leann's visit, but hold on to your horses – it gets better.
The true experience of the LA Galbi relies on three other components – fresh lettuce leaves, salted sesame oil, and a Korean spice called saamjang.
The folks over at Leann's create their own ssamjang from a combination of gochujang and (red chili paste) and doenjang (bean paste) plus other secret ingredients. As someone who loves spicy food I fell in love instantly and wanted to take it home, but I was told that they do not sell it.
"We want them to have a reason to come to our restaurant," explains Jiselle.
If you are unfamiliar with how to prepare Korean BBQ with ssamjang and leaves I strongly suggest you get your server to guide you.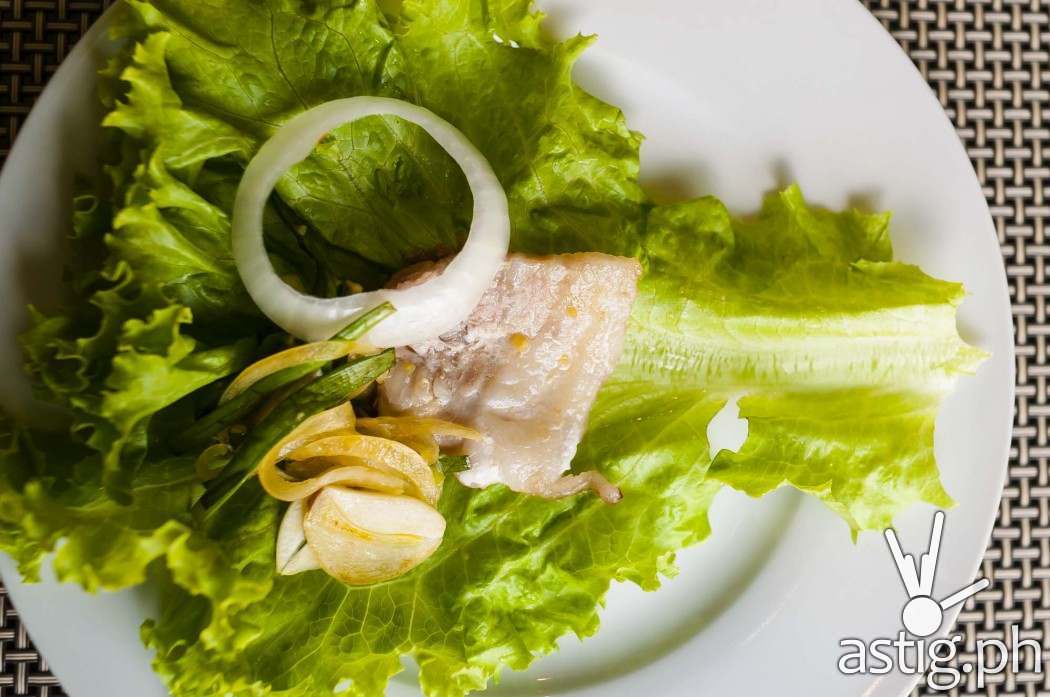 To give you an idea, the preparation is similar to Chinese beef lettuce wraps that you can order at the restaurants in Binondo. You dip your beef into the oil and salt mixture, lay it onto the lettuce, add the spice (ssamjang) and roll it all up like a lumpia.
If there's a single dish that you have to try at Leann's this is it. I am heavily conflicted and wanted to give the Galbi Jjim that recommendation — the broth just mind-blowing, but the LA Galbi is simply an experience you cannot miss.
Grill, at last: unlimited, eat-all-you-can Samgyeopsal and Woosamgyeop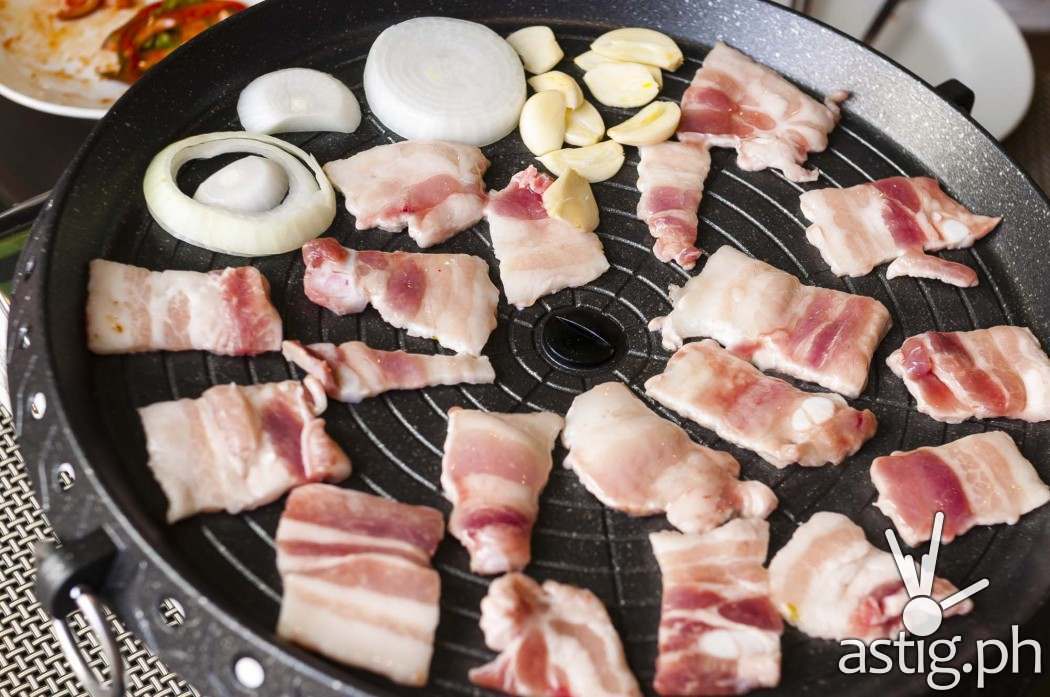 Finally we arrive at the final round with the famous eat-all-you-can Korean BBQ at Leann's Tea House, starring the Samgyeopsal (grilled pork belly) and Woosamgyeop (grilled beef belly).
As a non-Korean speaker the words might be confusing, and you'll end up switching the two. So try my association technique and think of a cow going "moo" for "Woo"-samgyup. I don't have a technique for remembering Sampgeyopsal yet, so perhaps you can just make squeaking noises next time you order. Make sure to squeal as loud as you can so your server understands you.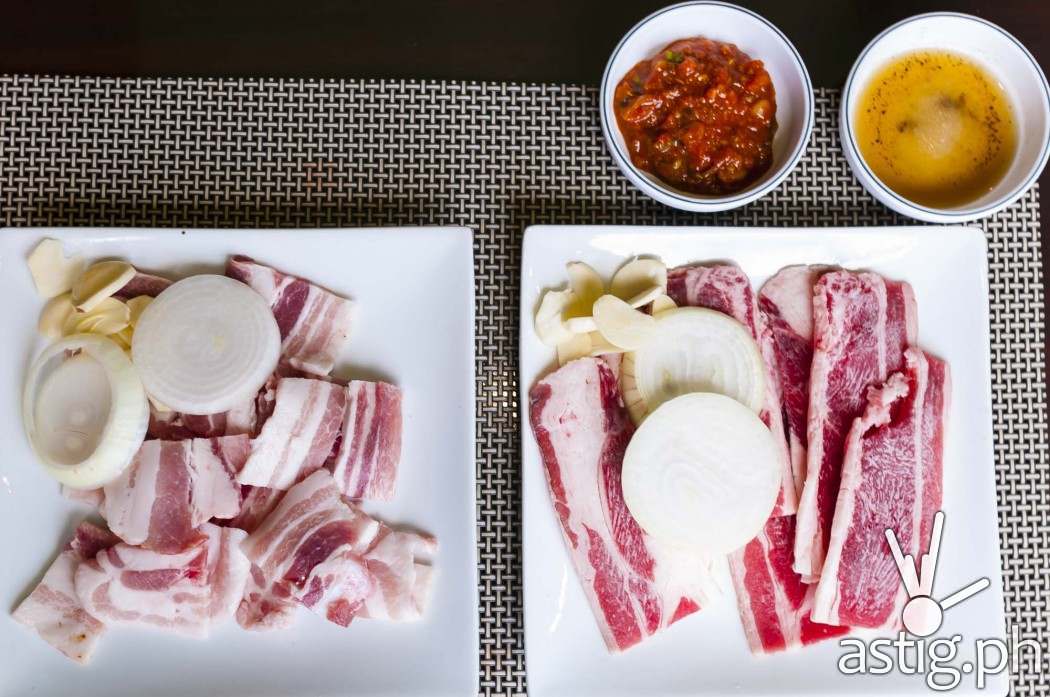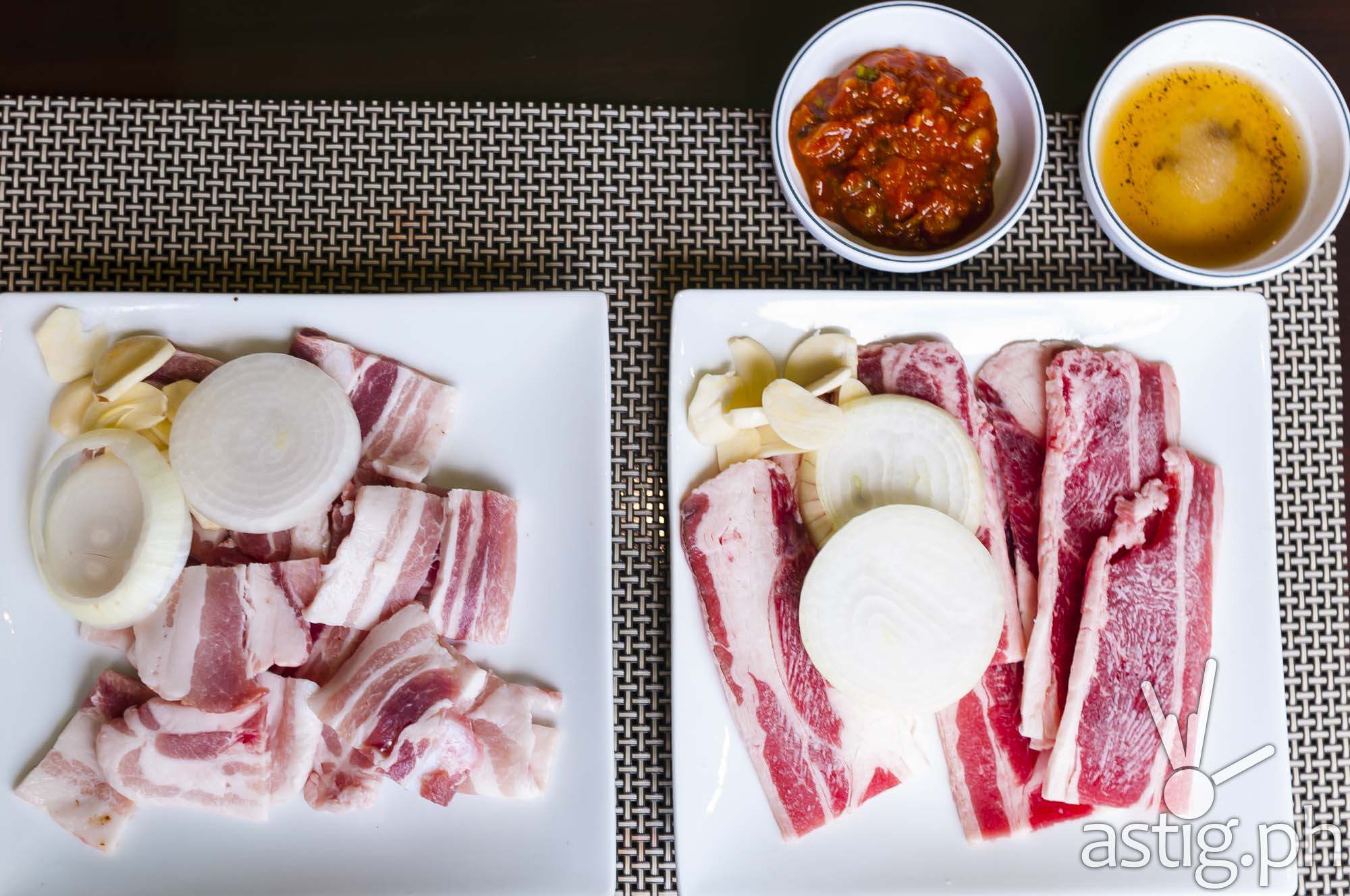 You grill the meat and take it as is, or you can prepare it the same way as the LA Galbi, combining lettuce leaves and ssamjang to balance the flavours.
At P349 (Samgyeopsal) / P449 (Woosamgyeop) for unlimited Korean BBQ, I consider this good value to satisfy one's carnivorous desires.
If you prefer to order a la carte, One order of Samgyeopsal is priced at P240, while the Woosamgyeop costs P300.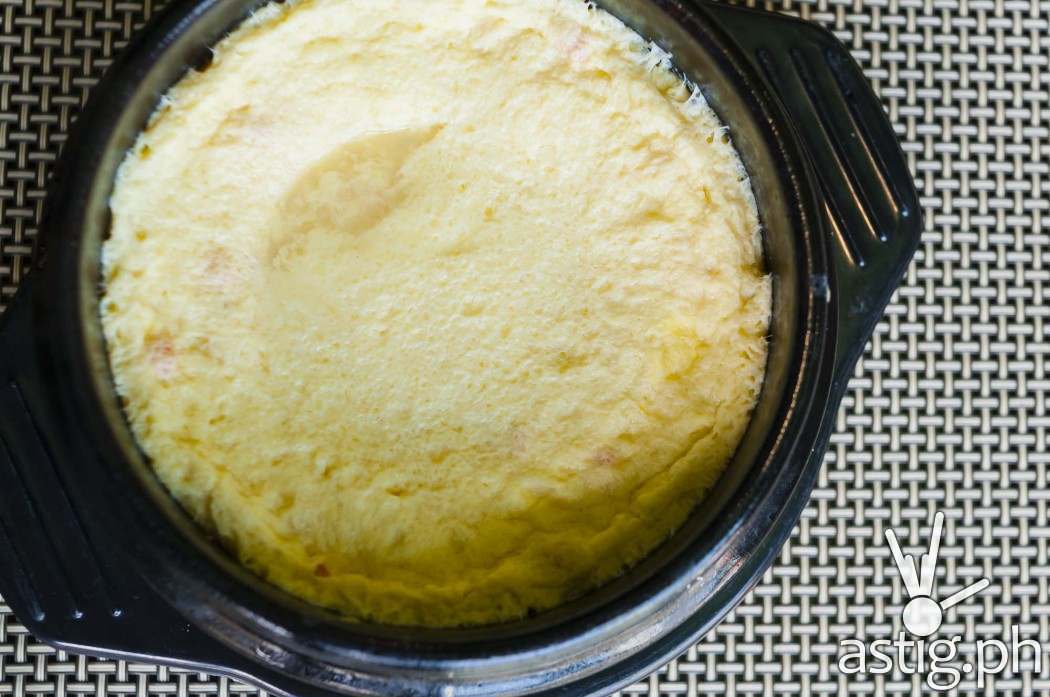 Patrons who order three or more meat dishes get a free Gyeran Jjim, a steam egg casserole served on flavored broth. The texture is light and airy and cooked to perfection. Make sure to consume this right away, as the egg loses air in time causing the dish to deflate.
We started with tea, we shall end with tea … because Tea House.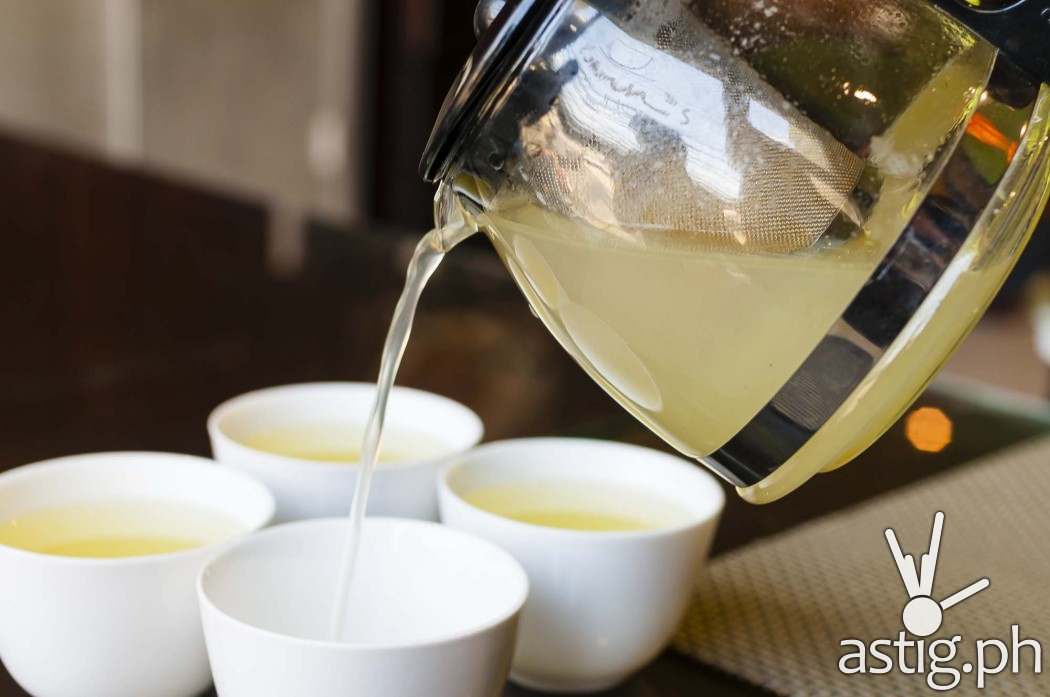 Before we left we were able to try the honey citron tea, a fruity desert tea. It is served warm and tastes citrus-y and slightly sweet. I am used to taking Chinese tea which I like taking in piping hot using dried tea leaves, so the experience was new to me.
According to Jiselle it is a new product and not yet on the menu.
Conclusion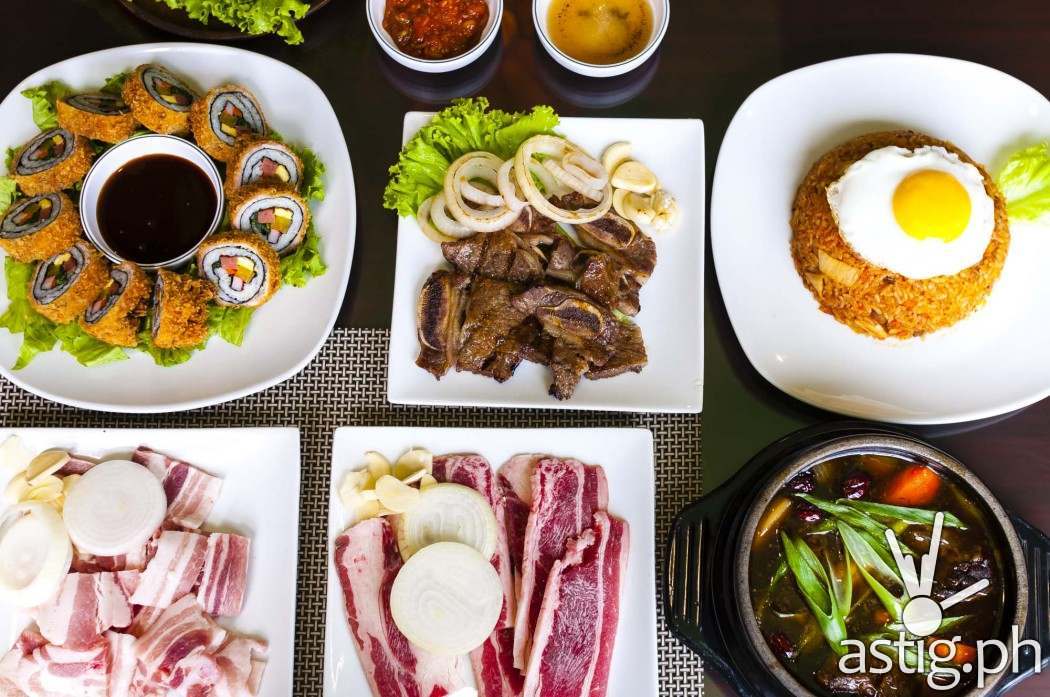 I went into Leann's Tea House wanting to learn more about Korean food and I was not disappointed. I found the quality to be at par and at times even better than the ones in Seoul. It located in a very accessible and not-so-busy neighborhood in Quezon City, which to me makes it preferable to the ones located in the mall.
Until our next installment, gamsahabnida!
Disclosure: our meal was sponsored by Leann's Tea House
Leann's Tea House giveaway
We are giving away eat-all-you-can Samgyeopsal and Woosamgyeop for 2 at Leann's Tea House! Simply use the raffle widget below to enter, then visit the giveaway page for details. Good luck!
Leann's Tea House
Phone: +63.2 411.8902
E-mail: leannsteahouse at gmail.com
Hours: Tue – Sun: 11:00AM – 2:00PM / 6:00PM – 10:00PM
Address: Mother Ignacia Ave, Diliman, Quezon City, Metro Manila
Location map: