Are you a meat lover? Do you consider yourself a carnivore, someone who needs to have meat every time you eat? Or perhaps you pride yourself on your ability to survive on meat alone, having turned your back on the balanced, healthy lifestyle offered by vegetables.
If you are the above and in love with pork, in a relationship with pork, or married to pork then there's a new restaurant in Quezon City that you might just call heaven.
So clean your arteries and take out the Liveraid for …
Livestock Restaurant and Bar: from hog-raising to fine dining
Livestock Restaurant and Bar first opened its doors to the public in 2013. Owned and operated by the Uy family, the restaurant is a logical next step to their hog raising business which started in 1977. They serve pork coming from their home-grown stock – hence the name "Livestock".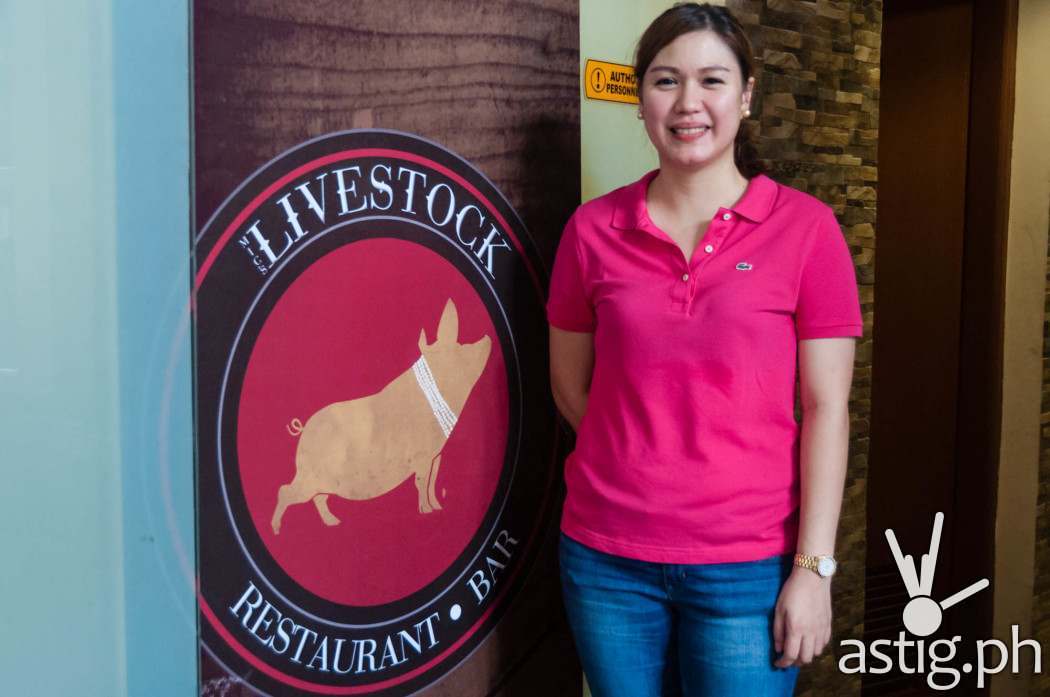 The couple behind it, Ching Uy and Kristoffer Myles Uy, are both graduates from the Center of Culinary Arts (CCA). We had the opportunity to meet Ching, who functions as the Executive Chef, earlier this month. We got try out their specialties during our visit to their first and only branch near Tomas Morato in Quezon City.
What can you expect from Livestock? Read on and find out.
Location and ambiance
Livestock Restaurant and Bar is situated within the Jardin de Zenaida Complex, a spacious area located in Sgt Esguerra Avenue (near Tomas Morato), Quezon City. The compound is home to a number of businesses and comes with parking space, a portion of which is dedicated to Livestock's patrons. So bring your car along on your trip to Livestock, she is going to love it here.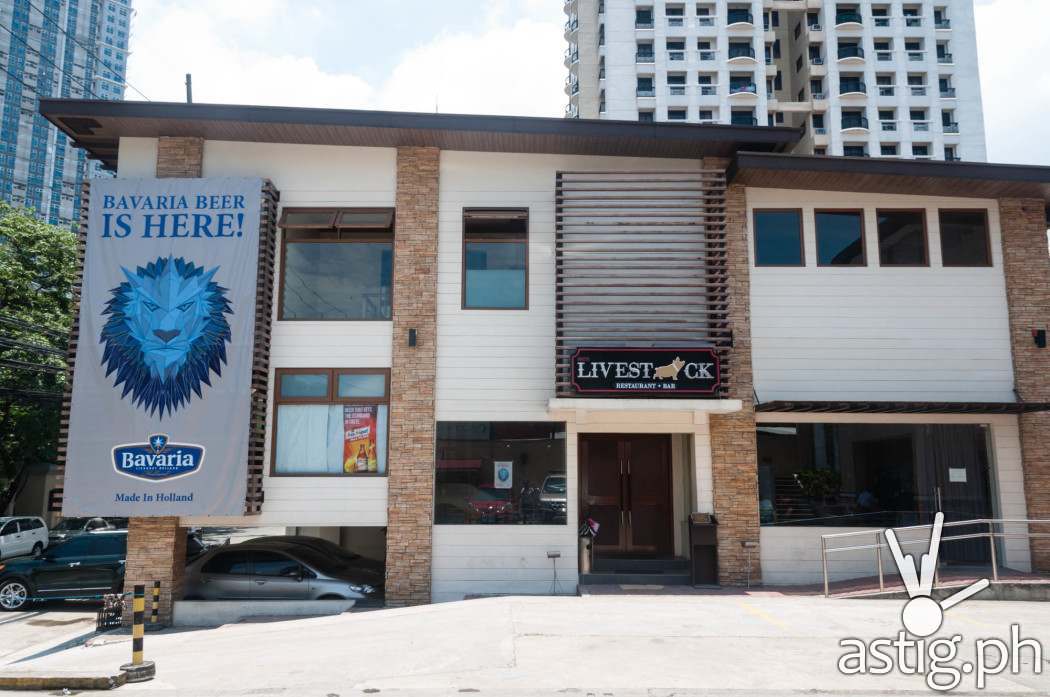 We went there on a weekday around lunch time. We did not have a hard time finding it nor did we have a difficult time getting a good parking slot.
The spacious parking area is a welcome sight especially since the streets in the scout area almost always gets filled with cars.
The restaurant has three floors, and has a number of subdivisions for those who may wish to use it for events and private parties.
The bar and general dining area is located at the ground floor. Go higher and you will find the mezzanine with an alfresco dining area where you can enjoy the fresh air.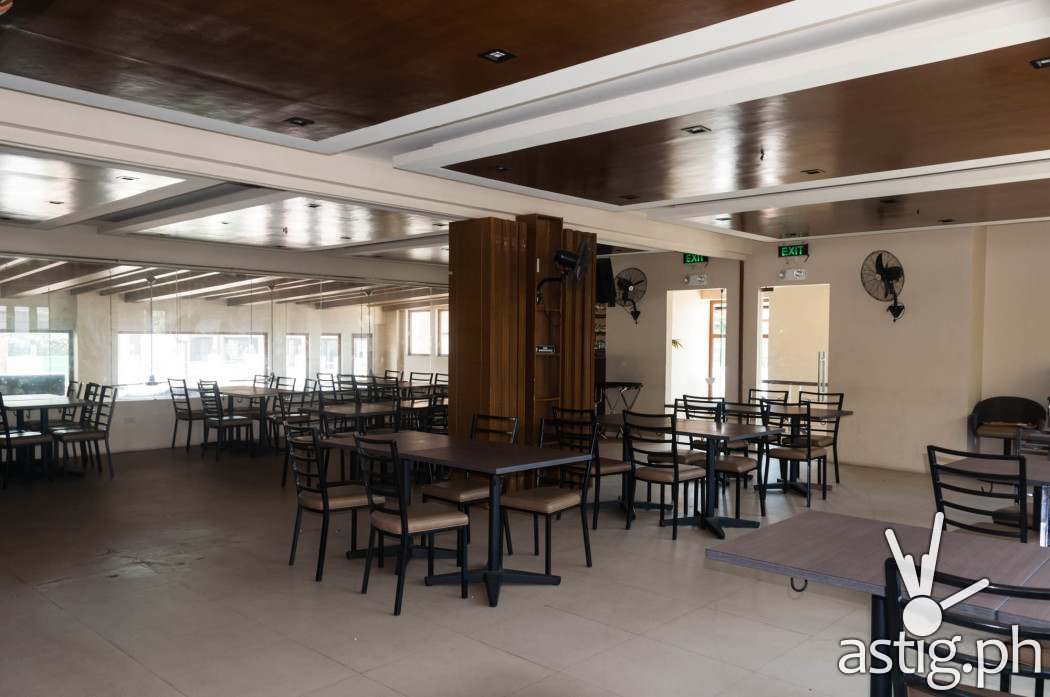 On the second floor you will find a spacious events area which is somewhere around 100 square meters total. The area can be divided into two, for a total capacity of 40 people each.
The area can be rented for 4 hours (plus 1 hour ingress and 1 hour egress). What's awesome is that you do not have to pay extra to use the venue. All you have to do is pay a minimum of 14,000 PHP consumable. Yes, you heard that right – use of the venue comes for free!
Did we mention they have free WiFi? That is always a big plus. We did have some difficulty with the outlets, though – some are not working, but we did find one that did.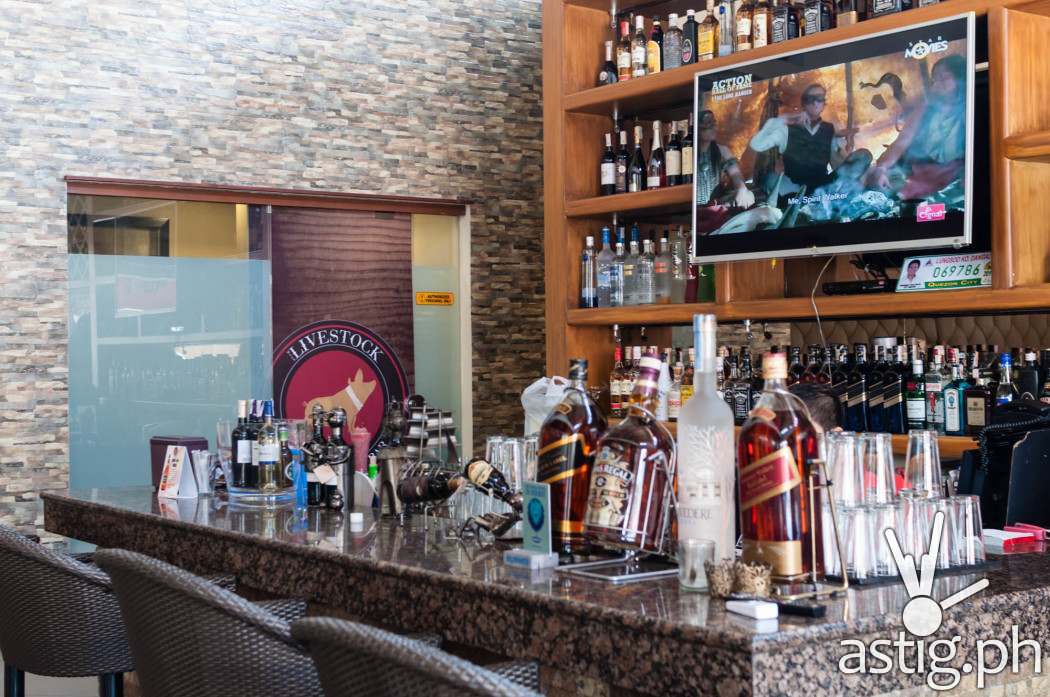 They also have along with the photo wall, a really nice bar with a television set, and some couches – all of which gives Livestock a very home-y and lounge-y vibe. The place is very comfortable and homey.
Cost and value for money
When you first get to Livestock you might think, whoah, that place looks expensive! Can I afford to eat there?
With such a lovely ambiance one might immediately think that Livestock Restaurant and Bar is a little on the upper end when it comes to price. We all come from different walks of life, and what may be considered expensive might not be the same for you and me, so why don't you take a look at the menu below and make your own conclusion.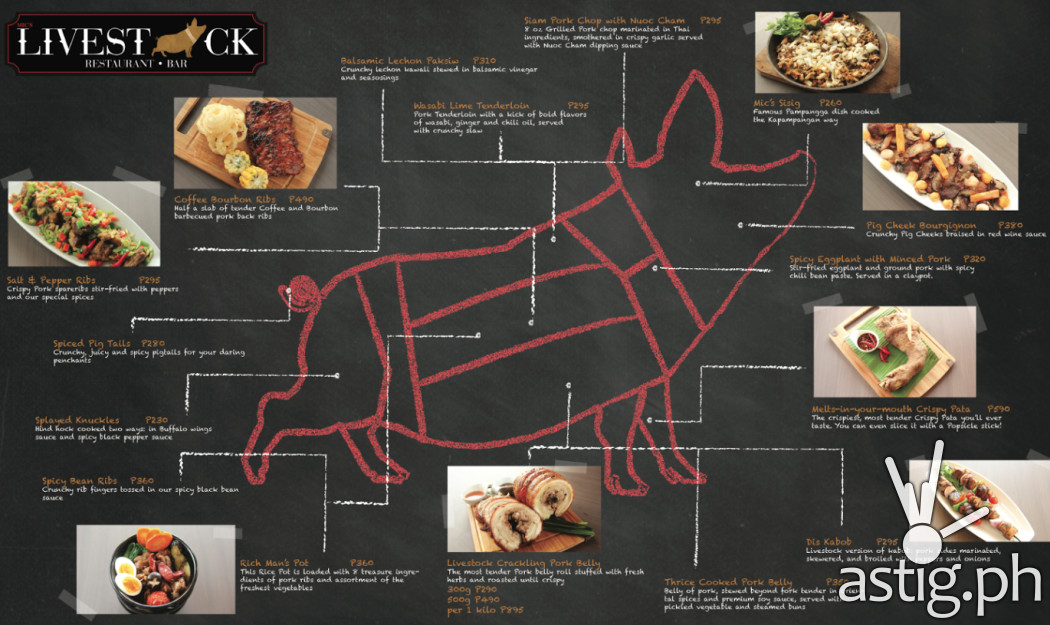 If you find this to be a little on the heavy side take note, the servings are huge and good for sharing. Value scales up the more people you have in your group. For example, their crispy pata costs 590 PHP, but it is large enough to feed four to five persons.
Food quality and taste
The food in livestock is very tasty. The dishes are cooked just right. Though some of their preparations may be a little – different. Like, say, pizza with eggs, baby tomatoes, and fresh vegetables.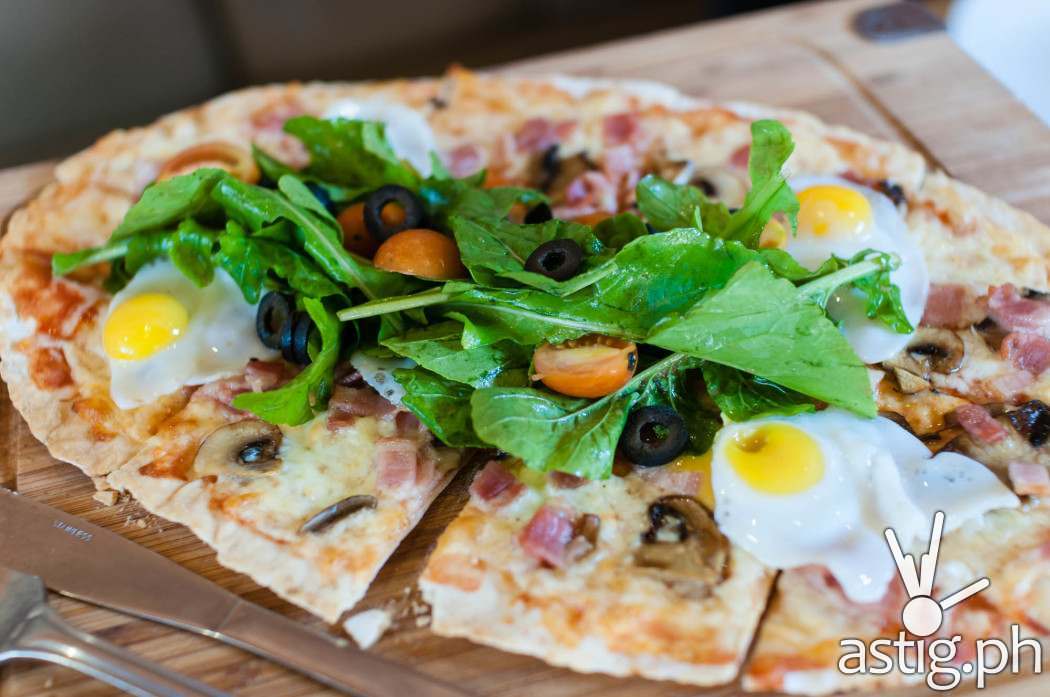 Ching, who graduated from culinary school with her husband, tells me that their menu is composed of their personal favorites. Previously they would have a special item which changes every month. After a while people would keep looking them, so the most popular ones get to stay.
We like that they try to experiment with the dishes, giving them a twist in order to stand out. Like the pizza we mentioned earlier, or the melt-in-your-mouth crispy pata.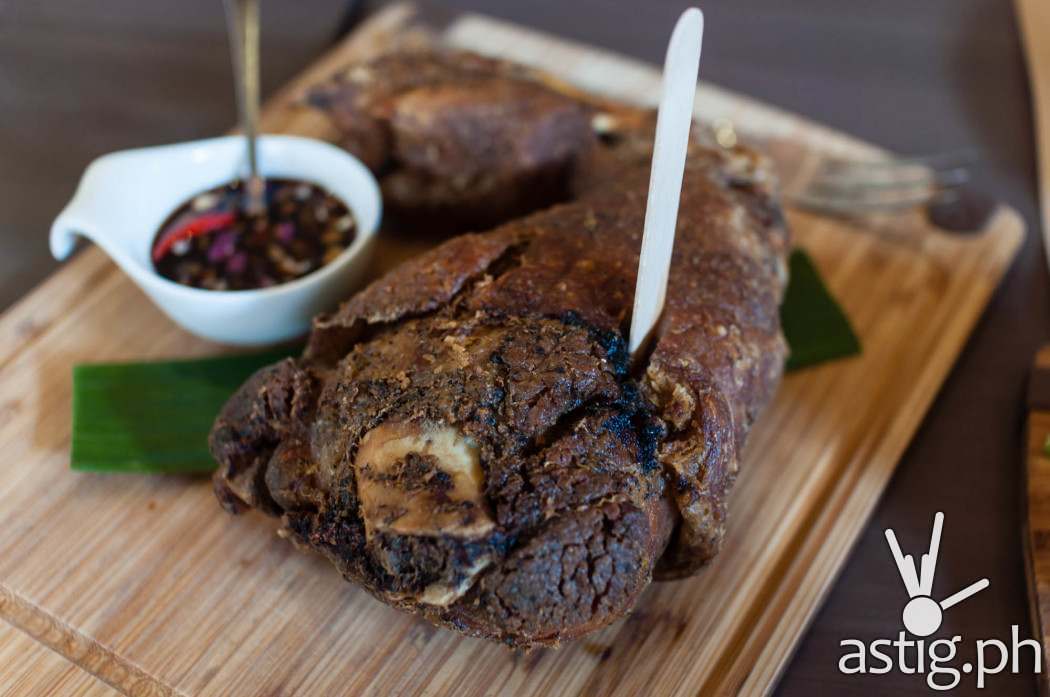 Did you just say melt-in-your-mouth crispy pata? So crispy is the skin and so tender is the meat that they will even slice it with a popsicle stick in front of you.
Not convinced? Okay okay I know what you're going to say – to see is to believe. As proof we took a video of the crispy pata being sliced by a popsicle stick. Unfortunately the memory card got corrupted, and we could no longer re-shoot.
Thankfully, Ching made the effort to do some digging and managed to send us this amazing video which shows exactly that. It might be a promotional video but trust us when we say we saw it in action and it is exactly the same in real life.
Equally interesting is the crackling pork belly, which is not just tender but also very tasty. Apparently this is called a "porchetta".
Does that sounds like an earful? We would describe it as pork belly cooked like lechon – skin is very crispy and the meat is very tasty. This might just be one of the best-looking pork belly photos that we have taken, coming from one of the best restaurant in Tomas Morato.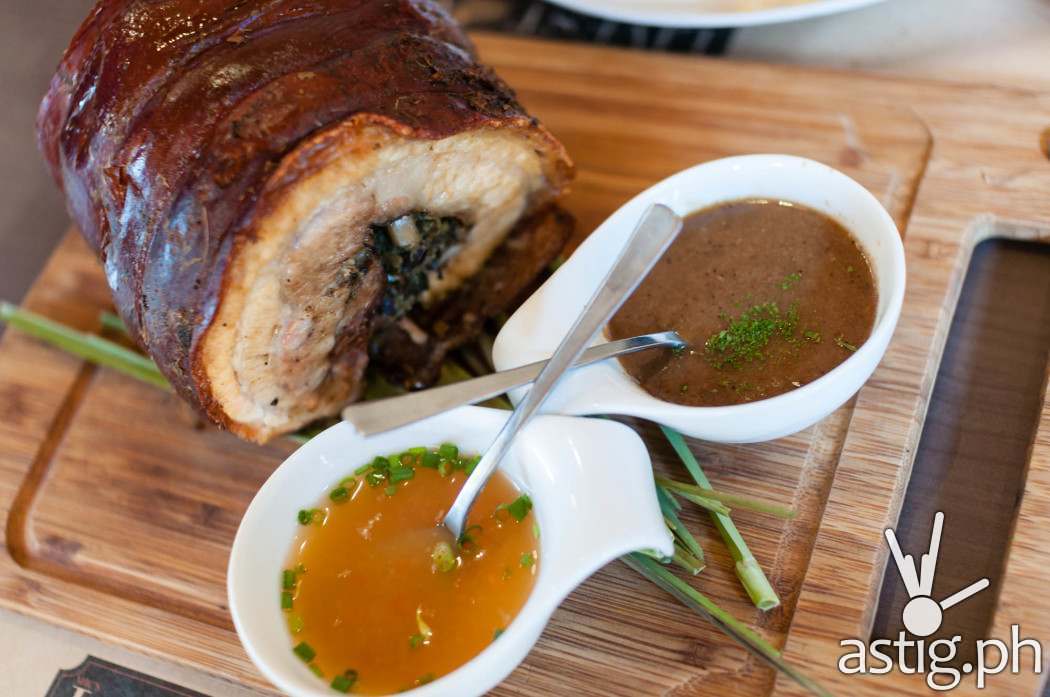 Looks purdy doesn't it? It tastes just as good as it looks.
If you think Livestock Restaurant & Bar is just about pork, look again
More than just pork they also offer many other viands. Their menu is so huge that frankly, we were a little overwhelmed when we saw it. They have everything – chicken, beef, seafood, vegetables, pasta, soup, deserts, salads, and even sandwiches.
Just take a look at the non-pork menu below and be amazed.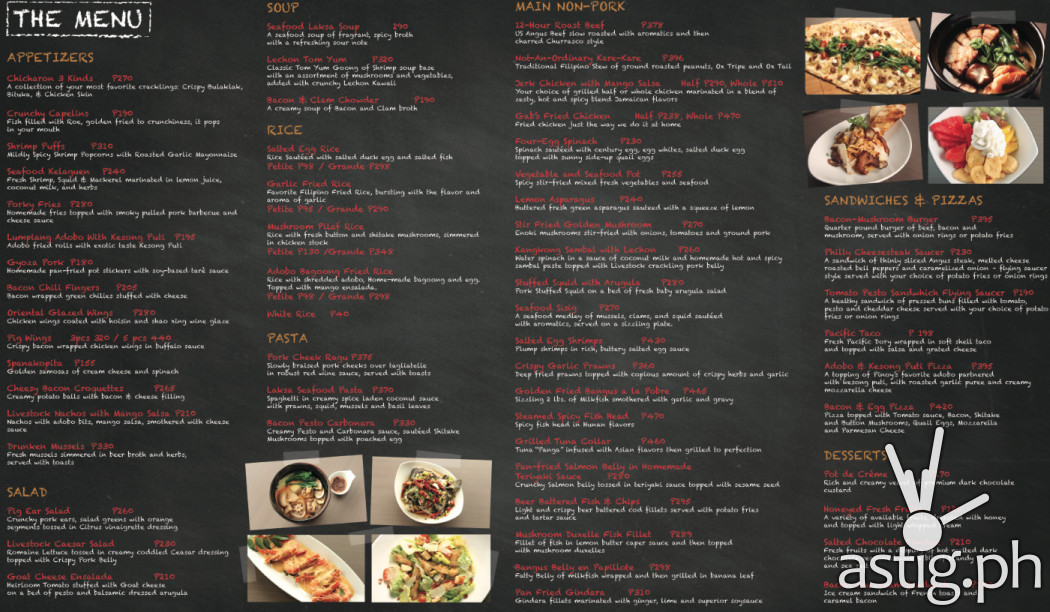 One interesting item that jumped out at us is the kare-kare, which according to them, is not-so-ordinary. That leaves us wondering how it tastes, right? We never got to try it, so if you have – tell us what you think!
For drinks, Livestock bar serves fruit shakes in addition to your staple iced tea and soda. Unique to the restaurant is a brand of beer called Bavaria, which ismade in Holland.
The verdict
Livestock Restaurant and Bar is a chill place for families and groups. The average cost of a meal for per person would be around 250 pesos, but the servings are huge and filling – very good for sharing. The crispy pata is a must try and so is the crackling pork belly.
Livestock Restaurant and Bar photo gallery
Livestock Restaurant and Bar

Address: 34 Sgt. Esguerra Ave. Brgy. South Triangle
Operating hours: 11:00am until 2:00am daily
Email: livestock913 at yahoo.com
Phone: +63.2 332.0409
Facebook: /LivestockMics
Instagram: @livestock_ph