As a guy I am glad that I do not need to invest much maintenance in my physical appearance. While I do appreciate a bit of pampering every now and then, it is something I can definitely live without.
Filipinos use the term "tiis-ganda" to describe the pain that many ladies willingly go through in order to maintain a beautiful outside appearance.
I have come to associate things like facial treatments – the ones that involve pricking – with the sort of torture one would inflict on a naughty boyfriend. I cannot imagine how people, especially girls, can be willing to go through such pain just to stay young and beautiful, and for that I admire them.
Personally, I would not mind if I never have to go through another facial treatment ever again.
A piece of paradise tucked away in the heart of the city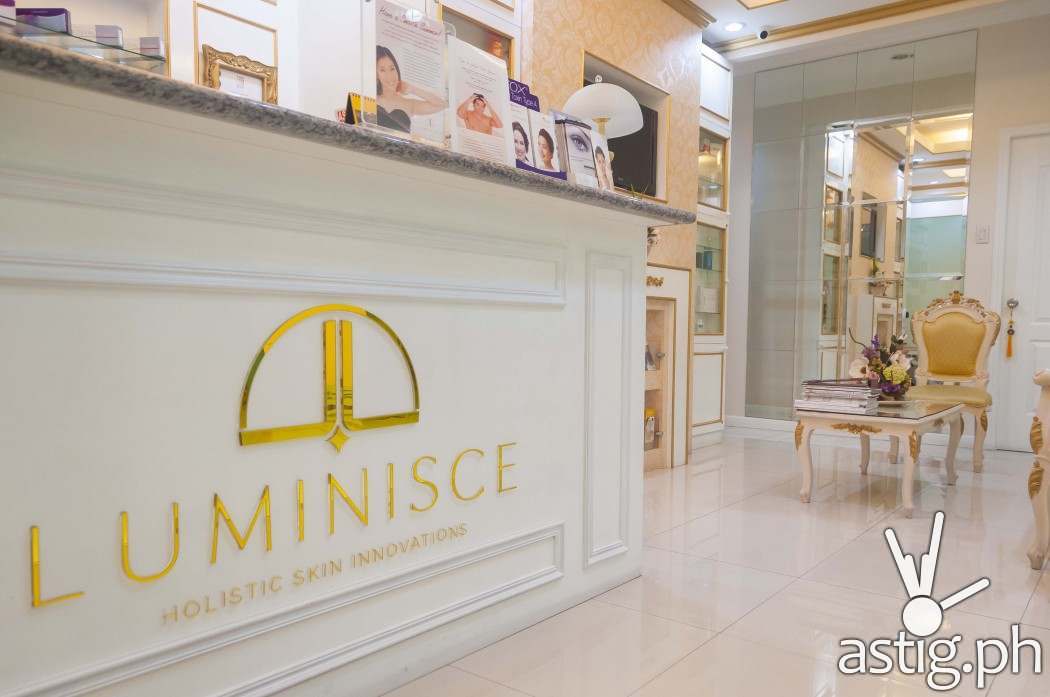 For this reason, I was pleasantly surprised when I tried the facial treatment at Dr. Kaycee Reyes' Luminisce dermatological clinic in Taguig.
Located at the Mercury Drug building in front of St. Luke's Hospital, Luminisce is the brainchild of Dr. Kaycee Reyes, who studied medicine at the University of Sto. Tomas (UST). She got her Diploma in Dermatology from King's College in London and went on to finish her Master of Science in Clinical Dermatology at St. John's Institute of Dermatology at Guy's & St. Thomas Hospital, also in London.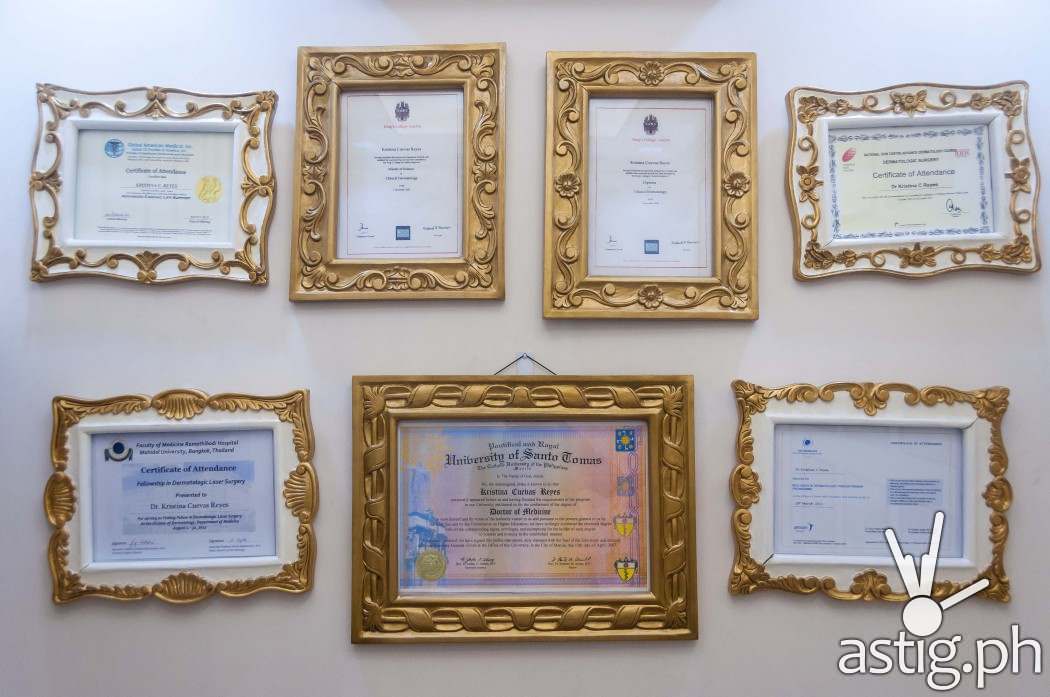 Dr. Reyes also served as a visiting fellow in Dermatologic Laser Surgery at the National Skin Centre in Singapore. Kaycee specializes in lasers and in Complementary & Alternative Medicine (CAM). She also underwent a visiting fellowship in Dermatologic Laser Surgery in the University of Ramathibodi Hospital – Mahidol University in Bangkok, Thailand. In the Philippines, she dealt exclusively with wellness and acupuncture with the Traditional Medicine Clinic at the Philippine General Hospital.
After finishing her Masters in Clinical Dermatology in London, Dr. Reyes decided to put up her own clinic and with the support of her family, Luminisce was born.
From the outside, the Mercury Drug building where Luminisce is located looks just like any other in the area – plain and functional.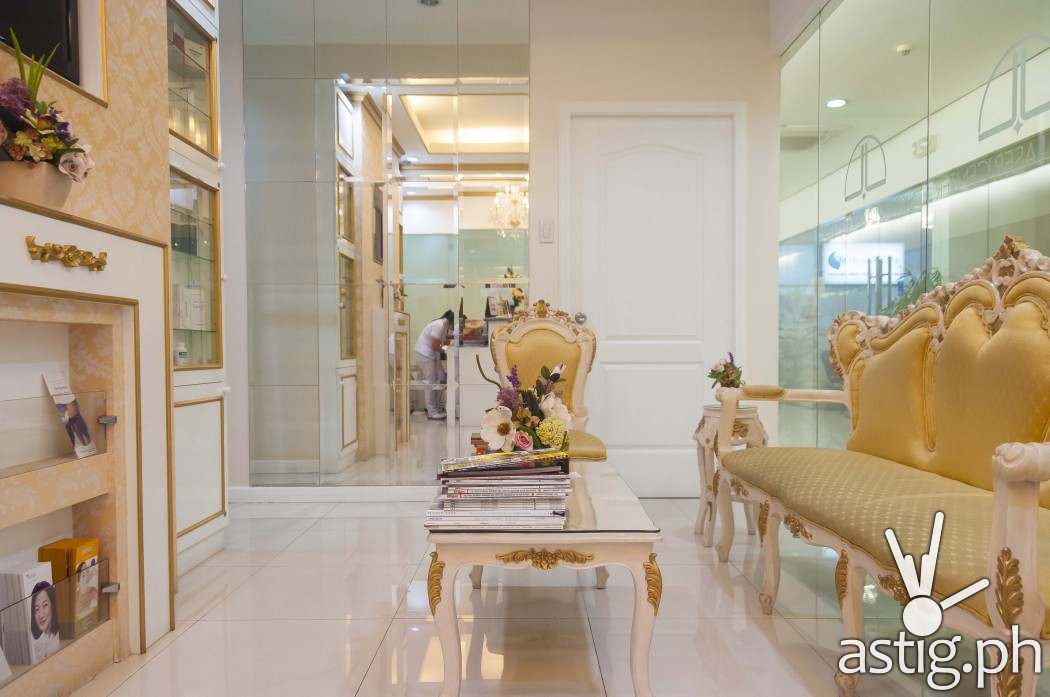 Things get really interesting the moment you step inside, though. The clinic looks posh and cozy, like it should have been alongside the busy shops in The Fort Strip rather than a secluded office area.
I was quickly impressed by the ornate chairs and posh interiors. The interiors had the feel of a luxurious spa as opposed to a derma clinic.
I went there on a weekday after setting an appointment one day ahead. When I got there I was greeted with hot coffee and smiles from Kaycee and her pretty staff – wow, I feel relaxed already.
Customized solutions tailor-fit to your needs
The first thing I asked for when I arrived is for the list of services.
According to Dr. Reyes, their treatments are customized for each patient, and it all begins by understanding the person's history and aesthetic goals.
I had an accident the month before – on Valentine's Day February 14, I was trying to move the showerhead while taking a bath when it decided to fall off and smack my face, resulting in a nasty cut that left a one-inch scar in my nasal area. Since then, I had been applying sebo de macho in the area to prevent scarring.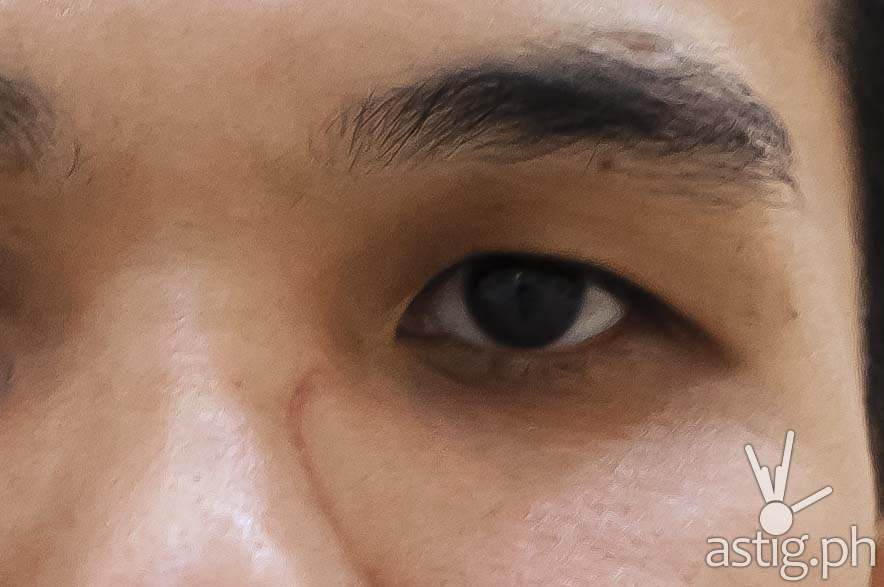 I asked if it was possible to treat the scar and remove it – or at least make it less visible. Kaycee advised me to come back after a month, where my scar will be treated using RejuveClear Laser. Scars need time to heal, and apparently I needed 10 sessions of laser treatment for my face. These sessions are supposed to be painless, lasting no longer than 10 minutes.
RejuveClear is a semi-ablative treatment that uses fractional laser to treat stretch marks, fine lines, deep acne scars, mild to severe burn and surgical scars, and other skin imperfections. Removal is gradual, allowing for the skin to heal.
Dr. Reyes proceeded to give me a special type of facial treatment with lifting effect, called the Radiance Lift. According to Kaycee, skin loses its collagen layer as we age. This causes wrinkles and sagging, resulting in things like crow's feet around the eyes and the sad face – you know, that part of the mouth that sags when you frown.
At my tender and very young age of 34, I would surely like to shave a few years and look younger. Sure there are those weird instances where people thought I was underage and I had to show them my driver's license just to show that I was actually older than them, but I chalk that up to my Chinese heritage.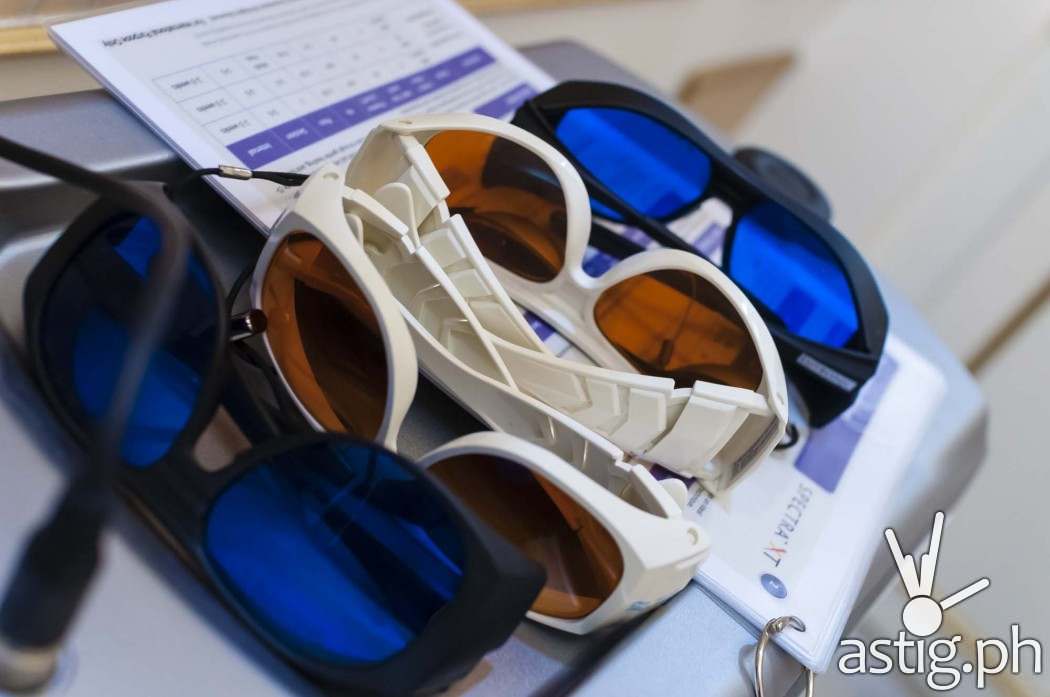 Kaycee then suggested that I undergo Silvercure Laser treatment. According to the website, it is used to treat large pores, sun damage, wrinkles, onychomycosis (fungal infection of the nails), and even inflammatory acne with seborrhea. I am not sure what those last two items are, but the Wikipedia entry for Seborrheic dermatitis describes it as an inflammatory skin disorder affecting the scalp, face, and torso.
High profile clients
Luminisce serves a number of high profile clients, most notably Sofia Andres, who rose to fame for her role in the ABS-CBN hit drama series 'Forevermore'. Other notable clients and endorsers include ABS-CBN news anchor Ces Drilon, events host Patty Laurel, and Atty. Karen Jimeno.
Speaking of lawyers, I was told that a huge number of Luminisce's clients are in the legal profession – mostly as a result of personal referrals. As a result, Dr. Reyes and her staff need to be extra careful when handling their clients.
Radiance Lift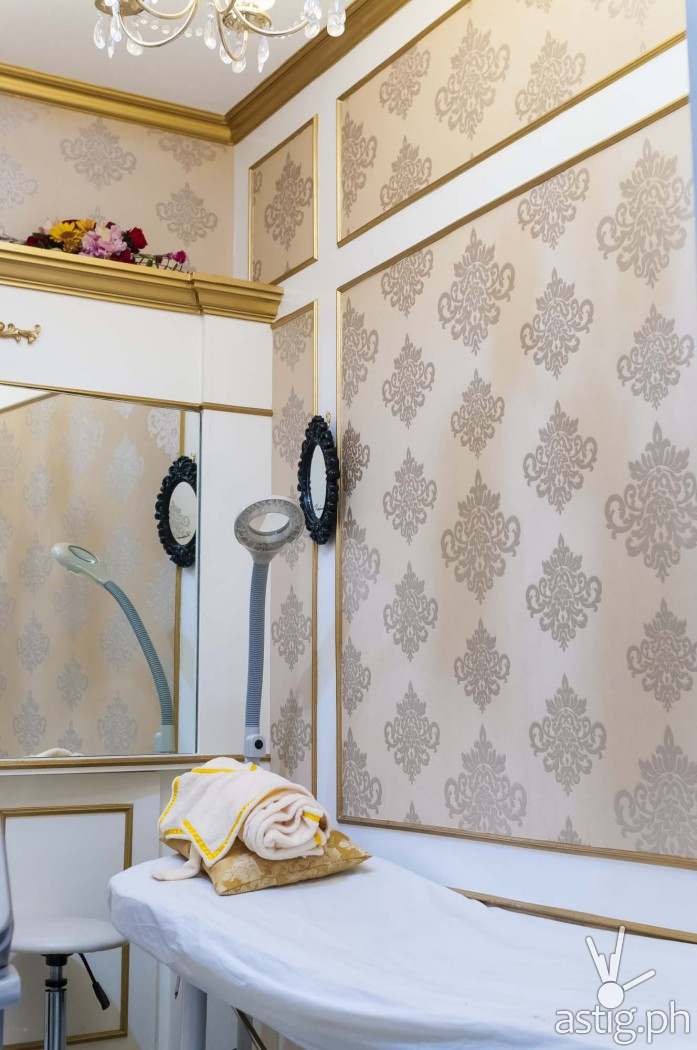 For my treatment I was taken to a small but ornate room by Micah, one of the staff members at Luminisce. Just the sight of the room itself can be very relaxing. I don't recall ever being inside a clinic that looked this nice. The wallpapers, the lighting, and the little details all add to the experience, making it extra special.
Dr. Reyes' assistant Micah then proceeded to work on my face. The first step was to use a lipid-free cleaner to clean my skin. Then, she proceeded to apply OXYglow, which is a treatment that uses oxygen infused with nutrients to hydrate the skin, improve blood circulation, and encourage collagen production. This step was a bit ticklish – the rush of air coming from the device felt cool to the touch.
For lifting, a tripolar RF (radio-frequency) device was used to open up the blood vessels. According to Dr. Reyes, this is because we want to target the layer of collagen that lies just deep under layers of skin, fat, and muscle.
For comparison Micah first did the right side of my face, and immediately the lifting effect was evident.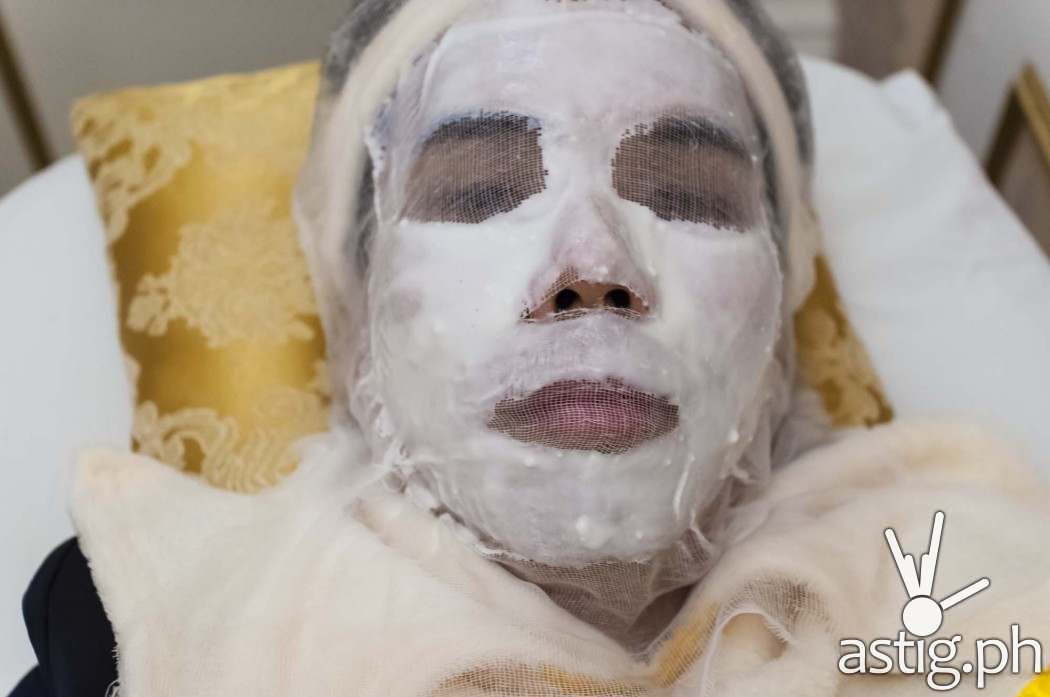 Then, she rubbed my face with sodium bicarbonate crystals containing anti-itching and skin lightening medicine before finally covering up my face with organic whitening mask made from seaweeds.
The entire process was painless, and by the time we were finished, there was a visible improvement on my face.
The importance of collagen
Throughout my stay if there's one thing that Kaycee and her staff would always talk about it is collagen. As a lay person I have heard of it but I never realized its importance until now. So I went ahead and did my own research to find out that it is the single most important ingredient to looking young.
Among the things that destroy collagen include smoking and sun exposure, so it makes sense that for Dr. Reyes and her staff to always stress the importance of using sunblock.
Final thoughts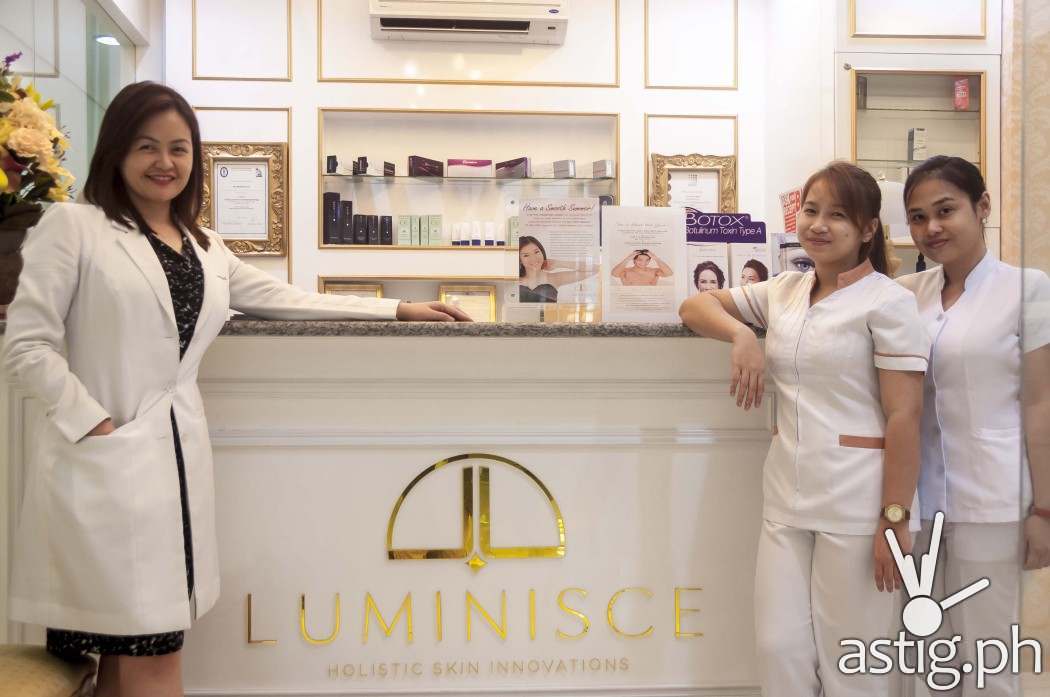 My first visit to Luminisce left a really good impression. Dr. Kaycee is very knowledgeable in her field, and her staff really go out of their way to make you comfortable. The entire procedure is painless, which is especially for someone like me who dislikes going on facials. I do not think I would ever want to go through one of those again now that I know there is something else better.
Looking forward to my next session with Dr. Reyes and her team!
Disclosure: Our treatment was sponsored by Luminisce
Luminisce Dermatological Clinic
Phone: +63.2 511.8500
Mobile: +63.915 979.4661
E-mail: luminisce.skin at gmail.com
Hours: 10:00PM – 8:00PM, Mon-Sat
Address: 2nd Floor Mercury Drug building, 32nd Street, 4th Ave. Fort Bonifacio Global City, 1634 Taguig
Google Map: