Former porn actress Maria Ozawa on Thursday said she just was joking and "having fun" when she said that she had sex with "Nilalang" co-star Cesar Montano.
Ozawa wrote on her Twitter account: "I saw the news earlier but it was a joke and was just having fun [with] the whole topic and broke my heart that they are saying such things."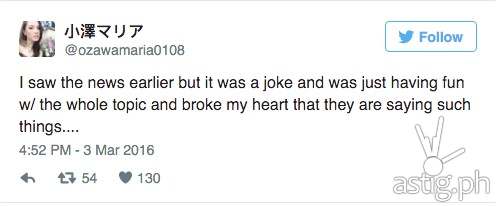 Her tweet came after stories about her admitting in a candid moment during her guesting on the controversial podcast Good Times with Mo that she and Cesar Montano had made love once
On Mo Twister's online podcast last Tuesday, Ozawa was asked directly on whether she had sex with the Filipino actor.
She nodded, saying that it happened before she started filming the 2015 Metro Manila Film Festival entry.
Ozawa, however, added that she had no intentions of dating Montano, calling what happened between them as "saying hello sex."
Montano was brought in to replace Robin Padilla as Ozawa's leading man last September. In a previous interview, Montano even described her kissing scene with Ozawa as "a religious experience."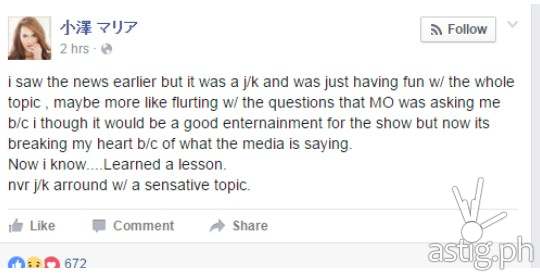 Maria meanwhile shared her text to Cesar :"Did u see this news??? What's up with the Philippine media making up stories?
"We were joking about it at my podcast but didn't know the news will pick it up.
"I'm sorry Cesar for the hassle.
"I just saw the news and really broke my heart.
"Yes, DJ Mo was joking about it and I was flirting with the questions, but I thought it would be better for the podcast to have a little entertainment.
"But this is too much.
"And I will talk with Mo tonight about it and tell him to stop saying whatever.
"Media's really scary. They edited the part where I was saying it was a joke.
"I can't believe how rude people can get, especially Mo.
"I'm really sorry for everything…"