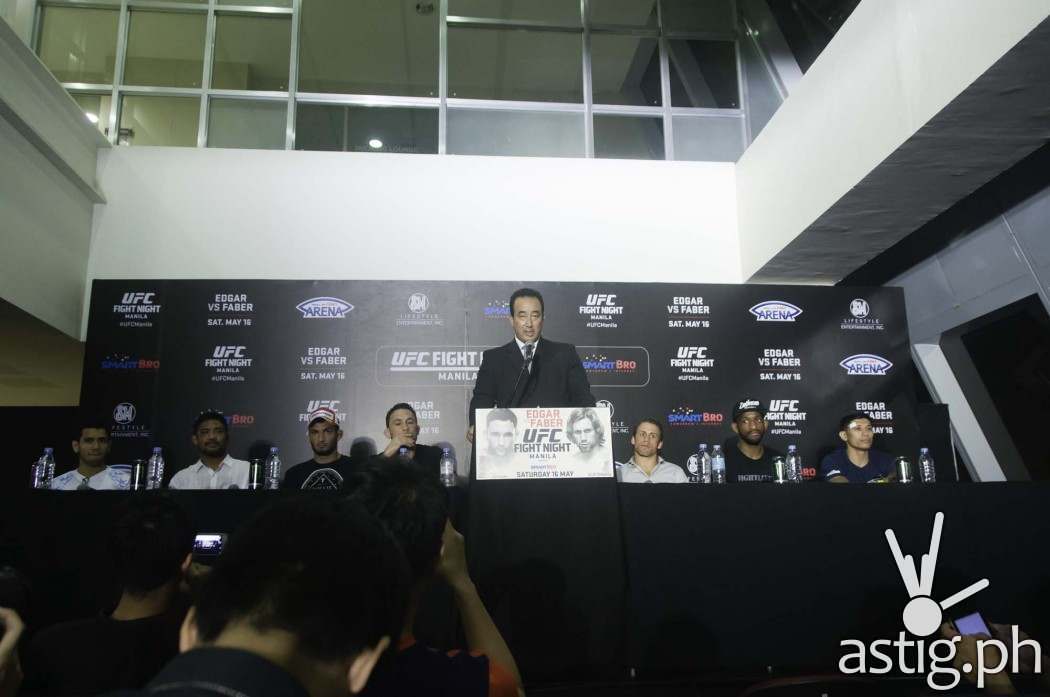 PASAY CITY, Philippines – It was a victorious night for Mark "The Filipino Wrecking Machine" Muñoz as he is carried around the octagon by Luke Barnatt, amid chants of adulation from the Filipino crowd present at the Mall of Asia Arena. He had just defeated Barnatt via unanimous decision after 9 minutes of intense action which looked like a fight between a well-built David against a lanky Goliath because of the 6-inch height difference.
"Mahal ko kayong lahat, salamat sa inyong suporta," says Muñoz, addressing the Filipino crowd during the post-fight interview. As he laid his gloves to the ground he revealed that he wants to come back to the Philippines and teach kids.
He adds, "I have a lot that I can give to the sport. I will cherish these memories of a lifetime."
Mark feels very fortunate to be able to fight his swan song in the Philippines, which he refers to as the place where it all started for his family.
"I left the Octagon but I'm leaving the legacy of treating people the way I want to be treated. I'm known as one of the nicest guys in the UFC and there's a reason for it. That's the Filipino way: you respect and you're respected back. I'm very Filipino, this is who I am. This is my culture. I uphold traditions close to my heart. It's a storybook ending here in the Philippines. I couldn't have asked for a better ending and I thank God I was able to end my career here."
Munoz was born to Filipino parents at a US military base in Japan. His family later relocated to California, USA, where he started wrestling since he was 13 years old. The rest is history.
His accomplishments include numerous championships since including two-time State Champion, National High School Champion, a silver medal at the USA Junior National Team, two-time All-American at the Oklahoma State University, NCAA National Champion, and a silver medal while he was with the FILA Junior World Wrestling Team.
He debuted his career in Mixed Martial Arts on June 1, 2008. Mark holds a record total of 14 career wins, 6 of them by knockout, showing the world that a fighter with a solid wrestling base can be superior in the striking game.
Munoz later revealed at the press conference that he tried really hard to knock Barnatt out. "He had a really good chin on him", says the 6-foot Filipino-American wrestler.
Gegard Mousasi defeats Costas Philippou via unanimous decision
Also in the Middleweight division, Gegard Mousasi won a unanimous decision victory against Costas Philippou, upping his record to 37 wins, 5 losses and 2 draws.
Mousasi revealed his adoration for the Philippines in the post-fight interview, saying: "It feels great to fight in the Philippines. Just like in Japan, Asians love fighting, and I hope to come back here again."
Frankie Edgar dominates Urijah Faber
In the Featherweight division, Frankie Edgar dominated Urijah Faber at the long-awaited "superfight" between the two high-intensity fighters.
Edgar ruled all three judges' scorecards on all five rounds, leaving no doubt about his superiority in the weight class.
Urijah later revealed at the post-fight press conference that he was "waiting for that big punch" and wanted to try to knock Frankie out.
Filipino-American Philippe Nover defeats Yui Chul Nam via split decision
Also in the Featherweight division, another Filipino-American Philippe Nover also scored a unanimous decision victory against Yui Chul Nam.
"It feels amazing. I'm so happy to fight here in front of my friends and family," says Nover.
He later revealed that he had a really tough fight against Chul Nam, the third round being the most difficult.
"My game plan didn't go according to plan, I would say, on the third round. The first and second rounds were my rounds. I was able to accomplish most of what I wanted. Yui surprised me a couple of times, but I thought I did my job out there."
Filipinos show tenacity and strength in MMA
In the Flyweight Division, Filipino fighter Jon Delos Reyes scored an impressive submission victory via rear naked choke against Team Lakay's Roldan Sangcha-an.
"I'm disappointed but it's part of the game," says Sangcha-an. "I accept this defeat and learn from it because champions who don't accept defeat will never be champions. It was great fighting here tonight. I am proud to represent the Philippines."
Delos Reyes was awarded a performance bonus for his impressive win.
Still, it was a tough fight, according to Jon. "I feel great. It was a slow start. I knew it was a tough fight, and I wanted to show the fans two Filipinos fighting against each other in the UFC," says Delos Reyes. "I think it was a good fight for our first UFC fight in Manila," he adds.
Although he was born in Guam, Delos Reyes was born to both Filipino parents.
"Fighting in the Philippines was going to be a lot of pressure—I love Filipinos. I get humbled here."
In the Featherweight Division, Filipino mixed martial artist Mark Eddiva left feeling disappointed after losing to Levan Makashvili via split decision.
"I'm going to go back to the gym and train to holistically improve," says Eddiva.
Jon Tuck gets fight of the night
Jon Tuck received fight of the night for his impressive performance against Tae Hyun Bang, whom he quickly submitted in Round 1.
The Guam native called the Philippines his second home, saying "The Philippines is a second home to me. Every time I come here, everybody gives me love. I always come here and have nothing but pleasurable experiences."
UFC Fight Night Manila 2015 official results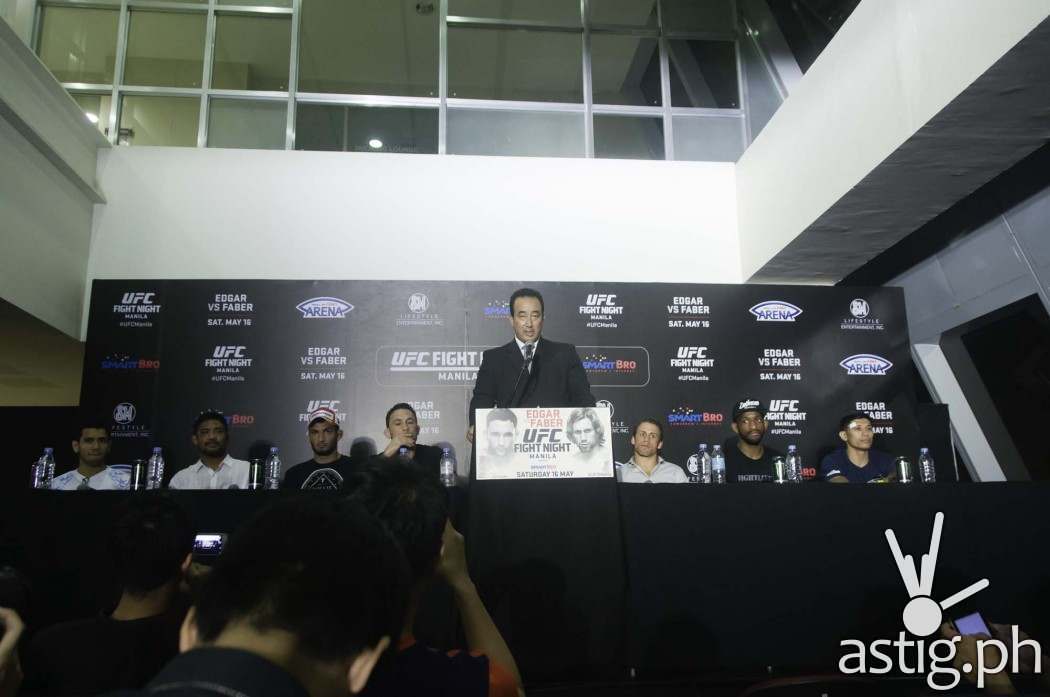 Bantamweight: Nolan Ticman (California, USA) vs Yao Zhikul (Beijing, China)
Winner: Yao Zhuikul via split decision
Flyweight: Roldan Sancha-an (Baguio City, Philippines) vs Jon Delos Reyes (Tamuning, Guam)
Winner: Jon Delos Reyes via submission (rear naked choke) in Round 2.
Bantamweight: Ning Guangyou (Beijing, China) vs Royston Wee (Singapore)
Winner: Ning Guangyou via TKO in Round 2.
Welterweight: Li Jingliang (China) vs Dhiego Lima (USA)
Winner: Li Jingliang via knockout in the Round 1.
Lightweight: Zhang Lipeng (Beijing, China) vs Kajan Johnson (Quebec, Canada)
Winner: Johnson via unanimous decision
Lightweight: Tae Hyun Bang (Seoul, South Korea) vs Jon Tuck (Hagatna, Guam) – Fight of the Night
Winner: Jon "The Super Saiyan" Tuck via submission in Round 1
Featherweight: Mark Eddiva (Baguio City, Philippines) vs Levan Makashvili (New York, USA)
Winner: Levan Makashvili via split decision
Featherweight: Philippe "The Filipino Assassin" Nover (New York, USA) vs Yui Chul Nam (Seoul, South Korea)
Winner: Philippe Nover via split decision
Welterweight: Hyun Gyu Lim (Seoul, South Korea) vs Neil Magny (New York, USA)
Winner: Neil Magny via TKO in Round 2
Middleweight: Mark "The Filipino Wrecking Machine" Munoz (California, USA) vs Luke "The Bigslow" Barnatt (London, England)
Winner: Mark Munoz via unanimous decision
Middleweight: Gegard Mousasi (Holland, The Netherlands) vs Costas Philippou (Limassol, Cyprus)
Winner: Gegard Mousasi via unanimous decision
Featherweight: Frankie Edgar (New Jersey, USA) vs Urijah Faber (California, USA)
Winner: Frankie Edgar via unanimous decision