MANILA, Philippines – The Battle for Greatness has determined the victor. Las Vegas' MGM Grand Garden Arena, filled to the brim with the world's biggest athletes and celebrities, was witness to the greatest bout of the millennia.
In the red corner: Floyd Mayweather Jr vs Manny Pacquiao in the blue corner. For 12 rounds two of the world's top pugilists vied for the Unified WBA (Super), WBC, WBO, and The Ring welterweight titles.
After 5 long years of waiting, the fight that the boxing world has been clamoring for has ended, and Floyd Mayweather, Jr. from the USA is now going down in history as the undisputed, undefeated five-division world boxing champion after an intense and long match against his greatest opponent, Manny Pacquiao from the PHilippines.
READ: Round-by-round: Floyd Mayweather Jr. vs Manny Pacquiao (live blog)
Emerging as the best pound-for-pound boxer of our time, Mayweather's boxing record remains flawless with 48 wins and 26 knockouts. The notorious abuser of women is now also about $200 million richer.
Pacquiao's intense offense vs Mayweather's solid defense
For Pacquiao, the fight was a struggle. The crowd favorite and religious southpaw had a hard time landing much of his quick punches. Although Pacquiao dominated early and controlled the ring, he had difficulty landing clean hits, proving that Mayweather is indeed one of the best defensive boxers to have ever lived.
The latter rounds saw Mayweather's superior defensive ability, allowing him to avoid Pacquiao's bursts of energy, biding for the opportunity to land the punch that will change his career.
Compubox punch stats tell the tale
At the end of the 12 round battle, Mayweather remained undefeated. His hands raised as the unified Welterweight champion and undisputed pound for pound #1 boxer in the world.
The casual boxing fan may appreciate Manny's intensity – for most of the fight, Mayweather can be seen cornered or running away. However, Compubox numbers tell a different tale from the average Joe. Though both fighters threw an average of 430 punches, Floyd scored a significantly higher connect rate, landing 34 percent versus Manny's 19 percent.
Mayweather vs Pacquiao Compubox official punch statistics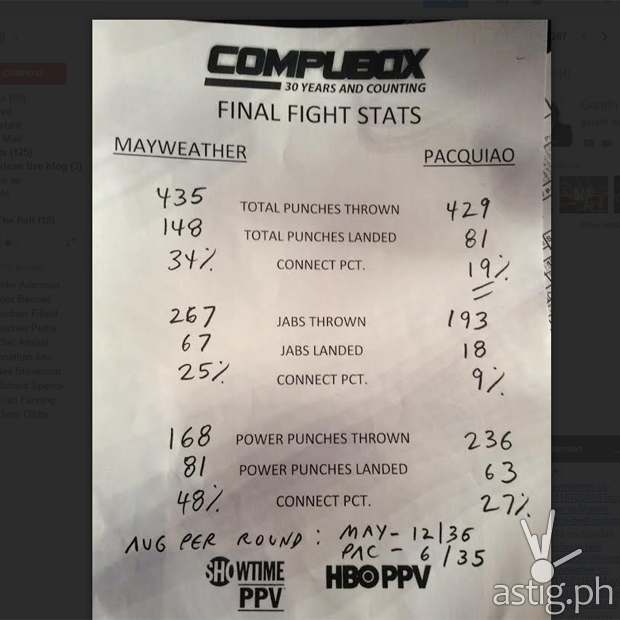 Total Punches
Mayweather: 435 thrown, 148 landed, 34% connect
Pacquiao: 429 thrown, 81 landed, 19% connected
Jabs
Mayweather: 267 thrown, 67 landed, 25% connect
Pacquiao: 193 thrown, 18 landed, 9% connected
Power Punches
Mayweather: 168 thrown, 81 landed, 48% connect
Pacquiao: 236 thrown, 63 landed, 27% connected
Average punches landed per round
Mayweather: 12/36 punches per round
Pacquiao: 6/35 punches per round
Floyd Mayweather Jr vs Manny Pacquiao official fight results
Winner: Floyd Mayweather Jr. via unanimous decision
Here is your official #MayPac scorecard. pic.twitter.com/MHs4KWvfxf

— Luke Thomas (@SBNLukeThomas) May 3, 2015
Official judge's scorecard results:
Glenn Feldman 116-112 Mayweather
Burt Clements 116-112 Mayweather
Dave Moretti 118-110 Mayweather
For a round by round breakdown, read our live coverage: Round-by-round: Floyd Mayweather Jr. vs Manny Pacquiao (live blog)
Manny Pacquiao tells Max Kellerman that he thought he "won the fight"
At the post-fight interview, Manny Pacquiao told Max Kellerman that he thought he won the fight, to which Max asked "You thought you won the fight? Why?" to which Pacquiao responded, saying "he didn't do nothing he always run."