MANILA, Philippines – Despite the shocking false announcement, 2015 Miss Universe 1st runner up Miss Colombia remains positive.
In a twitter video uploaded by Pageantnews.com, Miss Colombia Ariadna Gutierrez said that everything happens for a reason and she thanks all the people that supported her.
A message from #MissUniverse Colombia, @gutierrezary.https://t.co/KBzZyyHJzy

— Miss Universe (@MissUniverse) December 21, 2015
Earlier, Miss Universe Colombia Ariadna Gutierrez was announced as the winner of Miss Universe 2015. However, host Steve Harvey apologised for the error.
Miss Columbia held her tears when her fellow Columbian 2014 Miss Universe uncrowned her and put the crown in Pia's head. She broke out when her fellow contestants started to embrace and cheer for her.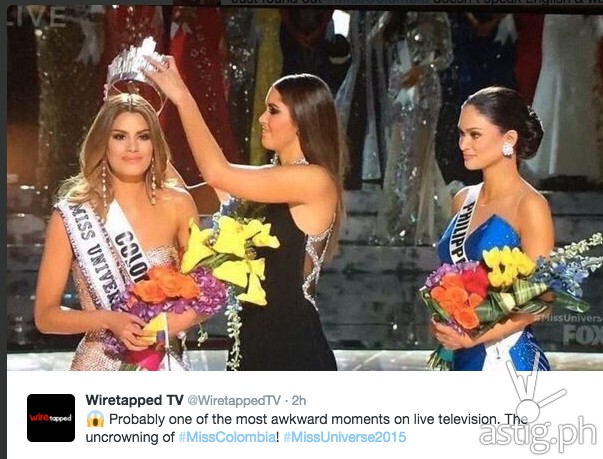 Meanwhile, the coronation night host Steve Harvey personally apologized to 2015 Miss Universe Pia Wurtzbach after his public apology in Twitter.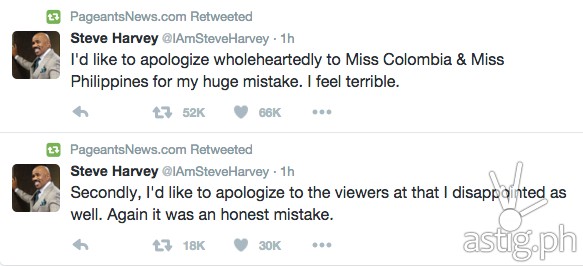 "I'd like to apologize wholeheartedly to Miss Colombia & Miss Philippines for my huge mistake. I feel terrible."
"Secondly, I'd like to apologize to the viewers at that I disappointed as well. Again it was an honest mistake," he tweeted.