The Philippines' number one movie channel and top cable channel, Cinema One, will be the first to premiere the award-winning crime thriller "On The Job," happening this Sunday (June 29) during the channel's Blockbuster Sundays movie block at 8:00pm.
"On The Job," which was directed by Erik Matti, stars Piolo Pascual, Gerald Anderson, Joel Torre, Joey Marquez, Angel Aquino, Shaina Magdayao, Empress, Leo Martinez, Michael de Mesa, Vivian Velez, and Rayver Cruz in some of their grittiest roles to date.
This stellar cast plays out the story of four men struggling to survive and to make a living for themselves and their loved ones. Two of these four are former prison inmates who are hired as contract killers. One of which is Mario (Joel Torre), otherwise known as "Tatang". He intends to finally go straight when he is granted his parole.
The other is Daniel (Gerald Anderson), a younger inmate and Mario's apprentice, who is set to replace him as the top hired killer. Their story finds itself interlaced with that of two law enforcers and investigators, Joaquin (Joey Marquez) and Francis (Piolo Pascual), who are tangled in a moral conflict. As the story plays out, the stakes climb—and these two groups, trapped somewhere close to the fine line between good and evil, inevitably collide.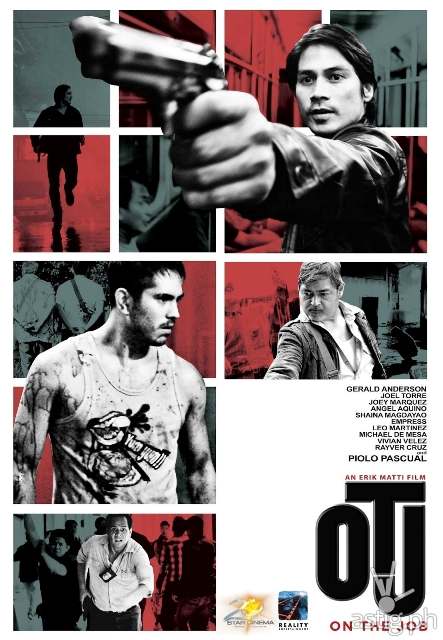 "On The Job" was one of twenty-one selected feature films screened at the Directors' Fortnight at the 2013 Cannes Film Festival in Cannes, France. There, it received a two-minute standing ovation.
The film also became critically acclaimed by both foreign and local film critics.
Senior film critic of Variety, Justin Chang, described "On The Job" as "a steadily engrossing crime thriller" that is well-acted with local flavor. In a review by Film Business Asia, on the other hand, the film was called "a well-packaged, tenebrous crime thriller with a clever idea".
[stextbox id="astig"]Catch "On The Job" as it premieres this Sunday (June 29) on the country's number one movie channel and top cable channel, Cinema One (SkyCable channel 56) during the Blockbuster Sundays movie block at 8:00pm. For updates, visit and like Cinema One's official Facebook page (www.facebook.com/Cinema1Channel).[/stextbox]