What if God was just another story?
Maybe believing and make-believing aren't all that different.
Why is cancer?
For its launch production, Manila's newest performing arts collective, The Sandbox Collective, will be mounting the groundbreaking Off-Broadway musical "Dani Girl" – an uplifting tale about a young girl's battle with leukemia.
Far from sitting back and letting her condition take over, nine year-old Dani Lyons, whose cancer has returned after three years of being in remission, sets off on an imaginary quest with her guardian angel Raph, her film-obsessed roommate Marty, and her teddy bear Mr. Fritz, to get back her hair after losing it to chemo, and find the answer to the question, "Why is cancer?"
Told from a child's perspective, this provocative, new musical by Michael Kooman and Christopher Dimond (winners of the 2010 Jonathan Larson award, established in the memory of the Pulitzer-prize winning composer of RENT to infuse the theater with new, contemporary, urban vitality), explores the universal themes of life in the face of death, hope amidst despair, and the peerless power of a child's imagination.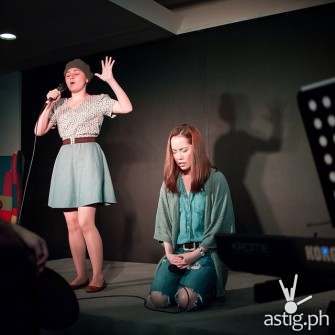 The show has played at sold-out houses Off-Broadway, as well as in fringe theater festivals and regional theaters across Australia, Canada, and the United States. "Dani Girl" will be making its Asian theatrical premiere through The Sandbox Collective.
"We are very privileged to be re-imagining this bold, new musical for our local audiences," shares Toff de Venecia, The Sandbox Collective managing artistic director and "Dani Girl" director (whose credits include Ateneo Blue Repertory's Little Shop of Horrors for which he was nominated "Best Director" for Broadway World Philippines, 13 the Musical, A New Brain, and 9 Works Theatrical's You're a Good Man, Charlie Brown and Repertory Philippines' Wait Until Dark as assistant director). "The songs are beautifully crafted; the story, a bit dark but positively uplifting; and the production, promising to stretch you to the limits of your imagination. This is theater for new audiences."
The show will run for 15 performances from July 11-27, 2014 at the Carlos P. Romulo Auditorium, RCBC Plaza, Makati City and promises to be a tremendous and meaningful fundraising opportunity for you and your organization (with potential ROI of 109%). For show-buying, block-buying, and ticket inquiries, please contact 585-6909 or 0917-8996680, or call Ticketworld at 891-9999. You may also visit www.thesandboxcollective.com, or follow them on Facebook: /TheSandboxCollective, Twitter: @TheSandboxCo, and Instagram: @TheSandboxCo.
Dani Girl is presented by The Sandbox Collective, with special participation of My Apt. by Heima, and media partners: Chalk, Metro, Metro Society, Working Mom, MYX.PH, Focus Media, and The Manila Bulletin.
* * *
Dani Girl is presented by special arrangement with Samuel French, Inc.
About The Sandbox Collective
Founded by 20-something theater director Toff de Venecia with the help of 9 Works Theatrical's Anna Santamaria, The Sandbox Collective is a Manila-based performing arts collective, committed to the procurement and development of new, groundbreaking, and cutting-edge theatrical work. Through its yearly programming, The Sandbox Collective aims to stimulate the development of our local audiences, facilitate the growth of new artistic voices, and contribute to a keen and diversified theatre ecology within the local performing arts scene.