July 14 is independence day for narzo, the brand formerly known as realme narzo. Now a standalone brand, they are marking this momentouous occasion with a bang by launching two 5G devices: the narzo 50 Pro 5G and the narzo 50 5G.
First impressions are important, and wow what a bold entrance from narzo: not only are they rebranding, but the first phones out of the rebrand are 5G-capable. We have never seen a 5G phone from narzo, not even when they were still known as realme narzo.
Watch our narzo 50 Pro 5G hands-on video review over at TechKuya on YouTube or keep reading for our full review.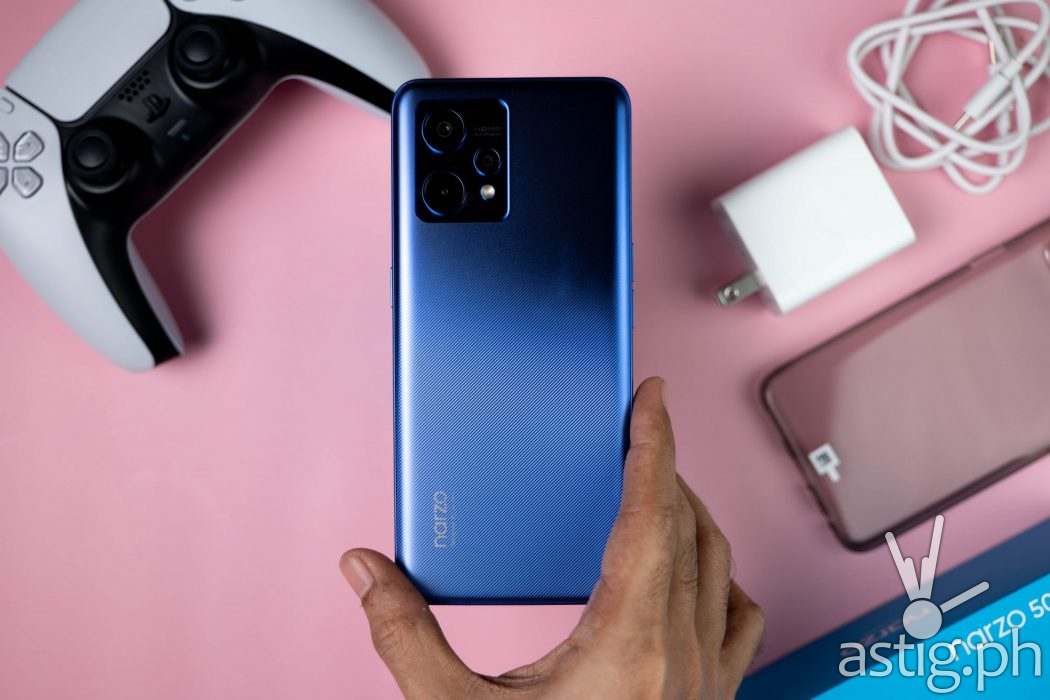 Upon getting our hands on the phone, I think this is an exciting if not risky strategy for narzo. We have narrowed it down to three main reasons, which we will go in-depth in this review, but we would summarize it as follows:
Branding and design
Performance
Value proposition
Design and display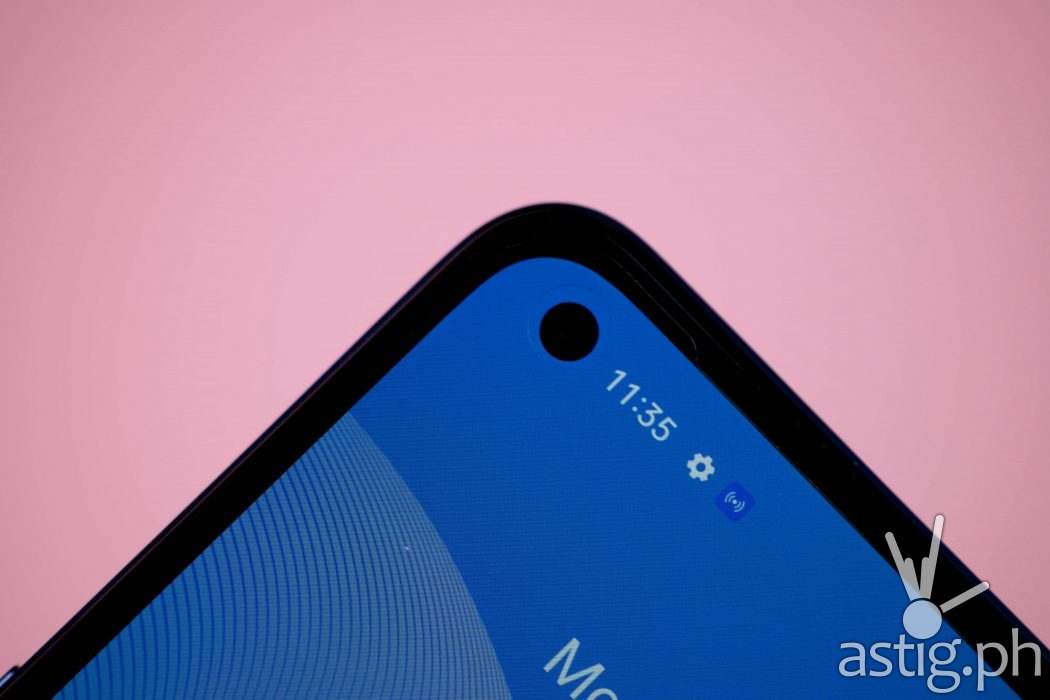 Design is important for a new brand like narzo: its visuals creates an identity for people to relate to and recall. The packaging immediately stands out from realme and other brands, wrapped in narzo blue with everything else from the logo to the text in white.
As oppossed to the "standard" style wherein the background is in white or some lighter color like yellow and the text is in a darker shade such as black carries over to the phone's chassis design. Available in Hyper Blue and Hyper Black, the dark-colored rear panels on both the narzo 50 5G and narzo 50 Pro 5G allow the light-colored narzo logo to shine through.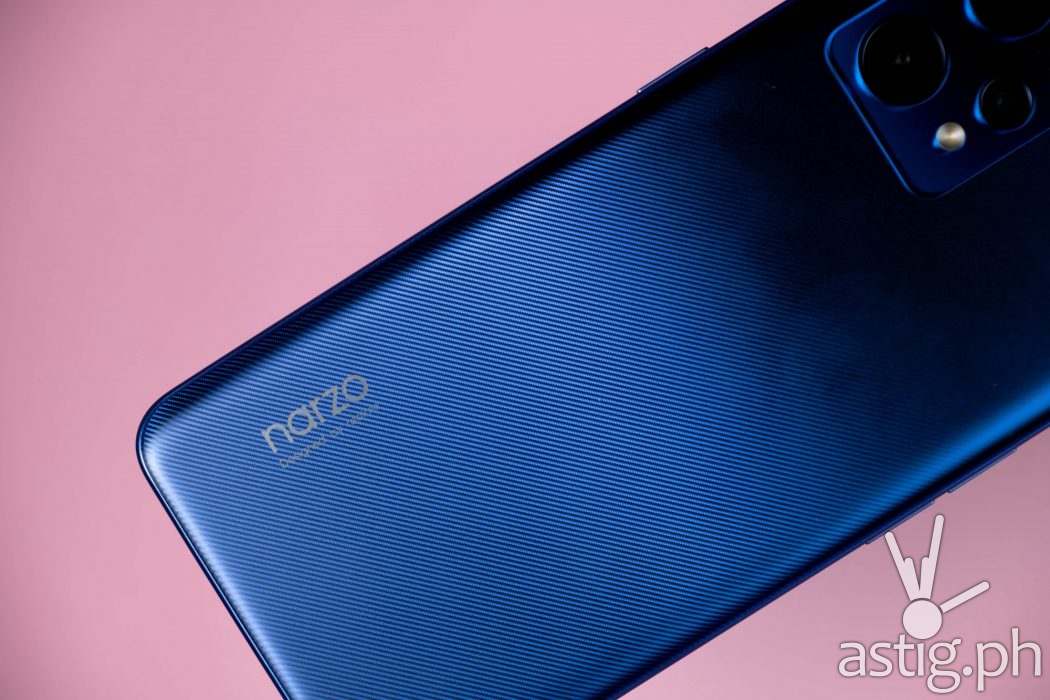 It's a silver-ish tone printed with metallic ink in ordero to stand out, but what really sets the narzo 50 5G apart from the competition is that sleek back design narzo calls "Kevlar Speed Texture Design". For those who are unfamiliar with the material, Kevlar is a strong, heat-resistant synthetic fiber commonly used in as a replacement for racing tires for being both lightweight and durable.
What we have on the narzo 50 Pro 5G might not actually be Kevlar and it does not need to be. It looks different and fresh, and that is enough for it to stand out from its competitors. More importantly, it succeeds in subtly communicating the message of speed, thanks to its association with the car racing industry.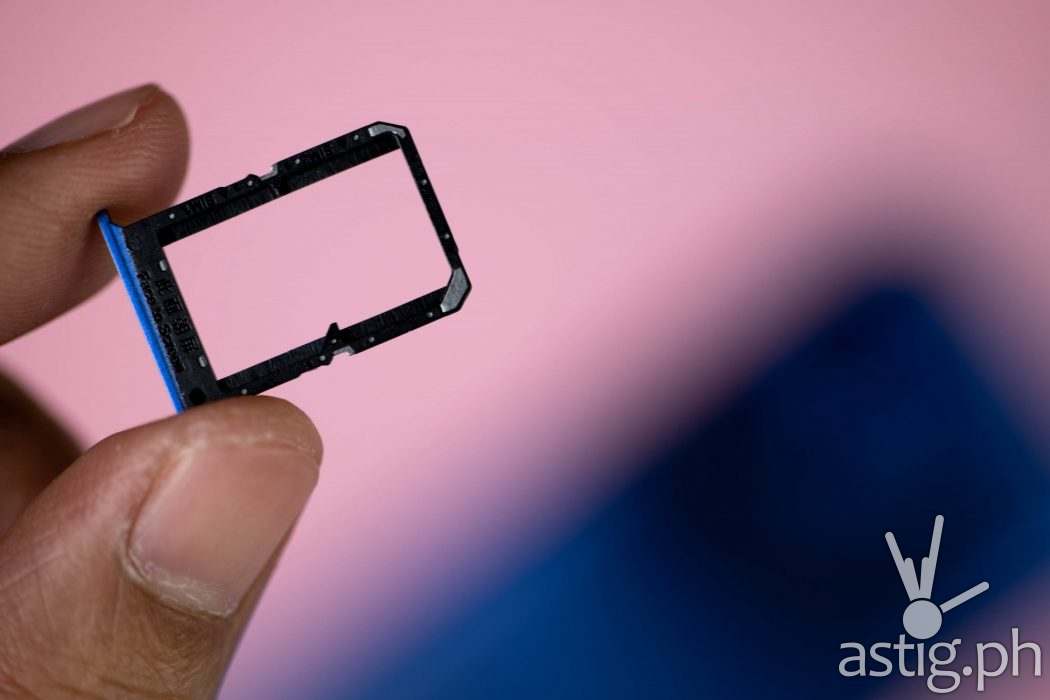 On the surface, the phone certainly follows a blueprint established by its parent brand and why not? That winning formula brought realme to the top of the sales charts, and so it is definitely a good starting point if narzo plans to go anywhere.
One may say that changing the back design alone may not be enough, and there is certainly merit in that argument: strip away the narzo logo from the narzo 50 Pro 5G it looks just like every other realme phone: triple rear camera system, 6.4-inch display panel with a hole punch at the top left corner, same button and port layout.
Performance and benchmarks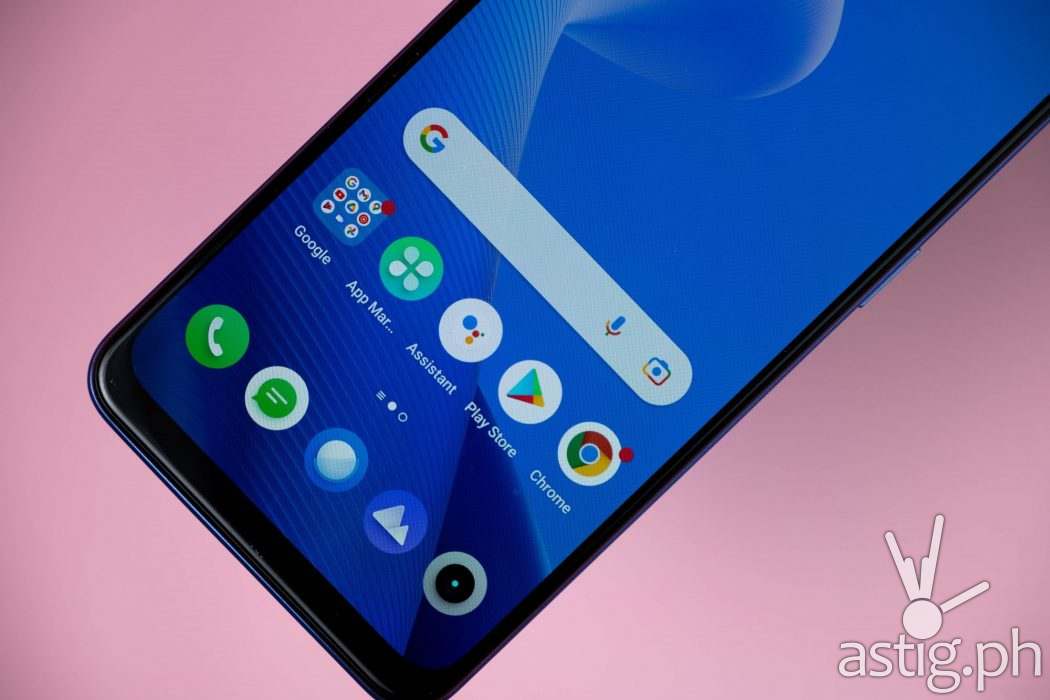 Looking under the hood, we see a different story: both the standard and Pro models come with dual stereo speakers, vapor chamber cooling systems, and 5G capabilities. Running on the 6nm MediaTek Dimensity 920 5G platform with 8GB of memory (RAM) and 128GB of storage, the narzo 50 Pro 5G offers the elevated performance that is well above the mid-range standard for 2022.
Not only that, the Pro model also comes with 8GB of memory which is already overkill for 99% of the target market for the narzo 50 Series. It does make for good benchmarks scores, easily hitting 500K points in AnTuTu aand over 10.5k points in PassMark.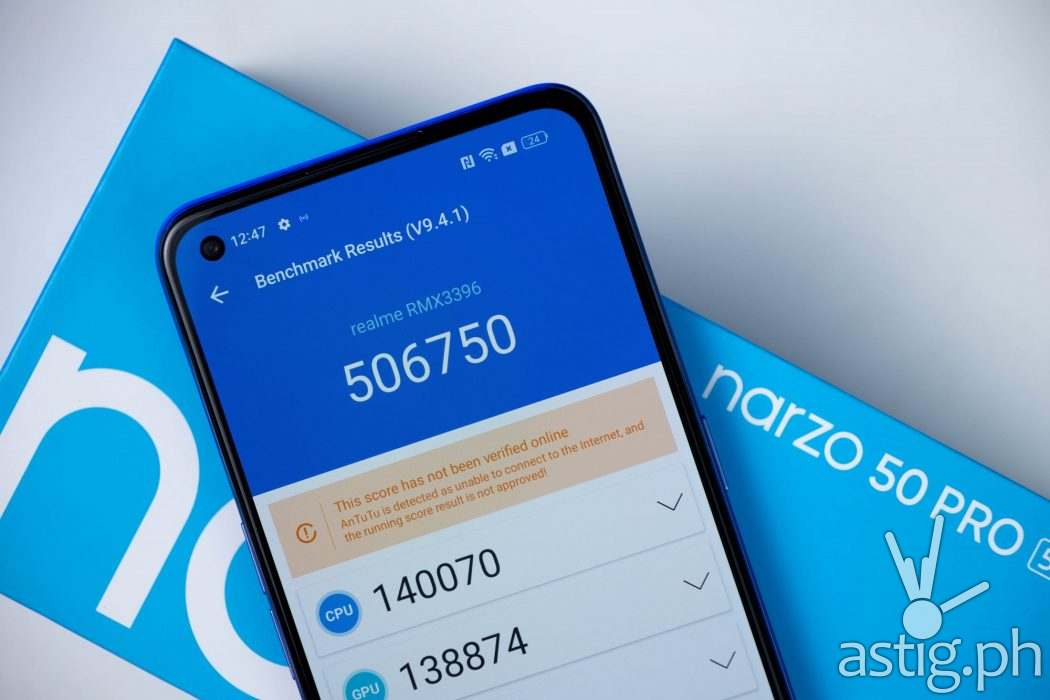 These are above-average scores for 2022, which should be enough to satisfy typical moderate to heavy use cases including social media, web browsing, video calls, navigation, media consumption, and work related applications.
Of course this includes content creation and gaming which we'll get to in a little bit, but we just wanted to point out that the system runs on Android 12 with realme UI 3.0 to deliver an enhanced user experience.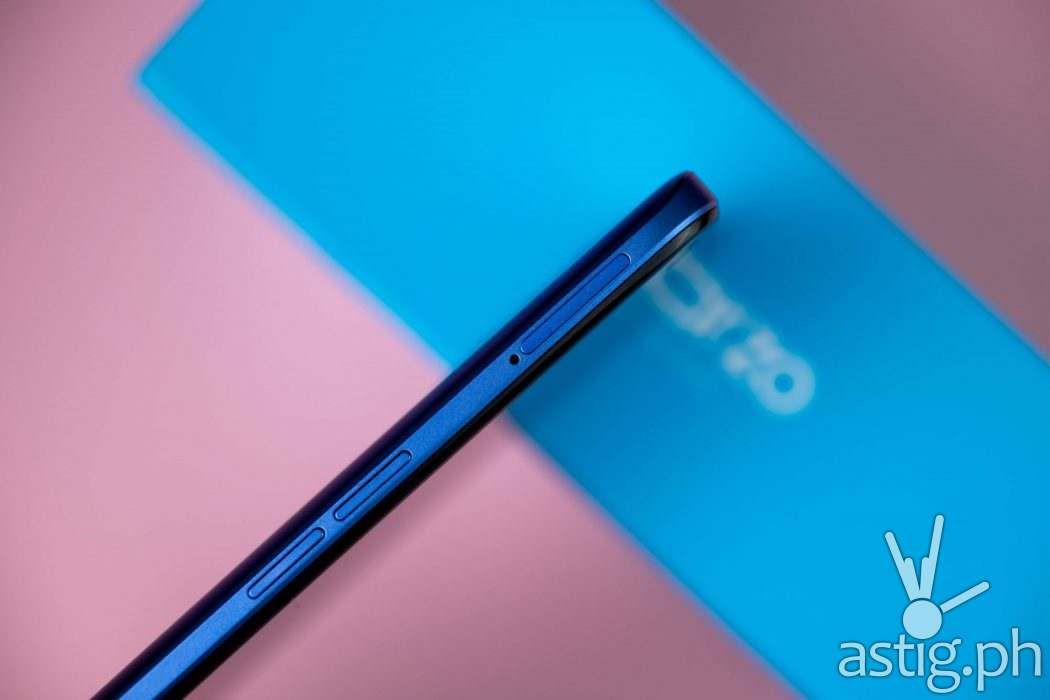 realme UI 3.0 is great! It is one of our favorite Android customizations because it really delivers an enhanced experience.
On this aspect, the narzo product team could probably have easily done a quick search-and-replace on all realme text and logos to create the narzo UI equivalent. However, if narzo wants to to stand out independent of its parent brand, it needs to create a little more differentiation than that.
realme did this the moment they broke away from OPPO, so perhaps narzo just needs more time. Maybe it's in the works and we'll see a narzo UI in the future, but we won't complain if they decided to stay with realme UI.
If it ain't broke, don't fix it – or so they say.
Mobile gaming and entertainment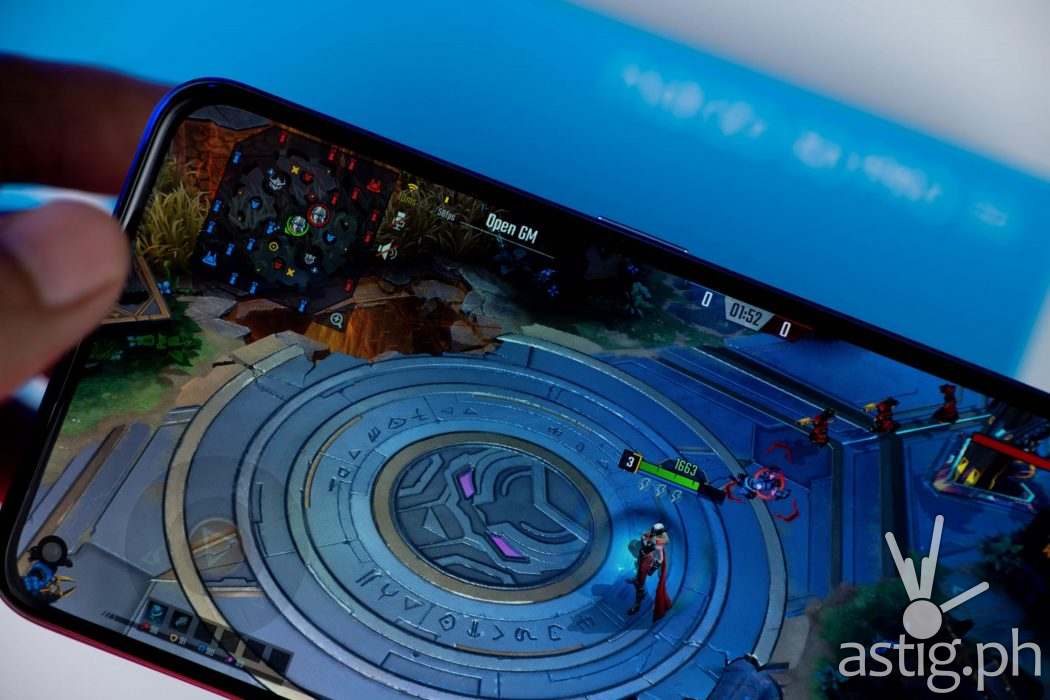 Now we already know that it is a great performer, and that carries over to games and media consumption as well, but there are three to four things that make the narzo 50 Pro 5G push mobile entertainment and gaming even further:
The first is that vapor cooling chamber. At 6nm, MediaTek Dimensity 950 5G is already a very power-efficient chipset, but sustaining that performance can become problematic in long gaming sessions wherein the battery, GPU, and CPU are all being fully utilized.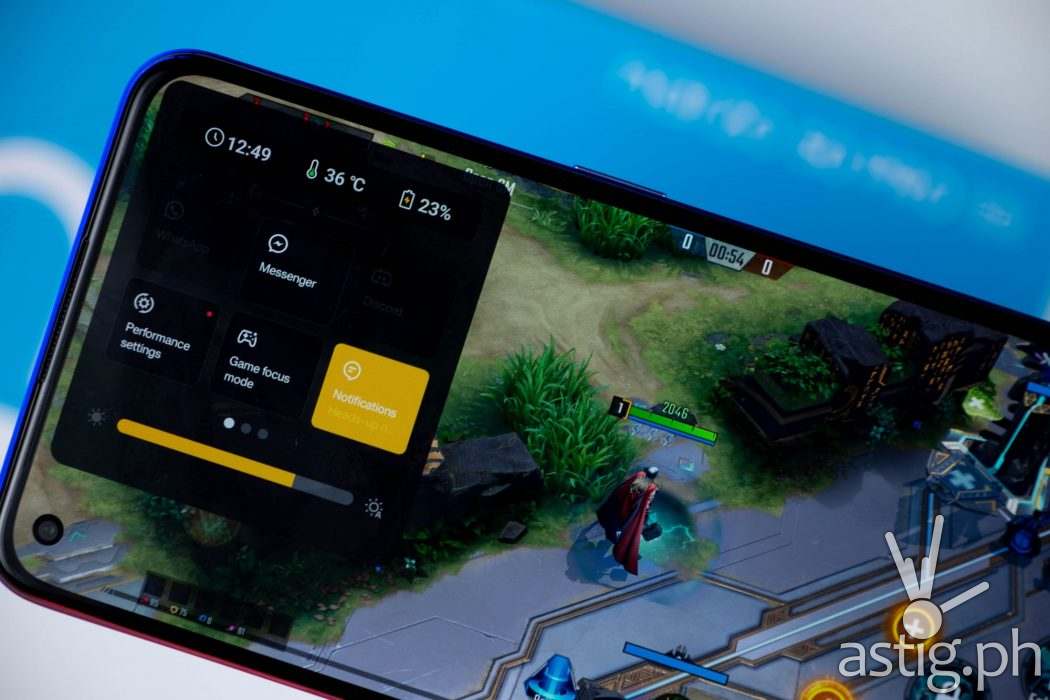 So better cooling keeps the system more stable and prevents what we call thermal throttling, the bane of mobile gaming, since it caps performance in order to keep the system within ideal operating temperatures.
On other phones, we can see temperatures spike by 5-6 degrees Celsius, rising all the way above 50 degrees Celsius. At that point, the device is hot enough to be uncomfortable to hold when gaming.
The narzo 50 Pro 5G was able to keep it from rising above below 4.5 degrees Celsius, maxing out at only 42.7 degrees Celsius.
It may not sound like much, abut a difference of even 1 degree is significant in mobiles. What's critical is the maximum temperatures, which the device was able to keep in the low 40s. This makes for a much more stable, high-performing system.
Next is that Super AMOLED display with HDR capabilities: It is the best way right now to enjoy content on mobile, and if you have access to one then there is no reason to settle for anything less. By the way: for those of you who like to watch DRM-enabled content on Netflix and Amazon Prime, the narzo 50 Pro 5G come with Widevine L1 certification, so rest assured you can stream your favorite shows in their full HD glory.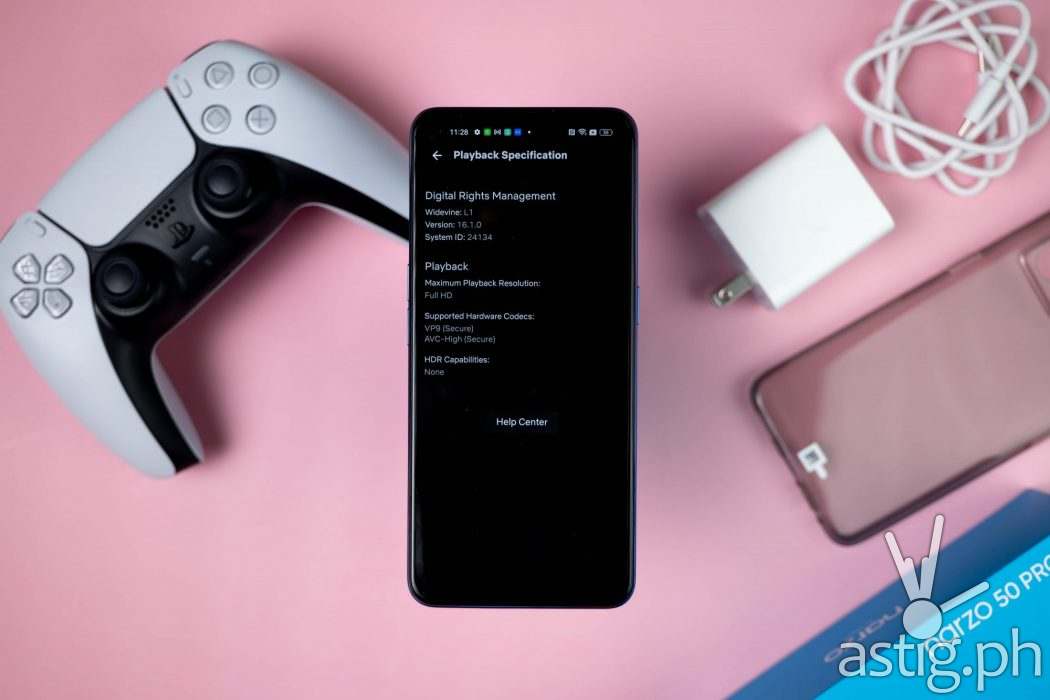 The other reasons are more situational, but should be appreciated by a significant number of its users, and this includes dual stereo speakers, 5G and WiFi 6 support, and the gaming optimizations that come with realme UI 3.0.
It's always nice to have dual stereo speakers, but what's nice is that the top speaker is quite powerful and balances well against the punchy main speaker at the bottom.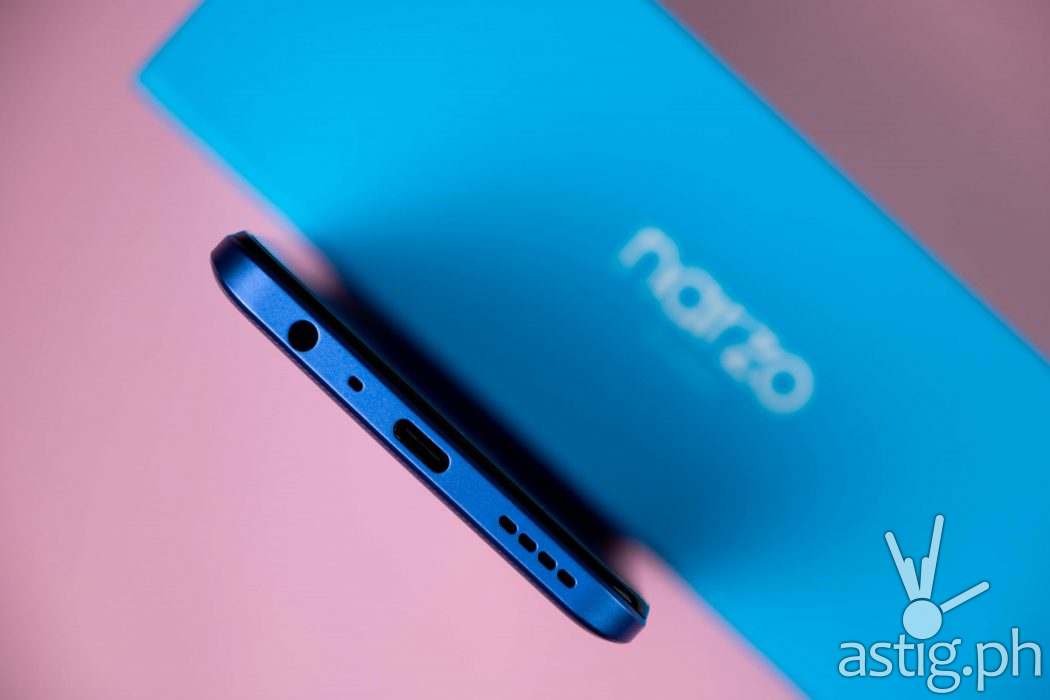 5G and Wi-Fi 6 we feel is more situational depending on how often you are on mobile data and if you have access to a Wi-Fi 6 access point. Right now I feel that I am in the minority, I am heavy into both 5G and Wi-Fi 6, and I cannot settle for anything less, so that alone automatically qualifies the narzo 50 Pro 5G for a spot in my list.
For those who are not really into 5G or Wi-Fi 6 at the moment though, having a device that supports both technologies brings a degree of long-term technological adaptability, so you are investing in a device that will longer, and you will feel the benefits if you ever need to rely on these technologies more heavily in the future.
By the way, we managed to run most games at 30FPS or higher on most games, but Diablo Immortal would not allow us to select Ultra resolution or 60FPS due to hardware capping.
Camera and content creation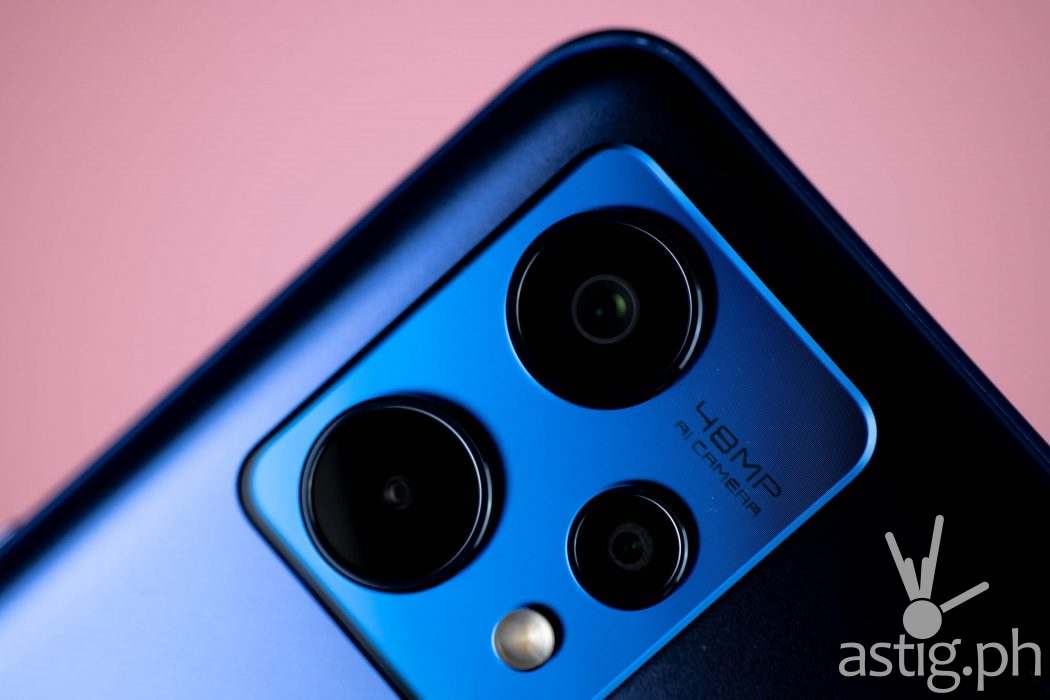 For taking photos and videos, the narzo 50 Pro 5G touts a 58MP main camera, an 8MP ultrawide camera, a 2MP macro camera, and 16MP selfie camera.
Generally speaking, it takes decent shots that will look great in smaller screens and social media: the dynamic range is above average, and the images look sharp although they can appear to be over-processed and slightly noisy.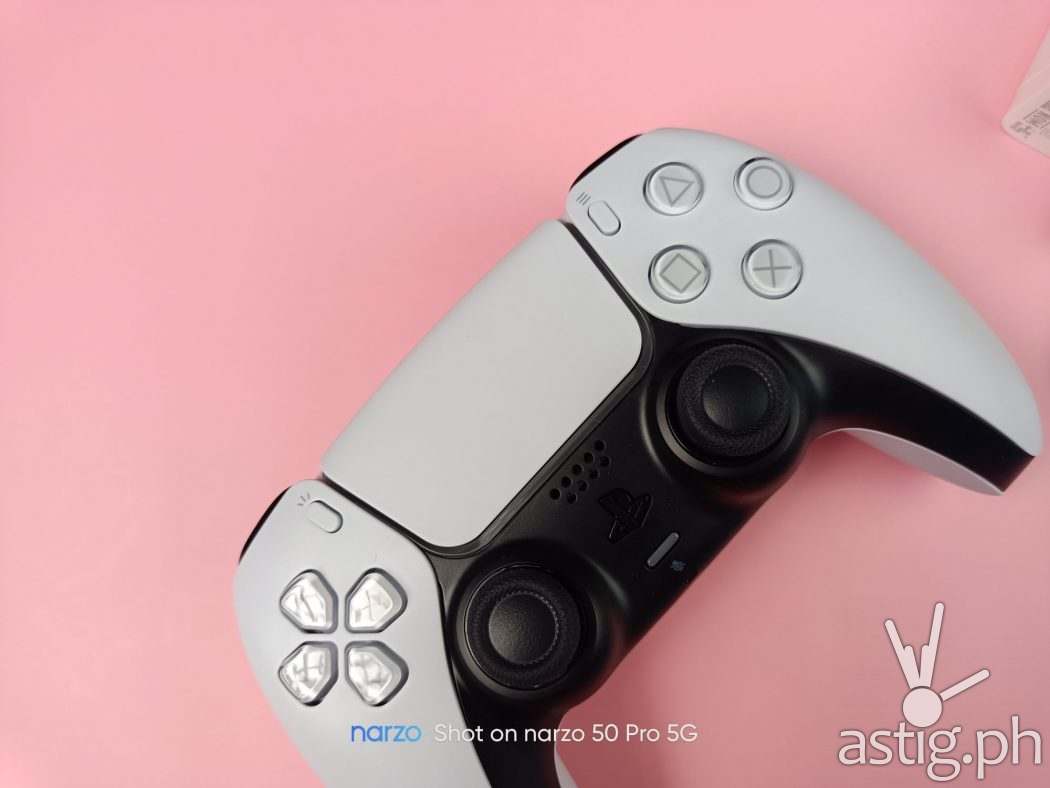 Hand-held shots can also appear soft at times, so you may need to temper and calibrate the camera if you plan to use them anywhere else.
As expected, the 48MP main sensor takes the best photos out of the bunch, but we were pleasantly surprised by the 8MP ultrawide camera, which managed to keep the highlights from blowing out and the shadows under control despite being a much smaller sensor.
What's impressive, however, is how narzo managed to match the colors on both the main and ultrawide sensors. The white balance and color grading on both sensors are so close that it looks like photos taken on either sensor could have been taken on the same camera!
Selfies were also rather good, but like the rear sensors you really need good lighting in order to bring out the best out of its camera system.
Battery life and fast charging
A 5,000 mAh battery module powers the narzo 50 Pro 5G which can charge at up to 33W for what the official product page claims can yield up to 50% in 31 minutes.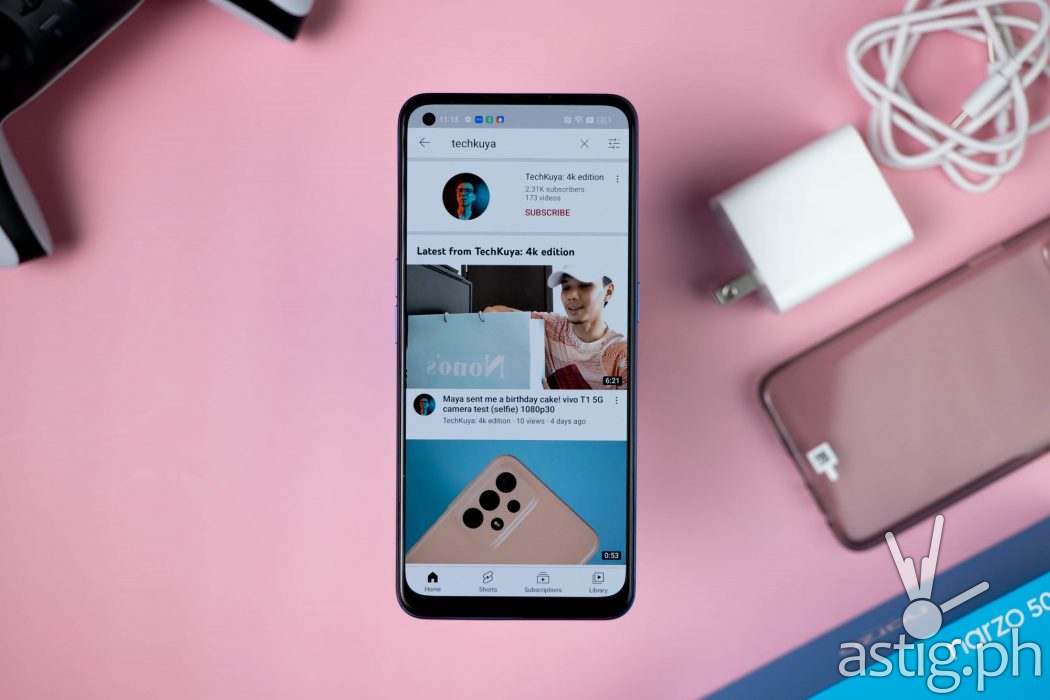 Because it lasts such a long time, we have not been able to thoroughly test the phone's battery life at the time of writing, but our initial benchmarks brought us 11.5 hours of screen-on time. It still blows my mind thinking two years ago we were already going crazy with 7-8 hours, and here we are now with phones doing half a day of screen-on time.
Not only that, charging the phone is a breeze thanks to fast charging, so that base is also covered.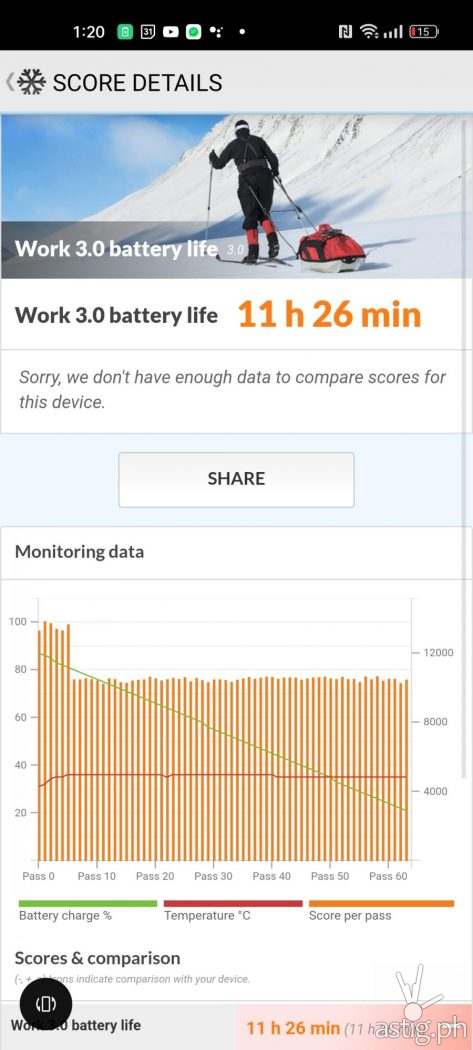 We can never charge fast enough or have too much battery life when gaming: those 11.5 hours can easily go down by half with the entire system's resources running at maximum capacity.
Price and verdict
narzo breaking away from realme almost feels like history repeating itself. Back in 2018, realme declared its independence from OPPO and with it, attacked the market with one disruptive launch after another.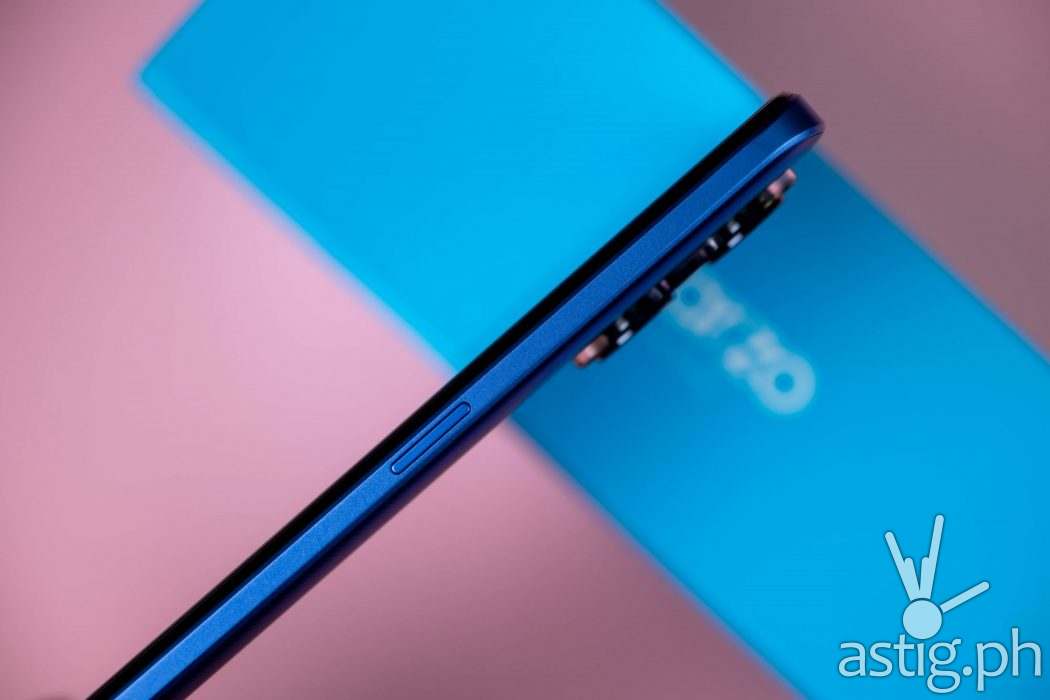 The narzo 50 Pro 5G is impressive in its own right, serving fresh aesthetics and impressive hardware in order to secure a spot at the top of the highly competitive mid-range market.
We see and appreciate where it is trying to go in terms of identity, though the challenge right now seems to be articulating it: is narzo focusing on performance? Is narzo focusing more on mobile gaming? Is narzo the new budget king?
From the press releases and conversations that we've had with our friends over at narzo Philippines, value seems to be a big part of the conversation.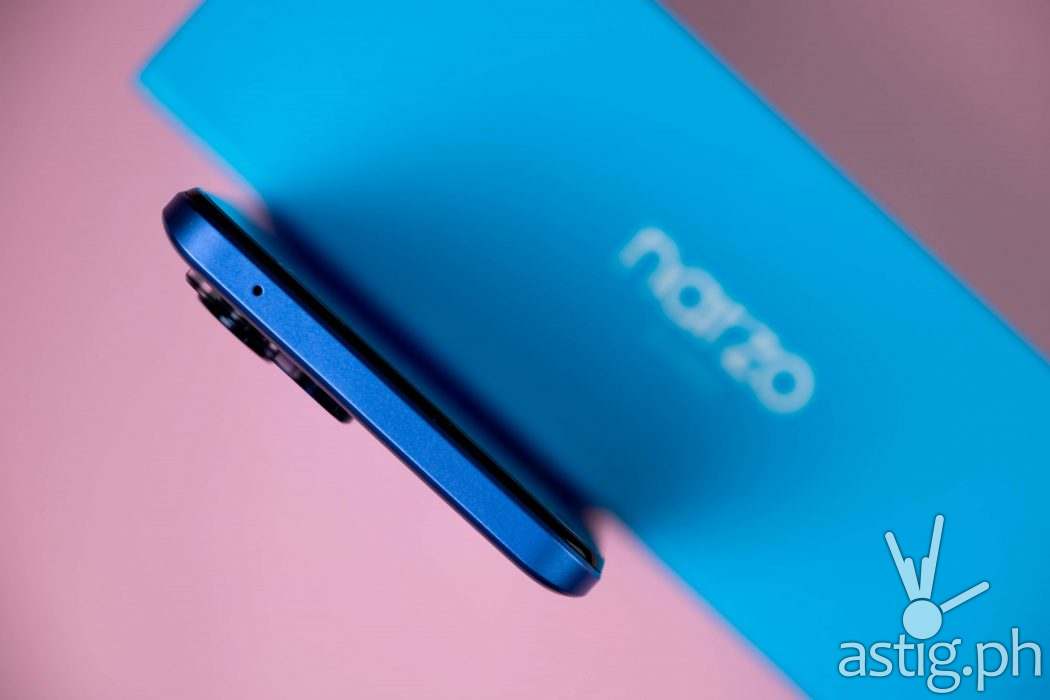 How much will the narzo 50 5G and narzo 50 Pro 5G be priced once it hits the shelves is still a secret that will only be revealed at the live launch on July 14 6PM at the narzo Philippines official Facebook page and Lazlive. However, we can already make an educated guess on the pricing strategy based on the earlier launch held in India:
narzo 50 Pro 5G price: ₹ 21,999 (~Php15,500)
narzo 50 5G price: ₹ 15,999 (~Php11,300)
We conclude this review with more questions than answers, but one thing is for certain: narzo 50 Pro 5G is a solid mid-ranger that possesses the winning formula for the best mid-range smartphone of 2022.
narzo 50 Pro 5G specs (Philippines)
Display: 6.4 inches; 1080 x 2400 pixels; Super AMOLED, 90Hz, Gorilla Glass 5
SIM: Dual SIM (nano-SIM, dedicated slots)
OS Android 12; realme UI 3.0
Chipset (SoC): Dimensity 920 5G (6nm)
CPU: Octa-core  (2×2.5 GHz Cortex-A78 & 6×2.0 GHz Cortex-A55)
GPU: Mali-G68 MC4
Memory (RAM) + storage: 8 GB + 128 GB
Expansion: none
Main camera (rear): 48MP f/1.8 (wide) + 8MP f/2.2 (ultrawide) + 2MP f/2.4 (macro)
Selfie camera (front): 16MP f/2.4
Audio: stereo speakers (dual)
Connectivity: 2.4/5 GHz Wi-Fi 802.11 b/g/n/ac/6; Bluetooth 5.2
I/O: USB Type-C; 3.5mm audio jack; fingerprint scanner (under-display)
Battery: 5,000 mAh; 33W fast charging (50% in 31 minutes)
Colors: Hyper Blue, Hyper Black
Price (India): ₹ 21,999 (~Php15,500)
Price (Philippines): TBD
narzo 50 5G specs (Philippines)
Display: 6.6 inches; 1080 x 2408 pixels; IPS LCD, 90Hz
SIM: Dual SIM (nano-SIM, dedicated slots)
OS Android 12; realme UI 3.0
Chipset (SoC): Dimensity 810 5G (6nm)
CPU: Octa-core (2×2.4 GHz Cortex-A76 & 6×2.0 GHz Cortex-A55)
GPU: Mali-G57 MC2
Memory (RAM) + storage: 6 GB + 128 GB
Expansion: none
Main camera (rear): 48MP f/1.8 (wide) + 2MP f/2.4 (depth)
Selfie camera (front): 8MP f/2.0
Audio: stereo speakers (dual)
Connectivity: 2.4/5 GHz Wi-Fi 802.11 b/g/n/ac; Bluetooth 5.3
I/O: USB Type-C; 3.5mm audio jack; fingerprint scanner (side mounted)
Battery: 5,000 mAh; 33W fast charging
Colors: Hyper Blue, Hyper Black
Price (India): ₹ 15,999 (~Php11,300)
Price (Philippines): TBD