MANILA, Philippines – ONE Championship™ (ONE) ranks top five in viewership and engagement among all major global sports properties, according to a recent report by Nielsen titled, "Year in Review: Sports Consumption Evolution."
ONE ranked #2 overall in 2021 digital viewership, rising from its #4 ranking in a 2020 Nielsen report, with over 13.8 billion video views across Facebook, Instagram, YouTube, and TikTok. It sits just behind the #1-ranked NBA, which boasts over 14.5 billion for 2021. The UFC fell two spots to #5, with 6.6 billion.
In terms of digital fan engagement, ONE is #4 on Facebook at approximately 16.6 thousand average engagements per post, trailing only UEFA Champions League (#1), EPL (#2), and LaLiga (#3), while coming in four spots ahead of UFC (#8). ONE also ranked #4 on YouTube, #11 on TikTok, and #17 on Instagram in average engagements per post.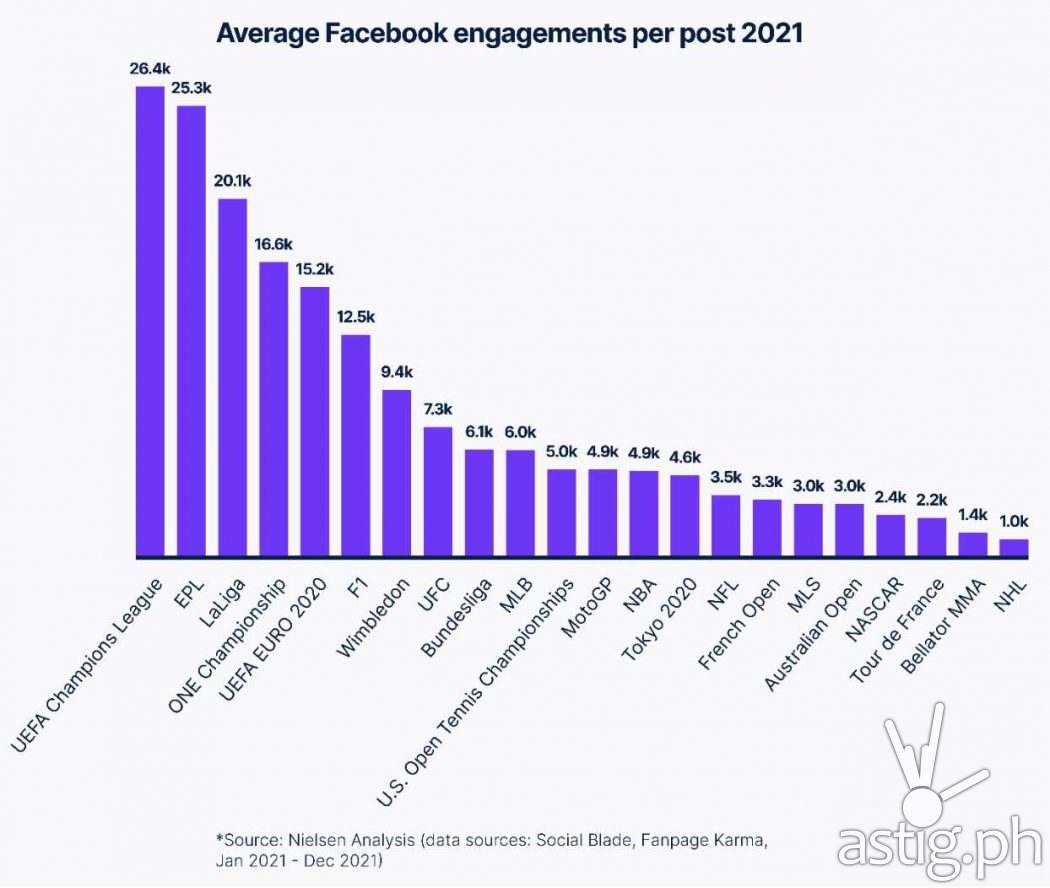 ONE also continued its rapid digital follower growth, increasing its fanbase to approximately 42.7 million (+24%) across Facebook, Instagram, and YouTube from 2020-2021 — trailing only the Tokyo 2020 Olympics (+73%), UEFA EURO 2020 (+35%), and F1 (+31%).
ONE also exhibited rapid growth on TikTok, increasing its followers by 146% in 2021 — second only to F1 as the fastest-growing global sports property on the Gen Z-dominated platform.3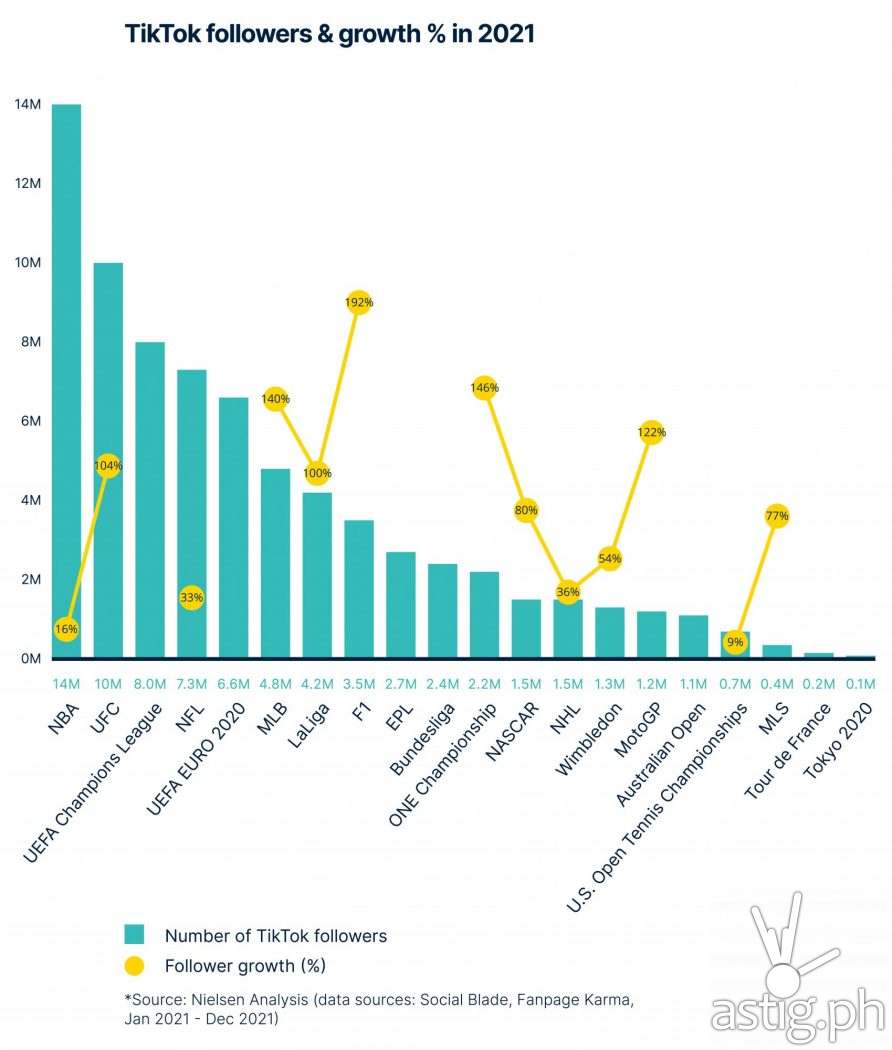 In cumulative reach on global broadcast television in 2021, ONE ranked #4 behind the Tokyo 2020 Olympics (#1), UEFA EURO 2020 (#2), and UCL (#3), but ahead of F1 (#5), NFL (#7), NBA (#8), and UFC (#9). Cumulative reach measures the number of unique viewers who tune in to watch at least one minute of a TV broadcast.4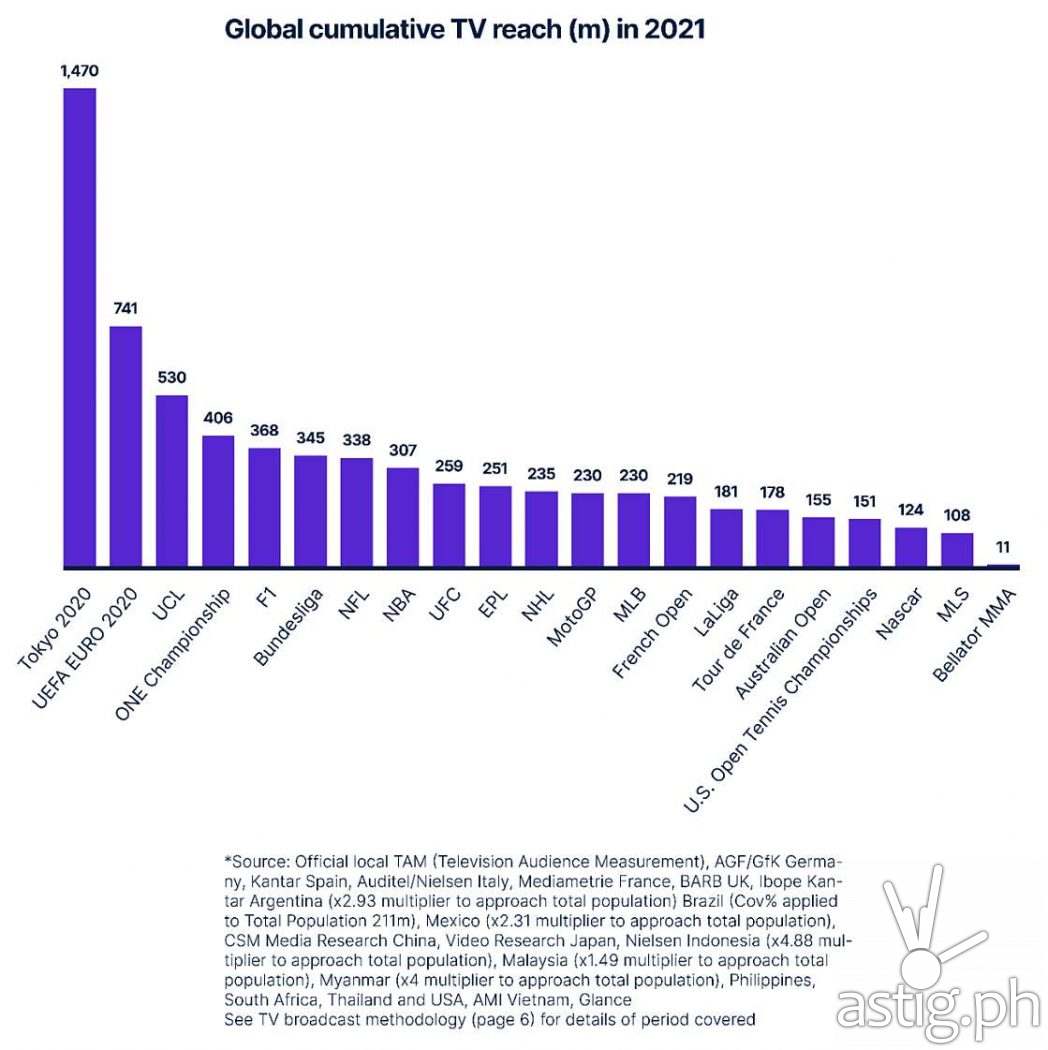 According to Nielsen, ONE also ranked #11 in 2021 broadcast hours with 10.7K hours on metered TV channels, despite challenges presented by the COVID-19 pandemic.5
For more updates on ONE Championship, please visit www.onefc.com or follow us on: