One of the most iconic shoes in the history of the brand, the Air Force 1 gets a new iteration this year. It is now paired with what is considered to be the lightest and most comfortable material for shoes today: none other than Nike's own breathable and lightweight Flyknit material.
This newest version of the 34-year-old sneaker is the lightest Air Force 1 ever a​s​ it is now half the weight of the original. It is also the first Flyknit shoe to in​c​orporate leather material for its swoosh and also the first one to have Flywire for lacing and a seamless textile upper.
With deep roots both in basketball and street culture, the AF 1 truly remains one of Nike's most recognizable silhouettes. This year's version​ ​is expected to usher the iconic shoe into the future while bringing its legacy, use, and symbolism together with it.
How did the Nike AF1 Flyknit come to be?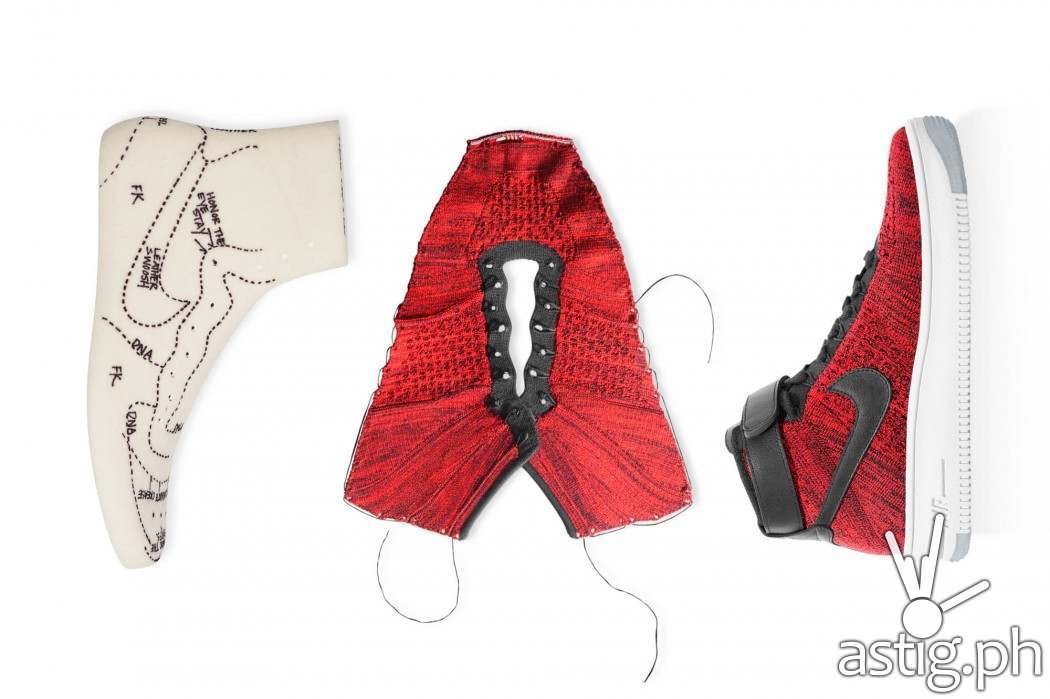 Here's a transcript of an interview with Jonathan Johnson Griffin, who leads the creative direction for Nike Sportswear footwear
Can you talk a little bit about the early conversations of applying the Flyknit technology to the Air Force 1 shoe?
Our main goal in making the Air Force 1 Ultra Flyknit was to make a more comfortable shoe. The whole idea took off during a team trip to Paris. We challenged ourselves to only pack one pair of shoes to represent the best of footwear. We chose to wear the OG Air Force 1 in our chosen styles, and wore them from sun up to sun down every day, whether we were eating at restaurants or attending a streetball tournament, or enjoying the Paris night life; the OG Air Force 1 was versatile enough for all the events we had planned, which was a true testament to why Air Force 1 is such a staple in sneaker culture: it's democratic, aspirational, and iconic all at the same time.
Beyond witnessing the Air Force 1's versatility and resonance in multiple cultural communities, the team gathered some key learnings. After walking around in Air Force 1s for 12 hours a day, they were certain that they could make the shoe lighter and more flexible. They also realized the importance of having a perfect fit, especially to avoid creasing near the toe vamp. The Air Force 1 is heavy compared to a Nike running shoe. Adding Flyknit technology lends a new level of lightness and comfort to the iconic shoe while staying authentic to the classic silhouette.
We took some of the best things about Nike footwear and modern comfort and built them into Air Force 1 for the young and modern consumer today who wants a classic, amazing look, but wants to wear it from the train station in the morning to the train coming home at night.
What kind of response did you get when you introduced this idea? How did you visualize the success of the shoe?
The Air Force 1 Ultra Flyknit was one of the most interesting design presentations I've done; it was unlike anything that had been presented to the greater team. As I began to conceptualize the shoe and draw out the ideas in my head, and then on paper, I knew I would have to physically build the shoe to sell it and take people on the Air Force 1 Ultra Flyknit journey. After we returned from our team trip, we had one week before design review. I built a 3-D prototype of the AF1 Ultra midsole and brought it home along with a Flyknit upper I had detached from a unit at work.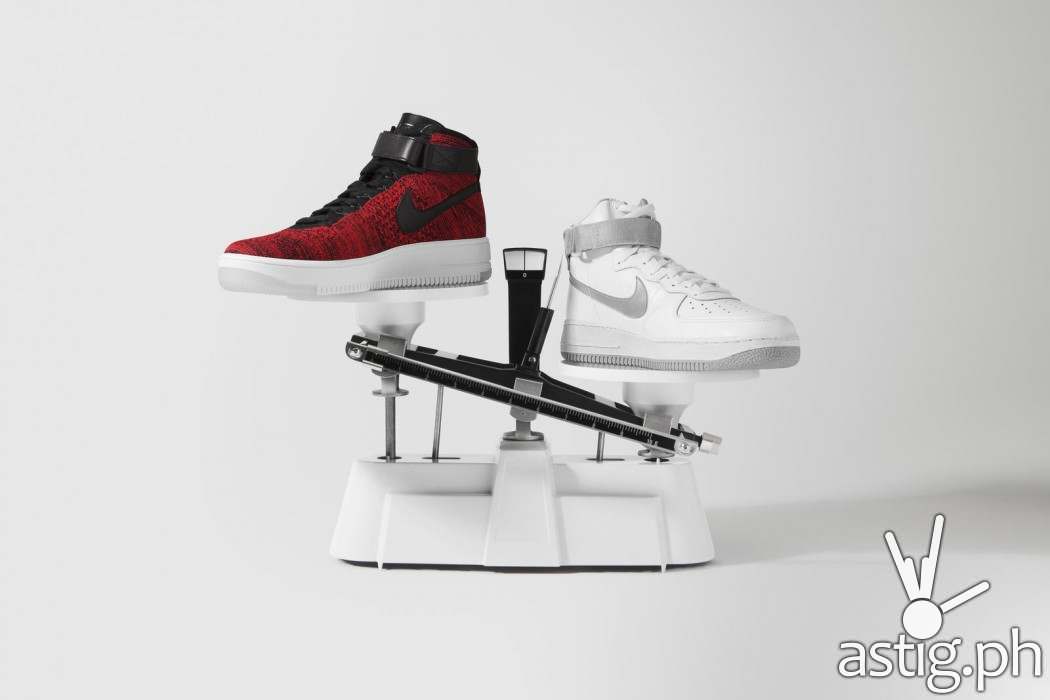 I still remember to this day that I was sitting at home the night before the presentation with a hot glue gun, staple gun, and a black sharpie, building this mockup. My wife walked in and asked, "What are you doing?" and I said "I have a big presentation tomorrow and I think, you know, even though I have all these renderings and all these different things to show, I think the best thing that will sell this vision is if I can show them a 3-D physical sample." It wasn't the best sample I had ever made, but I think it was the most important because it was the one that got people to really understand the vision that our team was trying to get after with Flyknit.
Presenting the idea was part one of the process. When we presented the prototype to design review, seeing the shoe in physical form immediately clicked for people. The most amazing part of the presentation was that, along with a 2-D rendering, we were able to physically take a tangible idea out of a bag and say "What if" and "here are the reasons why…" People were ready to sign up for it immediately, and it actually opened up a new chapter in the idea of sport style innovation for Nike Sportswear.
Part two came when we actually received a sample of the Air Force 1 Ultra Flyknit. We showed the multicolor prototype at the next design review, and instantaneously, our audience could see the different feel the Flyknit multi-color material brought to life in the shoe. When they picked it up and were able to actually feel the shoe with their hands, it truly blew people away because it was easily the lightest Air Force 1 we have ever designed.
The multicolors and the lightness truly render the Air Force 1 into a new modern expression for 2016.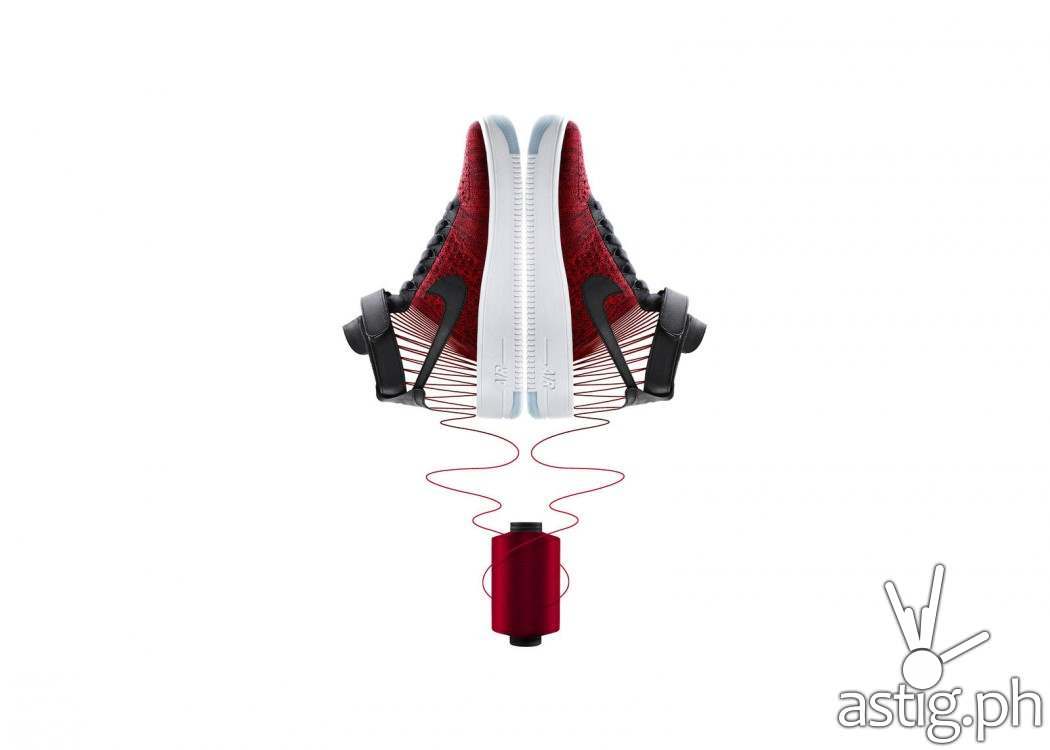 What makes the union of Flyknit material and the Air Force 1 so innovative/important?
Pairing the Air Force 1, a shoe iconic to sneaker culture, with Flyknit is sport style technology innovation in action. Firstly, Flyknit technology is a zero waste innovation. Adding Flyknit to Air Force 1 really launches Air Force 1 into a conversation of the modern sport style innovation. The iconic DNA of Air Force 1 is really the other side of that modern union; there really isn't another shoe in the world as iconic and as versatile. The Air Force 1 Ultra Flyknit makes people think — that's not my dad's Air Force 1, that's my Air Force 1: it is a shoe that belongs to the young and fast.
How does the finished version of the Air Force 1 Ultra Flyknit differ from the original prototype?
We went through an extremely intricate process to get to the final product. We went back and forth with the product development and engineering teams to make sure we maintained the integrity of the tooling while making it lightweight and true to the authenticity of the Air Force 1.
There's a pretty strong difference between traditional Air Force 1 construction and how you put together Flyknit on a shoe. Flyknit is woven together as one panel and comes right off the yarn looms as one piece.
The design of a traditional Air Force 1, however, is composed of many stitched overlay/underlay panels such as a: tip, saddle, foxing, eyestay, and vamp. A much more additive versus a reductive process.
We really wanted to bridge the Flyknit innovation with the DNA of Air Force 1, and the process was truly maniacal. Each detail of the Air Force 1 wasn't just planned, it was specifically engineered. We designed many flips to the shoe's DNA to make the Air Force 1 Ultra Flyknit a modern shoe that still salutes the past.
One design aspect that is new to this shoe is including leather in the shoe's Flyknit design– making this the first Flyknit shoe to do so. The Air Force 1 Ultra Flyknit includes a leather swoosh, a leather back tag and a leather backstay, which are characteristic of the original Air Force 1.
Another design aspect that had never been done before was engineering an eye stay that undulates. The Air Force 1 Ultra Flyknit eyestay is constructed in a wave to give more flexibility and a better fit to the overall shoe. It was an extremely difficult aspect to design into the Flyknit upper; Our engineers invested a lot of time creating a very interesting jig to actually be able to hold material parts in place so the undulation in the eye stay could be designed.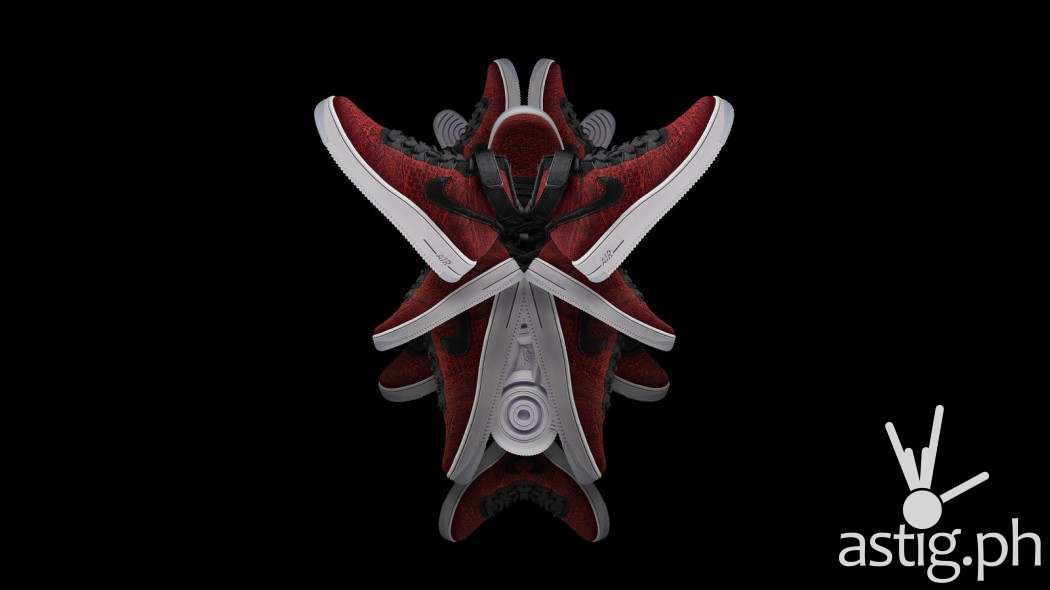 Is Flyknit on the Air Force 1 designed to be thicker than on other Nike shoes made with that material?
In some areas it's thicker, in other areas it's much thinner. The OG Air Force 1 is constructed of many different functional panels, meaning that it has different zones for different things. Because you get maximum breathability out of the shoe's vamp, the top of the shoe that covers your toes, we designed the Flyknit panel in that portion of the shoe to be more breathable. We also maintained the perforations of the original Air Force 1. We used thicker Flyknit yarns to engineer the structure in the toe tip panel of the shoe to further obsess the iconic shape of the Air Force One toe. We used that same thickness of yarn in the eye stay to make it strong enough for people to tighten or loosen for their ideal fit.
How does the lacing on the Air Force 1 Ultra Flyknit differ from other Air Force 1's?
The Air Force 1 Ultra Flyknit is made with Flywire technology. Flywire threads go in between the actual quarter lacing to give you a better fit. The Air Force 1 has more volume and a bigger fit than other Nike shoes, which results in a lot of variability in how it fits your feet.  One of our priorities in designing this shoe was creating a better fit. Flywire, can be tuned more precisely to the shape of your foot. Flywire really affords people the ability to wear an Air Force longer because it's more comfortably fitting your foot.
Why lead with these chosen color ways of multicolor, red, and white?
We chose to lead with these color ways because they really make a statement to the young and fast. Triple white is a staple colorway staple in the Air Force 1 family- out of all the Nike shoes, Air Force 1 owns white as a colorway. Multicolor is truly representative of the equity and expression of what Flyknit technology can do and is one of the most celebrated colorways in Flyknit. University Red projects a declaration of bold confidence in the third colorway. Over the past two years, red has become an enormous staple in sneaker culture. A red shoe is an expression of existence; it lets people know that you're there. It was a natural choice for the third color way.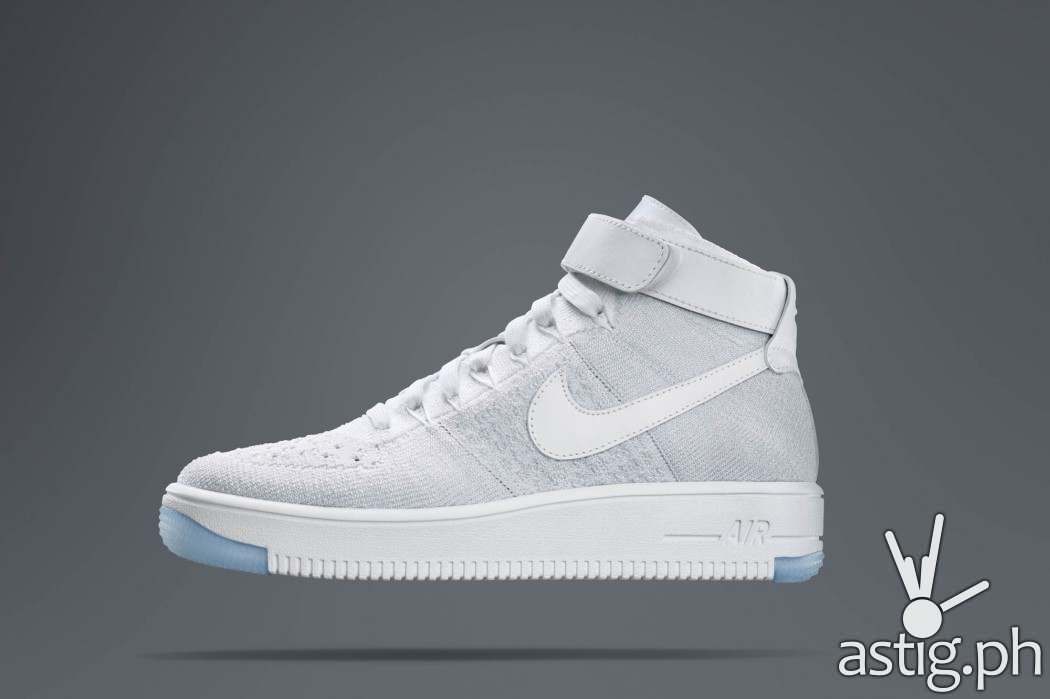 Do you have any memories of the Air Force 1 shoe that makes this moment special for you?
Air Force 1 has always been such a staple in footwear when I was growing up. Air Force 1 and I actually share a birthday year: I was born in 1982 and so was the shoe. Every Air Force 1 debray has 1982 engraved on the surface. When I first saw it, I knew we had a unique connection.
The Air Force One journey is an exciting one. An icon that is celebrated from the offices of Silicon Valley to the streets of New York to the shops in Harajuku and much, much more. It's democratic, but also very aspirational. It has always been a shoe that is protected in sneaker culture as a classic.
People really have used Air Force 1 as a platform to express themselves.  Nike has produced over 2,000 colors of Air Force 1, including multiple collaborations on the shoe.
It has been amazing to see Air Force 1 grow up as I grow up, too; we've grown up together, which I really hold near and dear to my heart. At Nike, we really think about how we continue to make Air Force 1 relevant for future consumers, for both the young and fast today and the young and the fast tomorrow. I just had my first kid, and now I'm deciding which Air Force 1 is she going to wear. Being able to work on this project was really special because I was able to push the Air Force 1 to the next generation through sport style innovation.
Is there anything you wanted to add that hasn't been brought up?
We want this project to really represent moving things forward. I hope the Air Force 1 Ultra Flyknit, and other shoes that are coming, will help speak volumes of how our classic Nike shoe footwear icons will continue to push innovation for the future.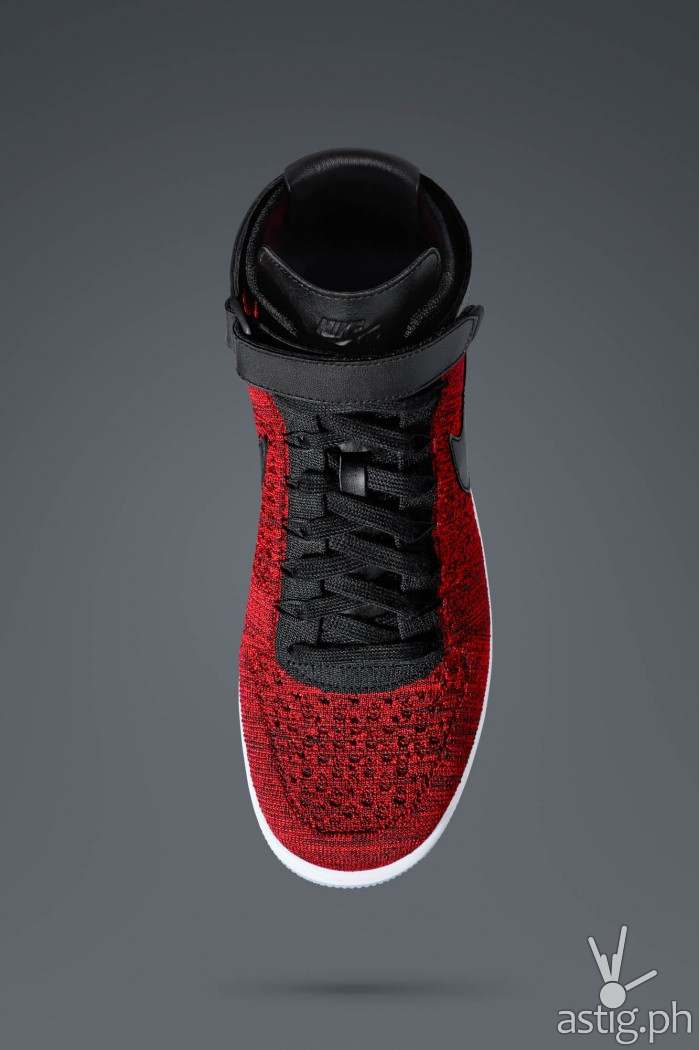 Nike Air Force 1 Philippines availability
The Nike Air Force 1 Ultra Flyknit will be released at Titan, Nike Park Fort, and Commonwealth Store in SM Aura. The AF 1 Ultra Flyknit Mens and Womens MID will be released on January 28th while the Mens Low version will be available starting March 1, 2016.
Nike Air Force 1 Philippines Price:
Nike AF1 Ultra Flyknit Mid (Men's) – 9,495
Nike AF1 Flyknit (Women's): 9,495
Nike AF1 Ultra Flyknit Low (Men's): 7,995