Whatever the situation, we always have to give our best and be at our best— whether at home or at work, for our loved ones or the people around us. But in order to be at our best, we first need to feel our best.
That is why choosing the right grooming products is key to ensuring that we get that boost of confidence to exude our best self. After all, no man feels good when he becomes sweaty, unfresh, and oily, minutes from stepping out of the shower.
Hence, we at NIVEA MEN developed the new NIVEA MEN DEEP Range. It is a complete grooming system that is powered by Black Charcoal, a powerful anti-bacterial agent that provides deep cleansing and protection, so we can definitely feel our best, do our best, and make us #DeeplyDistinct from the rest—anywhere and every single time.
Now you can easily take your grooming routine to the next level and get the full range of NIVEA MEN DEEP products to make sure you're #DeeplyDistinct. Shop at the comfort of your own home through the exclusive NIVEA MEN DEEP Gift Sets in Lazada and Shopee for only PHP 354! These gift sets will be your all-around grooming kit from head to toe—perfect as a present to others or yourself!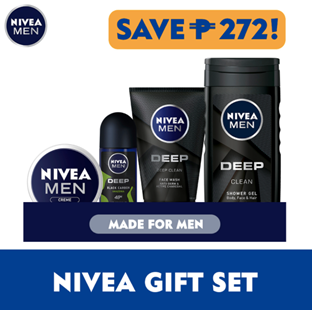 Bannering the range is the NIVEA MEN DEEP Deodorant, which provides perfume-like fragrance that has been proven to last long. Unlike other body sprays available in the market, NIVEA MEN DEEP Deo gives anti-bacterial protection and prevents underarm sweat and odor up to 48 hours, ensuring that we are protected while smelling fresh and clean all day.
Good news is, NIVEA MEN DEEP Deo now comes in three (3) irresistibly distinct
fragrances: Original, Espresso, and Amazonia! While Original features a masculine and elegant dark wood scent, newcomers Espresso and Amazonia offer unique yet trendy and attractive fragrances. Espresso gives out a sensual and magnetic fragrance that comes from its bold mix of espresso ristretto and cedar scents, while Amazonia provides an energetic and refreshing rainforest scent powered by clary sage and ginger oil. All deodorants are available in 150ml spray and 50ml roll-on formats.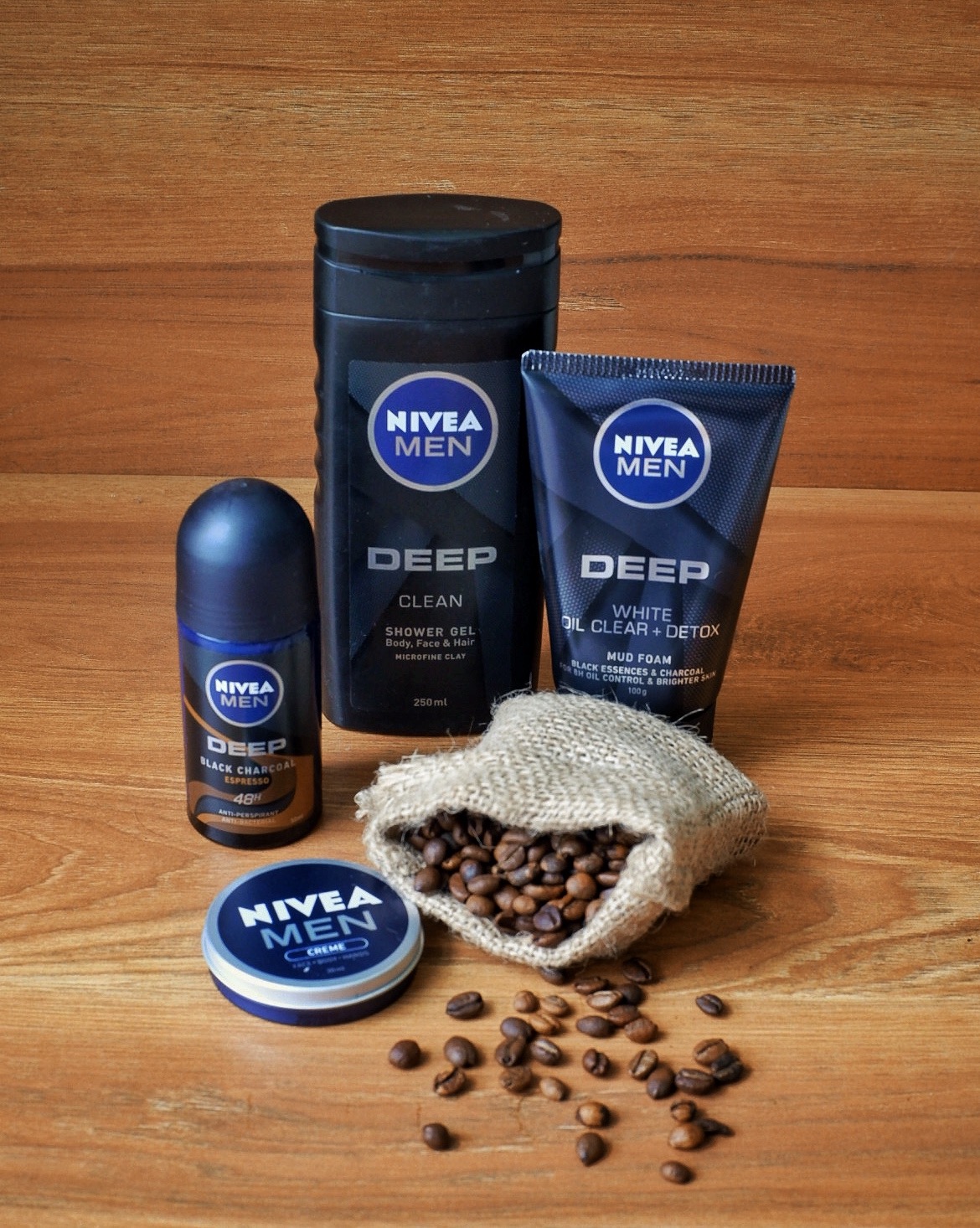 Aside from the NIVEA MEN DEEP Deodorant, the gift sets also include the following:
NIVEA MEN DEEP Face Wash deeply cleanses skin, clearing away impurities while providing 12-hour oil control and a cooling sensation. It refreshes, brightens, and protects skin from drying out. It is available in a 100g tube.
NIVEA MEN DEEP Shower Gel thoroughly cleanses your body with microfine clay that also protects the skin from drying out. Its deep cleansing properties leave a feeling of freshness down to the pore. It is available in a 250ml bottle.
Finally, a grooming routine won't be complete without a tried-and-tested moisturizer. NIVEA MEN Crème is an all-around moisturizer derived from the iconic NIVEA Crème. Used in both the face and body, NIVEA MEN Crème provides a boost of hydration and prevents the skin from drying out. Each tub is packed with Vitamin E, is non-greasy and fast-absorbing, so you can enjoy its fresh and clean scent without the heavy moisturizer feeling.
Really, the secret to being your best and being #DeeplyDistinct start with your reliable range of grooming products. And NIVEA MEN has definitely proven that it knows how to care for men's skin best. Good thing that you can easily get these deeply distinct products from the comfort and safety of your home by ordering via Lazada or Shopee. So easy right? Get yours now!
For more information on NIVEA MEN, follow NIVEA MEN on Facebook and Instagram.