Summer is the perfect time to host an outing with your friends, family and colleagues at work. Aside from choosing a destination, one of the major concerns is the transportation. Say goodbye to your "transpo" problems as OOT App is here to solve that in just a click away.
OOT enables its riders to book out of town trips through its Outstation service. Riders can book any destinations across Luzon. So if you want to travel to key summer destinations such as Baler, La Union, Baguio, Tagaytay or soak in the beaches of Batangas or Zambales, just go to Google Playstore, search OOT, press download, register your personal details and book!
The Outstation service has pool of OOT partners who will bid for your trip request so you have the freedom to choose your driver based on their offered price and amenities. Passengers can book 4, 7,10 and 15-seater vehicles, one-way or round-trip with a maximum of 7 days before the trip.
Meanwhile, its Cityride service caters to riders who have errands within Metro Manila and need a car for a certain number of hours. Enjoy the feeling of having a private car and driver while attending a wedding, birthday, debut or business functions around the cities of Metro Manila. Riders can book 4 and 7-seater cabs with a minimum of 4 hours in a very affordable price packages per hour.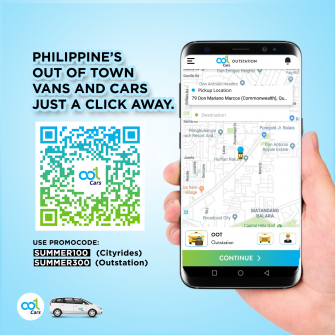 OOT values your security and has safety features including share trip details to your loved ones where they can track your trip through GPS and the SOS button for emergency purpose. OOT offers a summer promo which includes 300-peso discount for Outstation booking and 100 peso discount for Cityride.
So what are you waiting for? Download OOT now in Google Playstore or thru this link bit.ly/2SAzVYq and explore the summer destinations that Philippines has to offer.