The COVID-19 pandemic has severely restricted everyone's movement – as a result, most of our daily activities had to move online. We had to virtualize almost all our interactions, making the headset an essential communication tool – assuming you have a stable Internet connection, of course.
How many times have you been in a call wherein you or the other person on the line had trouble hearing one another because of background noise or poor voice quality?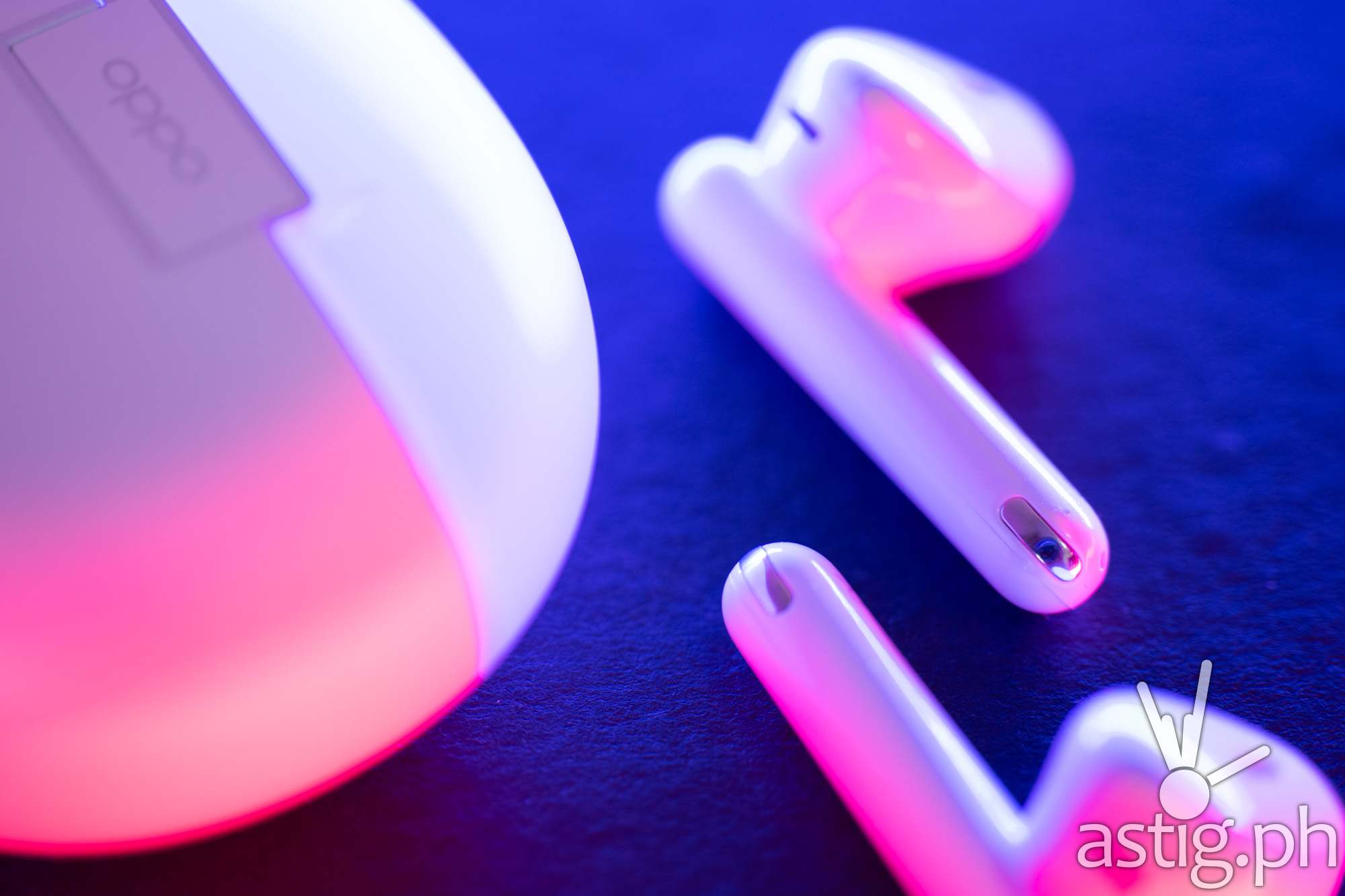 OPPO is looking to solve that with the OPPO Enco Air (W32), a true wireless stereo (TWS) earbuds equipped with dual microphones, AI-powered noise cancellation, and a driver designed and tuned for clear vocals.
Solid build, IPX4 water resistance
On the outside, the W32 looks and feels polished: you get a pair of white-colored TWS earbuds and a charging case shaped like smooth, large rock. It weighs a lot less than that though – the case and the earbuds have a combined weight of only 40 grams, which is almost nothing.
There are Black and Misty Blue colored variants listed on the OPPO Global product page, but they do not appear on the official OPPO Philippines store on Shopee.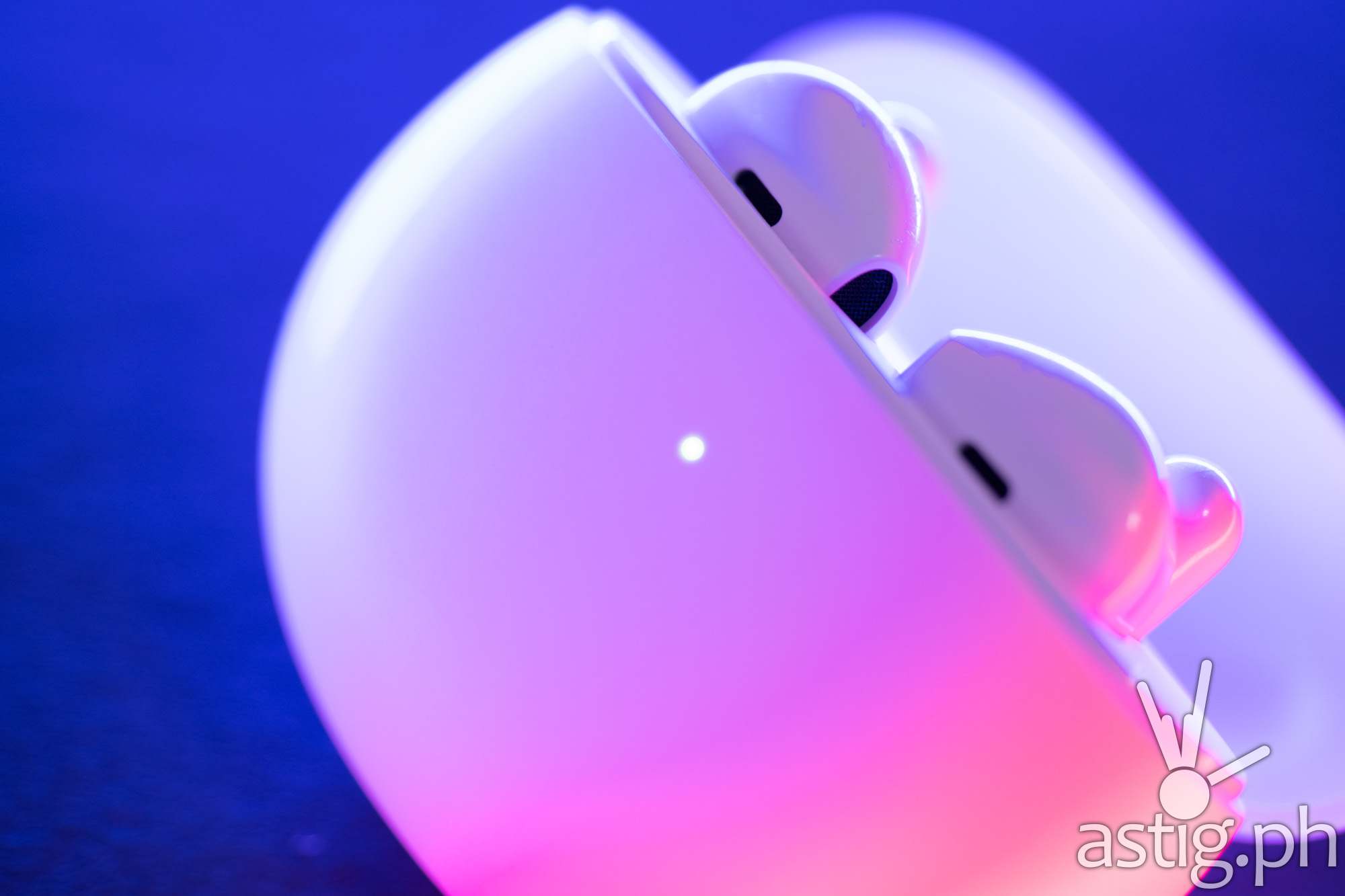 We appreciate that the lid is made of semi-translucent material, allowing the user to see at a glance if there's anything inside. Most TWS earbuds that we've seen so far have opaque cases, so you have to manually keep track of where you place your earbuds. This is one small tweak that enhances usability and actually makes sense, come to think of it.
Other brands should learn from this, and we'd be surprised if they aren't thinking about copying it already.
There's also a small LED on the front of the case to indicate the amount of charge held by the case, going from red to green. It also blinks to indicate pairing status.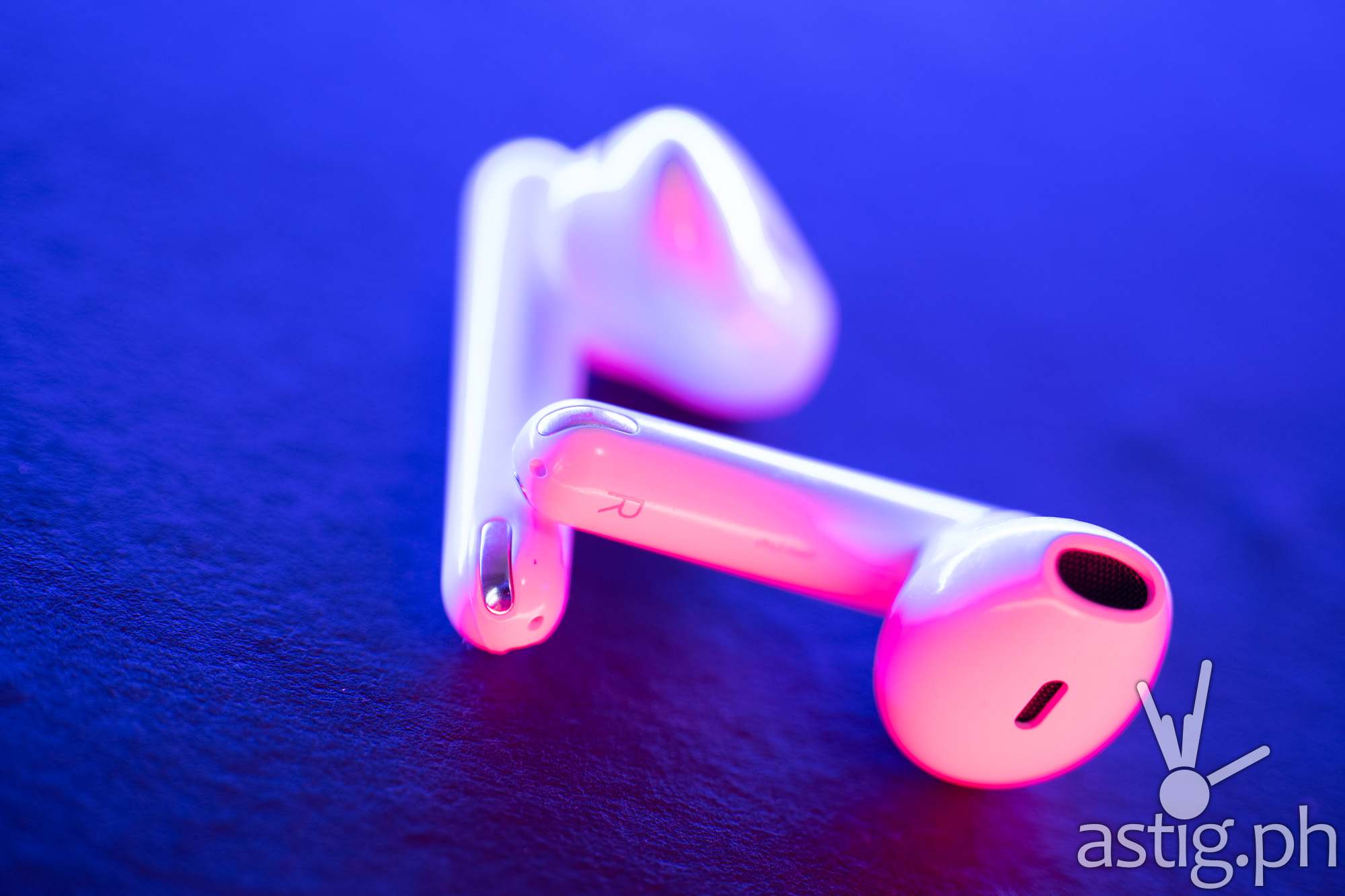 The earbuds themselves are made of the same polished, polycarbonate plastic material. Not much to see here if you've owned any other Airpods-style TWS: top-heavy drivers blast sound to the side while a stem helps keeps them in place within your ear cavity.
My Asian ears hold them well, but you still have to be careful when performing physical activities such as going to the gym or commuting. Unlike silicone-tipped earbuds, they can still fall out if you're not careful. We tried searching for silicone tips for the W32 but we couldn't find any online. It is clearly designed to be used as is, as a solid unit.
Chrome-colored contacts accentuate the ends of the stems, and while they are supposed to be IPX4 water resistant, it's supposed to protect against sweat and spills. I would not risk showering or swimming with it.
Ample bass, acceptable dynamic range
Made of titanium composite material, the drivers of the OPPO Enco Air have a diameter of 12mm. Generally speaking, larger drivers allow for more bass. Like with any audio device, it is something that you have to audition for yourself in order to appreciate.
If we had to put it into words, we'd say that the is an ample amount of bass, although there's a clear bias towards mid-range frequencies.
So we can say that OPPO Enco Air is best suited for communications – it handles voices really wall. There is enough dynamic range for the keen listener to enjoy music and video. However, we would not recommend it for critical listening.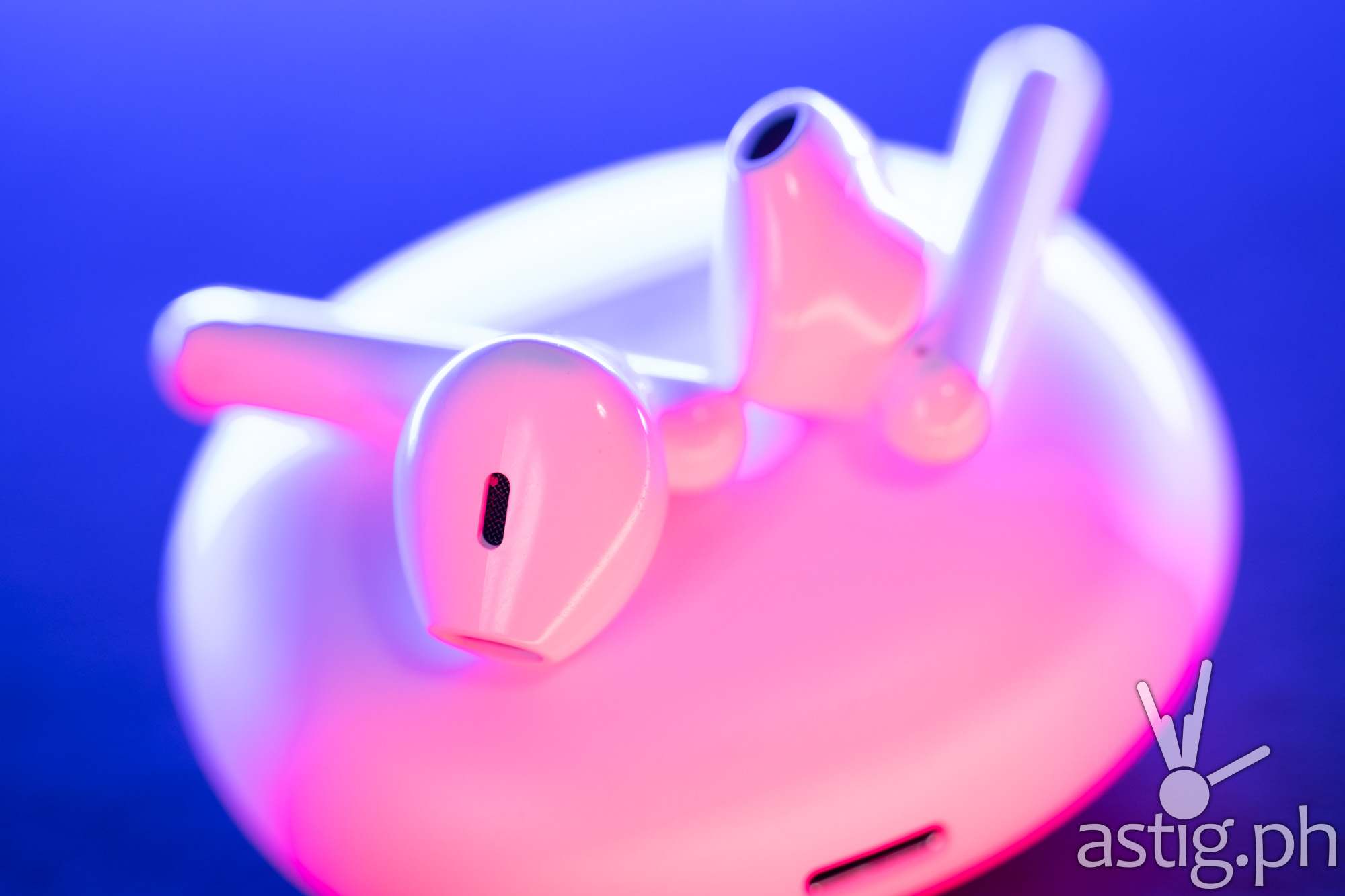 Silicone tips and Active Noise Cancellation (ANC) would have helped here, and unfortunately the W32 has neither. Better sealing would have dramatically reduced ambient noise, increasing the amount of audible dynamic range.
Audio is transmitted wirelessly via Bluetooth 5.2 and it's the first TÜV Rheinland certified TWS earbuds in the world: This means that it meets certain standards in latency, stability, and call performance.
Most average Joes would not recognize the difference, but lower latency means better synchronization between your input and wireless output device. In the case of our earbuds, this means that the sound that you'll be hearing from the W32 would not appear to lag behind whatever it is you are watching. This is good for watching movies and shows, but especially important in gaming.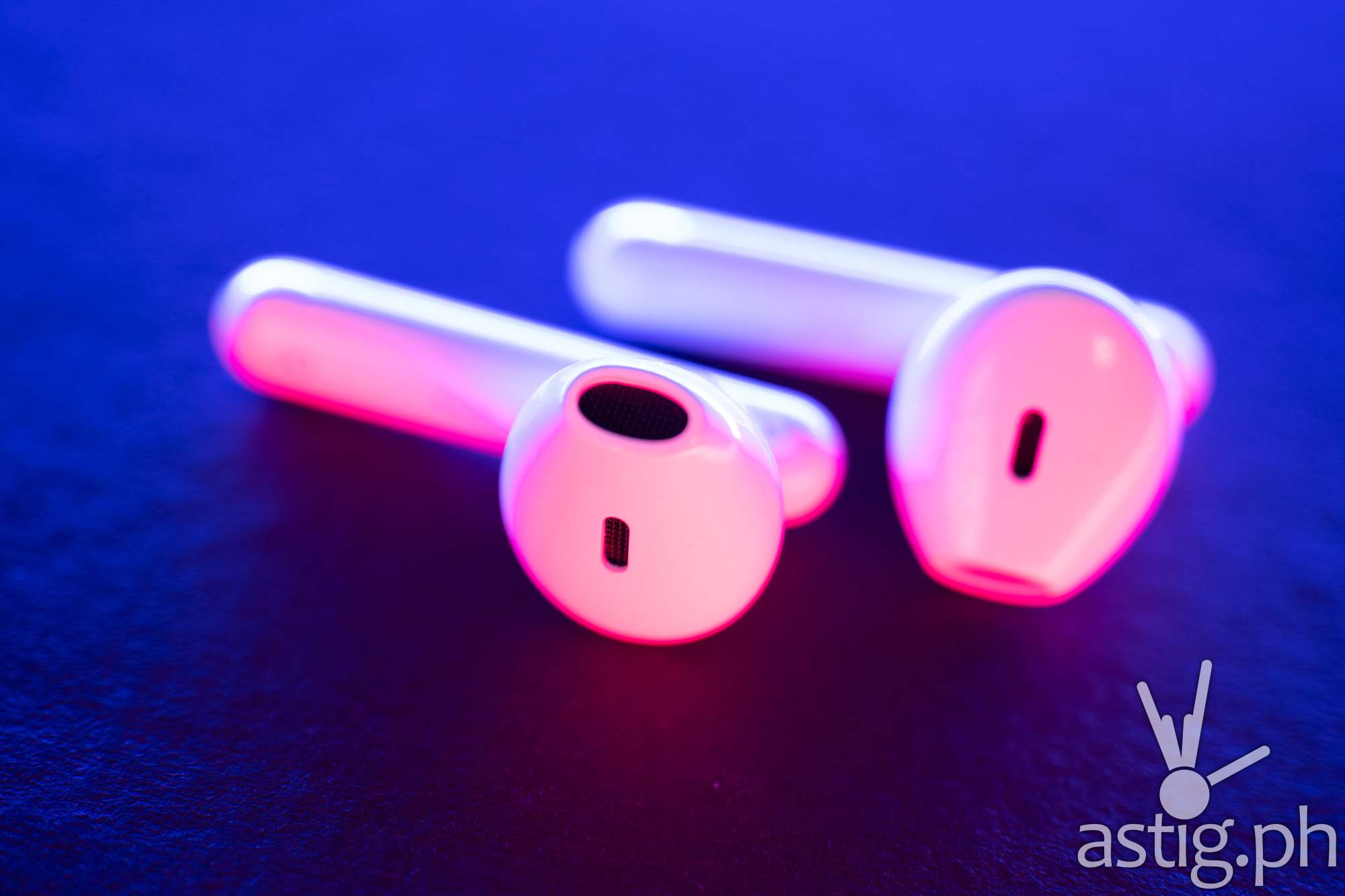 It's still nowhere near the performance of wired earphones, and there is still a noticeable amount of delay when gaming, but it's tolerable.
Out of this world voice quality
When it comes to call quality, the product engineers over at OPPO used beamforming technology with DNN-based (Deep Neural Network) noise-cancellation algorithm to "reproduce human voices as how they sound in person".
It also come with dual microphones, and the result of combining these technologies is otherworldly: not only did it isolate the caller's voice very well, it actually eliminated most of ambient sounds.
Like magic, it works even if you have a noisy background.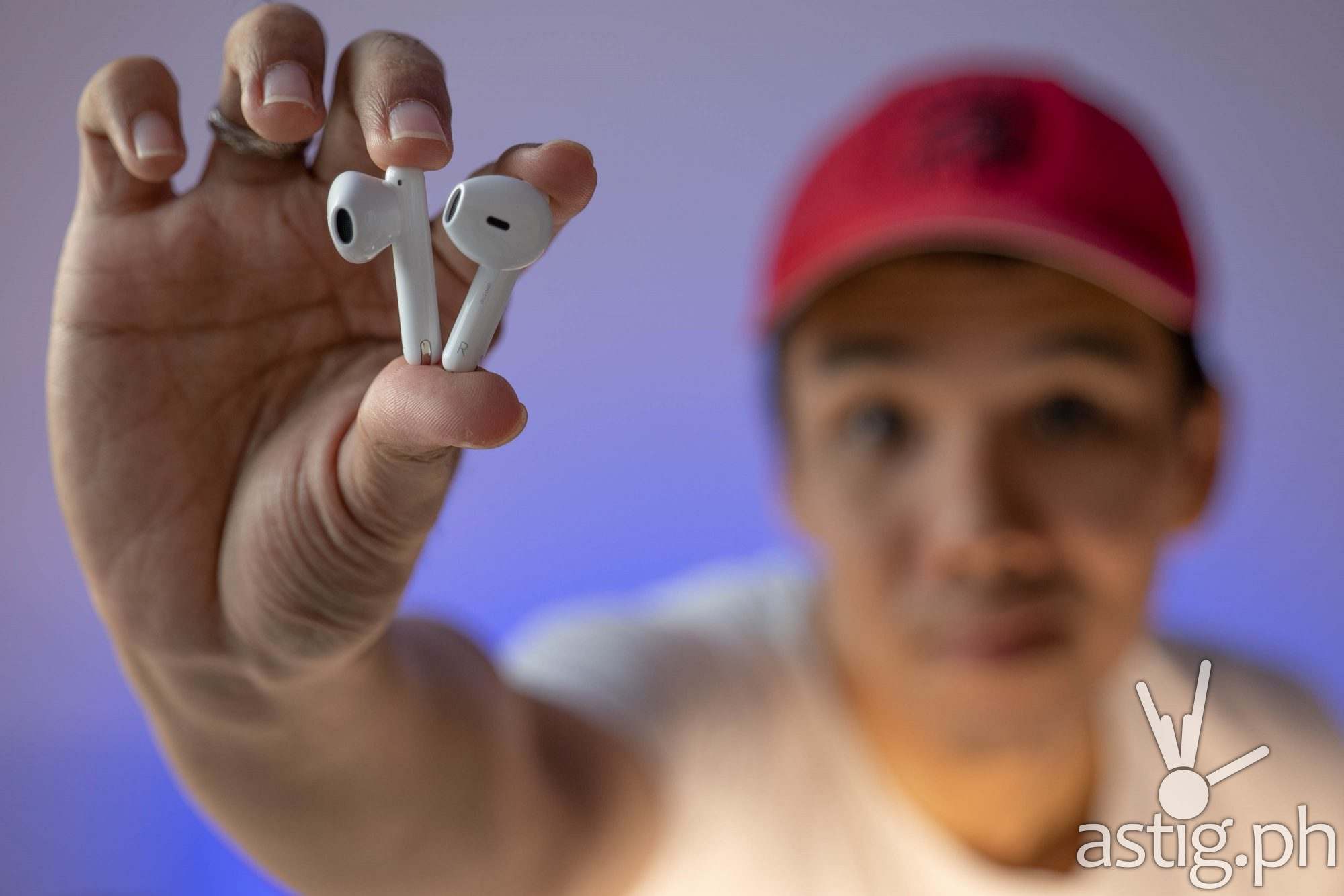 Who else has been in this situation where you couldn't clearly hear the person on the other line because of cars honking, construction, or some other background activity?
This is where the W32 truly shines.
Note that both microphones are located on the right earbud though, unlike some TWS earbuds with mics on each stem. Although there are holes on both earbuds, we are not sure what the hole on the right earbuds are for.
So if you had to, you can completely survive with just the right earbud and leave the other one stored inside the case.
Fast pairing and battery life
Pairing is one of our pain points with Bluetooth devices, but the OPPO Enco Air instantly connected with our Android smartphone out of the box. We were also able to re-pair it with non-Android devices such as a desktop PC without any hiccups and without needing to install anything.
We did not have an iOS device to test it with, but the website recommends installing the HeyMelody companion app for iPhone and iPad users.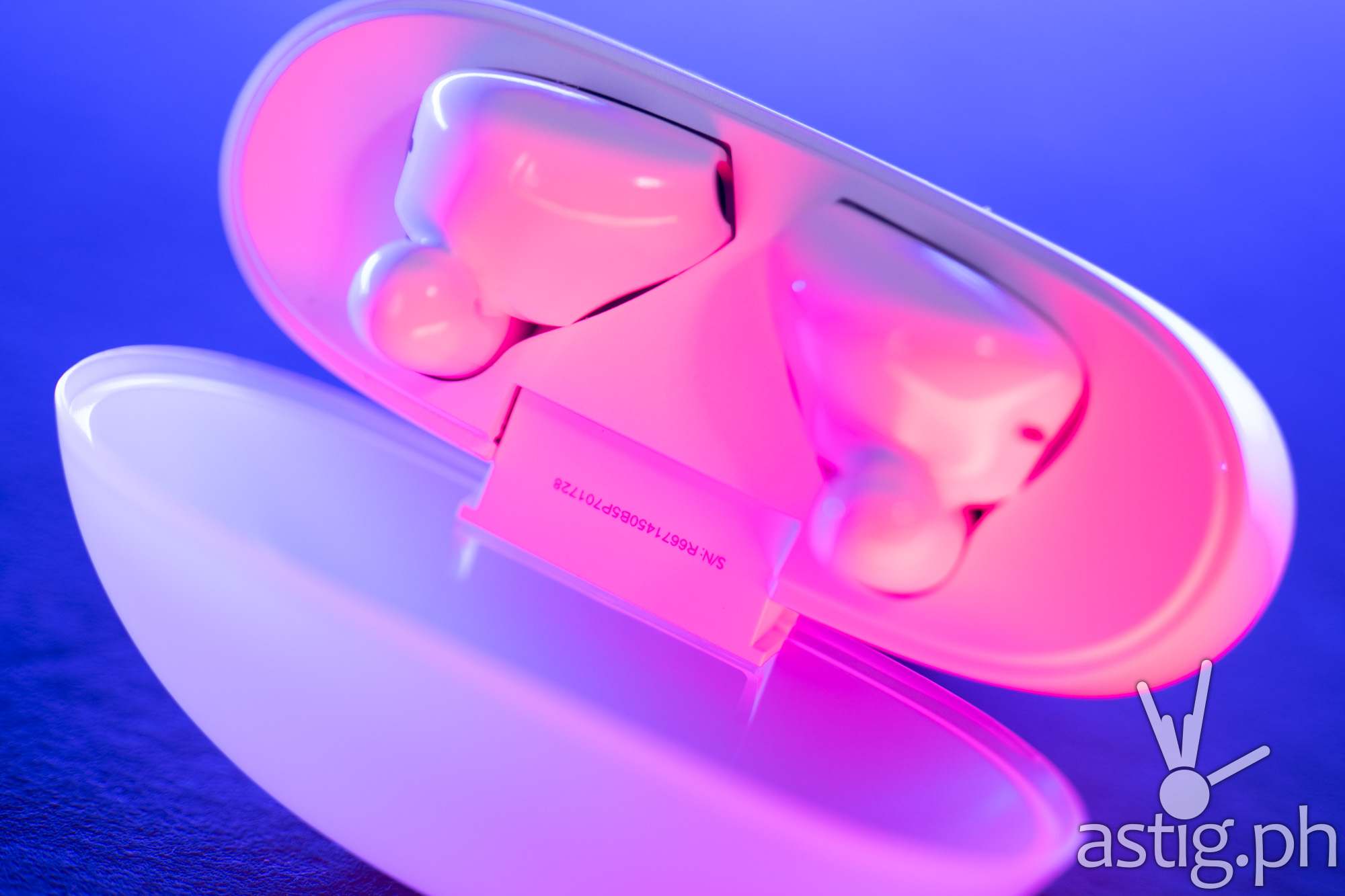 The app is also on Android, and  installing it gave us the option to update the firmware (there were no updates available at the time) and reconfigure the controls for double tap, triple tap, and touch and hold. Controls can be set individually for each bud and includes triggers for Google Voice Assistant and Game Mode in addition to the usual playback controls.
According to OPPO, a 10-minute is enough to give 8 hours of  playback and we don't doubt it, though we never tested it scientifically. These things last forever!
Fully charged, the buds last 4 hours on their own, and the case extends that all the way to 24 hours. It can't get any better, and we are quite happy with the battery life and charging speed.
Verdict
For those of us who are looking for an all-around daily driver, the OPPO Enco Air W32 has us covered:
Well built and comes with IPX4 water and dust resistance so you can go out and use it in different weather conditions
Substantial battery life – the case holds more than enough juice to last you an entire day
Out of this world call quality: noise cancelling isolates your voice, making it more audible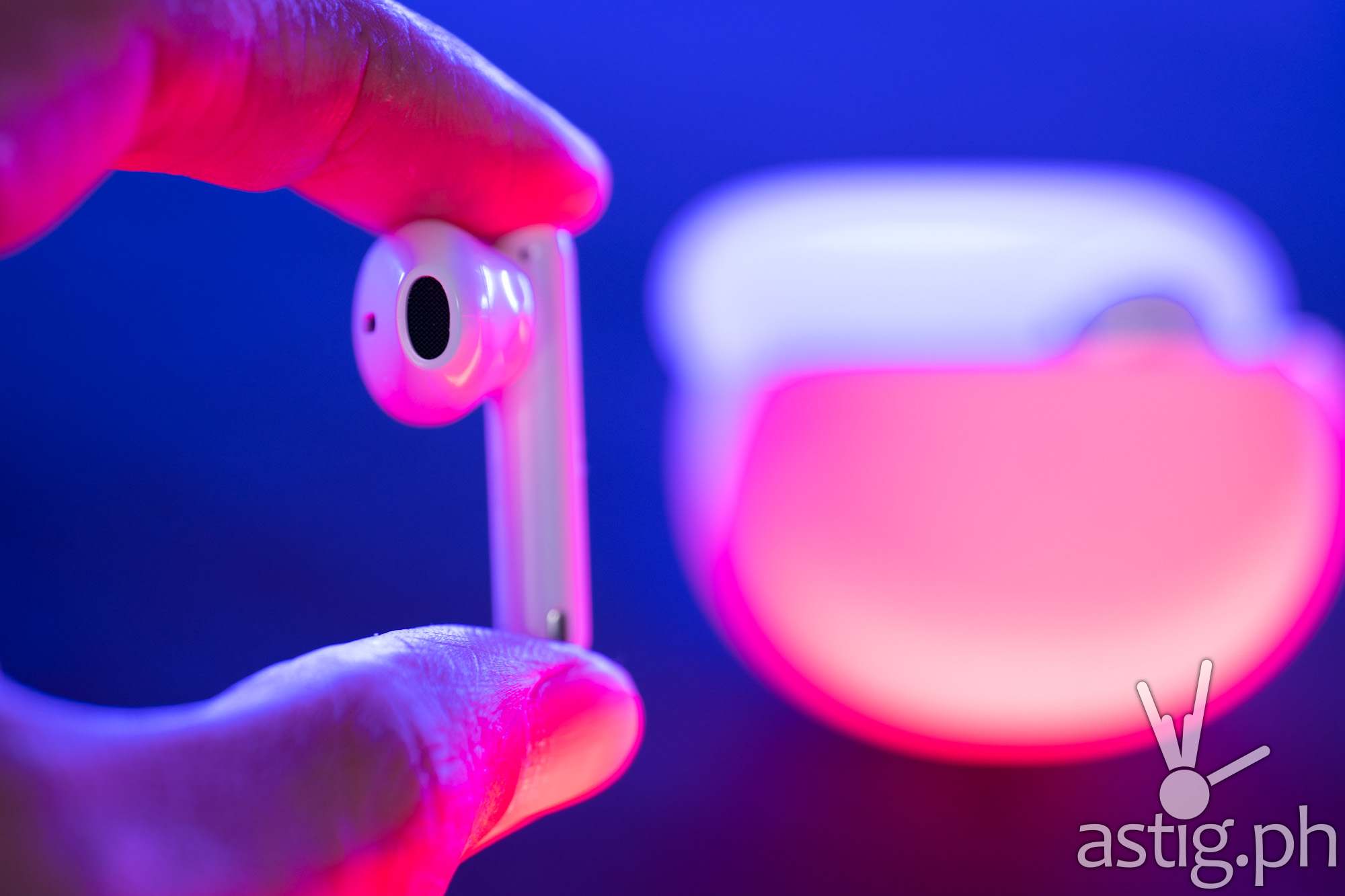 Priced at Php3,999, it is a little steep given there are so many options in a highly competitive and price-sensitive market like the Philippines. However, the call quality is clearly superior to anything in the price range.
So despite the price, what you are actually getting is the budget alternative to the more expensive earbuds from the likes of Apple, Sony, Sennheiser, and Bose.