The OPPO F7 was well-received in the Philippines when it made its debut 2 months ago, even reportedly breaking local sales records.
Perhaps it's because new design – after all, it has been a while since OPPO last came out with a trendy new design. Like it or not, the notch and the attractive pricing had a net positive effect on OPPO's sales.
But the notch is not for everyone, so what would happen if we removed it?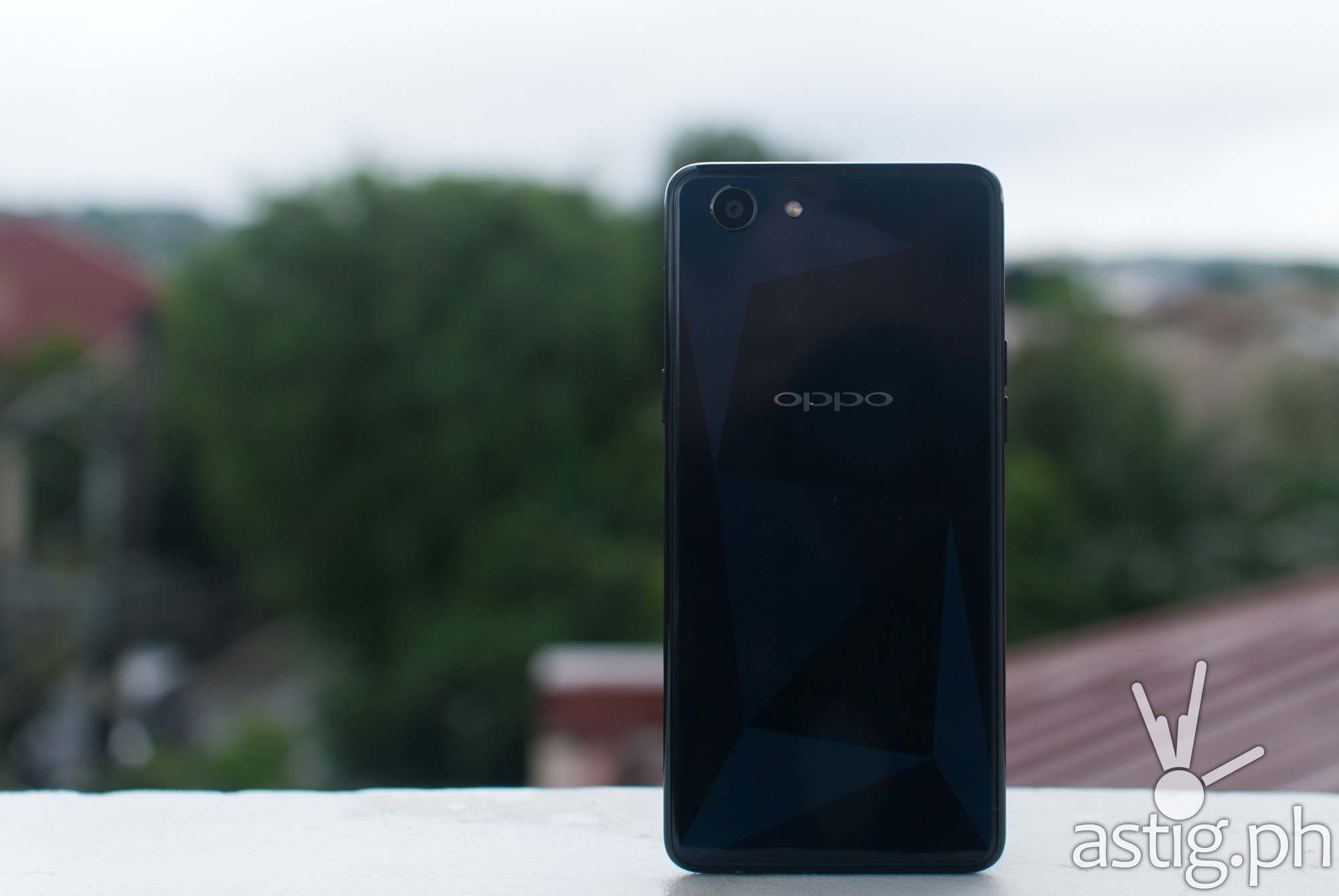 Enter the OPPO F7 Youth: a classic-looking phone with more or less similar internal components as the OPPO F7 and an even more affordable price tag.
Having given a positive review of the OPPO F7, we had really high hopes for its little brother. The powerful Mediatek Helio P60 SoC was the biggest factor back then, making it the best choice for a budget mobile gaming device … until now.
Read on for the full review, or skip to the bottom for our verdict.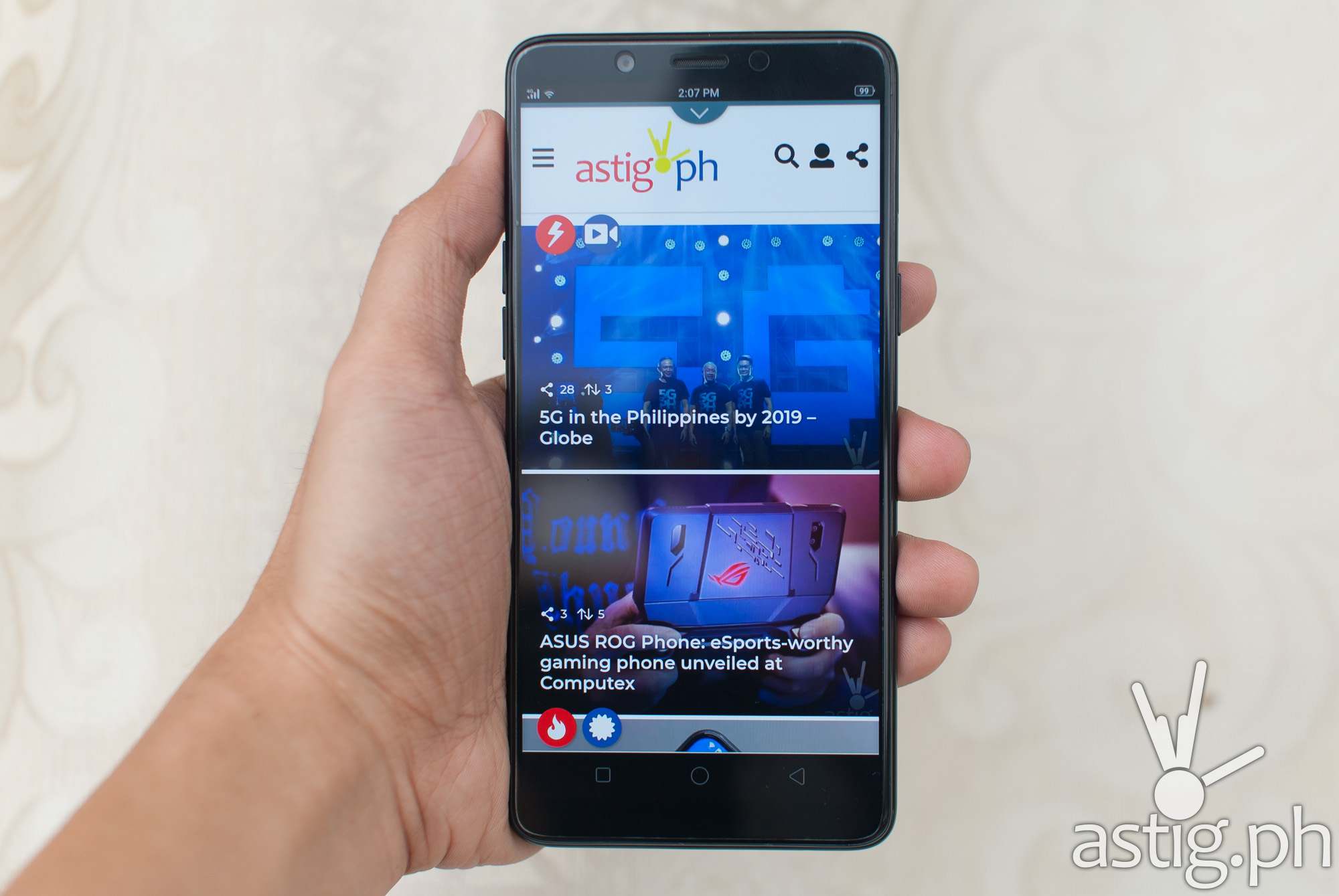 At a glance: OPPO F7 Youth specs
Screen: 6″ LTPS IPS LCD @ 2160×1080 pixels
OS: Android 8.1 (Oreo) with ColorOS 5.0
Chipset / CPU: Mediatek Helio P60 8-Core @ 2.0 GHz
Mali-G72 MP3
SIM Slot: dual SIM (nano)
Cameras: 13 MP rear flash, 8MP selfie
Price: P13,990 (4GB RAM/64GB ROM) – Buy it on Lazada
Build quality and design
The screen on the F7 Youth is a few millimetres smaller than its bigger brother, partly due to the lack of a notch. It comes with a screen protector installed out of the box and uses the same high-quality LTPS IPS LCD panel found in the F7.
We didn't really spend too much time testing the response time (i.e. we're lazy and we want to play PUBG), but so far it appears to equally responsive.
This is critical, especially when playing competitively. You want your gun to fire the moment you touch the bullet icon and not one nanosecond later.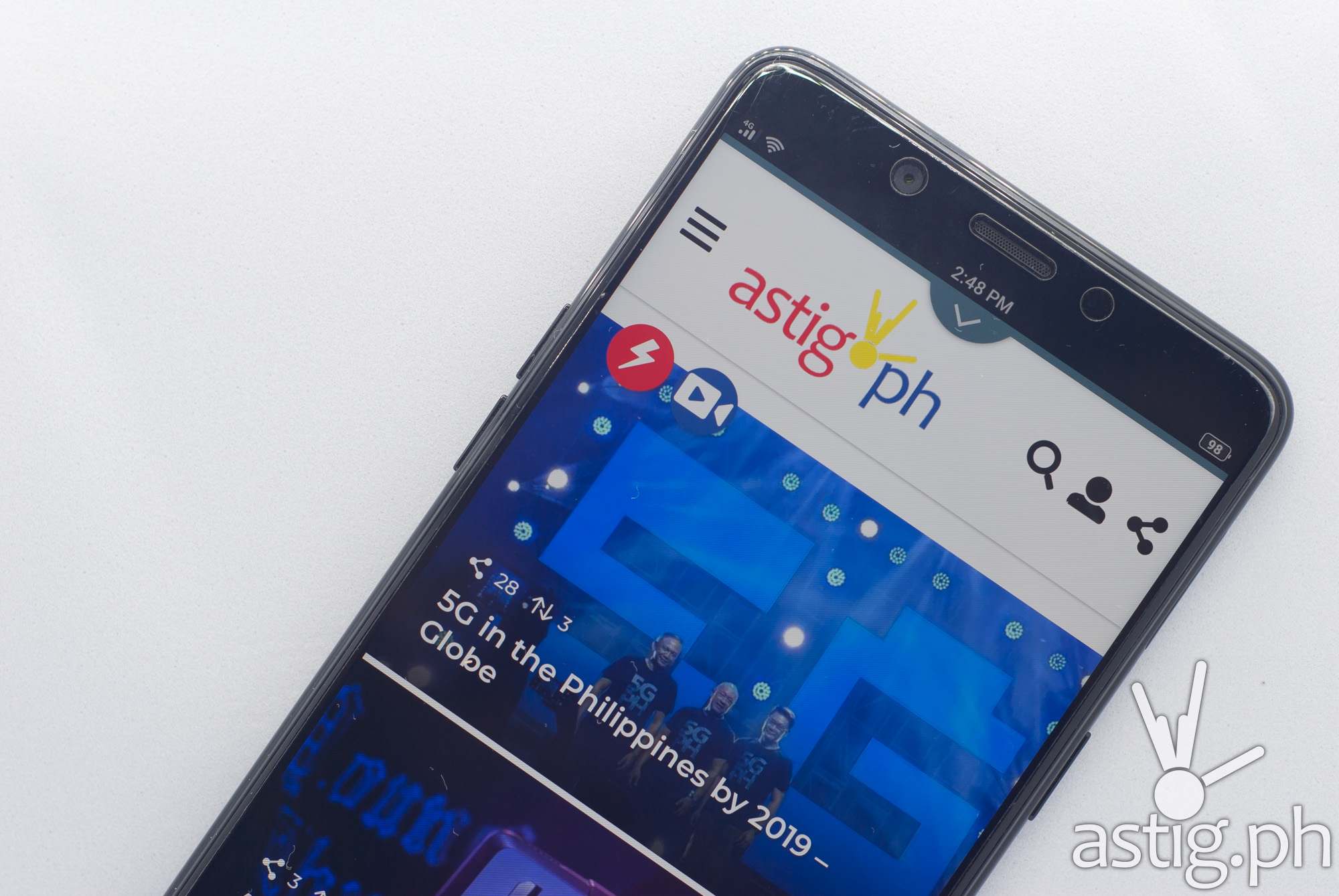 Did we mention that the corners of the screen are curved?
We seriously question this design decision, because unlike the F7, the Youth model actually has thick bezels at the top and bottom of the screen. None of the corners of the panel actually touches the corner of the chassis, so there is enough space for a proper rectangle screen.
So was the choice purely aesthetic?
We value function over form, and rounded corners do not add anything to the phone's functionality other than to make it look trendy, so nope, not fond of it at all.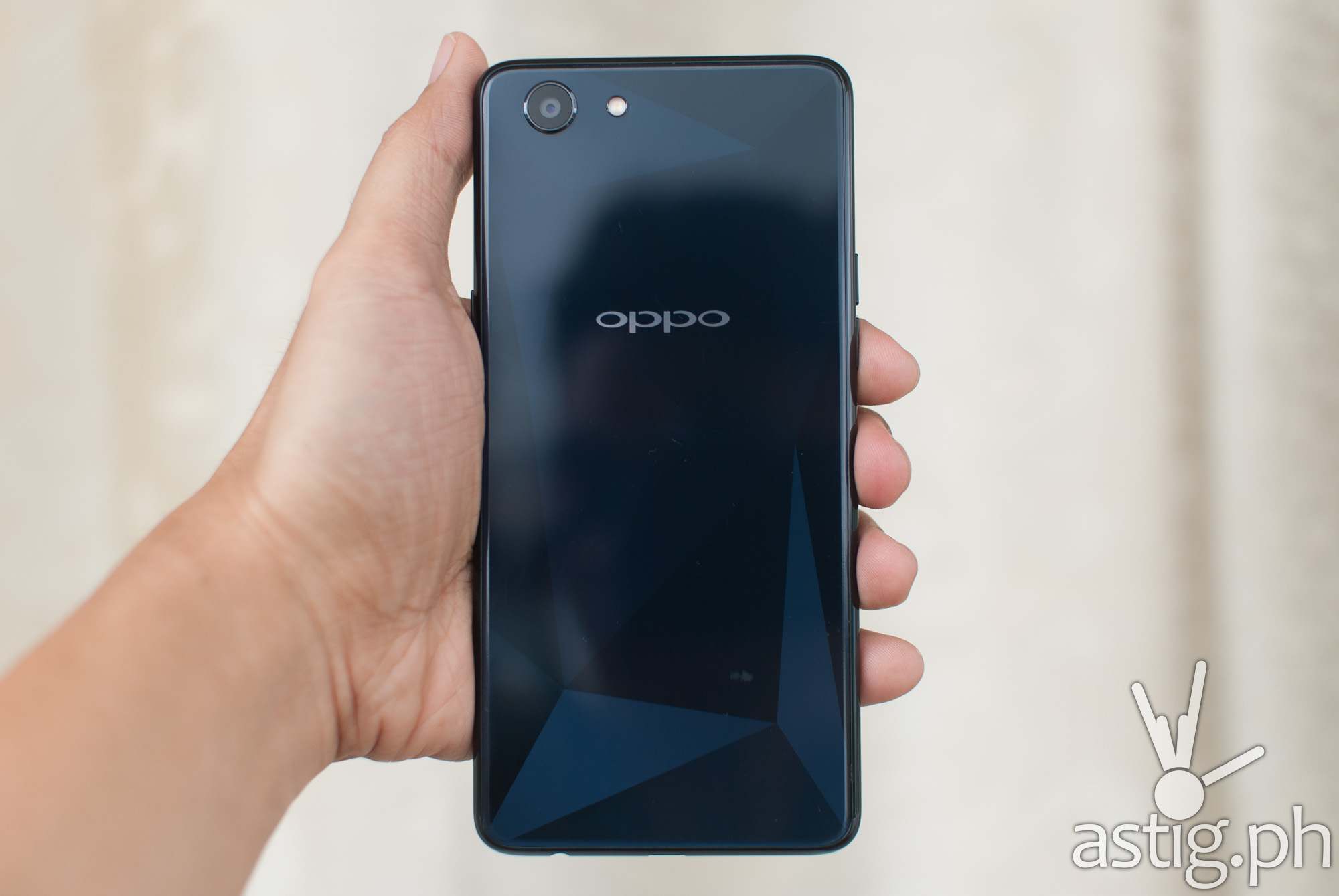 It is notably missing a fingerprint scanner, but we don't miss it. After all, who needs a fingerprint scanner when you get Face Unlock? And just like in the OPPO F7, Face Unlock works quite well in the OPPO F7 Youth.
Dual SIM operation is also supported via dedicated Nano SIM slots. There is also a dedicated MicroSD slot, should the 64GB internal storage be insufficient for your … files. And apps.
Overall, the phone is smooth and pleasant to hold. The edges of the screen are raised as opposed to chamfered, breaking the illusion of being one contiguous device.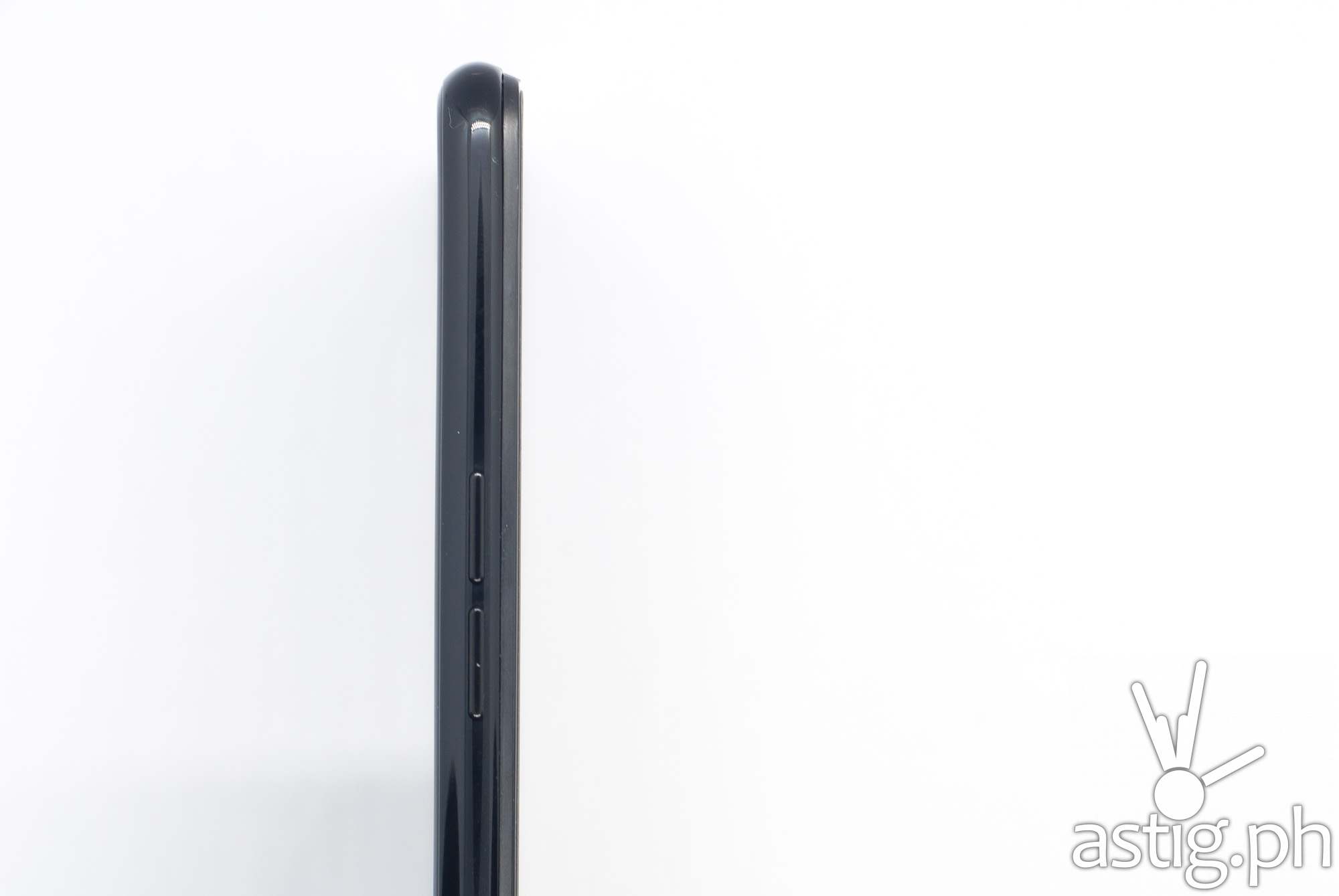 We also get a nice and shiny glass-covered back. It's not the shiniest kid on the block, but it's not dull either. Without wireless induction charging, was the glass back really necessary, though?
Again, this looks like another design decision just like the screen's rounded corners. It's still a 2018 phone after all, but at least people won't be tricked into thinking it's an iPhone X, unlike the F7.
Performance
With the OPPO F7 Youth, you are getting a MediaTek Helio P60 SoC with an Octa-core CPU clocked at 2.0GHz, Mali-G72 MP3 GPU, 4GB of RAM, and 64GB of storage space. Those are upper mid-range specs for 2018, and the same components found in the more expensive OPPO F7.
Since we're running Android 8.1 Oreo with ColorOS 5.0, we also benefit from new features like dual-window operation and Game Optimization.
Just like the F7, the F7 Youth is smooth, much smoother than other Android devices near its price range, though we are unable to pinpoint the reason why.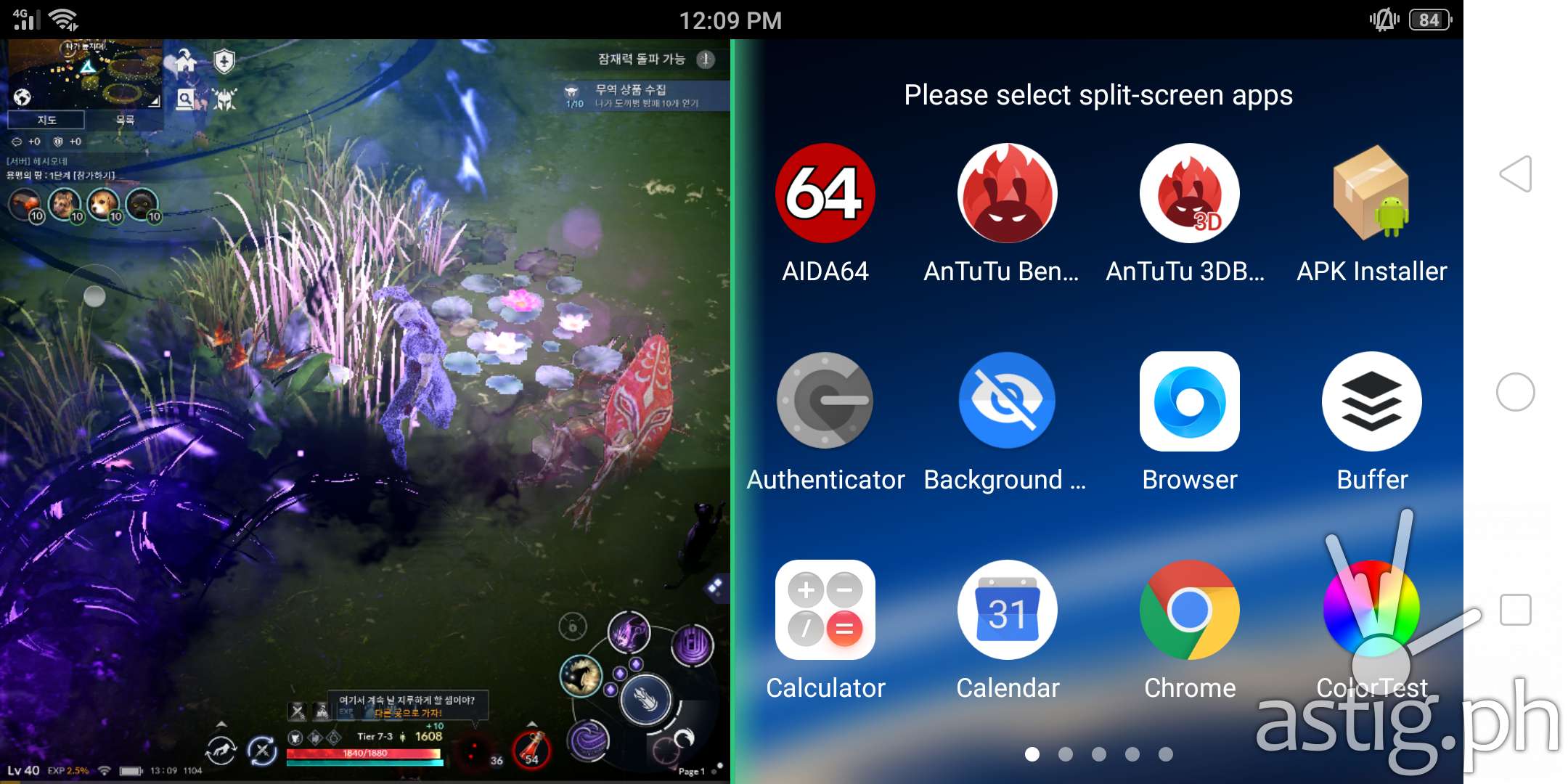 Could it be due to lower display lag brought about by the LTPS LCD panel? Is it the faster storage and memory? Is the Helio P60 a much better performer than, say, its Snapdragon, Exynos, or Kirin equivalents?
Bottomline, the OPPO F7 Youth is owning upper-mid-tier phones left and right.
Performance benchmark results: OPPO F7 Youth
PCMark: 8081
PerformanceTest Mobile (CPU): 159452
PerformanceTest Mobile (disk): 53996
PerformanceTest Mobile (memory): 11480
Antutu: 135816
Gaming
The OPPO F7 Youth handles the best of 2018's 3D games just as well as its bigger brother, the F7. This means going as high as HD settings and High frame rate on PUBG, which should be enough for most chicken dinner addicts.
After all, they both use the same Mali-G72 MP3 GPU, which means generally smooth gaming at high settings for most games, including Rules of Survival, PUBG, Lineage 2 Revolution, Black Desert Mobile (Pearl Abyss) Korean version, Dragon Nest M, and more.
Now before you cry "but 3D benchmarks show the Snapdragon 636 performs better than the Helio P60!" we are talking about the overall gaming experience, including loading screens and interaction speed with game HUD (heads-up display, you peasant) such as opening and closing the inventory.
It's not magic, and I cannot guarantee that it will run fast for all games. I did run into one game, Royal Blood, that stuttered quite badly. It is still playable, and it's still fast, but it's not as smooth as when I played it on a Snapdragon 636 phone.
So if you're primarily getting the OPPO F7 Youth for gaming, I strongly suggest that you personally install and test the game yourself. Those OPPO "dizers" are everywhere after all, and they will surely be more than happy to help you and make a sale.
As always, drop a message if you'd to see us demo a specific (and preferably free) game for you.
OPPO F7 Youth full gaming demo
3D benchmark results: OPPO F7 Youth
3D Mark Sling Shot Extreme – OpenGL ES 3.1: 1074
3D Mark Sling Shot Extreme – Vulkan: 934
Antutu GPU: 26613
Antutu Marooned: 5042
Antutu Coastline: 9108
Antutu Refinery: 12463
PerformanceTest Mobile (3D Graphics): 1851
Photography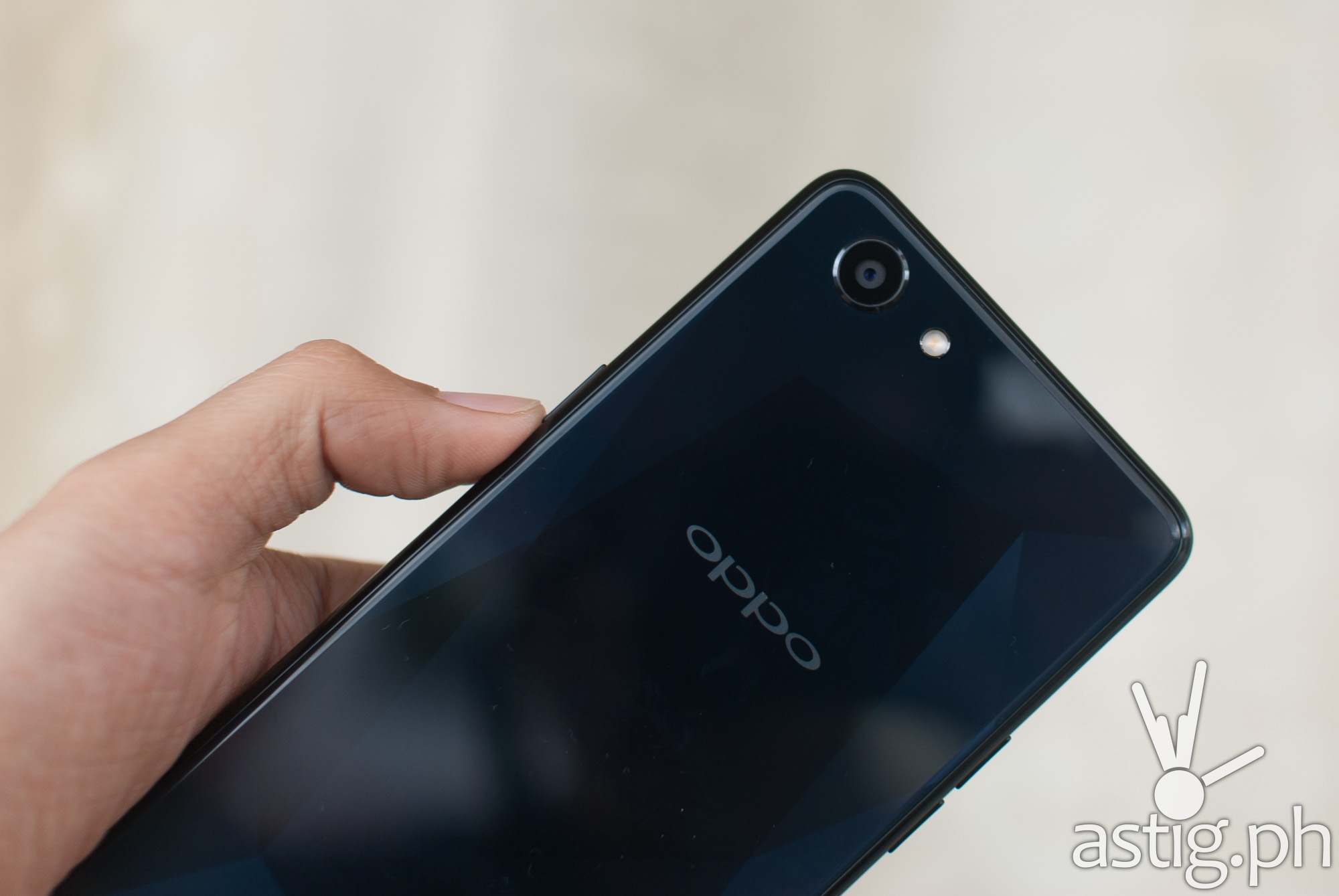 The OPPO F7 Youth has a 13 MP f/2.2 rear camera and an 8 MP front (selfie) camera. Neither sensor has OIS, which means you need to be extra steady when taking low-light photos.
Generally, the shots we took the rear camera came out looking nicely saturated, and they look really good outdoors where the sun is brightly shining.
Indoors, however, you will need really good lighting for the photos to be sharp. A small sensor and the lack of OIS really shows here.
Naturally, low-light photos can be challenging. Without a tripod, you need to be really still to get sharp hand-held shots. Noise reduction, sharpening, and saturation are very noticeable here.
It may look nice on the smaller smartphone screen, but the post-processing artifacts are clearly visible on a desktop screen.
We only get an 8MP sensor for the front-facing (selfie) camera as opposed to 25MP on the OPPO F7. It's not the best selfie camera in the world, but it gets the job done.
In-camera settings and options are exactly the same as in the OPPO F7, which is nice because this means we also get cute AR stickers. Again, it's a challenge to get sharp selfies due to the small sensor and lack of OIS.
Software bokeh is very inconsistent, so it is best to leave portrait mode off.
Video recording is limited to 1080p at 30 FPS (frames per second), which should be sufficient for most of us, but the Helio P60 is a very powerful SoC so it would have been nice to get at least 60 FPS video recording.
Battery life
We managed to squeeze an average of 9 hours out of the OPPO F7 Youth in real-world use with screen fixed at around 75% brightness and power saving turned off and mobile data turned on for about 7 hours.
The highest real-world usage time that we got was 12 hours, which included covering an entire event. It was mostly browsing the Internet, Facebook, Instagram, Waze-ing, and taking photos and videos. I mostly connected to another phone for mobile data, but it was still impressive. I recall unplugging the phone from a full charge at around 9:30AM. The phone died at around 11:40PM.
Gamers will be happy to learn that we also managed to get 9 hours while continuously running Black Desert Mobile (Korean version). About 6 hours of that was spent AFK farming using the in-game power saving mode, which only shows a black screen and an animating logo.
Battery life benchmark results: OPPO F7 Youth
PCMark Work 2.0 Battery Life: 6 hours 52 mins
Geekbench (partial discharge): 4869
Verdict
To sum things up, the OPPO F7 Youth takes the processing power of the F7 and packs it into your classic form factor. Just take away the trendy notch and a better pair of cameras from the F7 and you essentially get the F7 Youth while saving 4,000 Php (~75 USD).
You end up with a beast that performs like an upper mid-tier device for a price that's below most mid-rangers.
If you are looking for a daily driver or an affordable Android gaming phone, look no further – the OPPO F7 Youth is the best bang for the back this year so far.
It is one of the easiest decisions that we've made, and we welcome you to challenge this verdict our comments section.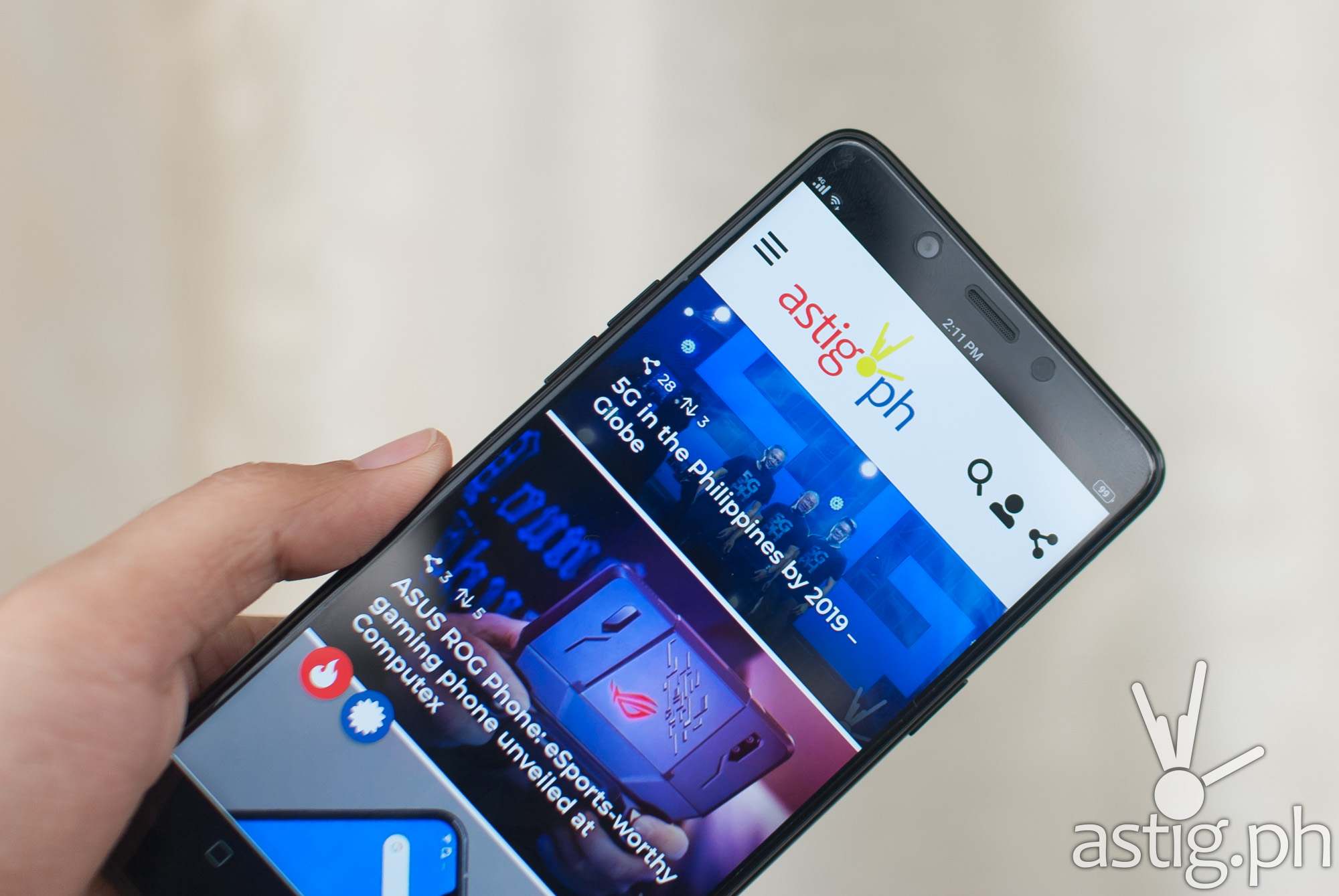 What's ASTIG:
MediaTek Helio P60 SoC can handle today's graphically-demanding games
A very wallet-friendly price tag
Face unlock and AR stickers
What SUCKED:
Poor front and rear camera performance
Quality of photos taken with AR stickers look worse than photos taken without stickers
Rounded corners and glass back serves no purpose other than aesthetics
Other observations
No notch!
Micro USB data and charging port
Dedicated dual SIM and Micro SD expansion slots
OPPO F7 Youth (aka OPPO A73s, OPPO Realme 1) technical specifications
Screen: 6″ LTPS IPS LCD @ 2160×1080 pixels
OS: Android 8.1 (Oreo) with ColorOS 5.0
Chipset: Mediatek Helio P60
CPU: Octa-core (4×2.0 GHz Cortex-A73, 4×2.0 GHz Cortex-A53)
GPU: Mali-G72 MP3
Memory: 4 GB RAM
Storage: 64 GB ROM
Expansion: microSD (dedicated slot)
SIM Slot: dual SIM (nano)
Rear (primary) camera: 13 MP with LED flash and AI
Front (selfie) camera: 8 MP with AI Beauty Technology
Connectors: microUSB 2.0, 3.5mm jack
Battery: 3410 mAh
Price: P13,990 (4GB RAM/64GB ROM) – Buy it on Lazada