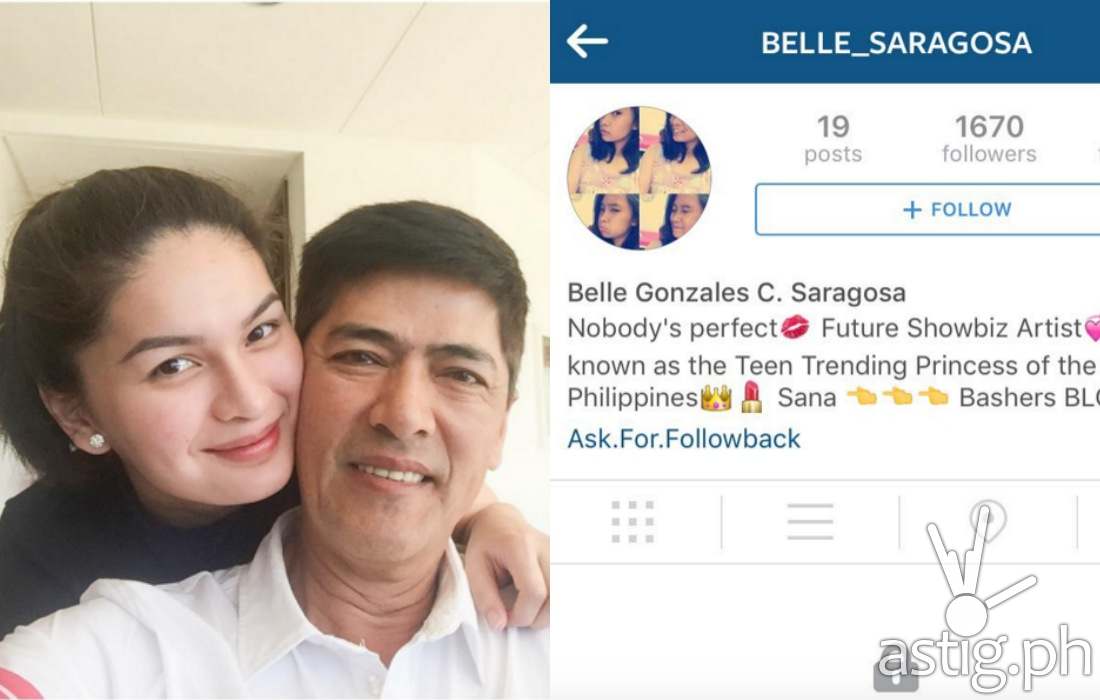 Pauleen Luna is in hot buzz in social media after a netizen named Belle Saragosa accused the actress-host of paying her to start spreading the 2015 Metro Manila Film Festival ticket-swapping issue.
Belle uploaded screencaps in her Instagram account of the alleged conversation between them which have been deleted right now after the netizen turned her account into private. (so were not able to retrieve the screencaps)
The conversation says that Pauline was willing to pay Belle 8500 pesos to spread the ticket swapping issue.
In her another IG post, she said that Pauline blocked her account after she uploaded the series of screencaps of their alleged conversation.
"As I said, you can deny it @pauleenluna Sabay block sa sakin tandaan mo marami pa tayong convo na pwede kong pagkalat. Thank you sa mga pera niyo worth 8,500 pesos din yun. Hindi kona po talaga kayang itago yung sikreto natin. Ibabalik ko nalang po yung pera. magdeny kanalang para di masira image mo. Sige lang Tita Pau!"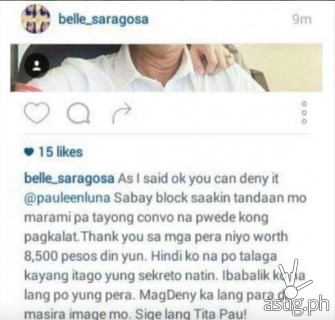 Belle also released a video showing that Pauline and her knew each other before the issue spread out. She highlighted the actress comment to her post "Merry Christmas, God bless" on December 22, three days before MMFF.
The Eat Bulaga host meanwhile, defended herself against Belle's accusations. In her first IG post about the issue, she said "Hi Dabarkads. Please help me report this account. Well, first off, she said really nasty things and that led me to post "God bless you and Merry Christmas" on her account and now she's been editing "conversations" that we supposedly had about MMFF. She is seriously taking it to another level. Namamahamak siya ng tao. Think before you click guys. Hindi na maganda ito. Please help me report @belle_saragosa."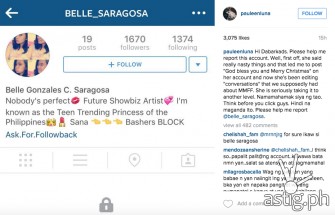 Pauline said that the screencaps conversation between the two of them were obviously "edited" and she encouraged dabarkads, the followers of their noontime show, to report the account of the said netizen.
In a separate post, Pauline explained why she commented to Belle's account "Merry Christmas and God bless" as many of those who believed Belle's accusations think that they knew each other right before MMFF.
"This was @belle_saragosa's message to me a few days after Pia's victory. Now, only a person who is not in his/her right state of mind will believe this girls posts about MMFF. I do not know her and i'm not related to her in any way. Crazy. Report @belle_saragosa," she said.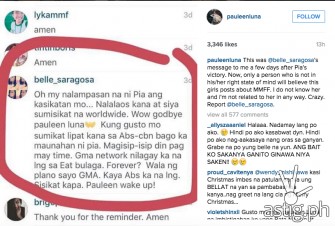 Since the controversy spread like a wildfire in social media, Pauline explained herself for one last time and wishes Belle "Jesus be with you."
"o… This @belle_saragosa is really something. It's so sad that a young girl would do this for publicity. First pretending to be and aldub fan, then now pretending to have "conversations" with me. This will be my last post about you. It's just sad to know na mag e edit at mag eedit ka ng pictures na conversations natin kunwari para sumikat. Oh well. At the end of the day, kargo naman yan ng konsensya mo. Besides, kung kilala talaga kita, bakit kita kakausapin dito sa instagram? I just hope your parents can do something about this habang bata ka pa. Hindi magandang ugali ang sinungaling. Mas lalo na kapag may napapahamak na mga tao. If anyone knows this girl, please help her. She needs help. JESUS BE WITH YOU."
The MMFF ticket- swapping issue started when Joey Reyes, My Bebe love director tweeted in his personal account that he received ticket-swapping cases and was later confirmed by producers of the film. He also made the confirmation after some movie-goers claimed that they bought a ticket for the said entry, but the movie printed in their tickets was a different one.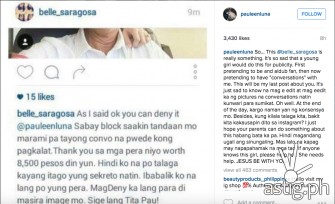 Meanwhile, someone eventually introduced himself/herself as the one who hacked and deleted all the posts of Belle.
"I'm L, the one who hacked @belle_saragosa account. I posted it here to make you believe that I'm a friend. I didn't expose my true identity to secure my privacy. This will be a proof that I'm the one who hacked her account."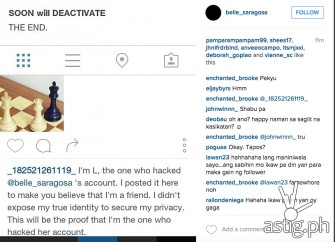 If we are going to analyse the evidences presented by this "Belle", its apparently "baseless" because Pauleen might really comment on her account as a gentle response to Belle's intense bashing to her. Pauleen's claim was supported by her screencap showing that Belle has been bashing her when she posted a congratulatory message to her bestfriend, Miss Universe 2015 Pia Wurtzbach.
However, despite Belle's claim is so "narrow" and "baseless", why other netizens still buy it? Comment your thoughts.