The literary and youth volunteer group Linangan sa Imahen, Retorika, at Anyo (LIRA), will hold the 33rd edition of its nationwide seminar-workshop series, the "Pambansang Edukasyong Pampanitikan" (National Literary Education) at De La Salle University-Manila (Multipurpose Room, 2/F Enrique M. Razon Sports Complex) on October 3 – 4, 2014, Friday – Saturday, 8 am – 5 pm.
To register
Registration is on a first come, first served basis and is free of charge. Priority will be given to teachers in the Malate district and adjacent areas. Lunch and snacks will be served.
Deadline of registration is on August 12, 2014, 5:00 PM. Only those duly registered can enter the university premises and will be given signed certificates.
Titled "PEP Malate, Manila," this leg is co-presented by the DLSU College of Computer Studies, in partnership with the DLSU Student Media Office, Malate Literary Folio (official arts and literary publication of DLSU), and Ang Pahayagang Plaridel (official newspaper in Filipino of DLSU); and with support from the Komisyon sa Wikang Filipino, JP Anthony D. Cuñada Law Office, Fringe Manila Arts Festival, ABS-CBN's Choose Philippines, Kalatas magazine, and the Pulong ng Kabataan.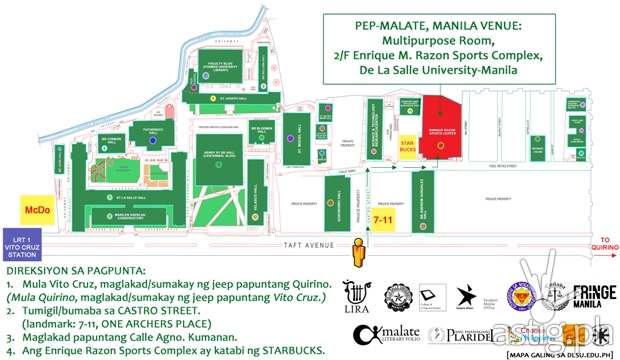 Started in 2008, the PEP project has benefited almost 3,000 teachers and students from more than 300 public and private schools and other institutions in 30+ towns all over the country. It aims to help advance literature, language, patriotism, and the beneficiaries' communication skills through the teaching of native literary works and forms.
The two-day seminar includes sessions on "Sining ng Tugma at Sukat" (Art of Rhyme and Meter) and "Sining ng Talinghaga at Tayutay" (Art of Metaphor and Figures of Speech), writing workshops, and a special lecture by our co-presenter on teaching language and literature through technology.
Founded in 1985, LIRA is a nationally recognized, volunteer-run, education NGO; the oldest organization of poets in Filipino; and one of the country's premier literary groups. The organization holds a yearly five-month-long poetry clinic held for the most part in the University of the Philippines – Diliman. The PEP project is an effort to bring part of this clinic outside of Metro Manila.
In 2011, LIRA was declared as one of the Ten Accomplished Youth Organizations (TAYO) in Malacañang Palace by President Benigno Simeon C. Aquino III, making LIRA the first literary group in the TAYO Awards' nine-year history. In 2012, LIRA was named by the National Outstanding Volunteer Awards as the National Capital Region's outstanding volunteer organization.
Heading the PEP Malate, Manila team as its lecturers are the award-winning writers Dr. Michael M. Coroza, Dr. Edgar Calabia Samar, and Prof. Louie Jon A. Sanchez of the Ateneo de Manila University; program director Phillip Kimpo Jr., LIRA President; and local coordinator Christa I. De La Cruz, LIRA Public Relations Officer. Beverly W. Siy, immediate former president, is the creator of the PEP, then known as "Sining ng Tugma at Sukat" (Art of Rhyme and Meter), named after the main lecture which now forms the core of the PEP's list of topics.
If you cannot access http://bit.do/registerPEPmalate, send your name, school, school address, email address, and mobile number to registerPEP at gmail.com. Should you have any questions about PEP-Malate, Manila, you may send an email to the same address.
Parties interested in helping or participating in the  nationwide seminar-workshop series can contact program director Phillip Kimpo Jr. at pykimpo at gmail.com.
For more information, visit LIRA on Facebook /PalihangLIRA and Twitter @makatangLIRA.