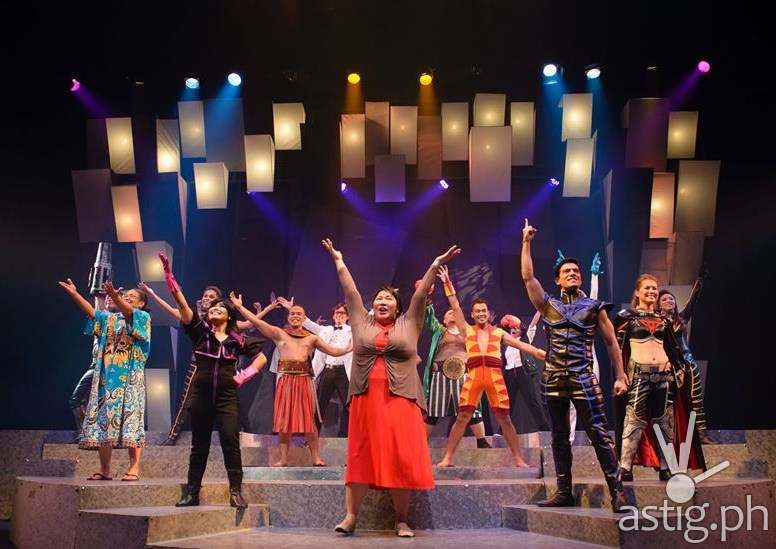 Fuwerza Pilipinas and the KayumangGilas are singing, dancing and re-conquering the stage all over again at OnStage in Greenbelt 1, Makati up until July 26 (unless more dates show up) for their Kung Paano Ako Naging Leading Lady, The Repeat.
I, for one, am personally happy for the success this project is reaping and more so by the show of love and support of public patronage, the creative team, producers, cast & crew could not be more than thankful…grateful. Clap! Clap! Clap!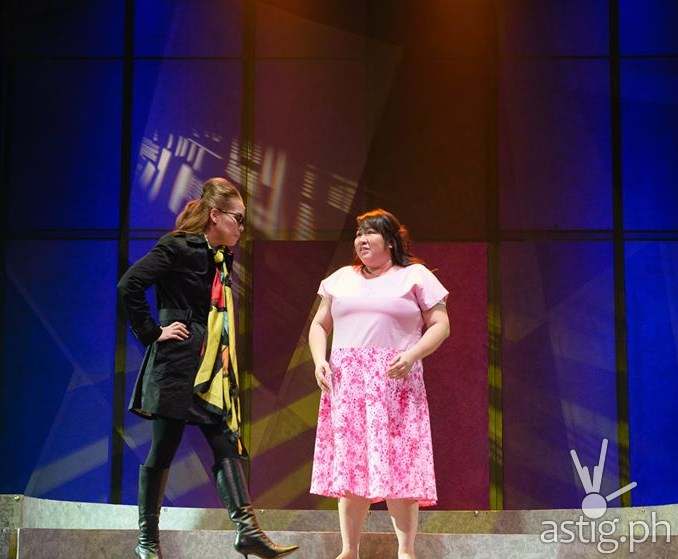 Creator Carlo Vergara's hit animated creations and Vincent de Jesus' broadway-ish compositions partnered with Ejay Yatco's sprinkle of skill in ensemble vocal arrangements, alongside catchy choreography, sensible lighting, helmed and stitched together by the dynamic and out-of-the-box I Do Bidoo Bidoo director Chris Martinez, Leading Lady has in its vault, tons of accolades and beautiful deserving praises since its debut in May this year.
Was in awe and state of starstruck-ness when I met these genuises a few months ago during media launch and presscon. Now we are all a Facebook comments away, thanks to social media including very nice and hardworking producers Pertee Bree, Ansis Tan Sy and Claudia Fernandez.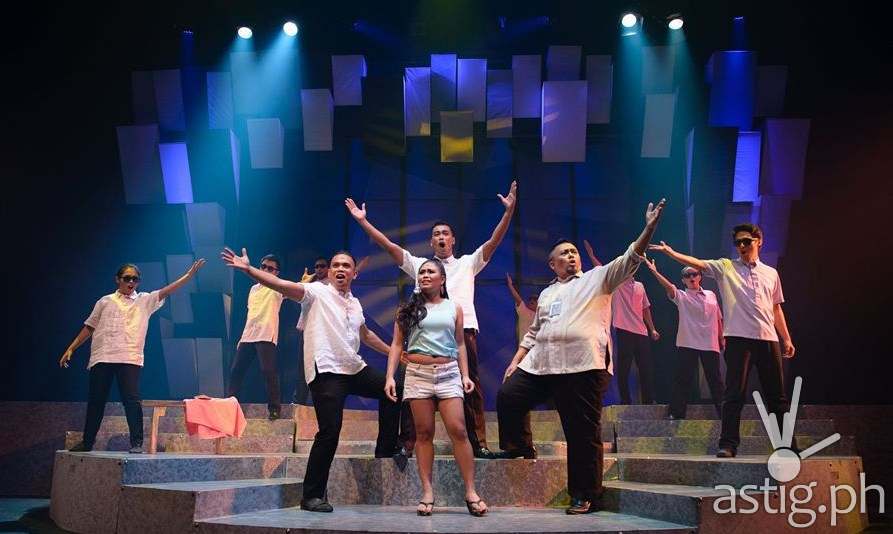 I know that you guys, especially the ones who are straight play or musical play goers take time in reading, browsing reviews so I am not making mine kilometrically-long. This quickie stuff is targetted to those who are thinking twice and even thrice into watching Leading Lady, The Musical this second to the last weekend or the next.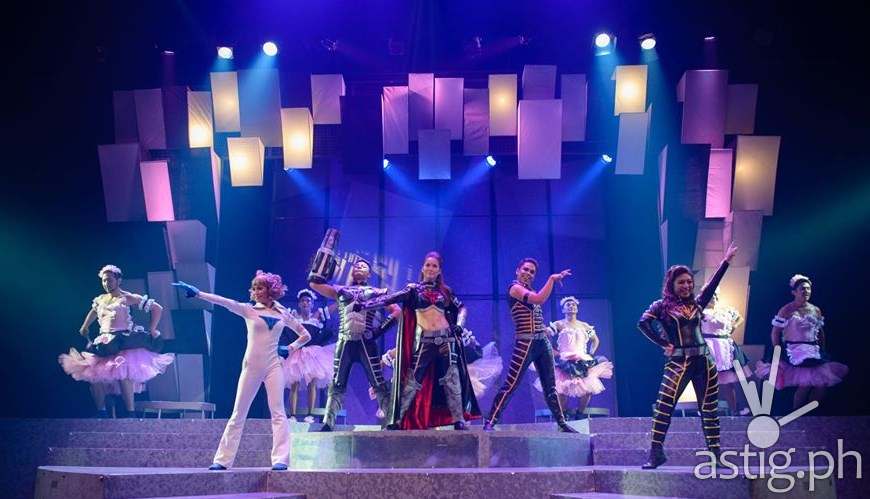 My great takeaways/highlights of #KPANLL #TheRepeat:
MUSICALS ARE FOREVER
I have always been a broadway musicals lover whether foreign or locally-mounted. Musicals for me are never boring just like Leading Lady which is technically 3 hours loooong! I guarantee you won't notice it! Quite a rarity in Philippine productions to run that long unless, yes, it's a musical! Don't you just love the wonders a theatre experience can do?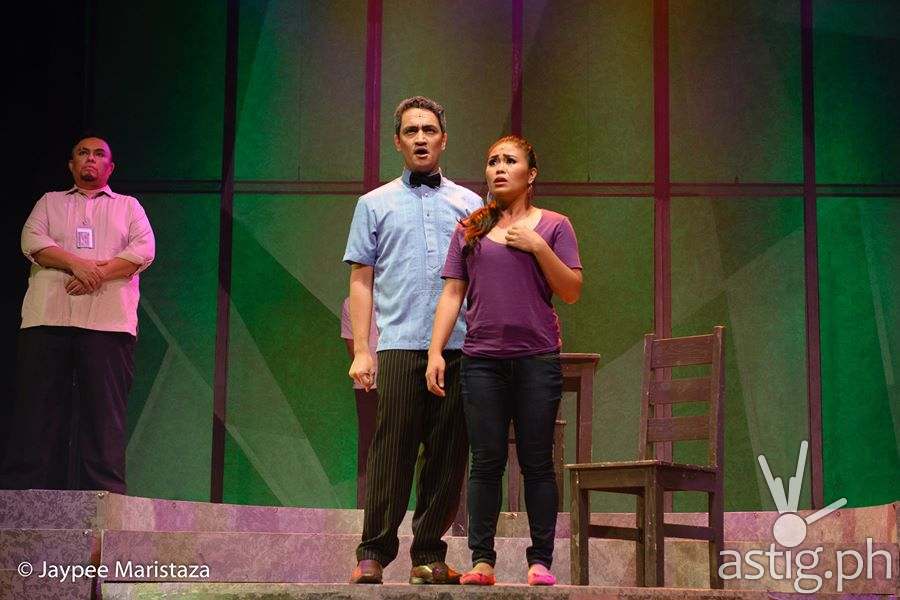 SUPERHEROES NEVER DIE (in spirit)
We are right now in the age of superhero idolatry. The character of siblings Mely and Viva Moran were unlikely to take off that fast at the start of the storyline. It needed build up. Thanks to the super popularity of super heroes Fuwerza Pilipinas' Windang Woman, Bazooka Man, Popoy Pusakal, Leading Man, Nena Babushka and leader Madre de Dios, we knew that villains led by Senyor Blangko of super envious KayumangGilas cohorts Itak Atak, Marakas Marco, Jeryc Sans Rival and Hentoyotic, are up for a much-anticipated super powers showdown and domination. Will there be casualties? The Pinoy audience also can't get over the love triangle factor in a superhero action story and in this version, the looked upon Leading Man falls for a lowly and simple maid in Mely.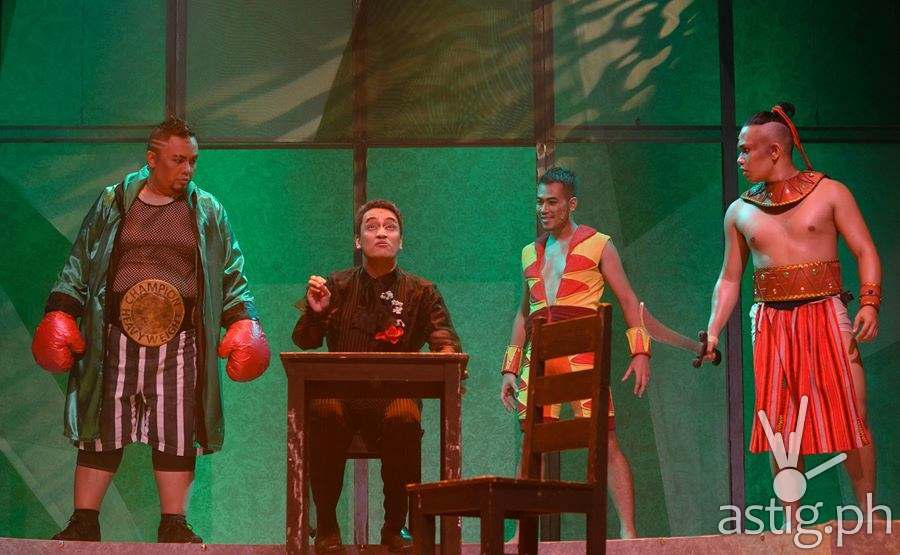 FLASHY LEATHER COSTUMES/JUMPY CHOREO
My hats off to the collaborators behind costumes and choreogtaphy. You rock guys! Superheroes can best be seen in their shapes and curves via leather cuts. The vibrant colors help make the show vivid until the very end. Popoy Pusakal's yellow orangey cat linings to Jeryc Sans Rival's ponkan na ponkan hue can help brighten even the dimmest lanes of Metro Manila.
The jumpy choreo of "We Have a Maid" (Yeah! Yeah! Yeah!) is one of my favorites in the whole show, it made me get up my feet and dance with the cast.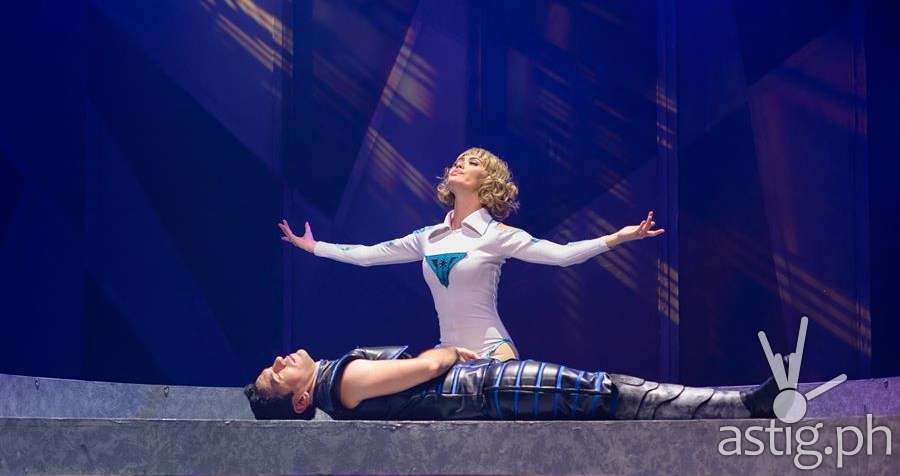 ALL-ORIGINAL OPM = LSS MODE
I first came across and got to know Vince de Jesus in Cinemalaya's 2013 indie film, Ekstra with the Ate VI Star for All Seasons. Did not have an idea he composes (great songs) too until Leading Lady came along. There are 20+ songs in the musical and my personal faves and the one's I put on repeat on my CD (yes, there is a 2-CD soundtrack for sale P550) player are "KayumangGilas", "We Have a Maid" and the haunting "Tatapusin Ko" sang by Viva's character which always gives me goosebumps.
It is a delight hearing both English and Tagalog original songs here. I just don't know why I am inclined to liking the songs of the villains in KayumangGilas! Watch out for Henyotic's solo number. Basta!
You will leave the theatre singing some tunes all the way home. Lakas maka-LSS, pramis!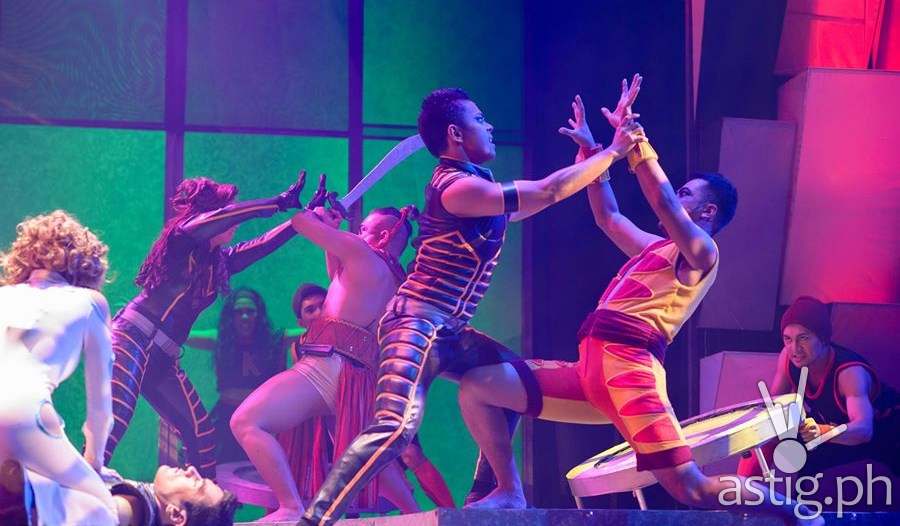 BRAVO THE CAST/ENSEMBLE
All the way since it's first run in May 2015 I already had a hunch that Leading Lady will have a repeat due to the fact the cast line up are mega-impressive and stage-certified thanks to belter's Bituin Escalante, Frenchie Dy, Kim Molina, guapos Hans Eckstein, Markki Stroem, Red Concepcion, Mikoy Morales, Jef Flores among others. First time to watch Caisa Borromeo and Giannina Ocampo essay stage roles while I have to give it up to Kakki Teodoro as a very unique "human" P.A. System (such a scene stealer delight!)  I do miss Ms. Menchu Launchengo-Yulo as Madre de Dios and her heart wrenching rendition of
the phrase, "Fuwerza is no more all because of looooooove!" Current MDDs Sheila Valderrama-Martinez and alternate Astarte Abraham has a big shoe to fill in but knowing their capabilities, will certainly do justice as leader of FP.  Laugh till you drop moments in Senyor Blangko's so-called English language expertise and sinister ambition of world domination are one of the best portrayals for Domi Espejo and Nar Cabico, wooot! Seemed the role was tailor-made for the two. Take a bow entire ensemble!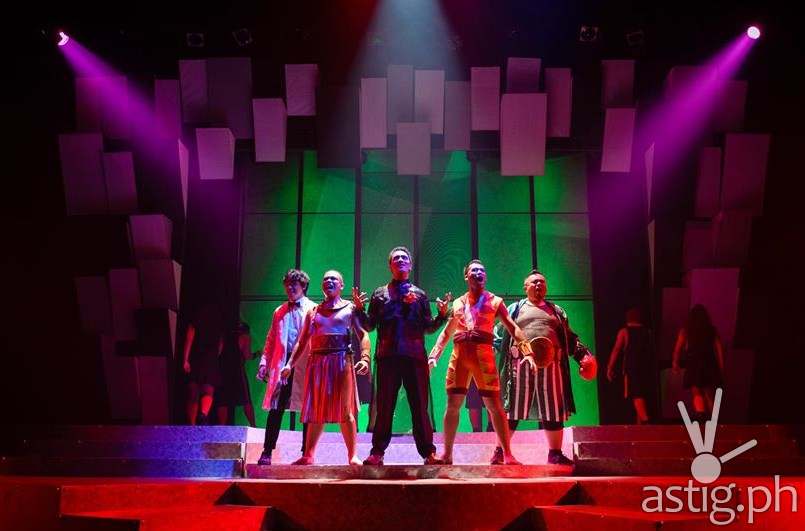 And there you go. At the start, I told this was going to be a "quickie" and brief reaction and insight-sharing piece on the Leading Lady. We will leave some pieces unturned so you, the reader and theatre goer will have to fill them up once you're inside Onstage in Greenbelt 1 about to watch and have a great time with #KPANLL .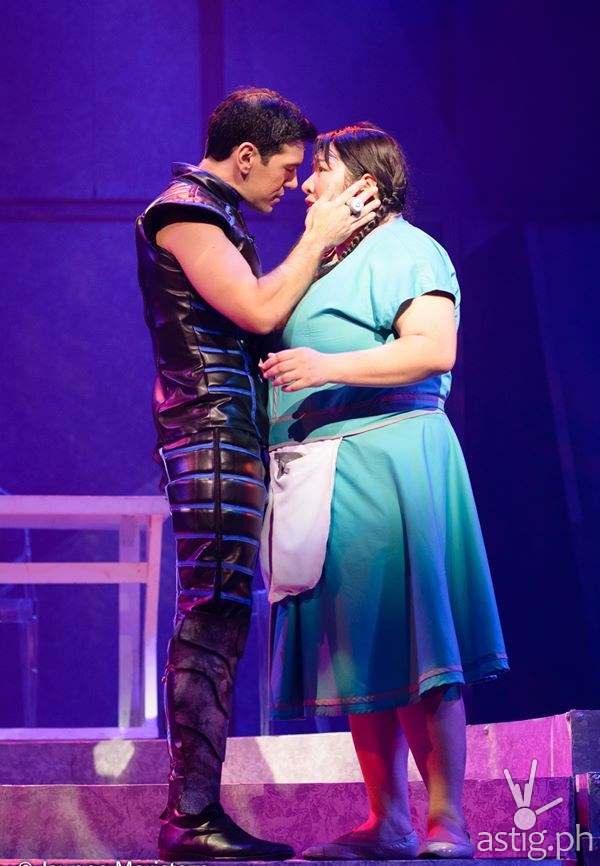 The premise that Leading Lady would like to convey is that the formula of superhero plus super villains, a little bit of love triangle situation and showdown/attack scenes where evil is overcome by the good are still effective and it gets the audience hooked till the end regardless it may be a predictive one.
One can't help but realize, the sub-layered plots of the musical have political stains that society has imbibed and deeply embedded sad to say.
I better park my recommendations now and hope that this piece will make you realize that watching Leading Lady The Musical is going to be a truly wonderful bonding time with family and friends and showering our remarkable Pinoy theatre talents with love and genuine support is the best reward that money can't buy.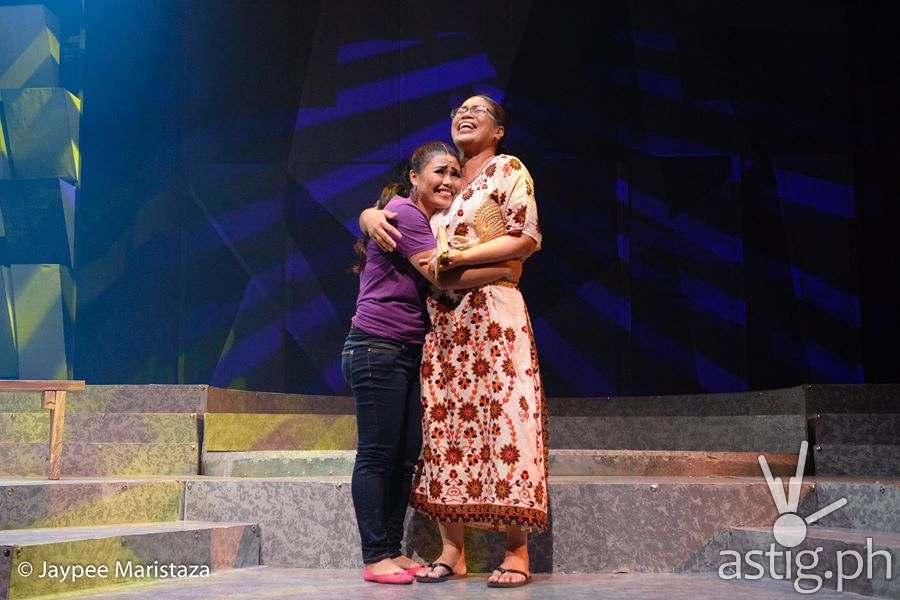 Remaining playdates of #KPANLL. Book your tickets now and check out their Facebook page
www.facebook.com/DalanghitaProductions for the contact numbers.
July 18 Saturday  @ 3PM / 8PM
July  19 Sunday @ 3:30PM
July 24 Friday @ 8PM
July 25 Saturday @ 3PM / 8PM
July 26 Sunday @ 3PM / 8PM
Mabuhay ang Teatrong Pilipino! More plays to come Dalanghita Productions ☺ Kayo na ang mga astig na asteeeeg!
Photo Credit: Jaypee Maristaza – super thank You!