PHILIPPINES – The Philippine Educational Theater Association's (PETA) rap musical William, described by BBC News as "a modern twist on Shakespeare," has managed to capture the interest of students and local theatergoers since it was first staged at the PETA Theater Center in 2011. Now, after a decade, William returns to us – this time, accessible on our screens with one click of a finger!
In commemoration of William Shakespeare's 404th death anniversary last April 23, PETA launched its Shakespeare in the Time of COVID, an online series celebrating the works of the renowned poet and playwright. Beginning with Sonnets & Songs, a reading of Shakespeare's sonnets and a reimagining into Filipino songs by various composers and singer artists like Michael Williams, Menchu Lauchengco-Yulo, Noel Cabangon, Myke Salomon and Bituin Escalante to mention a few, the series will be culminated with the streaming of Ron Capinding's William directed by Maribel Legarda.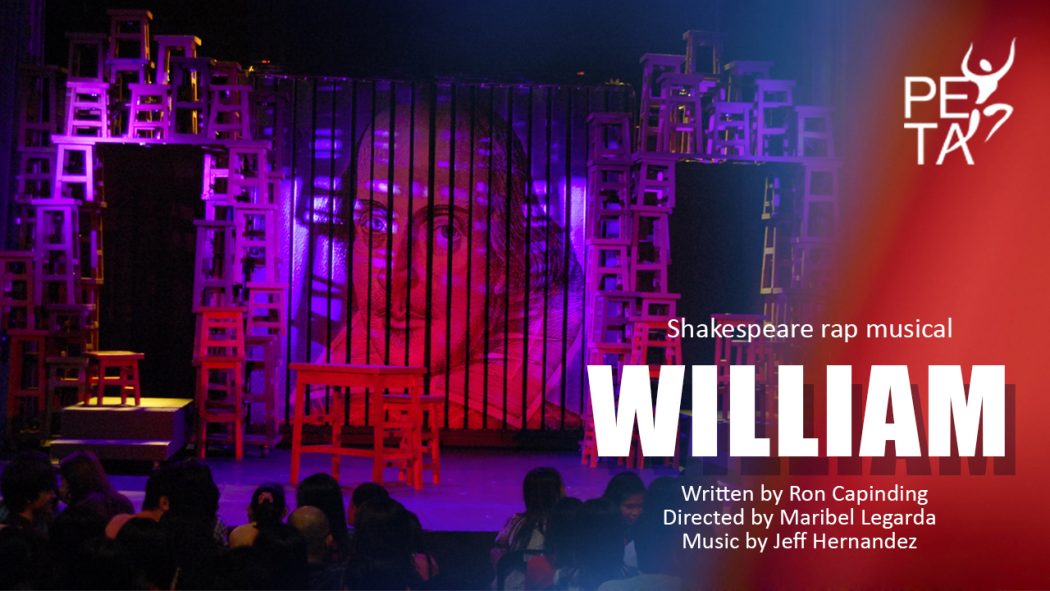 William won Outstanding Play, Outstanding Ensemble Performance in a Play, Outstanding Original Script, Outstanding Male Lead Performance in a Play (Ian Segarra), Outstanding Female Featured Performance in a Play (Meann Espinosa), and Outstanding Male Featured Performance in a Play (Jojo Atienza) in the 2011 Philstage Gawad Buhay Awards.
The play is set in a high school in Metro Manila, where five young students are forced to study Shakespeare by their terror class adviser, Ms. Lutgarda Martinez. In the process of studying, these students realize the beauty of Shakespeare's works and also re-discover themselves through the Bard's characters. Touching on themes of adolescence, parents' unconditional love and friendship, William promotes respect for one another, and advocates love for reading and appreciating literature.
The show features ten original rap songs composed by Jeff Hernandez. Songs such as "Pucha Bro", "Nosebleed", "O Shakespeare", "What's In A Name" are fusions of various music genres, like rock, soul, funk, RnB and hip-hop. William also utilizes FlipTop, a popular form of rapping among today's Filipino youth. These rap numbers, choreographed by John Tan from Urban