The Philippine Educational Theater Association (PETA) launched its family-themed Storytelling Sundays series last month, featuring a mix of music, shadow puppetry, animation and performances by various storytellers.
This June, PETA's Storytelling Sundays focuses on the themes of nationalism and heroism, as Filipinos celebrate Independence Day to honor past and modern-day heroes.
As the country begins to face the new normal and other challenges brought by the General Community Quarantine and the COVID-19 pandemic, PETA's Storytelling Sundays aim to fit its featured stories to teach lessons on current social issues to audiences. "For three Sundays of June, we're devoting to stories that center on heroism ­– what makes a hero out of even ordinary Filipinos," says Storytelling Sundays writer Felinda Bagas. "No matter who we are, what our situations are, we can all be heroes for our country."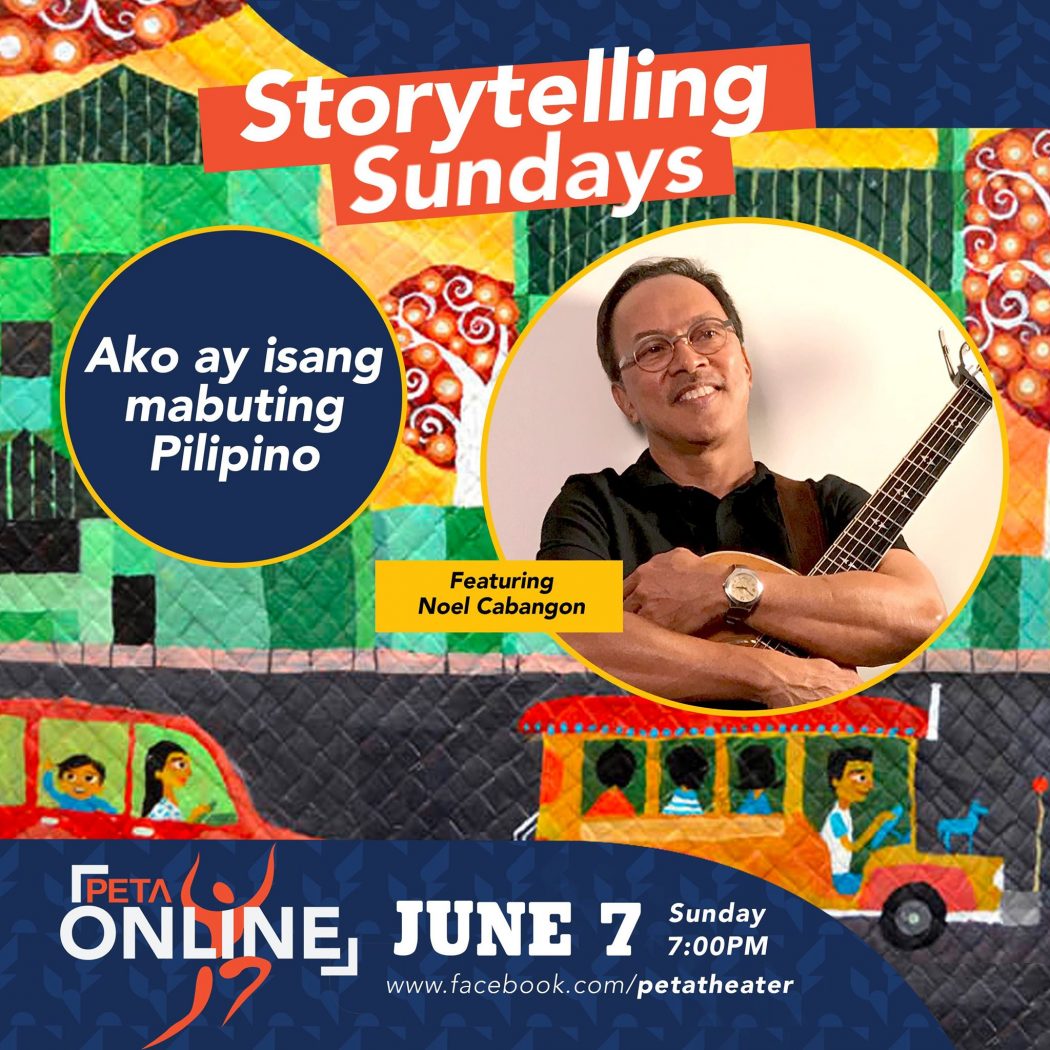 The first of the June series opens June 7, with two stories: Marvino's League of Superheroes by Rae Rival-Cosico, performed back to back with song-turned-story Ako'y Isang Mabuting Pilipino by singer-song writer Noel Cabangon.
In time for Independence Day, on the second week of June, PETA will feature stories about Andres Bonifacio and Gregoria De Jesus, Ngumiti si Andoy by Xi Zuq and Ang Lakambini at Ako by Becky Bravo, on June 14.
For June's finale episode, Storytelling Sundays revisits and reinvents of one of PETA's beloved plays, Christine Bellen's Batang Rizal on June 28, a condensed adaptation for the digital platform with new animation. This line-up of stories aims to inspire a love for country and people across all ages, during a time when we need it most.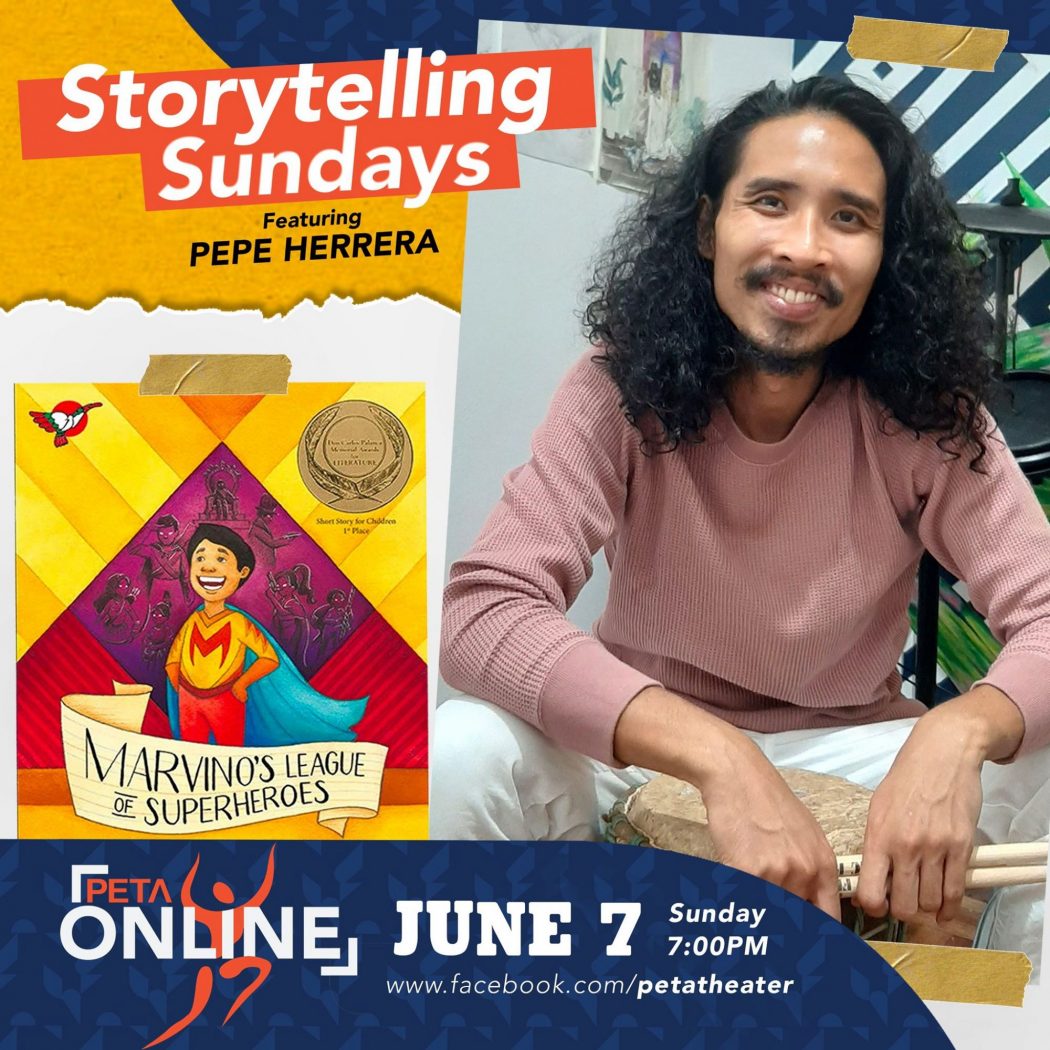 Aside from the theme of nationalism, Storytelling Sundays gives a treat for Father's Day on June 21 with Russell Molina's Tuwing Sabado and Ano'ng Gupit Natin Ngayon?, two stories about fatherhood that tell how, in so many ways, our fathers and father-figures influence who we are, how we think, and what kind of persons we could be.
Storytelling Sundays this June is presented by an exciting roster of storytellers: Rak of Aegis' well-loved 'Tolits' Jerald Napoles and Pepe Herrera, renowned folk singer Noel Cabangon, Noel Comia, Jr. and Bourne Livelo from Tagu-taguan Nasaan Ang Buwan?, PETA's own Gold Villar-Lim, and master storyteller Bodjie Pascua who will be making a comeback in one of the episodes.
PETA's Shé Maala continues to host Storytelling Sundays, "Shé narrates about the world of storytelling, its importance, and even talks about what elements make a good story," says Felinda Bagas. "Through our host, our viewers have the chance to better understand the value of the stories, and maybe also learn to become great storytellers and artists themselves."
As June's episodes deal with heroes, fathers, and Filipinos, PETA hopes to show viewers how the characters of the stories help us recognize who we are, understand what we feel, and understand other people and their actions and motivations. "I think this is particularly important when we talk about heroes or historical events," says Felinda Bagas. "These children's stories bring heroes closer and more relatable to listeners. Our heroes were just like us, and now we get to understand what made them extraordinary. We get to relate to the situations that gave them strength and courage to fight for a whole nation's freedom."
"We have a really full program," shares PETA Artistic Director Maribel Legarda. "It's very exciting and we're excited to perform it for audiences." With the upcoming line-up for Storytelling Sundays, presented by notable artists both in theater and on screen, PETA hopes that all viewers will enjoy and hopefully learn from them ­­– maybe even find something in the stories to hold on to, to help us cope with everything happening in our country and all over the world right now.
Storytelling Sundays streams through PETA's Facebook Page www.facebook.com/petatheater.