MAKATI CITY, Philippines – "Bawal Kumopya" reads a t-shirt held by OMB (Optical Media Board) Chairman Ronnie Ricketts during the celebration of World Intellectual Property (IP) Day at a press conference held in Makati on Wednesday.
This comes amid increased confidence in the Philippine government in its pursuit to eliminate illegal camcording and piracy. As of April 2014, the Philippines has been removed from the United States Special 301 Watchlist. In addition, since 2012, no online or physical marketplace has graced the annual USTR Notorious Markets list.
The Philippine government and film industry renewed their resolve today to uphold intellectual property rights (IPR), protect the livelihoods of the many thousands of professionals in the screen community, thanking the audience for supporting films and TV shows through legal means.
"Motion picture and video constitute a core art of our copyright-based industries (CBIs). CBIs, as shown in the 2014 study of the World Intellectual Property Organization, have significant contribution to the Philippine economy at 7.34% of the gross domestic product (GDP) and 14.14% to employment. With some of our films critically acclaimed here and abroad, our movie industry holds promise for a stronger niche in the region. To support the industry, we continue to step up awareness and enforcement efforts against movie piracy," said Atty. Allan B. Gepty, Deputy Director-General at the Intellectual Property Office of the Philippines.
Use of night vision goggles advanced technology to sniff out syndicates
Some of the biggest achievements of the industry in early 2015 have been the identification of key syndicates and coordinated efforts by all stake holders to limit the illegal syndicates' activities. Also notable is the full support, engagement and commitment by the Philippine National Police (PNP), particularly the Criminal Investigation and Detection Group (CIDG) to stop the illegal activities of these syndicates. Exhibitors also gave their full support to improving security, training and engagement with the Motion Picture Association (MPA), while enhancing deterrent capabilities in deploying detection technologies such as night vision goggles.
In late 2014, efforts to improve protocols for detection, arrest and prevention of illegal camcording in cinemas were also undertaken. The Motion Picture Anti-Film Piracy Council of the Philippines (MPAFPC), in cooperation with PNP and the Metro Manila Film Festival (MMFF) organized an exhibitors conference wherein implementing rules and regulations of the Anti-Camcording Law was discussed in detail, and guidelines on course of action for violations were explained. The workshop helped to enhance exhibitors' understanding of their jurisdictions, and be updated with the new technologies being used by syndicates to camcord movies in cinemas.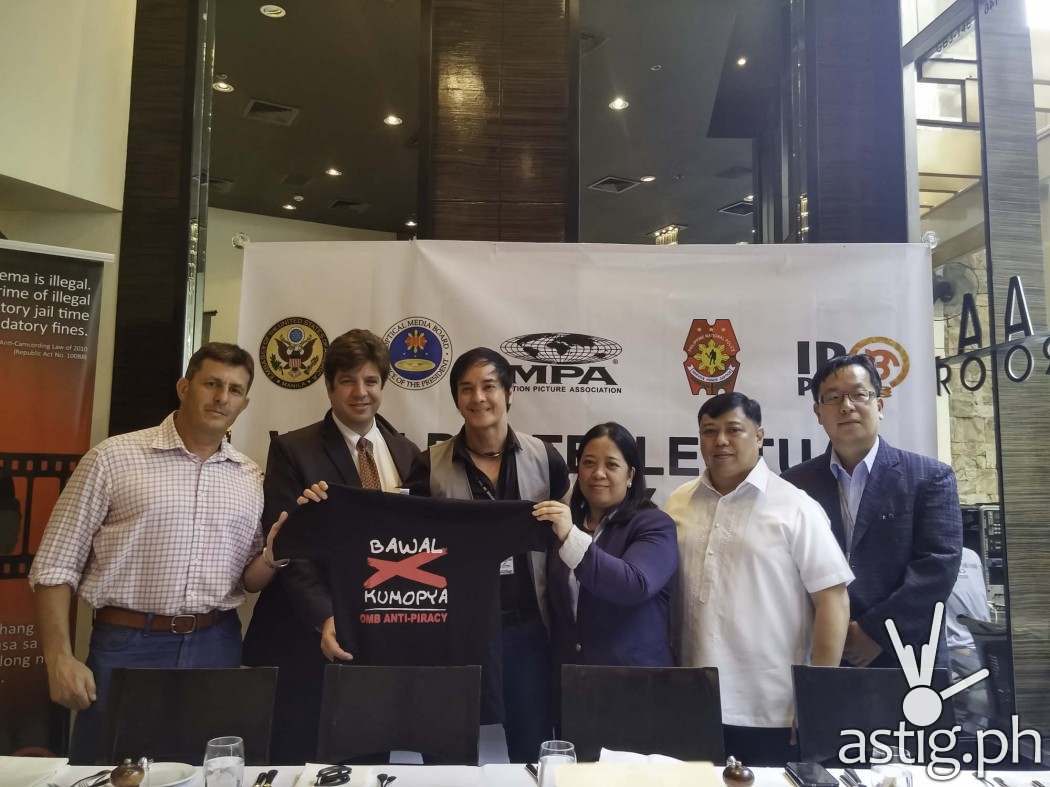 "The PNP will continue to work closely with the movie industry to ensure that offenders are caught and brought to justice," said General Benjamin Magalong, PNP-CIDG Chief. "The PNP is keeping close watch on these syndicates and we intend to take them down. There will be zero tolerance for those caught camcording in cinemas."
The MPAFPC also produced a new trailer starring Derek Ramsay and former Pinoy Big Brother housemate Gaby dela Merced, which presents the perspective of law enforcers and sends a serious message that camcording is a crime that has severe punishments.
P5,000 incentive for catching camcorders
The current incentive scheme of 5,000 pesos for each successful interdiction of a camcorder by conscientious citizens also helped in capturing IP violators. Most recently, criminal charges have been officially filed against one arrested offender for camcording the animated movie 'Home' in March 2015. There were 14 camcords forensically traced to Philippines in 2014 compared to 11 in 2013.
"This year on World Intellectual Property Day, we recognize the unique role of the creative and performance industry in bettering our world and contributing to our economy and culture. It is also an opportunity to celebrate and recognize the connection between intellectual property protection and the creation of this art form," said Brian Breuhaus, U.S. Embassy Economic Officer. "By building awareness of the role of copyright in incentivizing creativity, we are making sure that future generations will also be able to enjoy the fruits of the creative filmmaking process."
Not just Hollywood films, but also that thing called local films
Unfortunately, it is not only international titles that are being camcorded. Original Filipino movies are also target for camcording syndicates. A recent Filipino movie titled 'That Thing Called Tadhana' has also been the subject of recent controversy when the lead actress was tagged by Instagram followers while watching a pirated copy of the movie. The actress voiced her disapproval on social media, citing that watching pirated copies of movies is an illegal activity.
"The local film industry is undergoing an age of renaissance. The quality and caliber of the films emerging today — many from new filmmakers – is attracting a lot of attention in both domestic and international audiences," says Dominic Du, MPAFPC representative. "We need to protect these creative individuals, and the actors, crew and studios behind them, to ensure that we will continue to enjoy the kind of films that Filipinos enjoy."
Bawal Kumopya campaign
The government also conducted various education efforts among the public. The Optical Media Board (OMB) intensified awareness through its flagship campaign, BAWAL KUMOPYA, which conveyed a strong informative message by enjoining the general public on the significance of promoting and protecting intellectual property creations and its related rights.
According to OMB Chair Ronnie Ricketts, "Just like any other similar properties, intellectual property rights deserve to be protected from unscrupulous profit makers, that brings prejudice to government tax collections, as well as posing undue disadvantages to economic opportunities. As we commemorate and celebrate World Intellectual Property Day, the OMB reaffirms its explicit mandate in the promotion and protection of intellectual property rights by continuously enforcing the laws, regulating, prosecuting, and educating the public on the intricacies of preventing piracy."
Click play to watch Ronnie Ricketts' video message on Piracy in the Philippines:
World IP Day will also be celebrated with a free screening of 'Avengers: The Age of Ultron at the Greenbelt Cinema 3.
Official World IP Day message on anti-movie piracy campaign from IPOPHL
This week, we join the rest of the world in observing the World IP Day on the 26th of April. We take this as an opportunity to raise, once again, intellectual property awareness for one of the country's youngest, but certainly one of the most popular copyright-based industries, the cinema.
Last week, the Intellectual Property Office of the Philippines and other members of the National Committee on Intellectual Property Rights (NCIPR), particularly the Optical Media Board, Department of Justice and the Philippine National Police had a dialogue with the administration of one movie house in Manila on how to further intensify the campaign against illegal camcording. The said meeting was a productive engagement as we were able to come up with some institutional arrangement in the conduct of enforcement, investigation and prosecution.
While there are still challenges as movie piracy continues to evolve with the new developments in technology, our campaign against movie piracy has progressed with solid results. These days, foreign movie publishers have manifested confidence in our IPR protection and enforcement capability as proven by the early release of blockbuster hits such as the Marvel movie, the Avengers: Age of Ultron and the Fast & Furious 7.
The new amendment in the IP Code providing secondary liability on copyright infringement is also another major development that provides a measure in enhancing the campaign against piracy.
We are confident that today's IP regime will help boost the revival of the Philippine cinema. We want to create an environment that our creators and artists are enthusiastic and inspired to create more movies thereby generating more employment and building a robust industry.
On the contribution to our economy, the recent study of WIPO shows a promising result. In the Philippines, the copyright based industries contribute 7.34 % to our Gross Domestic Product (GDP) and generate 14.14 % employment. With this figure, there is a solid reason for the Philippine government to work harder protecting these industries and ensure that the rights of copyright owners are protected.
IP enforcement, however, is a continuing battle. Just as we intensify our efforts and forge more partnerships, we encourage everyone to support this noble advocacy. After all, a community that appreciates the value and importance of IP, and respect intellectual property rights is one of the keys to economic development.
Thank you.