PHILIPPINES – The smartphone penetration in the Philippines at the end of 2014 was around 30 percent and is expected to be at around 40 percent at the end of 2015.
Almost two-thirds of mobile phone subscriptions in South East Asia and Oceania will be using smartphones by 2020. By 2020, mobile traffic in the region will multiply nine times reaching three Exabytes /month.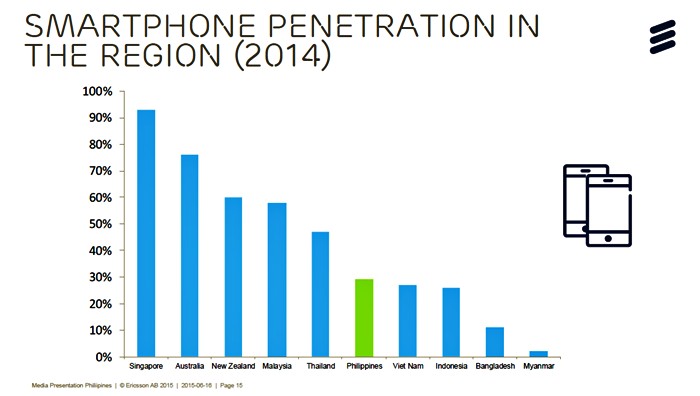 Applications for social networking, instant messaging and video streaming dominate smartphone usage – Facebook and YouTube are consistently in the top five mobile apps in the countries analyzed, including the Philippines.
Ericsson (NASDAQ: ERIC) releases its third South East Asia and Oceania Region Appendix to the Ericsson Mobility Report. The appendix illustrates regional contrasts in areas such as smartphone uptake, top app usage, access to LTE, and network performance.
Mature markets such as Australia and Singapore, where LTE is widely available, have a very high mobile broadband penetration, already exceeding 90 percent. Developing markets on the other hand, still have a long way to go, which offers a unique opportunity for mobile operators to enhance the mobile broadband experience for users.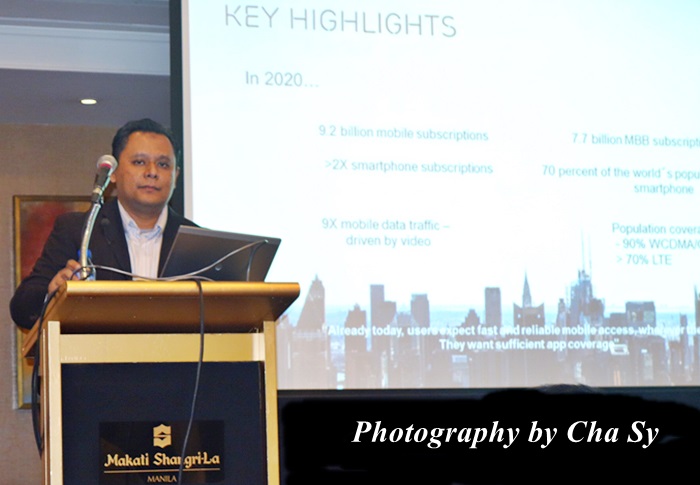 The smartphone penetration in the Philippines is estimated at around 30 percent and is expected to be at around 40 percent by the end of 2015. This provides an exceptional growth opportunity for service providers and device manufacturers in South East Asia as users consume more data through newer and faster devices.
Afrizal Abdul Rahim, Ericsson Head of ConsumerLab for Region South East Asia and Oceania, says: "The increasing availability of affordable smartphones, internet access andmobility is enabling more consumers to access the benefits of the Networked Society. In fact, in the Philippines smartphones are the primary way of getting online".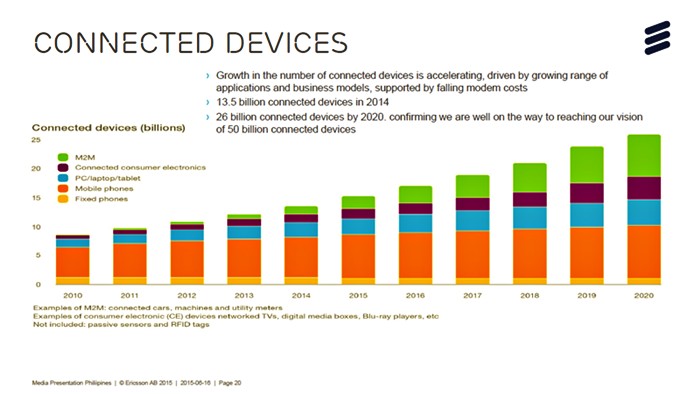 "Today in South East Asia and Oceania, 25 percent of handsets are smartphones. We predict that by 2020, smartphone subscriptions will grow three times to almost 800 million in the region, while LTE and 3G subscriptions will constitute almost 25 and 70 percent, respectively, of regional mobile subscriptions by 2020," Afrizal said.
Uptake in smartphone subscriptions and growing interest in video and other app services will drive a nine-fold increase in mobile traffic volumes to three Exabytes /month by 2020.
In the South East Asia and Oceania region, social networking, instant messaging and video streaming are among the top five app categories actively used by smartphone users in the region. In the Philippines, Facebook, Facebook Messenger, Viber, YouTube and Instagram are the top five apps actively used by smartphone users.
For service providers, delivering a consistent user experience aligned with the most popular apps can help drive customer satisfaction. In order to do this, operators need to optimize and tune their networks to ensure users' particular app coverage demands are catered for in different traffic situations and geographical areas.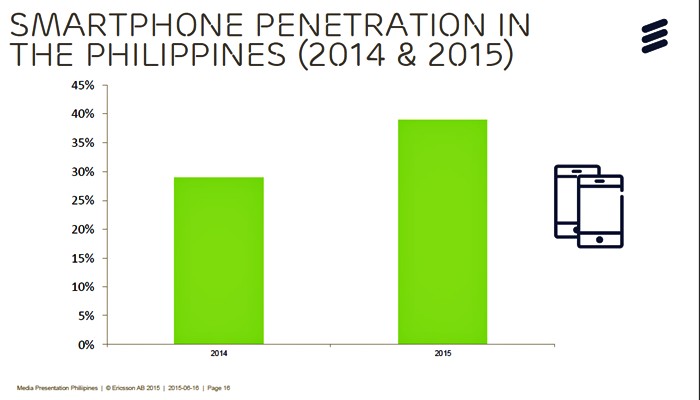 Countries in the region with the best network performance are Australia and Singapore, due to their leadership in deploying LTE and LTE Advanced. This has meant that the gap in network performance with other countries across the region has widened. "However, we expect developing countries' networks will greatly improve in performance over the coming years", Afrizal concluded.
Ericsson is the driving force behind the Networked Society – a world leader in communications technology and services. Its long-term relationships with every major telecom operator in the world allow people, businesses and societies to fulfill their potential and create a more sustainable future.
Its services, software and infrastructure – especially in mobility, broadband and the cloud – are enabling the telecom industry and other sectors to do better business, increase efficiency, improve the user experience and capture new opportunities.
With more than 110,000 professionals and customers in 180 countries, it combine global scale with technology and services leadership. It support networks that connect more than 2.5 billion subscribers. Forty percent of the world's mobile traffic is carried over Ericsson networks. And its investments in research and development ensure that its solutions – and its customers – stay in front.
Founded in 1876, Ericsson has its headquarters in Stockholm, Sweden. Net sales in 2014 were SEK 228.0 billion (USD 33.1 billion). Ericsson is listed on NASDAQ OMX stock exchange in Stockholm and the NASDAQ in New York.