Ringside Bar Makati City – Yesterday, Fox+ announced that they will exclusively stream WWE Raw live every Tuesday beginning July 17 at 8am. So if Raw is Back Larger than life. I'm Joining Infinity War WWE Expendables fantasy zone. Having said that – Hogan, The Rock, Undertaker, Rodman, Trump, Floyd, Vince, Cena and the Big Show. Get ready for the ultimate Astig Royal Rumble!
To feel the wrestling fever, Fox+ did invite local Pinoy Wrestlers and did the trashtalk on the stage of the Ringside bar. Its fun, to hear those unique scripts. They also have quiz to remember those great trivia actions made in the previous or decades ago episodes. Fox executives, partners and actors like Troy and Aubrey shared its previous experienced encounter with WWE. Told, how exciting it is to experience – even dreamed with those walk and step into the ring imaginary moments.
So let me share that during my Gradeschool and High School Days. A weekend is not complete without watching those pro wrestling matches. That's also one of the ignition why I got into my figthing Varsity slot during my younger years. You may consider me as a young pro athlete because I recieved salary, free college and trips during those teenage figthing years.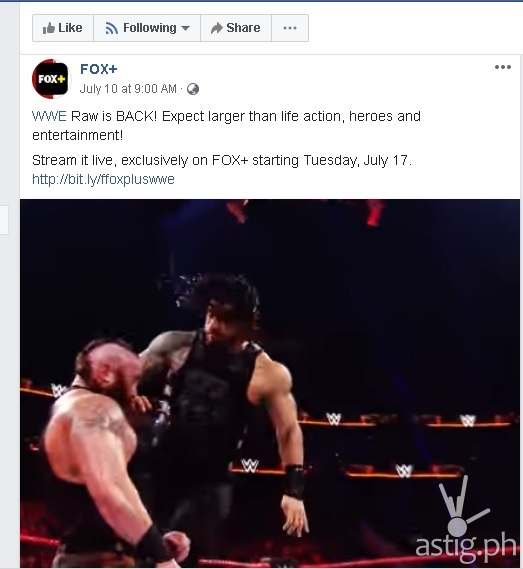 I knew for the fact that its an act baby, But I still enjoyed watching it. Who will not going to enjoy it anyways? The President (Trump), The Greatest Boxer (Floyd) and Basketball Legend (Rodman) were also involved in this kind of entertainment sport. Not to mention that this is an outlet to your Action Hollywood movie getaway stardom discovery. To mention those hollywood stars who made it big were The Rock, John Cena and Hulk Hogan.
They are one of those highest paid Actors who made their debut in the sport of Wrestling. Then became a TV/Movie action figures. As they are also the hero action juice source of this world. Men and Women are always seeking for thier life heroes. Kids were screaming on top of thier lungs when they saw themselves imitating those icons. Seeing thier wrestling champions performed and smashed it real cool RAW.
Many of WWE stars all started from different schools like we did. The are varsity players or regular people who took bus on the street. But some really make it big on top as they became the biggest star of Professional Wrestling. Lets take a look at Brook Lesnar, hes a defensive NFL Tackle, UFC figther and the longest running universal champion of the WWE. Wow from a Baller to figthing to acting an all around superhuman!
In WWE womens division, Alexa Bliss is the first woman in history of WWE to win both Smackdown live and RAW womens title. WWE is larger than life, it scripts and trained athletes. So we can enjoy the action thrill and ignites our soul to watch it over and over again. The drama, flare, action were dangerous, real and exemptional for the world to enjoy. This is the fighting real show!
Raw will be air live every Tueday the same time as US FOX+ will stream on demand WWE weekly highlights shows. FOX+ is available on android and iOS app so you can stream it anytime anywhere. Visit foxplus.com, facebook.com/FOXPlusPH and wwe.com for more info. Fox networks group has a reach of 1.725 billion households in more than 30 channels and WWE reach 800 million homes worldwide translated into 24 languages.
[zombify_post]