The Philippines as host of this year's Asia Pacific Economic Cooperation (APEC) Leaders Summit take advantage to seal bilateral agreements, strengthen commitments and explored new ways for cooperation during the sidelines of the meetings.
Right after the conclusion of APEC Summit last Thursday, President Aquino proudly hailed that the government gained more than it lost as host of the event. The Philippine government spent almost 10 billion pesos in convening the heads of economies from 21 member countries of APEC.
The Philippines's trade with APEC member economies make up 80 percent of its total trade that's why as per the govenment, its very important to be able to successfully sealed partnership among these countries. However, partnerships are mere vows and not required to be executed. It depends upon how leaders are committed in the fulfilment of their promises.
Here is a list of agreements  and commitments sealed by the Philippines to 13 countries based on the report of The Philippine Star.
Philippines and the United States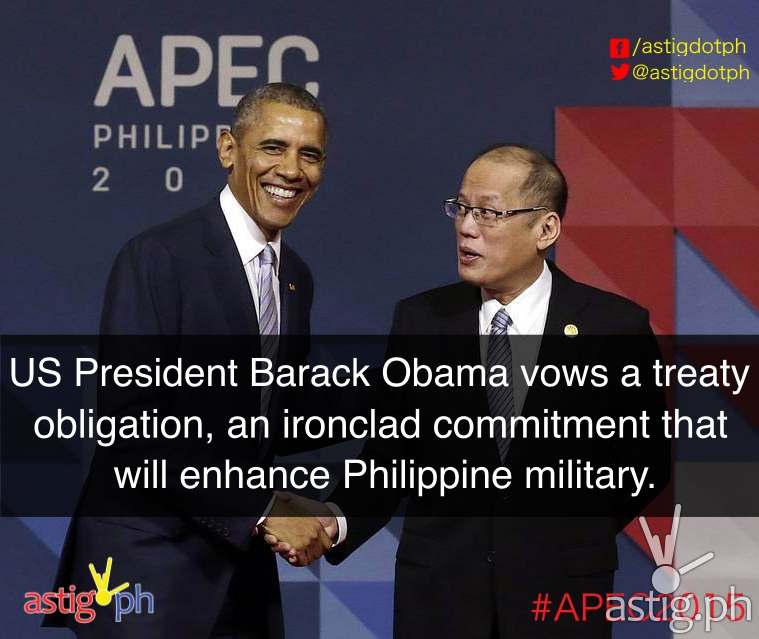 Committed: US President Barack Obama announced that he intends to transfer two additional ships to the Philippine Navy. A research vessel can be used to map out the Philippines's territorial waters and a US Coast Guard cutter "to bolster the Navy's ability to conduct long-edurance patrols," Obama said. The transfer of ships are part of the US' plan to increase maritime security assistance in the Asia-Pacific region.
Philippines and Mexico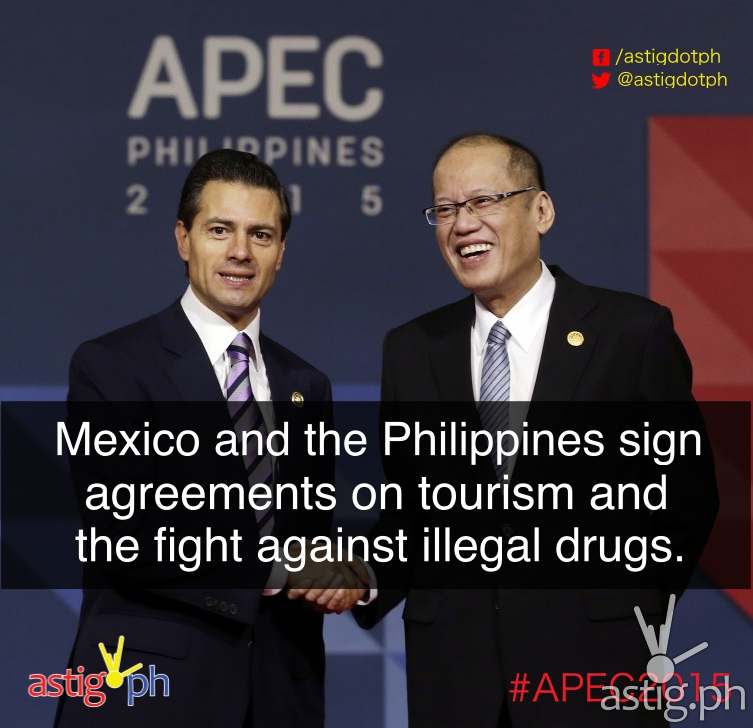 Reaffirmed: During his state visit to the Philippines Mexican President Enrique Peña Nieto said his state visit to the Philippines will "further strengthen the already durable ties" between Mexico and Philippines citing the similarities of the two countries. The countries were tied by the Acapulco Galleon Trade and were reinforced during the World War II.
Sealed: The two countries made an agreement for the avoidance of double taxation with respect to taxes on income and prevention of fiscal evasion signed by Philippines's Finance Secretary Cesar Purisima and Mexico's Foreign Affairs Secretary Claudia Ruiz Massieu Salinas.
Signed: PDEA's Cacdac and Massieau also signed memorandum of understanding concerning on combating illicit traffic in narcotic drugs, psychotropic substances, their analogues, precursor chemicals and essential chemical products, as well as products or preparations containing them.
Signed: A memorandum of understanding between the Department of Tourism of the Philippines and the Secretariat of Tourism of the United Mexican States on tourism cooperation was also signed.
Philippines and Canada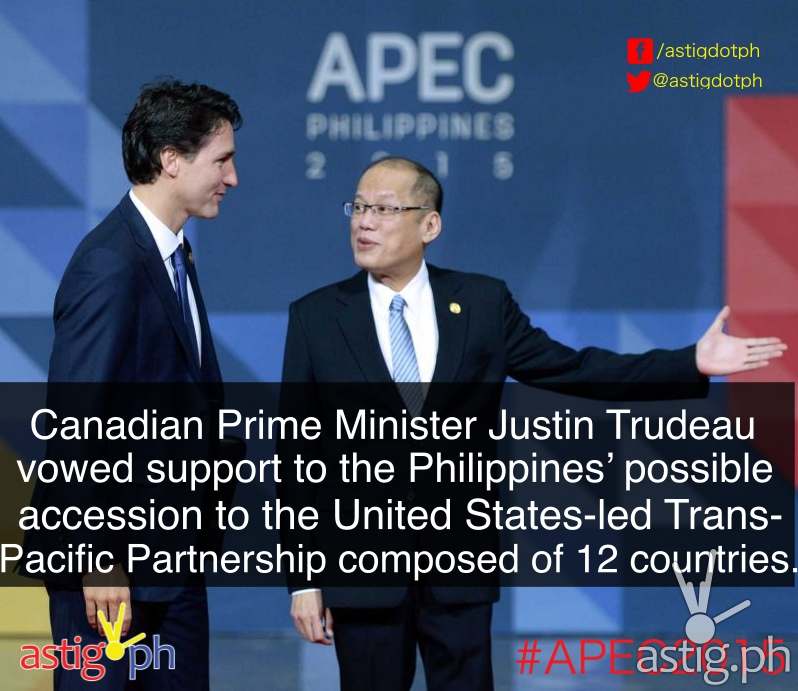 Committed: Presidential Communications Operations Secretary Herminio Coloma Jr. said Canadian Prime Minister Justin Trudeau vowed support to the Philippines' possible accession to the United States-led Trans-Pacific Partnership composed of 12 countries.
Philippines and South Korea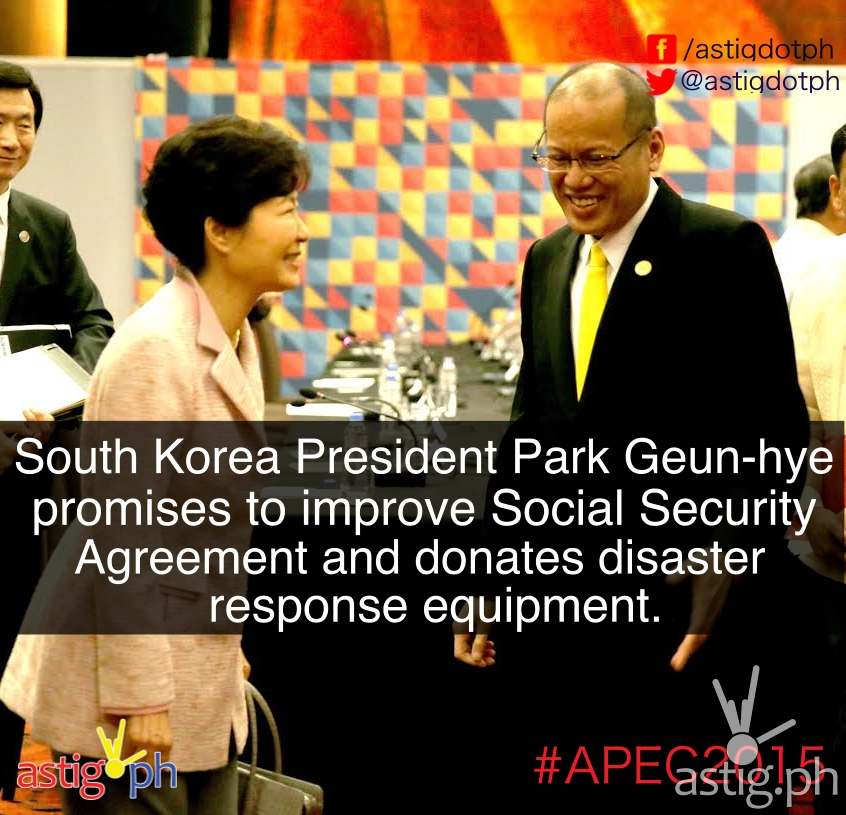 Reaffirmed: South Korean President Park Geun-hye expressed support for the Philippines's military modernization program during her bilateral meeting with Aquino.
Philippines and New Zealand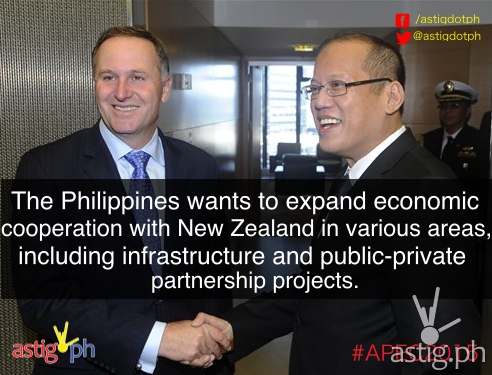 Explored: Aquino and New Zealand Prime Minister John Key sought to expand cooperation in the areas of electronics and electrical equipment, automotive, information technology, business process management, engineering services, infrastructure and public-private partnership projects.
Philippines and Australia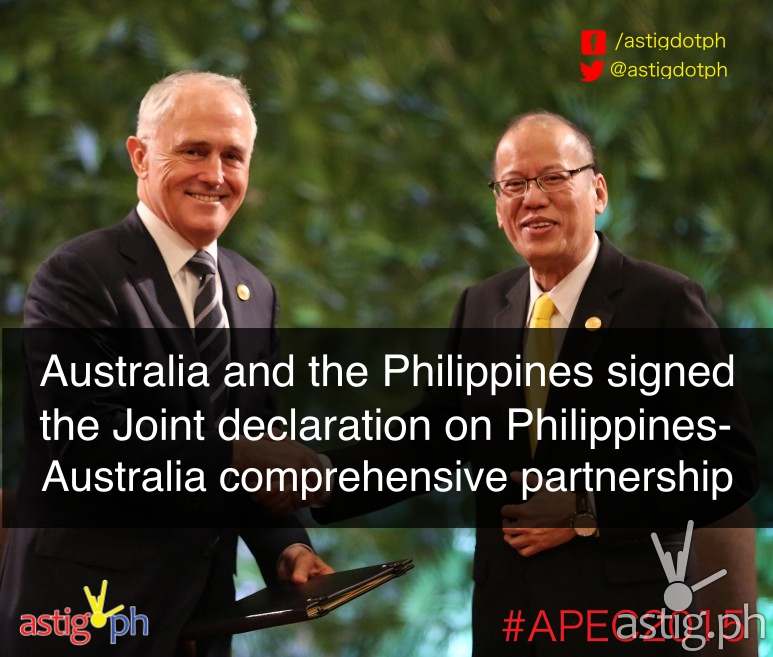 Signed: Aquino and Prime Minister Malcom Turnbull signed the Joint Declaration on Philippines-Australia Comprehensive Partnership acknowledging the two countries' long legacy of cooperation in all relations since 1946.
Signed: Foreign Affairs Secretary Albert del Rosario and Australian Ambassador to the Philippines William Thomas Ross also signed a Memorandum of Understanding on Cooperation in Technical Vocational Education and Training between the Philippines' Technical Education and Skills Development Authority and Australia's Department of Education and Training.
Philippines and Chile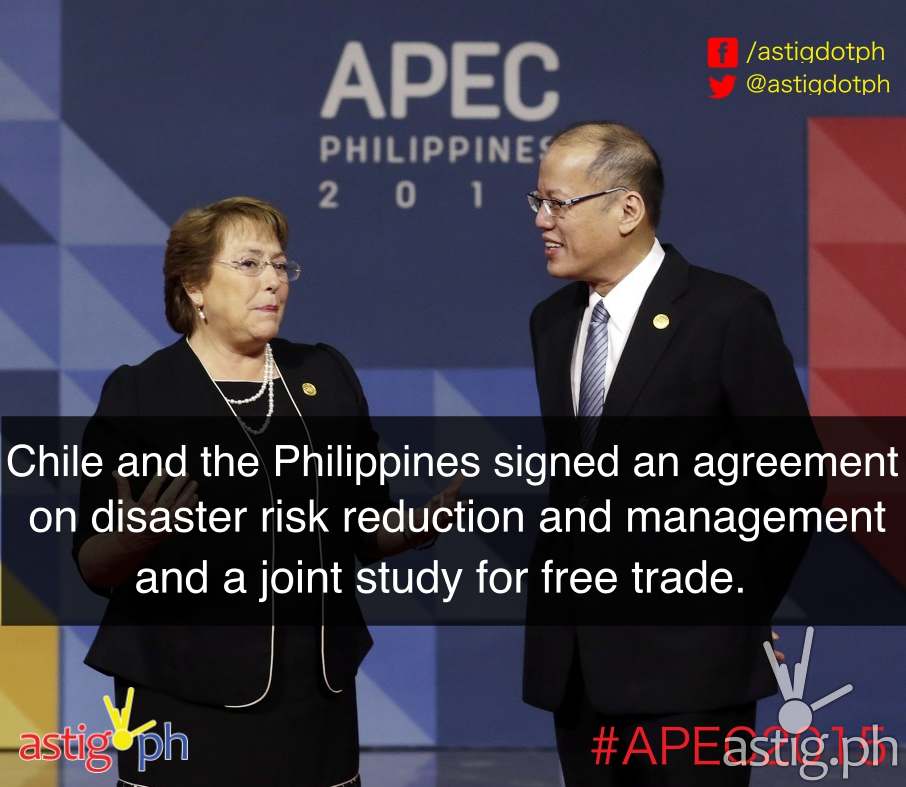 Explored: The Philippines and Chile on Monday signed a letter of intent on a joint feasibility study that will view the benefits of free trade agreement between both countries.
Signed: Chilean President Michelle Bachelet and Aquino also signed a memorandum of understanding on disaster risk reduction management during Bachelet's state visit.
Philippines and Colombia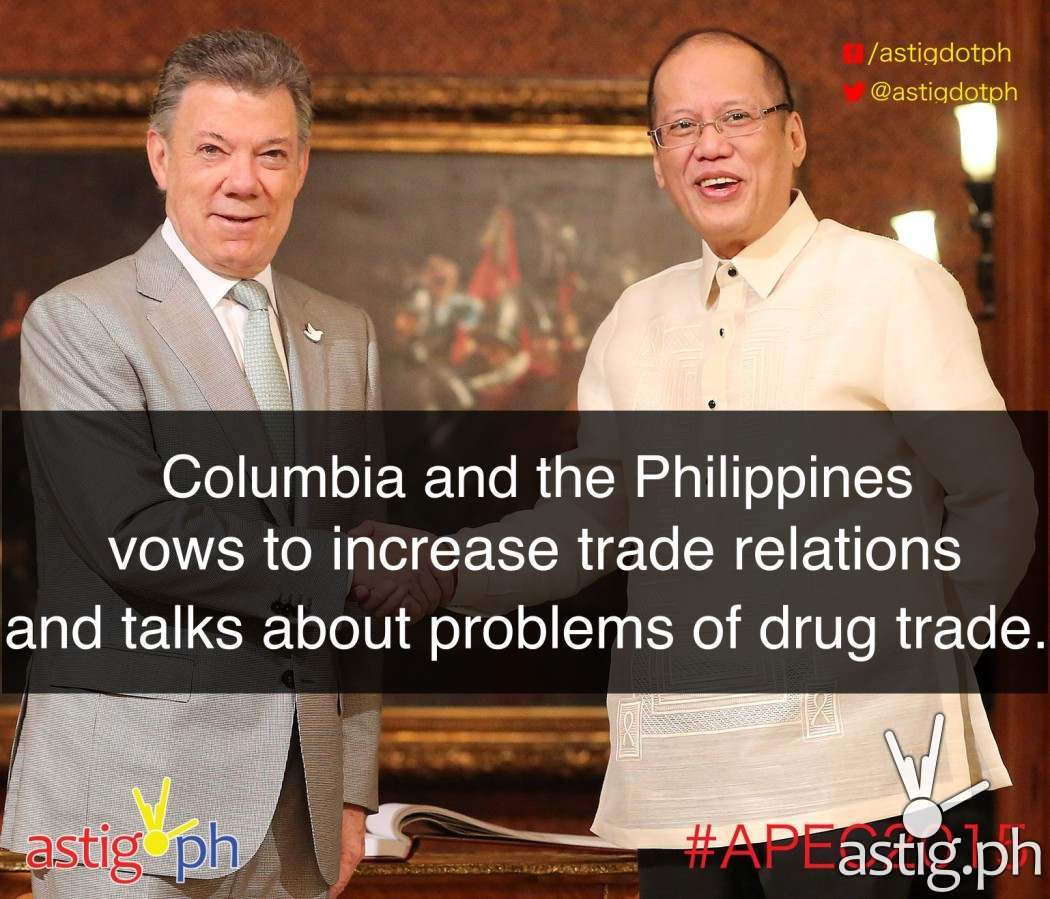 Explored: APEC observer Colombian President Juan Manuel Santos offered knowledge and experience in anti-insurgency and anti-illegal drugs campaign. They also talked about expanding cooperation in energy and natural resources development and reinforcing their fight against transnational crime.
Philippines and Japan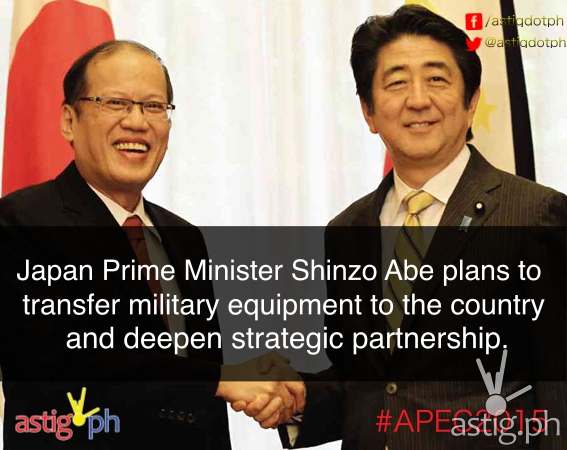 Explored: Manila and Tokyo are working on a deal to transfer military equipment to the country, according to Japanese Deputy Press Secretary Koichi Mizushima. He did not disclose, however, when the agreement will be signed by President Benigno Aquino III and Japan Prime Minister Shinzo Abe.
Reaffirmed: Aquino and Abe met late on Nov. 19, 2015 and reaffirmed the two nations' "deepening of strategic partnership."
Philippines and Papua New Guinea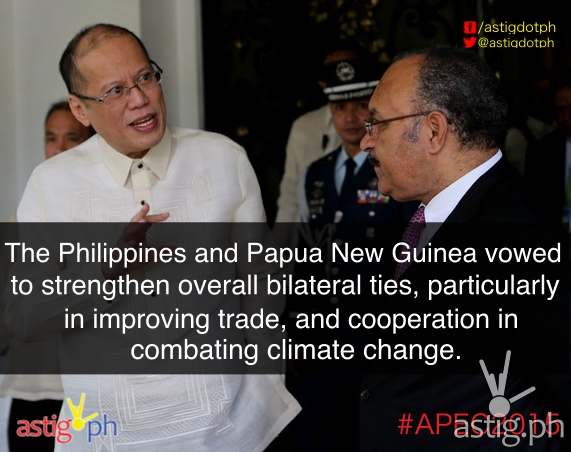 Reaffirmed: Aquino and Papua New Guinea Prime Minister Peter O'Neill reaffirmed their commitment to strengthen their cooperation since 1975 to develop the "areas of policy consultations, health and medical tourism, investment promotion and protection and capacity building."
Philippines and Russia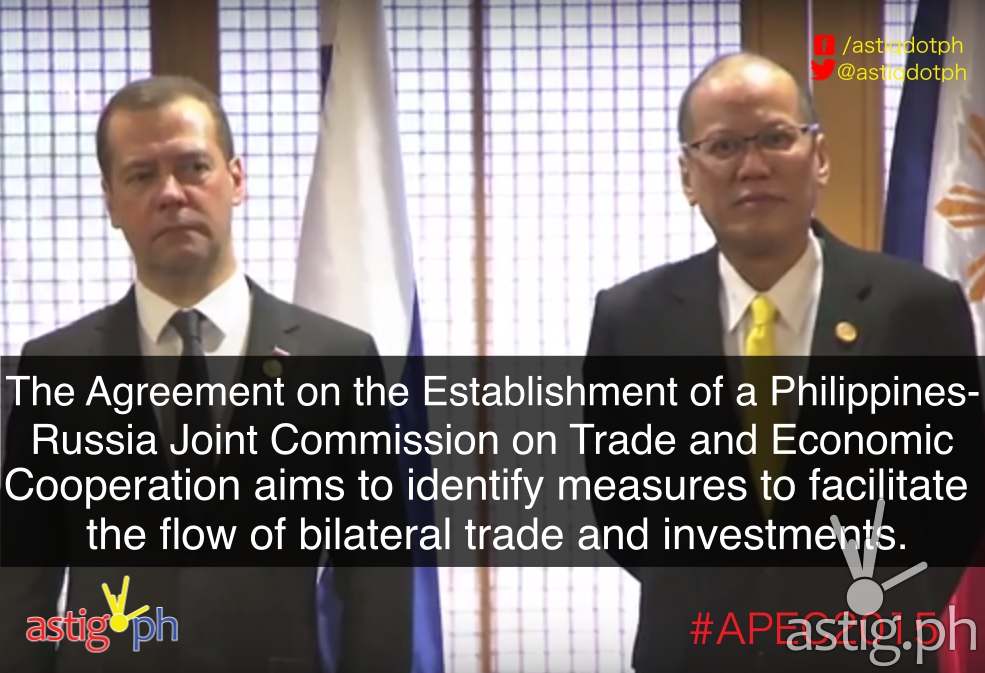 Sealed: A trade agreement was sealed by Trade Secretary Gregory Domingo and Russian Economic Development Minister Alexei Ulyukayev on Wednesday. The Agreement on the Establishment of a Philippine-Russia Joint Commission on Trade and Economic Cooperation seeks to facilitate and promote trade and economic cooperation between the two countries.
Signed: Philippine Drug Enforcement Agency Director General Arturo Cacdac Jr. and First Deputy Director of the Federal Service of Russian Federation for Narcotics Traffic Control Vladimir Kalanda also signed the memorandum on cooperation in combating new psychoactive substances.
Explored: Aquino invited Russia to enhance its trade cooperation with the Philippines in IT-BPM, processed and specialty food, energy and renewables, design-driven products, and aerospace. While Prime Minister Dmitry Medmedev invited the Philippines to participate in the transportation expo to be held in Moscow in 2016.
Philippines and Taiwan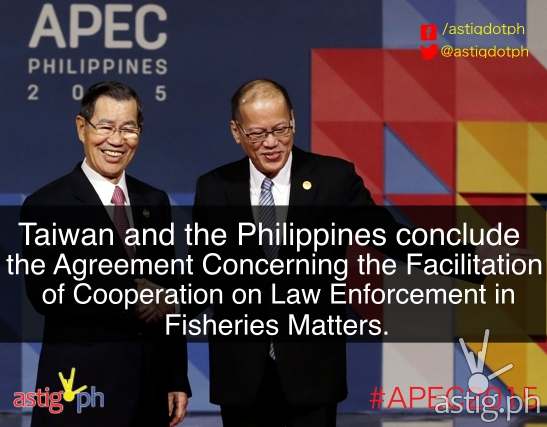 Signed: Taiwan and the Philippines have signed an agreement pledging non-violence in disputed fishing zones, Taiwanese authorities announced Thursday, November 19, in what analysts say is an important step to defuse tensions over territorial maritime disputes.
Philippines and Vietnam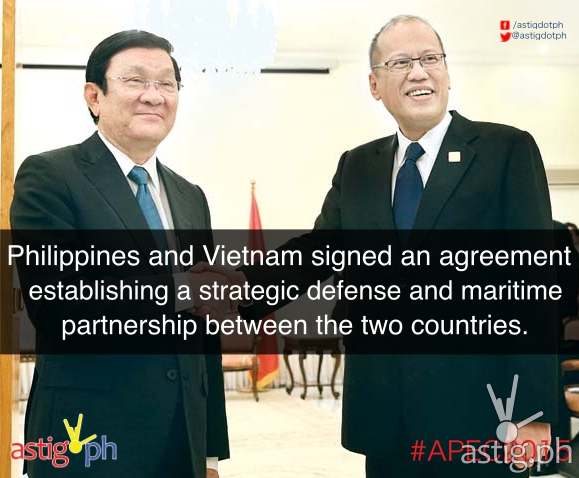 Signed: The Philippines and Vietnam on Tuesday signed a joint statement on the establishment of strategic partnership to elevate their cooperation on peace, stability and prosperity in the Southeast Asian region.
Reaffirmed: The two countries also exchanged copies of a signed protocol amending the 2010 Philippines-Vietnam memorandum of agreement on the supply of Vietnamese rice to the Philippines.
(Photo Source: AFP and Reuters)