MANILA, Philippines – Billions of conversations take place on Twitter everyday which makes it the go-to platform for Filipinos to see and be part of #WhatsHappening in real-time. From breaking news, local entertainment, to various topics of interests; Filipinos on Twitter meaningfully connect and converse with each other that eventually help shape the Philippines' culture and what's next in the Philippines.
Analyzing billions of Tweets in the Philippines over a two-year period (January 2020 to December 2021), Twitter has taken a deep dive into the conversations on Twitter and shares its findings in the Philippines TwitterTrends Report 2022. The report found that Filipinos are passionate about bringing positive contributions to societal development. The findings also show that Filipinos perceive Twitter as a space for their communities' collective reimagination – from mental wellness, fandoms, and finance.
The Great Restoration, Force of Fandoms, and Finance Goes Social are the three major cultural themes and conversation insights that are heard on Twitter that drive and shape Philippines' culture.
Commenting on the findings, Preetha Athrey – Marketing Director, APAC, Twitter said, "What two years worth of Twitter conversations showed was that Filipinos turn to Twitter to collectively push for causes that matter to them. It's heartening to see these communities empowered to engage in discussions that solicit positive impact to society. The report also lays out rich findings about the emerging key cultural trends in the Philippines and how the culture of tomorrow will be shaped."
Let's take a closer look at the three cultural themes and conversation trends on Twitter in the Philippines:
The Great Restoration: Healing the planet and healing ourselves
A lack of access to green spaces and long-lasting lockdowns are two of the contributing factors to the decline in mental wellbeing amongst Filipinos. There is a 62% increase in conversations around mental health awareness and 69% around green spaces year-on-year. The need for support in tackling mental health issues, improving overall wellness, and a place to discuss other related matters prompted Filipinos to look to Twitter for ways to take the edge off of this.
The top sub-trends to emerge within the well-being conversation are participation in discussions (+104%) and coping mechanisms (+77%). Twitter becomes an open space for kindness as conversation rises. Filipinos on Twitter are openly speaking about their mental health issues and sharing steps on how they've been managing it. Hashtag #UsapTayo (let's talk) attracts and gathers many, providing them with engaging and helpful mental health-related discussions, while the gift of virtual yakaps (hugs) offers a glimpse into what mutual care for those dealing with mental health challenges can look like online.
Keeping an eye on the future, Filipinos are realising that pivotal change is a must if their lifestyles and cities are to meet their mental and physical wellness needs. Thus, nature photography (+145%) and forest bathing (+133%) are two of the top sub-trends that emerged. Community-led campaigns like #NoToParex, for instance, exemplifies Filipinos' resistance to projects that will negatively impact the environment, heritage, public health, and mobility.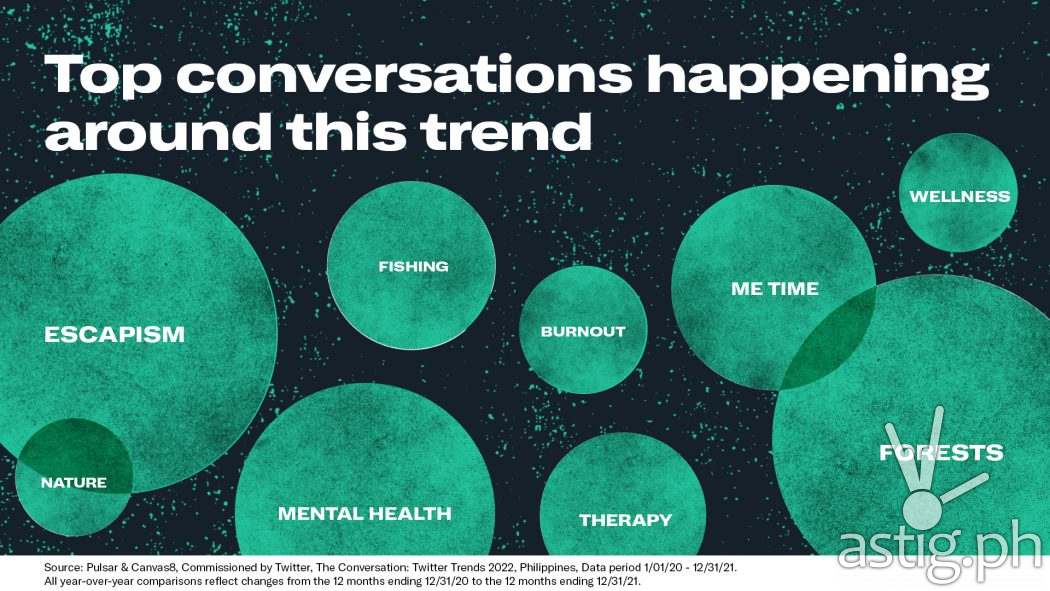 The Force of Fandoms: Fandoms spreading their wings beyond stanning
Filipino fandoms are second to none. Their passion and dedication are next-level and they're realising that they have the power in numbers to create and drive positive change. It's no longer 'just' about stanning, but about making the world a better place.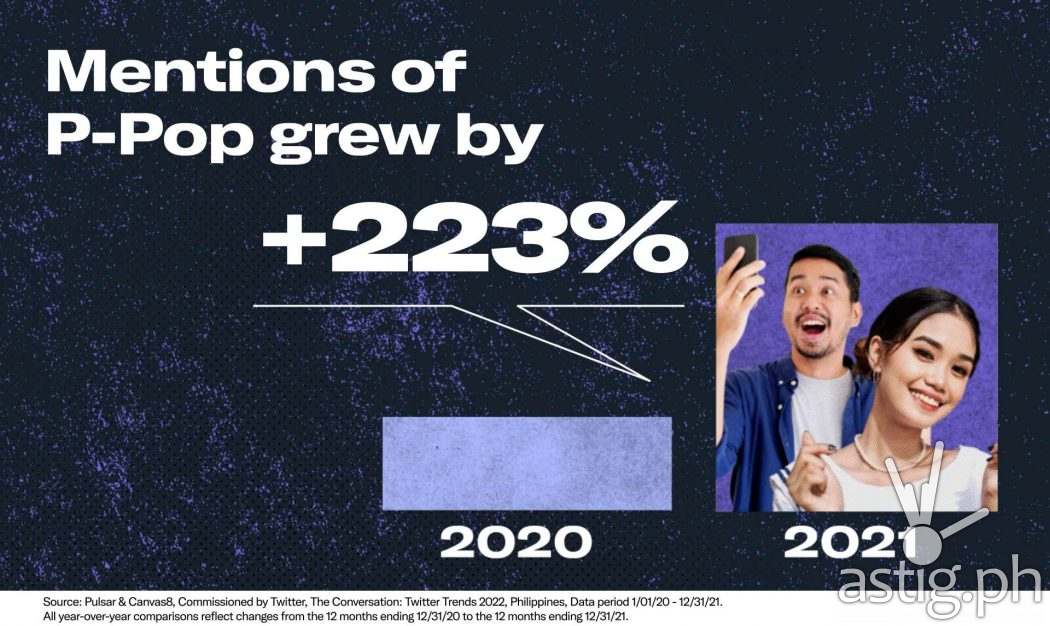 Variety and diversity are key here. With new fandoms appearing daily and conversations branching out across a multitude of topics, Filipino fandoms are taking over the world of entertainment. Local P-Pop groups have captured the hearts of Filipinos across the nation with a 223% increase in mentions of "P-Pop" and 40% around content streaming year-on-year. The vibrant space enables fandoms to flourish and thrive alongside one another, often attracting new audiences to Twitter. Conversations around new P-Pop groups are also growing year-on-year: Gigi Vibes (+4,706%), KAIA (+2,127%), and YARA (+508%).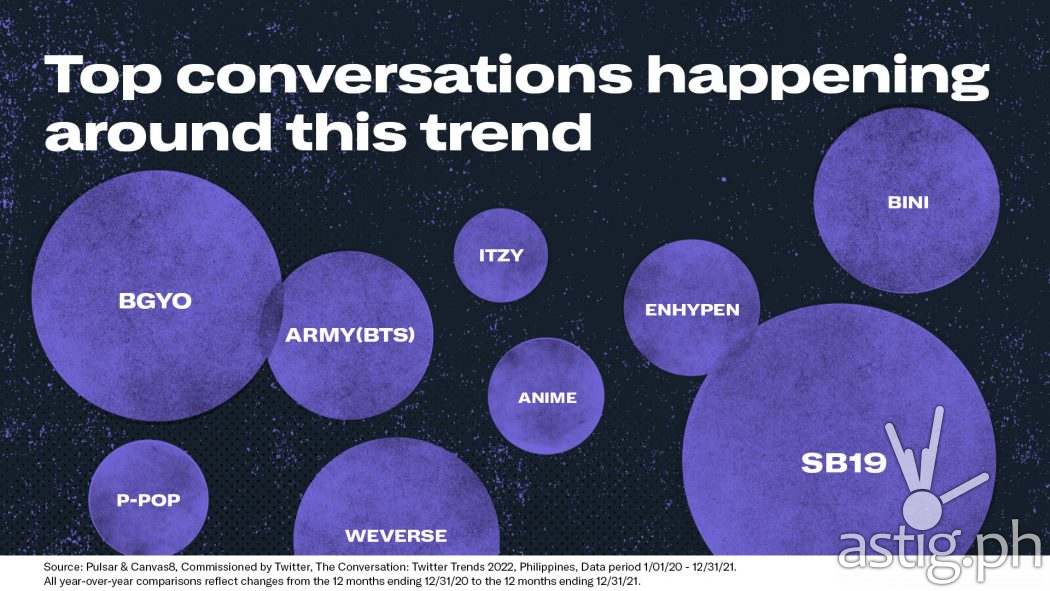 Fandoms are constantly evolving, and Filipinos are borrowing elements from one fandom and applying it to another. The Bayanihan culture takes its next level, where fandoms are not only bonding over passion for their idols, but promoting social good, too. #ATINProjectPagsibol, for example, was a movement driven by SB19's fandom in support of women in farming communities.
Finance Goes Social: Investing has entered the chat
As the Philippines is switching up its relationship with money and finances, chats around digital wallets and investment are also on the rise. Filipinos are exploring and sharing new ways to make money, spend it, and talk about it too. This results in the growth of conversations around finance in the Philippines by 201% year-on-year.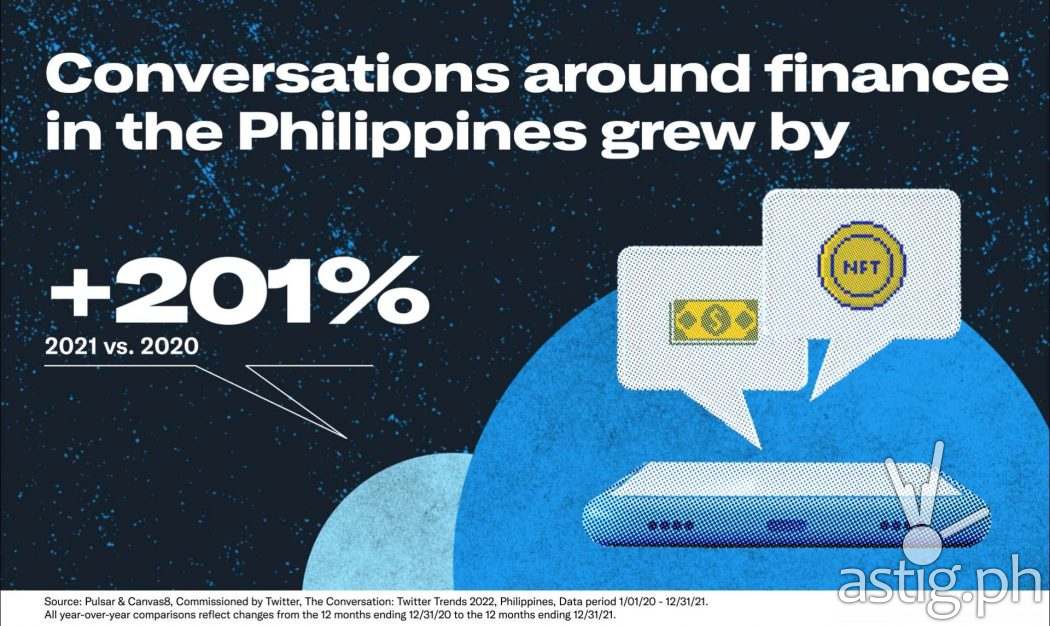 With information on stocks, personal finance, trades, and crypto constantly racing; Filipinos stay up to date and react to what's happening on Twitter. Some of the popular finance-related topics in the Philippines show triple digit year-on-year conversation growth: Crypto (+466%), ETH (+288%), and $SOL (+170%).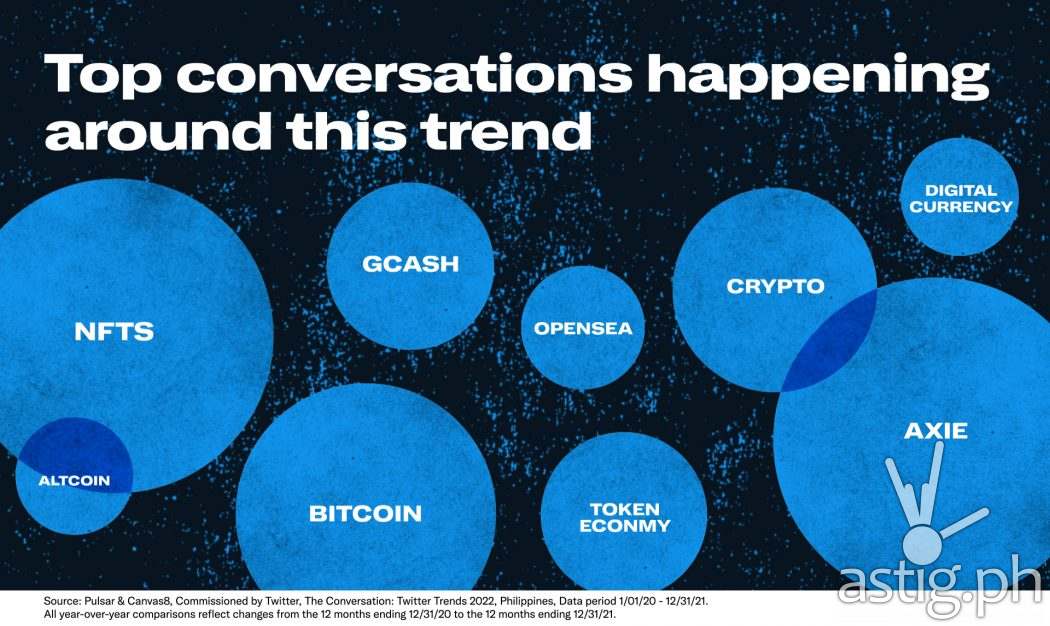 Creativity is brewing too. With 7,290% year-on-year growth, NFTs are making their mark on the art and gaming worlds as Filipino enthusiasts take the conversation to Twitter to bring about unidimensional finance-related dialogues with a splash of fun and creativity. Play-to-earn games, such as Axie Infinity (+54,282%), have transitioned from pure investment into entertainment conversation while Filipino gamers are connecting with other players around the world.
Lastly, while traditional banks are now pushing to digitise Filipinos' lives, digital-wallet players like GCash (+287%) had a first-mover advantage on spending habits, streamlining access, and simplifying transactions.
On Twitter, where connections and conversations unfold, these trends are actually what Filipinos are talking about that shape their cultures and depict what's coming tomorrow.
Check out marketing.twitter.com/trends-ph to read more about the findings on the conversation insights on Twitter in the Philippines.