In the recent live chat of 2015 Miss Universe 2015 Pia Alonzo Wurtzbach, netizens actively and delightfully took the chance to ask the reigning queen using the hashtag #askmissuniverse.
She was asked by a Twitter user to pick three things from a list which include: love, family, pizza, traveling, Miss Universe crown, Atom Araullo, money, enough sleep, and happiness.
The beauty queen said: "Traveling as Miss Universe while being interviewed by Atom. (Boom!) haha
Wurtzbach also answered a question touching on her love life.
Twitter user Catherine Cabungcal asked: "If you can change a thing in this world, the universe rather, what would it be and why?"
The Filipina beauty icon said: "Na sana hindi na ako #TeamSawi (That I wouldn't be in #TeamSawi)."
She first revealed that she was a member of the "lonely hearts club" during her homecoming press conference.
Almost three weeks since their first interview got netizens gushing, Miss Universe Pia Wurtzbach and Kapamilya reporter Atom Araullo finally had the chance to meet face-to-face.
The newest tandem, fondly called by netizens as "PiAtom" met during Pia's visit to her home network on Wednesday. During this time, the reigning Miss Universe were interviewed by the Kapamilya news media.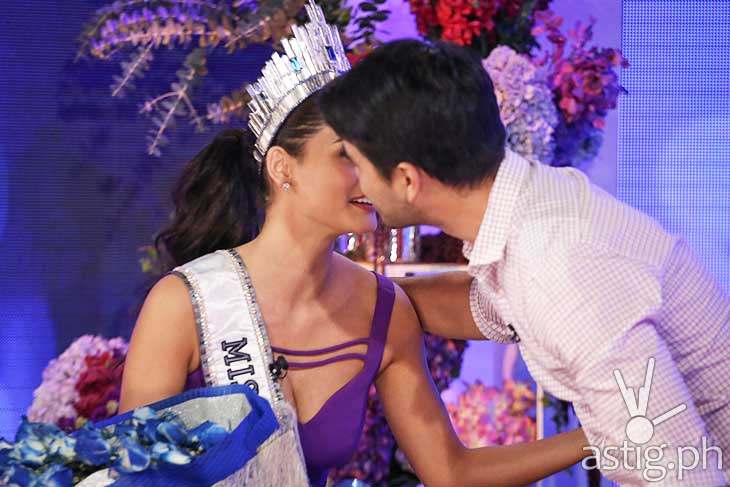 Atom, for his part, got the chance to interview the 26-year-old titleholder as the representative of the morning show Umagang Kay Ganda.
The interview ended with Pia asking him: "'Yun lang ba ang itatanong mo Atom?"
To which he replied with: "Oo 'yun na lang. Mamaya na 'yung iba dahil wala ng oras. Tumatakbo ang metro."
Before leaving the set, the hunky reporter gave the third Filipina Miss Universe a bouquet of blue roses and a peck on the cheek.
The incidental tandem started when Wurtzbach had a live video interview on a morning show where Anthony Taberna, one of the hosts, teased Araullo when the topic was diverted to the "no boyfriend" status of this year's Miss Universe.
On Monday, Araullo met Wurtzbach's mother, Cheryl Alonzo Tyndall, on the same show. Tyndall humorously asked Araullo if he could cook her daughter's favorite dish.
Meanwhile, here are the reactions of the netizens in PiAtom interview.
Do you believe that PiAtom is for real? Comment your thoughts.