The second leg of PiliPinas Debates 2016 was delayed by an hour and half on Sunday, March 20 due to a disagreement on the rules among presidential candidate's camp.
According to the reports of Inquirer, Vice President Jejomar Binay was insisting on bringing his notes. The source said Binay claimed one of the program heads of TV5 told him "weeks ago" he could carry notes during the debate.
The debate at the University of the Philippines Visayas in Cebu was scheduled for 5 p.m. but has been delayed for more than an hour already.
But the other candidates—Mar Roxas of the Liberal Party, Sen. Grace Poe and Davao City Mayor Rodrigo Duterte—protested because it was against the rules, according to two sources who asked not to be named.
Binay claimed that he has the assurance from TV5 veteran journalist Luchi Cruz Valdez that he could bring his notes. Binay's camp, also accused Roxas of causing the delay.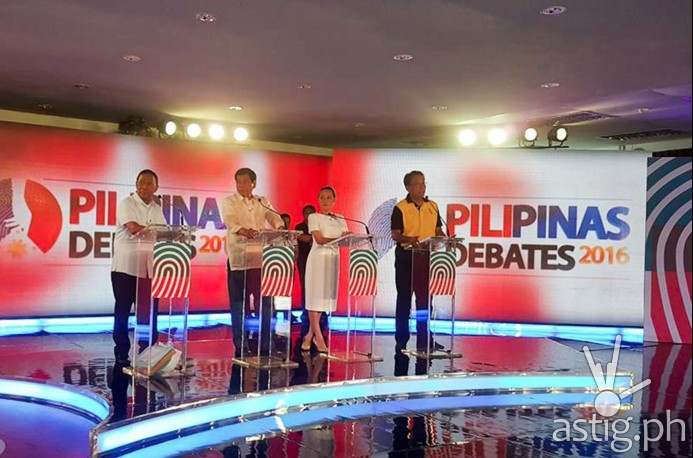 In a statement on Sunday, the United Nationalist Alliance communications director Joey Salgado said Roxas took an issue over the documents Binay wanted to bring during the debates.
Salgado clarified that Binay wanted to bring in documents, not notes.
Salgado said Binay was allowed to bring documents during the meetings with the Commission on Elections (Comelec) attended by Roxas' representative Akbayan congressman Barry Gutierrez.
"We got information that Roxas wanted to change agreements made in several meetings attended by his representative, Barry Gutierrez," Salgado said.
"Mr. Gutierrez was seen by those in the venue approaching Comelec chair Andy Bautista and then talking to both Comelec chair and Patrick Paez (head of the TV5 News production)," Salgado said.
"What I know is that based on the agreements, candidates are allowed to bring documents with them…Roxas wants to change the agreement at the last minute," Salgado said.
Tv5 meanwhile released an official statement regarding the cause of delay.
"On behalf of the management of TV5, the President, Mr. Noel Lorenzana and the head of News, Ms. Luchi Cruz-Valdes, would like to apologize for the inordinate delay in the 2nd Presidential debate that was brought about solely by the confusion on the rules implemented by the COMELEC on the Debate.
In the end, the Management of TV5, the COMELEC and the presidential candidates, have agreed that despite the technical and procedural issues, it is more important to allow the debate to proceed and not deprive the public of their right to witness this historical, exciting and Aksyon-filled event."
Luchi-Cruz Valdez, debate's modearator, meanwhile owned up the miscommunication.
Source: Inquirer