PHILIPPINES – Taiwanese modder "AK" wowed visitors at the opening of the Taipei Game Show 2019 with his Fallout 76 "Pip-Boy" custom PC complete with leather, aluminum and 3D-printed acrylics.
The scratch build is AK's take on the Pip-Boy 2000 Mark VI, with ZADAK hardware taking the place of the screen. Just like the real thing, it features twistable knobs, leather detailing, exposed wiring and vacuum tubing.
"I feel honored to be invited by NVIDIA Taiwan and ZADAK to attempt this kind of custom modding project, especially as NVIDIA and ZADAK are two of my favorite brands," commented AK.
"I chose the Fallout 76 theme as Pip-Boy is instantly recognizable to gamers and the MOAB II PC case fits the Mark VI concept perfectly."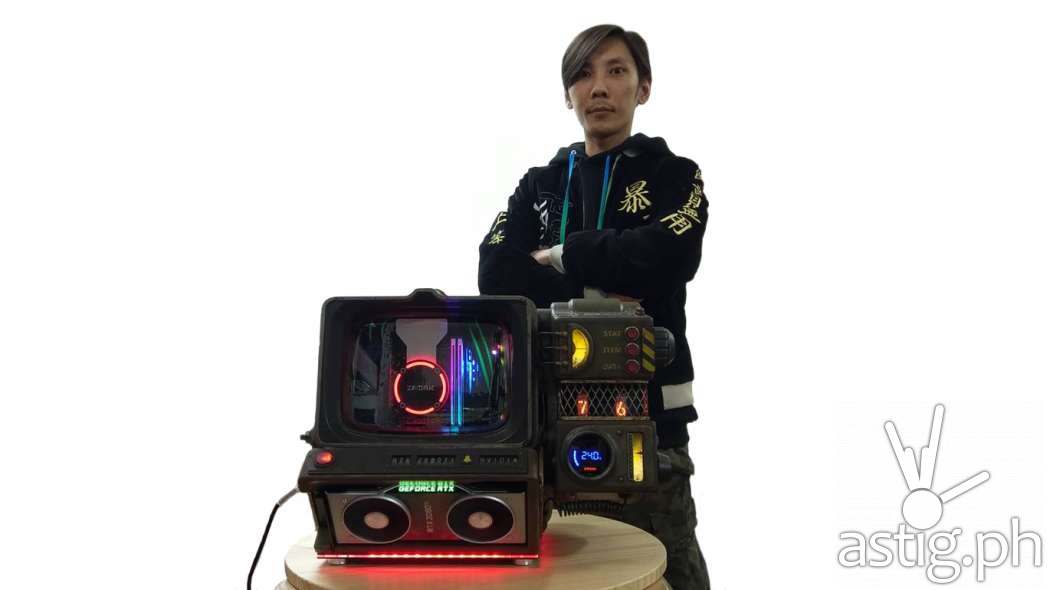 Dubbed the Mother of All Bombs, the ZADAK MOAB II water-cooled PC cleverly removes the need for pesky hardline tubing by using an inner aluminum structure and water distribution plate to rapidly circulate the coolant, effectively acting as a giant heatsink. Gone are the days of cracked, leaking tubes and fiddly tube-bending with the MOAB II.
A built-in, real-time display allows users to keep close tabs on water temperature and voltages – a must when you're dealing with high-performance hardware like the NVIDIA GeForce RTX 2080 Ti and Intel Core i7 9900k CPU.
Smooth operation is ensured by a specially developed 240mm radiator and the innovative MOAB M.2 RGB heat spreader which combines two types of aluminum finishes to provide fantastic heat dissipation. Combined with the ZADAK SHIELD RGB DDR4 3200MHz 16GB memory modules, this unique build offers blistering performance on hardcore games such as Fallout 76.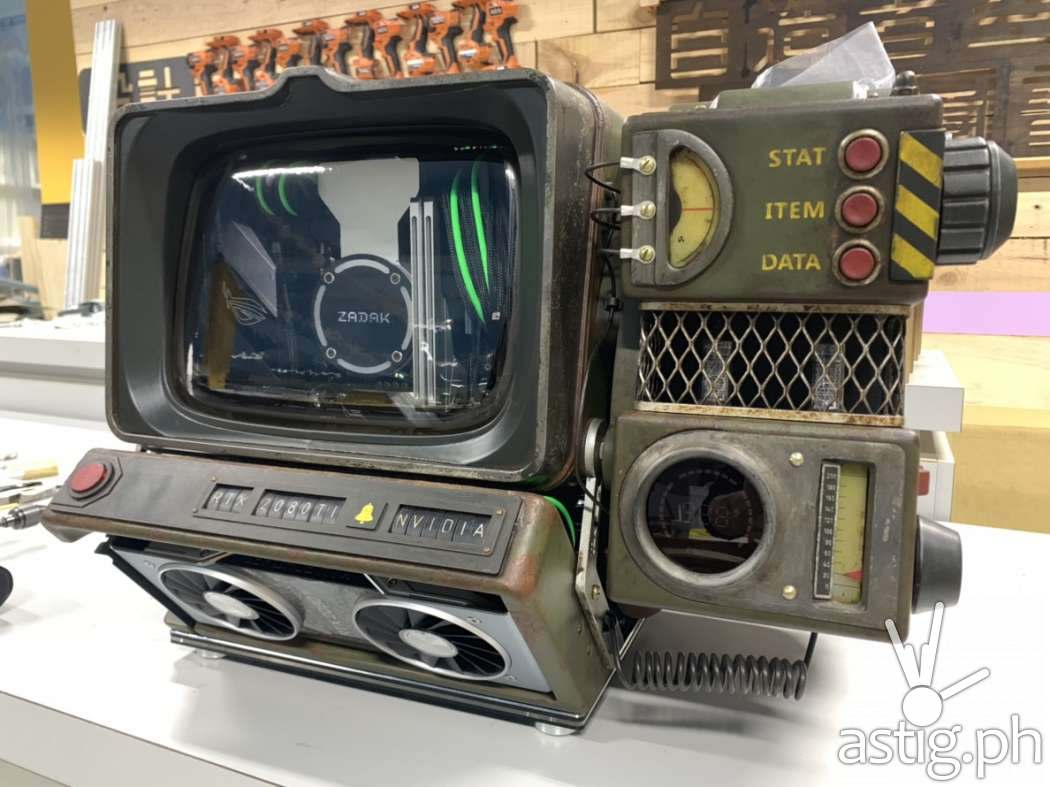 Although the compact design of the MOAB II lends itself perfectly to AK's mission, modding the case was a painstaking and time-intensive process that presented him with several new challenges.
"It was my first time using 3D printing to make key elements of the Pip-Boy mod. Each of the 20 3D components took between 15 to 23 hours to print, plus the long time it takes to smooth out the prints using epoxy resin. Polishing required an additional two weeks, the painting took several layers, then finishing off with an oxidized metal finish to create a special ageing effect. I had to be incredibly patient. I also created the accessories with iron netting, leather and vacuumed lightbulbs, which I custom-made, which took a further week or so. Taking into account UV printing and acrylic laser cutting, the project took me around 6 weeks to accomplish in total."
AK's efforts certainly paid off and his scratch build was warmly received by both NVIDIA Taiwan and ZADAK. "We are very thrilled that we invited AK and ZADAK to join the scratch build project for TGS 2019," commented Stanley Chen, NVIDIA Senior Sales Manager (Taiwan). "We spare no efforts to make PC modding more popular here in Taiwan so that we can all join this kind of modding feast."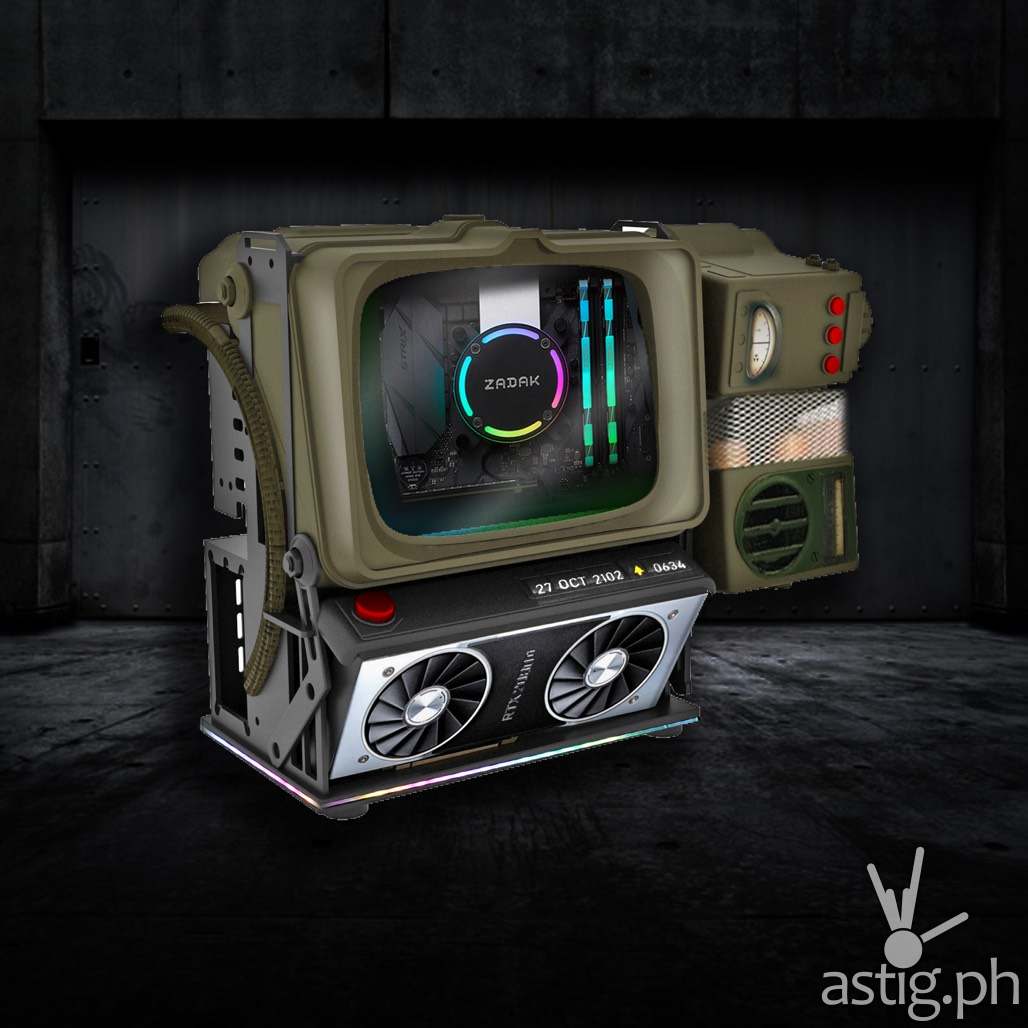 Erin Chou, Marketing Manager at ZADAK added, "We are honored to be invited by NVIDIA Taiwan to participate at the Taipei Game Show. It is a privilege to work with this leading brand, and talented local modder AK. As a high-end water cooling PC brand, here at ZADAK we pride ourselves on to making products modding, PC enthusiasts can enjoy. We really feel that AK has encapsulated the spirit of our brand with this fantastically on-the-mark scratch build."
Taipei Game Show 2019 marks the first collaboration between ZADAK and NVIDIA Taiwan.
ZADAK MOAB II specs
Dimensions: (W)31cm*(H)36.5cm*(D)19.3cm (unmodded)
GPU: NVIDIA GeForce RTX 2080 Ti
CPU: Intel i7 9900K
Motherboard: ASUS ROG STRIX-G Gaming WiFi mATX
Memory: ZADAK SHIELD RGB DDR4 3200MHz 16GB(8GB*2)
Storage: Samsung PM981 512GB
Power supply: SFX 500W Gold
Water cooling: ZADAK Custom Water Cooling System