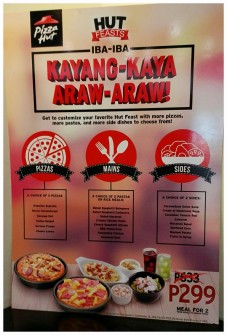 Iba-Iba , Kayang- kaya,  Araw- araw- this is what the new Hut Feasts offering of the country's well-loved pizza chain, Pizza Hut. It features the widest variety of food options and meal combinations, customers now have real freedom to choose and create their very own Hut Feasts everyday.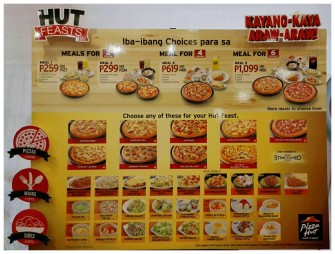 Last July 1, Pizza hut held a Hut Feast Press Conference at their branch in Kia Theatre. Invited guests were the first to experience more choices with Pizza Hut's new Hut Feast offering. For each Hut Feast combo, customers can choose from nine (9) main dish options, and up to fifteen (15) side dish options. For groups of four or bigger, diners have a choice between Pan and Hand-Stretched pizzas, with nine (9) flavors available. With each combinations, diners can enjoy a savory, satisfying meal that comes with huge savings of up to P1, 132 depending on the meal they choose.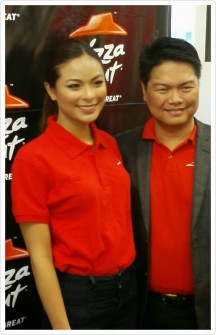 According to Pizza Hut Philippines Marketing Officer-in-Charge Raymund Nobleza, the new Hut Feasts offerings are all about giving diners more freedom, variety, and savings. The new offerings give the consumers more reasons to enjoy Hut Feasts – they can have fun creating their own meal everyday and it can be a different combination each time.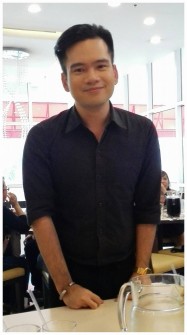 "Along with the new pizza flavors included in the Hut Feast promo, bigger portions are now available to fit our customers' appetites," shares Pizza Hut Digital Media and Public Relations Manager, Jun Bernabe. "This makes each Hut Feast meal even more satisfying and delivers better value for money."
Getting to choose your delicious and satisfying Pizza Hut favorites at a very affordable price is finally possible. Say "Yes to freedom!" in creating your own Hut Feast, starting July 7.
Like www.facebook.com/pizzahutphilippines or log on to www.pizzahut.com.ph for more details.