Another innovation has surfaced under the belt of broadband and digital services leader PLDT HOME, and that is the new TVolution Stick in collaboration with multinational technology company Intel.
Taking off from the country's first over-the-top (OTT) device TVolution—a small device which turns an ordinary TV into an Internet TV, the TVolution Stick takes it a step further by transforming any HDMI-ready TV or monitor into a fully operational computer. No bigger than a dongle, the TVolution Stick is based on the Intel Compute Stick and runs on Windows OS 8.1, letting users stream movies and videos, search the web, send and receive emails and do other activities that are normally done on a PC. Once again, PLDT HOME introduces another first to the OTT devices category in the country.
Offering integrated Wi-Fi and Bluetooth technologies, the TVolution Stick sports a powerful quad-core Intel® Atom™ processor and Intel® HD Graphics to ensure smooth performance and vivid picture quality. Its pocket-sized body, designed to be portable and space-efficient, carries 32 GB storage, 2 GB memory, a USB 2.0 port and a Micro SD card slot. Users simply need to plug the TVolution Stick into the TV's HDMI port to activate the computer on screen, and can easily charge it via DC wall charger or powerbank.
On a limited run only until November 30, new subscribers of DSL Plans 999 and up and all PLDT HOME Fibr plans who apply online (pldthome.com) will get this nifty gadget for free, along with popular content from Fox, iflix and Spinnr.
"We're very happy to introduce the most advanced TVolution, in collaboration with Intel. Apart from providing our consumers entertainment, it gives them a full suite of PC functionality on their TV screens backed by PLDT HOME's most trusted broadband services," PLDT VP and HOME Marketing Head Gary Dujali said.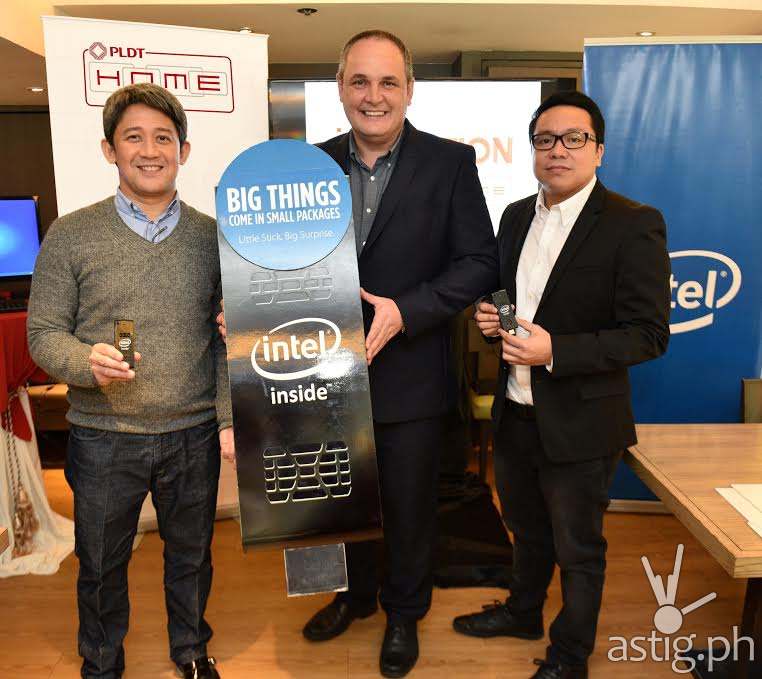 Intel Philippines Country Manager Calum Chisholm added, "The TVolution Stick collaboration between Intel and PLDT provides a complete computing experience compared to other ordinary streaming sticks. When paired with the strong and reliable broadband connection of PLDT, the TVolution Stick by Intel will serve to augment the home entertainment experience offered by PLDT by also bringing full PC capabilities to the home, so Filipinos can both consume and create thus connecting to their potential with technology."
This groundbreaking collaboration with Intel comes at the heels of the breakthrough partnerships with global entertainment company and Asia Pacific's leading broadcaster Fox International Channels and Southeast Asia's leading Internet TV service iflix. Apart from these, PLDT HOME partnered with various digital lifestyle applications to complement the needs of its consumers.
PLDT HOME commands a market share of over 70 percent in the first half of the year. Its robust fixed and wireless networks are supported by the country's most expansive fiber optic network, spanning more than 100,000 kilometers.
"PLDT HOME's partnership with Intel in introducing the new TVolution Stick lets Filipino families integrate Fox, iflix, and other digital applications in one small but powerful device enabling a richer and more convenient digital lifestyle as we forge the strongest connections at home," Dujali concluded.
For more information on the most advanced TVolution Stick, visit pldthome.com.