At the height of the Papal Visit of Pope Francis in the Philippines, Marlene Aguilar, multi-awarded author, has created a series of posts that earned the ire of Filipino Catholics.
Describing Pope Francis as "evil" and "commander of Satan", the self-proclaimed "She Dragon" made a number of posts on her Facebook wall, challenging the Catholic leadership, amid numerous scandals that rocked the institution over the years.
Below are unedited copies of some of her most interesting posts: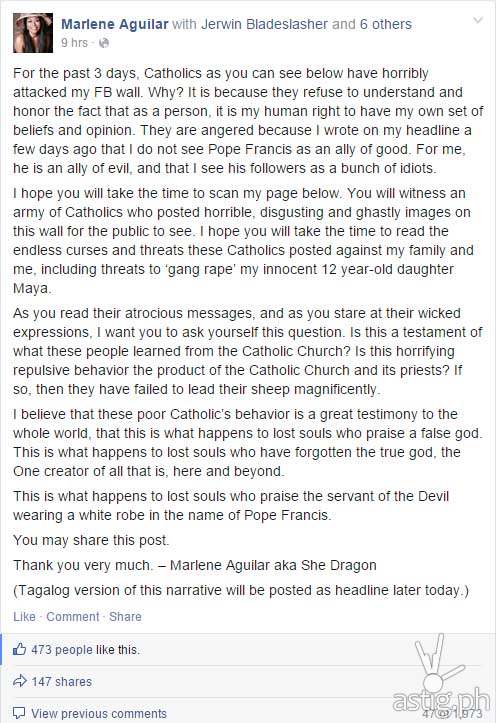 01/19/15 7:14 AM
For the past 3 days, Catholics as you can see below have horribly attacked my FB wall. Why? It is because they refuse to understand and honor the fact that as a person, it is my human right to have my own set of beliefs and opinion. They are angered because I wrote on my headline a few days ago that I do not see Pope Francis as an ally of good. For me, he is an ally of evil, and that I see his followers as a bunch of idiots.
I hope you will take the time to scan my page below. You will witness an army of Catholics who posted horrible, disgusting and ghastly images on this wall for the public to see. I hope you will take the time to read the endless curses and threats these Catholics posted against my family and me, including threats to 'gang rape' my innocent 12 year-old daughter Maya.
As you read their atrocious messages, and as you stare at their wicked expressions, I want you to ask yourself this question. Is this a testament of what these people learned from the Catholic Church? Is this horrifying repulsive behavior the product of the Catholic Church and its priests? If so, then they have failed to lead their sheep magnificently.
I believe that these poor Catholic's behavior is a great testimony to the whole world, that this is what happens to lost souls who praise a false god. This is what happens to lost souls who have forgotten the true god, the One creator of all that is, here and beyond.
This is what happens to lost souls who praise the servant of the Devil wearing a white robe in the name of Pope Francis.
You may share this post.
Thank you very much. – Marlene Aguilar aka She Dragon
(Tagalog version of this narrative will be posted as headline later today.)
01/18/15 11:24 PM
Hating Idiots – Believe me, you cannot touch the freedom of my mind. This posts are still in public view.
My god, can't you see I have provoked you to do this to me so the world sees what the church has done to you? You persecute me, because I let you. I can un-publish this wall anytime if I wish.
You are here only because I allow you. – She Dragon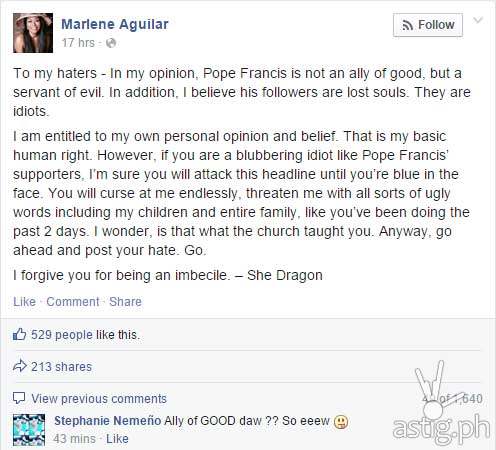 01/18/15 10:38 PM
To my haters – In my opinion, Pope Francis is not an ally of good, but a servant of evil. In addition, I believe his followers are lost souls. They are idiots.
I am entitled to my own personal opinion and belief. That is my basic human right. However, if you are a blubbering idiot like Pope Francis' supporters, I'm sure you will attack this headline until you're blue in the face. You will curse at me endlessly, threaten me with all sorts of ugly words including my children and entire family, like you've been doing the past 2 days. I wonder, is that what the church taught you. Anyway, go ahead and post your hate. Go.
I forgive you for being an imbecile. – She Dragon
01/18/15 2:54 PM
Di ninyo ako matitinag kahit ano pang ipost ninyo laban sa akin sa Internet. Wars are won by mind and spirit. Most people will never fathom the power of my mind. And my blind haters only rallied more supporters to stand by me by constantly attacking me.- She Dragon
01/18/15 2:31 PM
To my haters – People stop wasting your time here. Google POPE FRANCIS SCANDALS. SEE THE TRUTH. GO! – She Dragon
01/18/15 9:17 AM
Madam? Totoo po ba? Kasama nga ba ako sa mga mangmang na sumamba sa isang pinakamataas na myembro ng relihiyong catholico? Nangangamba akong baka totoo ang mga sinasabi mo tungkol kay 'Pope Francis' … o baka magkasala ako dahil sa pagdududa ko sa kanya..
kahit ano pa man, salamat dahil kung totoo man ang mga sinasabi mo, ay ikaw n naman ang naging daan para sa katotohanan . Tulad ng pagmulat mo sa amin sa mga tiwali at buwaya ng ating gobyerno. Susubukan kong hanapin ang sariling kasagutan sa mga tanong ko… Hindi mawawala ang respetong ibinigay ko sayo madam dahil yon sa katapangan mo at natatangi mong ugali.. salamat! – L.M.via pm
Me – Mag research ka kasi para malaman mo ang katotohanan. Ang dami kong awards pati UN may award ako. Bakit ako magsasabi ng di totoo. Grabe ang research ko kay Pope Francis at Vatican Church. Baka sumuka ka ng dugo pag nalaman mo ang totoo. Some of these things are in the news. Please listen to your inner voice. That is your soul guiding you to the light.
Thousands and thousands of children have been raped by Catholic priests and their crimes go on and on. You don't need the church to believe in god. He lives in your heart. Believe in yourself, and you will understand that god is always with you. You don't have to follow a poser like Pope Francis.
L.M. – Yes maam marlene, tagahanga nyo po ako kaya nga ng nabasa ko yung sinasabi nyo pati ako naguluhan na.. tiwala po ako sa inyo maam. Kung tutuusin mas kilala ko kayo kesa kay Pope Francis. Salamat ulit ng marami Ms. She Dragon
Me – If you follow a man wearing a white robe, you might go wrong because we are all sinners. Follow the dictates of your heart and soul, you cannot go wrong there. Because at the very center of your soul is all that is divine. God is there waiting to be found.
01/18/15 8:37 AM
Hindi ko kailangang patawarin ako ng Diyos. KAYO ANG HUMINGI NG TAWAD SA DIYOS NINYO! Nung dumating yan Francis na yan sa Pilipinas, mas sinamba niyo pa siya at binigyan ng importansiya kesa kay Hesus na diyos ninyo, mga ignoranteng bobo! – She Dragon
01/18/15 8:23 AM
Diyos ang sinasamba, hindi demonyong naka abito. Di ba kayo natatakot sa Diyos ninyo at taong may kason child rape ang sinasamba niyo? Tapos magagalit kayo sa akin na tinatawag ko kayong mangmang at bobo. – She Dragon
Marlene even went so far as to challenge Pope Francis and his supporters to an MMA sparring UFC Style at Elorde gym.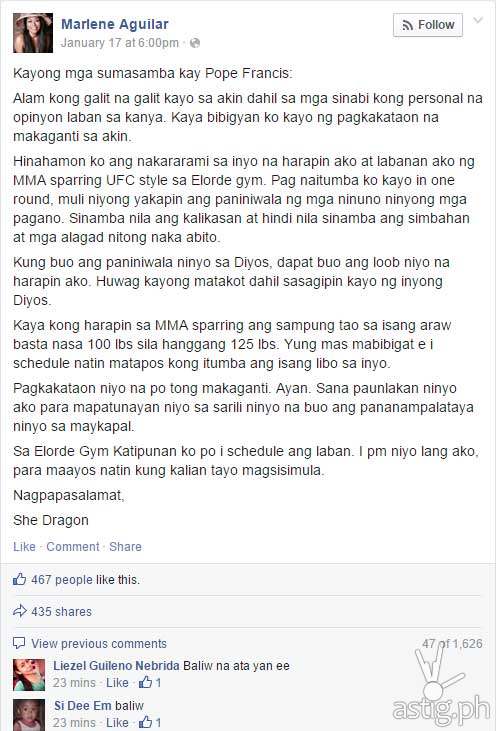 01/17/15 6:00 PM
Kayong mga sumasamba kay Pope Francis:
Alam kong galit na galit kayo sa akin dahil sa mga sinabi kong personal na opinyon laban sa kanya. Kaya bibigyan ko kayo ng pagkakataon na makaganti sa akin.
Hinahamon ko ang nakararami sa inyo na harapin ako at labanan ako ng MMA sparring UFC style sa Elorde gym. Pag naitumba ko kayo in one round, muli niyong yakapin ang paniniwala ng mga ninuno ninyong mga pagano. Sinamba nila ang kalikasan at hindi nila sinamba ang simbahan at mga alagad nitong naka abito.
Kung buo ang paniniwala ninyo sa Diyos, dapat buo ang loob niyo na harapin ako. Huwag kayong matakot dahil sasagipin kayo ng inyong Diyos.
Kaya kong harapin sa MMA sparring ang sampung tao sa isang araw basta nasa 100 lbs sila hanggang 125 lbs. Yung mas mabibigat e i schedule natin matapos kong itumba ang isang libo sa inyo.
Pagkakataon niyo na po tong makaganti. Ayan. Sana paunlakan ninyo ako para mapatunayan niyo sa sarili ninyo na buo ang pananampalataya ninyo sa maykapal.
Sa Elorde Gym Katipunan ko po i schedule ang laban. I pm niyo lang ako, para maayos natin kung kalian tayo magsisimula.
Nagpapasalamat,
She Dragon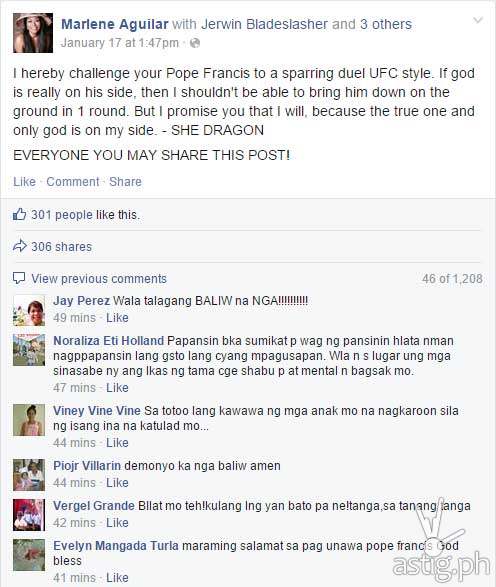 01/17/15 1:47 PM
I hereby challenge your Pope Francis to a sparring duel UFC style. If god is really on his side, then I shouldn't be able to bring him down on the ground in 1 round. But I promise you that I will, because the true one and only god is on my side. – SHE DRAGON
01/17/15 9:46 AM
I despise the Catholic church because I have counselled so many victims of priests, especially men who were sexually abused and molested when they were young boys. God lives in our hearts. WE do not need the church or the pope to believe in the one creator of all that is.
If you don't like my beliefs, then leave this wall. Thank you. – She Dragon
She then attacked her attackers, defending herself saying they cannot change her beliefs. She again reiterates that they cannot change her opinion if she thinks Pope Francis is evil and an ally of Satan.
01/17/15 7:34 AM
Kung ang tingin mo sa akin ay baliw, wala akong magagawa. Opinyon mo yan at hindi ko mababago yan. Basta henyo ang tingin ko sa sarili ko. Kung ang tingin mo sa akin ay demonyo, wala akong magagawa. Yan ang paniniwala mo at hindi ko mababago yan. Karapatan mo bilang isang tao na magkaroon ng sariling opinyon at paniniwala.
Samakatuwid, kung ang tingin ko kay Pope Francis ay kampon ni Satanas, kung ang tingin ko sa mga sumasampalataya sa kanya ay mga ignoranteng mangmang, wala kang magagawa. At iyan ang opinyon at paniniwala ko!
Baka naman takot lang kayo na baka tama ang sinasabi ko, kaya kayo lusob ng lusob dito.
Ang pahinang ito ay para sa mga sumusuporta sa akin. Bawal dito ang mga mangmang na jologs. Salamat! – She Dragon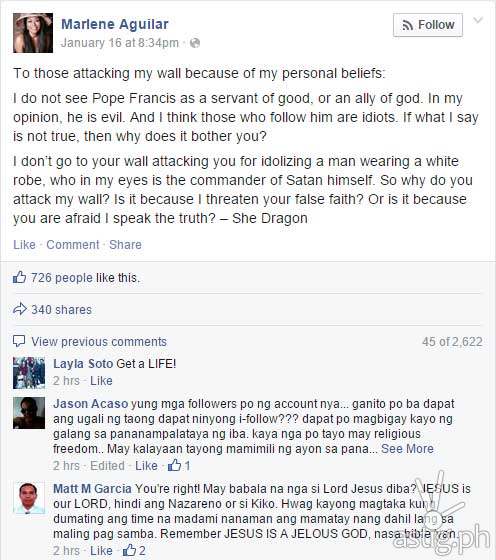 01/16/15 8:34 PM
To those attacking my wall because of my personal beliefs:
I do not see Pope Francis as a servant of good, or an ally of god. In my opinion, he is evil. And I think those who follow him are idiots. If what I say is not true, then why does it bother you?
I don't go to your wall attacking you for idolizing a man wearing a white robe, who in my eyes is the commander of Satan himself. So why do you attack my wall? Is it because I threaten your false faith? Or is it because you are afraid I speak the truth? – She Dragon
01/16/15 7:46 PM
When people call me all sorts of bad names, I don't get insulted. Why? Because I know people's judgement against me is not true. So why does it offend you that I do not like your Pope? In my opinion, he serves evil and darkness. And there is nothing you can do to change how I feel. – She Dragon
01/16/15 7:16 PM
I believe in god, but I don't believe in religion. For thousands of years, religion has failed to create peace in this world. In my opinion, religion has failed all mankind. – She Dragon
She also posted a number of articles from the Internet, including a video where Pope Francis is apparently being charged with child rape, torture, murder of children, treason, and geonicide.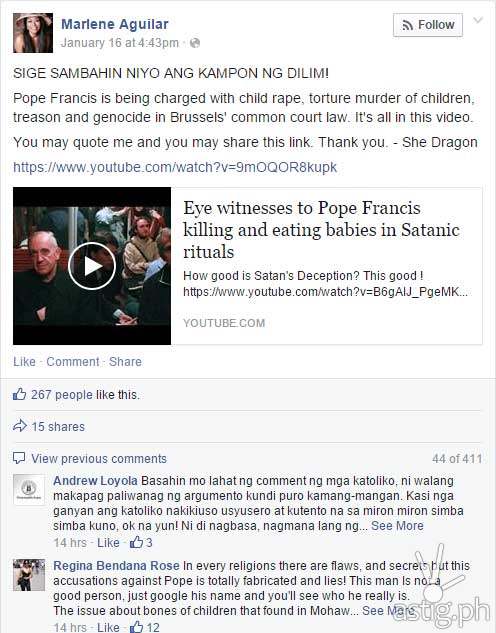 01/16/15 4:43 PM
SIGE SAMBAHIN NIYO ANG KAMPON NG DILIM!
Pope Francis is being charged with child rape, torture murder of children, treason and genocide in Brussels' common court law. It's all in this video.
You may quote me and you may share this link. Thank you. – She Dragon
https://www.youtube.com/watch?v=9mOQOR8kupk
She also calls her haters bobo (stupid), and posted a history lesson where Spain spread Christianity all over the world, including the Philippines, through rape and murder.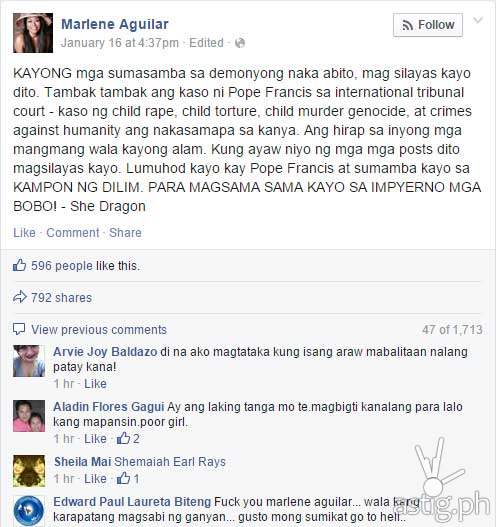 01/16/15 4:37 PM
KAYONG mga sumasamba sa demonyong naka abito, mag silayas kayo dito. Tambak tambak ang kaso ni Pope Francis sa international tribunal court – kaso ng child rape, child torture, child murder genocide, at crimes against humanity ang nakasamapa sa kanya. Ang hirap sa inyong mga mangmang wala kayong alam. Kung ayaw niyo ng mga mga posts dito magsilayas kayo. Lumuhod kayo kay Pope Francis at sumamba kayo sa KAMPON NG DILIM. PARA MAGSAMA SAMA KAYO SA IMPYERNO MGA BOBO! – She Dragon
01/16/15 8:20 AM
Me – Filipinos were pagan before the Spaniards came. They honored the moon and the stars from the purity of their hearts. Then the looting, raping and murdering Spaniards threatened the Filipinos, our ancestors TO CONVERT TO CHRISTIANITY OR DIE. Still Filipinos today don't see it. They are so blinded to the fact that Spain spread Christianity all over the world through rape and murder.
Art C. Inglis – Correct! Same way with Mexico, Guatemala and other Latino Countries….anything Spain touched during that period. Main reason I have no plans to visit Spain, halos mga kakilala kong mg Pinoy have been to Spain…for what? To pay tribute to the country that tortured and killed you ancestors? Ano kayo mga hilo?
Me – Spain looted, raped and murdered innocent people by the millions in the name of Jesus Christ. Still, people embrace this fate. That is how utterly brainless and ignorant people are.
Our pagan forefathers honored nature to honor god. They praised god from the purity of their hearts, not by believing in some false prophet whose image has been besieged by deceit, treachery, plunder, rape and genocide.
01/16/15 7:57 AM
For security reasons to protect Pope Francis who is facing a number of criminal charges agains him in Europe including child torture and rap, cell phones are down in the Philippines at certain times.
The Pope and his cronies are so afraid of the Islamic terrorists attacking the servant of darkness wearing a white robe. I say, let there be justice. I hope the goddess of Karma attacks the child rapist. – She Dragon
01/15/15 1:05 PM
Madame totoo kayo sa mga kuwento about sa mga madre at pari. Base sa experience ko akala ng mga tao kapag may madre at pari sa isang pamilya ay role model na o di kaya ay pamilya banal. Minsan gusto magwala at sumigaw sa mga taong puring puri ang aming pamilya. Hindi na po ako mahihiyang sabihin ko ito sa inyo matagal akong nanahimik nagtimpi at nasasaktan. Kontrolado nila buhay mo sila masusunod laging sila ang tama bawal magpaliwanag.
Alam kung hindi nila ako kaya dahil iba prinsipyo ko. Until nagdisisyon ako na bumukod at lumayo sa kanila. Masarap maging malaya yun hindi ka hawak sa leeg. Tama po kayo ang "pain" na naranasan at naramdaman natin ang naging experience satin ay syang magpapatatag sa ating sarili. Gusto ko lang maging totoo ayokong maging huwad dahil sa iniisip ng mga tao.
Madame sabi nila napakabless ng pamilya ko dahil may ate akong madre at may Kuya akong pari. Pero hindi nila alam ang tunay na ugali nila kung hindi sila kaharap. Pero Hindi nila alam ako na may kapatid na pari ay sya mismo ang tumutok sakin ng baril dahil so rang tigas at pasaway daw ako way back 2004 po iyon at ikinulong sa kombento ng kalahating taon. Ang ate ko na napakabute sa ibang tao pero kung makapagsalita sakin ay sobrang sakit at kulang nlang ay ipamukha sakin ang salitang utang na loob. Pero naroon pa rin ang respeto ko dahil ni minsan Hindi ko sila sinagot bagkos ako ay nagdisisyon akong bumukod at maging Malaya kesa sa isang marangyang buhay na hawak naman nila ako sa Leeg. Hindi po ako nahihiyang ibahagi ito sa inyo at Hindi ko sinisiraan ang pamilya ko. Gusto ko lang ibahagi dahil hindi po perpekto ang pamilya ko na sa pagkakaalam ng ilan.
Maraming salamat po madame. Ngayon nakahinga ako ng maluwag. – B.M. via pm
Sagot ko – Claim your freedom because that is the only way to live. LIfe without freedom is a death sentence. In my opinion, these siblings of yours are slaves of darkness. Their religion taught them to be judgemental. And judgement is the enemy of growth and transformation. Escape them. That is the only way for you to be free. Thank you for sharing this with me.
01/15/15 11:22 AM
Nag-sasara na ang mga simbahan sa Europe. At ibinebenta na ang mga ito. Salamat sa Karma. – She Dragon
01/15/15 8:43 AM
TO MY DETRACTORS – I don't ever go to your wall, because I couldn't care less about morons. What the fuck do you care what I say on my wall you fucking brainless soulless dimwits?
You come here attacking my FB, because what I have to say threatens the very depth of your false religious beliefs. So read my lips. The Vatican Church will fall. FUCK YOU! – She Dragon
Marlene Aguilar is the sister of rock icon Freddie Aguilar and mother of murder suspect Jason Ivler.