MANILA, Philippines – An unidentified pregnant woman had left no choice but to deliver her baby on the corner of Aseana and Macapagal Avenues after being caught by heavy traffic caused by road closures for 2015 Asia Pacific Economic Cooperation (APEC) Summit in PICC.
According to witness Angel Ramos Canoy, the woman and her husband were on a motorcyle on their way to the hospital but were stopped by the traffic jam.
"There was no time to ask for the names of the parents." The mother put all her energy in delivering the baby and passed out right after. The husband naman, he was in total shock," she said to Coconuts Manila.
The woman was seen being assisted by policewomen from Quezon City Police District. But Canoy said patrolling policemen refused to let the woman to give birth inside their police mobile.
Canoy, together with another passerby (the lady in the photo above wearing a red shirt) tried to give the parents privacy and protection by covering them with umbrellas.
"Sad to say, we were there. All we can do is to give shade through our umbrellas. 2mins.. 3mins.. The baby is still not crying. The mommy is sleeping. Or tired. Or exhausted. Perhaps, she passed out. All we can do now is PRAY. Hoping they will be fine. SOON, " she narrated on her facebook post.
They also begged the officers to get an ambulance, but they were just as helpless because of the traffic. "Kuya, yung mobile niyo man lang," Canoy told them. "Kaso, nagkibit-balikat lang si Kuyang Police."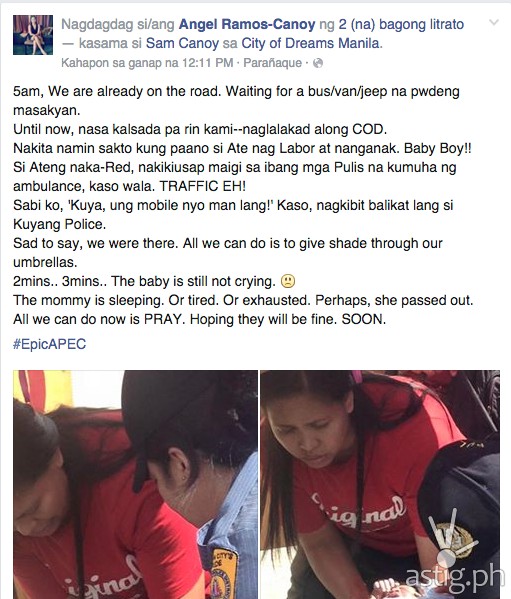 The mother successfully delivered a baby boy and now taking rest in the hospital.