Priscilla Queen of the Desert is a musical based on the 1997 movie of the same name. It's the story of 2 drag queens (Anthony 'Tick' Belrose & his alter ego Mitzi Mitosis played by Leo Tavarro Valdez & Adam Whitely a.k.a Felicia Jollygoodfellow played by Red Concepcion) & a transsexual (Bernadette Bassinger played by Jon Santos) who go on a cross country trip across the Australian outback, where they encounter adventure & interesting people, & in their escapade they discover acceptance, forgiveness, friendship & love.
Tick is a drag show performer down under in Sydney. Stressed & over worked, he finds refuge in the form of an invitation from his ex-wife Marion to do his show in her casino in Alice Springs where he will get a chance to finally meet his son Benji. Initially hesitant, he finally agrees & asks his best friends Bernadette (a senior transgender & former member of 'Les Girls', a renowned drag show group decades ago) & Felicia (a younger cross dresser who represents the newer trend of live singing in shows as compared to lip-synching) to join him. Both are also tentative in joining, but realize that they will benefit from the trip, with Bernadette being able to distract himself from the grief of the death of his partner & Felicia being able to achieve his dream of singing ala Kylie Minogue on top of Uluru.
Instead of travelling by plane, they buy a camper & christen it 'Priscilla, Queen of the Desert' & set of on their road trip. Along the way they encounter some locals in a bar, & thru a game of truth or dare by Felicia, Tick has to buy a drink in the tavern in full drag regalia! Hilarity ensues in a gaudy dance number with the natives ("I Love the Nightlife"). Just as the trio think that they are connecting with the people, they find their van vandalized with homophobic slurs. The realization that they can never be truly accepted anywhere they go, crushes their spirits… but they carry on their journey nonetheless.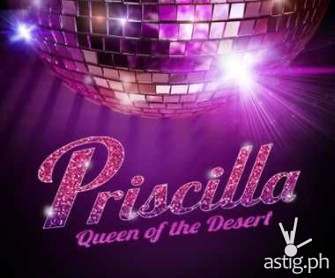 Their group encounters more fascinating people along the way, ranging from your Australian aborigine, to tourists, to cowboys, and a Filipina with a penchant for ping pongs (with their corresponding dance numbers) until Priscilla breaks down. The repair company sends Bob & immediately a spark between himself & Bernadette develops. During this lull in the expedition, Felicia decides to get rowdy with some rednecks in a tavern, but this detour almost ends badly for them when the deviants discover he is not a real girl & is almost raped as punishment, until Bernadette saves him.
They finally arrive in Marion's casino where Tick meets his son, & is greeted with a warm welcome. Tick is weary revealing his true nature to his son & informs him only that he works in show business. Tick's worry is for naught when he discovers that his son secretly attended his drag show & is very accepting of his lifestyle & orientation. In the end, Bob gets together with Bernadette, Felicia gets to dance 'Can't get you out of my head' atop Ayers rock, & Tick gets to spend father-son bonding time with Benji.
Ostentatious, best describes the overall theme of this work, from the over the top dance sequences to the flashy drag suits, to the musical numbers, which is what you would expect from a drag show. The producers spared no expense with regard to the stage design, as the revolving stage is impressive in conveying travel across the wide expanse of the outback. The moving bus 'Priscilla' is so genuine you would actually think they managed to get a bus inside the theater.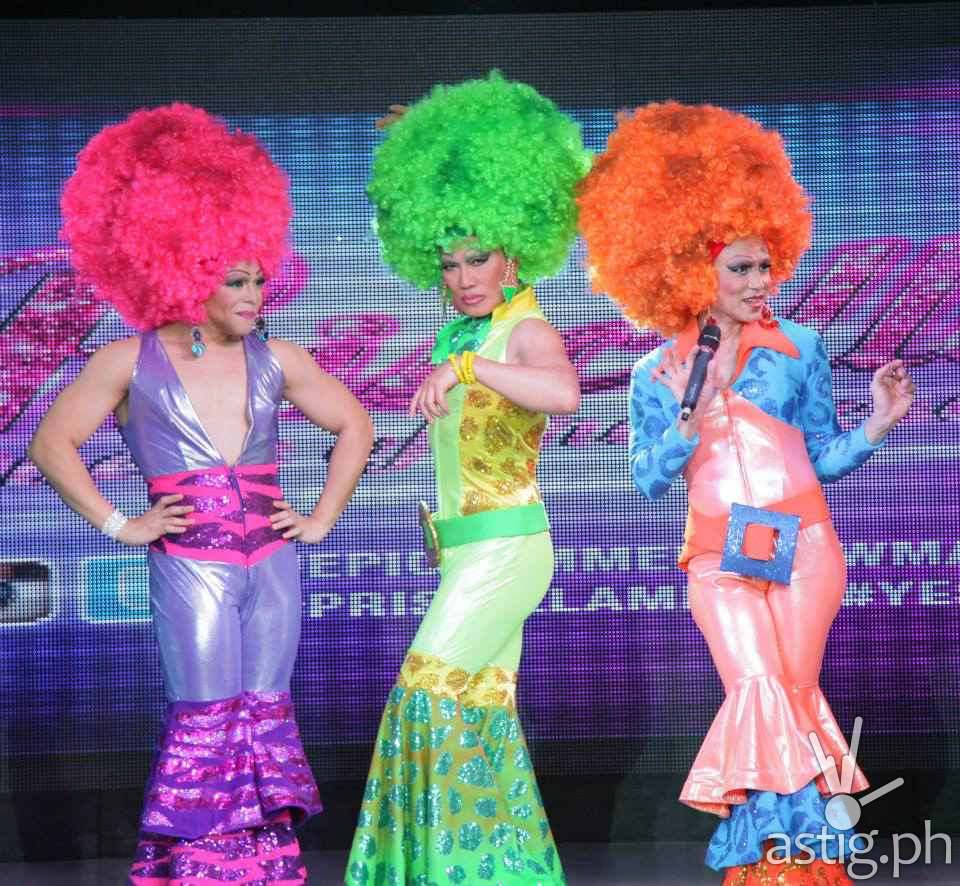 I have some qualms regarding the singing though, as Jon Santos's voice lacked melody, bordering even on being monotone. However, Leo Tavarros' years of experience & Red Concepcion's natural talent carried the ensemble. International theater star Michael Williams was a delight to see & hear as his impression of Tina Turner was spot on, right down to the ticks & nuances & vocal range. On the other hand, Bituin Escalante's singing prowess was under utilized for her role in my honest opinion.
Casting also comes into question as I think Leo Tavarro was miss-cast for the lead. Leo's repertoire of achievements aside, there are simply some roles that just don't fit. He basically wasn't believable as a drag queen for me. His punchlines missed their timing & it looked as if he only had one facial expression (whats up with that?). On the plus side, Jon Santos was this shows breakthrough star. He portrayed Bernadette with an elegance & refinement that rivaled Princess Di. I hope this production becomes a stepping stone for him into other plays in the future. Red Concepcion did not disappoint either, as his portrayal of Felicia could have easily become a gay laughing stock stereotype, but he was able to channel his talents to make him relatable & be a sympathetic character with his own flaws & strengths.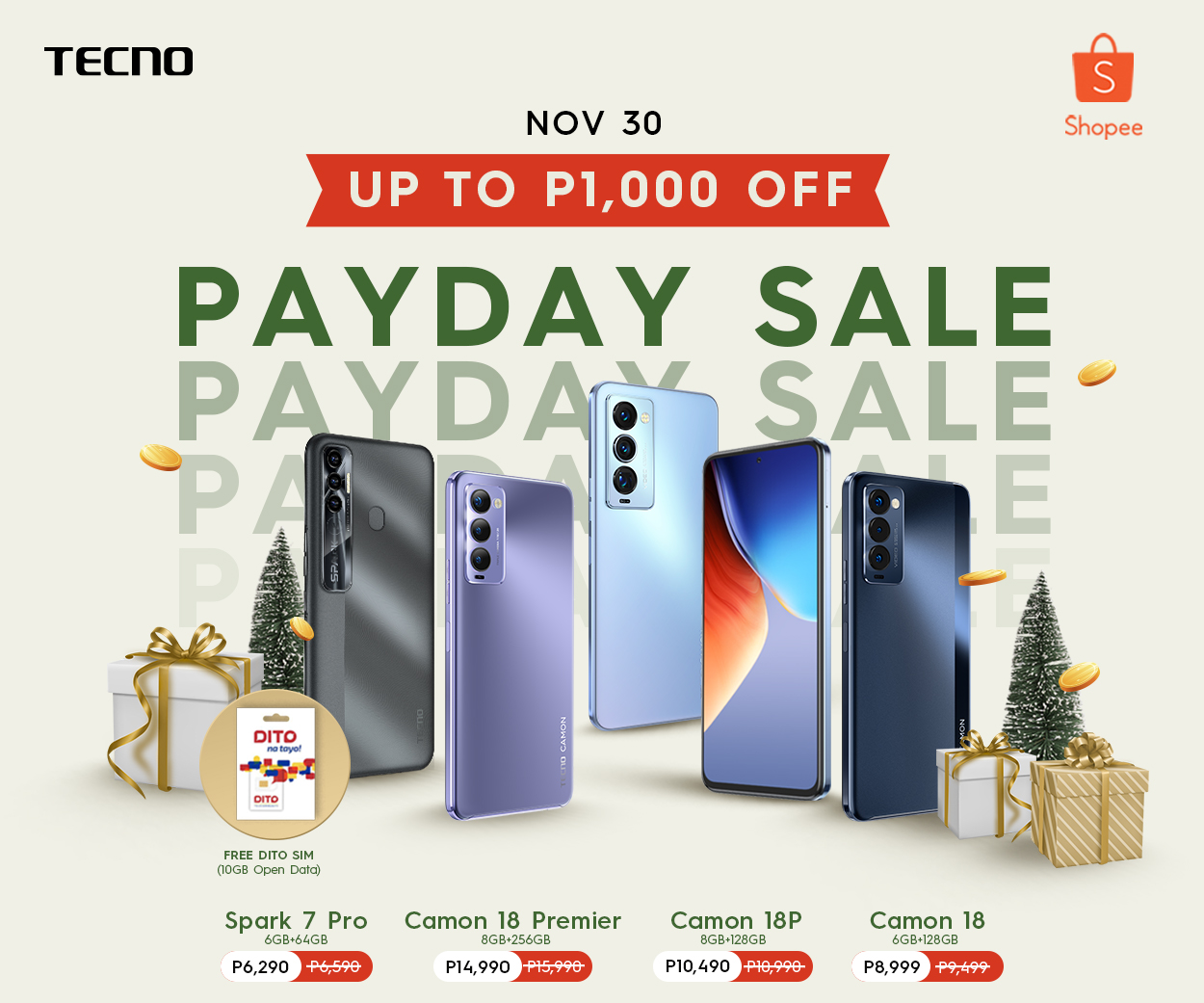 All in all, I still loved this show despite its imperfections, which is basically the message Priscilla wants to impart isn't it? Human beings are individually different, whether it is by race, religion, creed, nationality, beliefs or sexuality, & learning to accept, thrive & celebrate in these differences is what makes the world a great place to live in. 
'Priscilla Queen of the Desert' is directed by Jaime Del Mundo, starring Leo Tavarro Valdez, Jon Santos, & Red Concepcion. Based on the book by Stephan Elliot & Allan Scott, & produced by Resorts World Manila. Priscilla runs until July 13, 2014 at the Newport Performing Arts Theater. Go watch it!