MANILA, Philippines – ABS-CBN has teamed up with PLDT, its official broadband partner, for its very own PUSH Awards, the first-of-its-kind award-giving body in Philippine digital media that honors the best among the past year's certified online hits and entertainment newsmakers based on their online reach and influence, popular votes, and excellence.
ABS-CBN chief digital officer Donald Lim said teaming up with PLDT is also an alliance in terms of breaking new ground and recognizing influencers in the digital space.
"We believe that as our audiences become more mature with the digital platform, it is important for our industry's talents and celebrities to keep the engagement and conversations with their fans beyond the traditional media platforms, and now towards the social media space," he said.
PLDT VP and Home Marketing head Gary Dujali, meanwhile, said the partnership is an avenue to acknowledge the importance of social media, connectivity, and the role of entertainment to nurture stronger connections for the Filipino families.
"PLDT is very excited, at the same time positive, about the partnership. PLDT HOME DSL is the country's #1 home broadband, which ensures that avid fans of celebrities featured in this year's Push Awards will be able to get their daily dose of their Philippine entertainment updates while availing the connectivity that suits every family," said Dujali.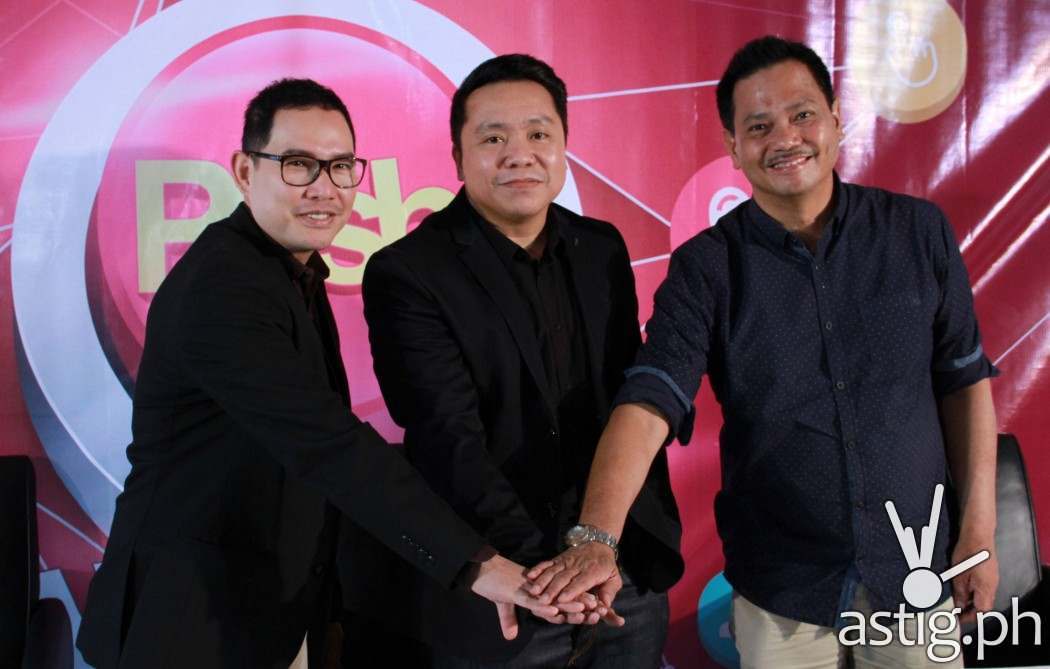 PLDT HOME DSL is the country's leading broadband that provides homes with family-sized connections with speeds of up to 8 Mbps and plans as low as P990 per month.
As part of the partnership and as a treat to the fans and their families, PLDT HOME DSL is also giving away a chance to get exclusive seats to the event, just by liking or following @PLDTHome on Facebook, Twitter, and Instagram and by using #HOMEDSLxPUSHAWARDS when they campaign for votes for their respective idols.
The voting in PUSH Awards is still ongoing. To vote and see the complete list of nominees, just log in to the site using your Facebook account. Only one vote per category will accepted per day.
Leading the list of nominees are today's hottest love teams KathNiel (Kathryn Bernardo and Daniel Padilla) and JaDine (James Reid and Nadine Lustre), both nominated in four categories — Most Liked Group or Tandem for PUSHLike (Facebook), Favorite Group or Tandem for PUSHTweet (Twitter), Most Loved Group or Tandem for PUSHGram (Instagram) and Best Group or Tandem for PUSHPlay (YouTube).
Competing against them across different categories are LizQuen (Liza Soberano and Enrique Gil), LoiShua (Loisa Andalio and Joshua Garcia), and AlDub, composed of Maine "Yaya Dub" Mendoza and Alden Richards.
Aside from tandem and group categories, individual honors are also up for competition in the following categories based on Facebook and Twitter popularity: PUSHLike Most Liked Male Celebrity, Most Liked Female Celebrity, Most Liked Group or Tandem, Most Liked Music Artist, and Most Liked Newcomer, as well as PUSHTweet Favorite Male Celebrity, Favorite Female Celebrity, Favorite Group or Tandem, Favorite Music Artist, and Favorite Newcomer.
Celebrities who connect with their fans via photos and videos on Instagram will also be honored in the PUSHGram Most Loved Male Celebrity, Most Loved Female Celebrity, Most Loved Group or Tandem, Most Loved Music Artist, and Most Loved Newcomer categories.
The best and most well-loved internet video celebrities on You Tube, meanwhile, will be recognized with the PUSHPlay Best Male Celebrity, Best Female Celebrity, Best Group or Tandem, Best Music Artist, and Best Newcomer awards.
The nominees with the highest number of public votes in each category will be declared the winners, who will be announced and awarded with a special trophy in a celebrity party event late this year.
Netizens can also vote for the most talked about and well-loved celebrities in the categories: Awesome Celebrity Baby, Awesome Celebrity Family, Awesome Selfie King, Awesome Selfie Queen, Awesome OOTD King, Awesome OOTD Queen, Awesome Lip Sync Performance, Awesome LOL Performance, Awesome Dance Performance, and Awesome Song Cover Performance.
Dedicated fans can also start participating in the Ultimate Fan Award, a recognition to be given to a fandom that will publish the most number of posts on Twitter with special hashtags assigned to each of them.
Start voting for your favorites on PUSHAwards.com and get your daily dose of entertainment news, information, and trivia by logging in to PUSH.com.ph.
Fans of nominated artists may follow the official PLDT (@PLDTHome) social pages on Twitter, Instagram, Facebook and YouTube to get exclusive and up-to-date news about the PUSH Awards.