When you say café, what usually comes to your mind is that it is just around a 20-30 square meter space offering coffees and some sandwiches with few sweet treats or desserts, a table good for two or four and a longer one beside the café isolated for soloists.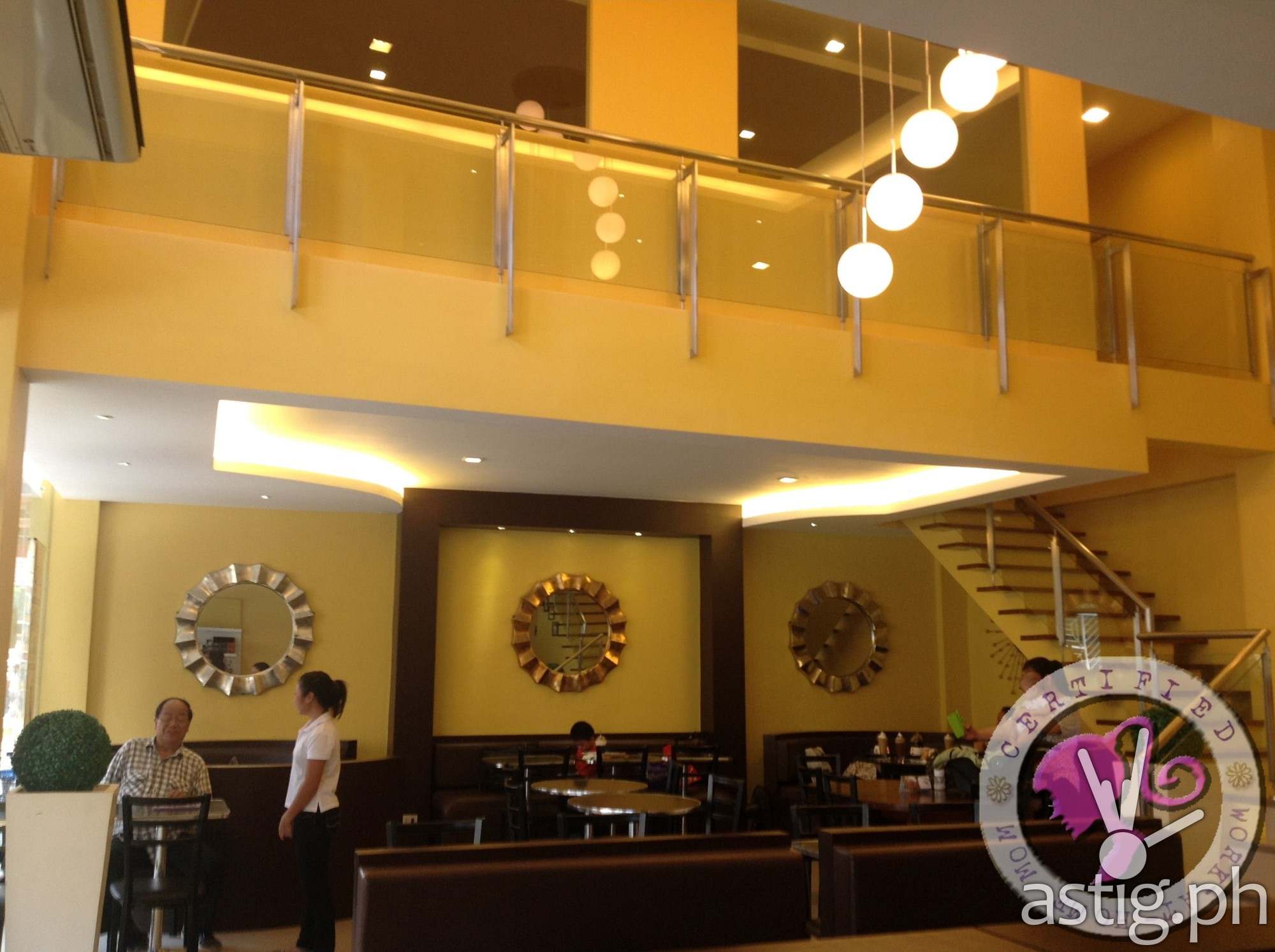 But not with Qaldi Coffee Bar & Cyber Café located in Putatan, Muntinlupa City near the busy area of  the city hall and other known commercial establishments and restaurants.  Theirs is a spacious two-storey with varieties of tables to choose from, depending on how many with you will dine.  These varieties all over what the café is bringing you—good ambience.  Whether you want it a romantic engagement with your partner or a special someone, a kin-oriented or a group date with your peeps,  or  a simple corporate or business meeting, this café makes it an ideal spot to experience a feast or to sustain a simple but great dining experience.
The choice of colors and theme design used makes the interior setting really elegant and classy while the diners outside the cafe will find it relaxing with the fresh air swirling around the area.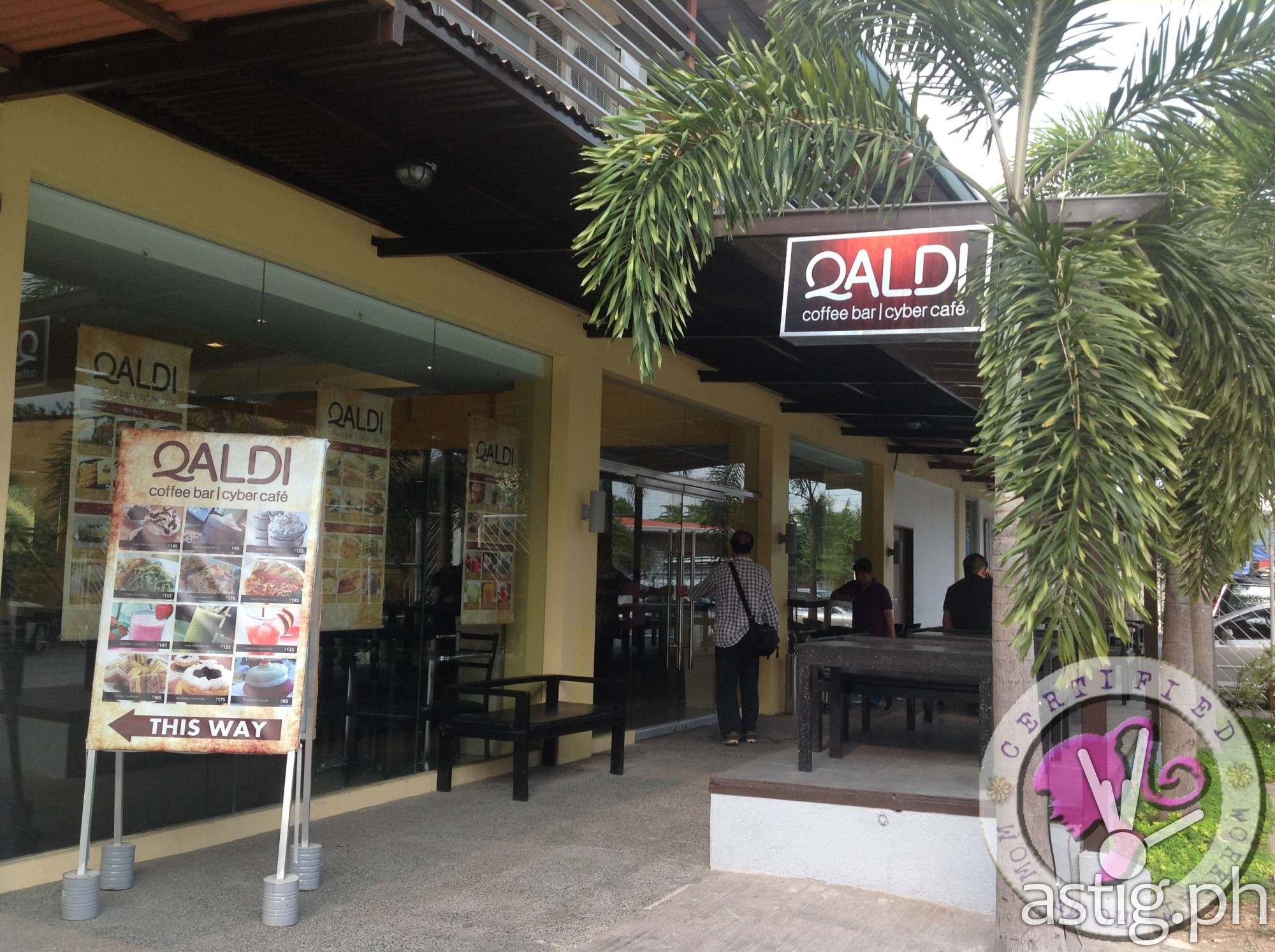 Strategically, since it's launched about five months ago, Qaldi is fast getting the favorite haunt among the coffee lovers within the neighborhood, those from the nearby towns in the locality and from the South.  Not to bring up the food trippers coming all the way from the nearby urban centers such as Makati, Pasay, Parañaque and Taguig.
A lot of groups choose to dine in this awesome coffee bar and café not only for a simple get together, but to celebrate special occasions as well since varieties of specialties are being served: from coffees and teas to frappes, from sandwiches to clubhouse sandwiches, and from pastas to rice packages.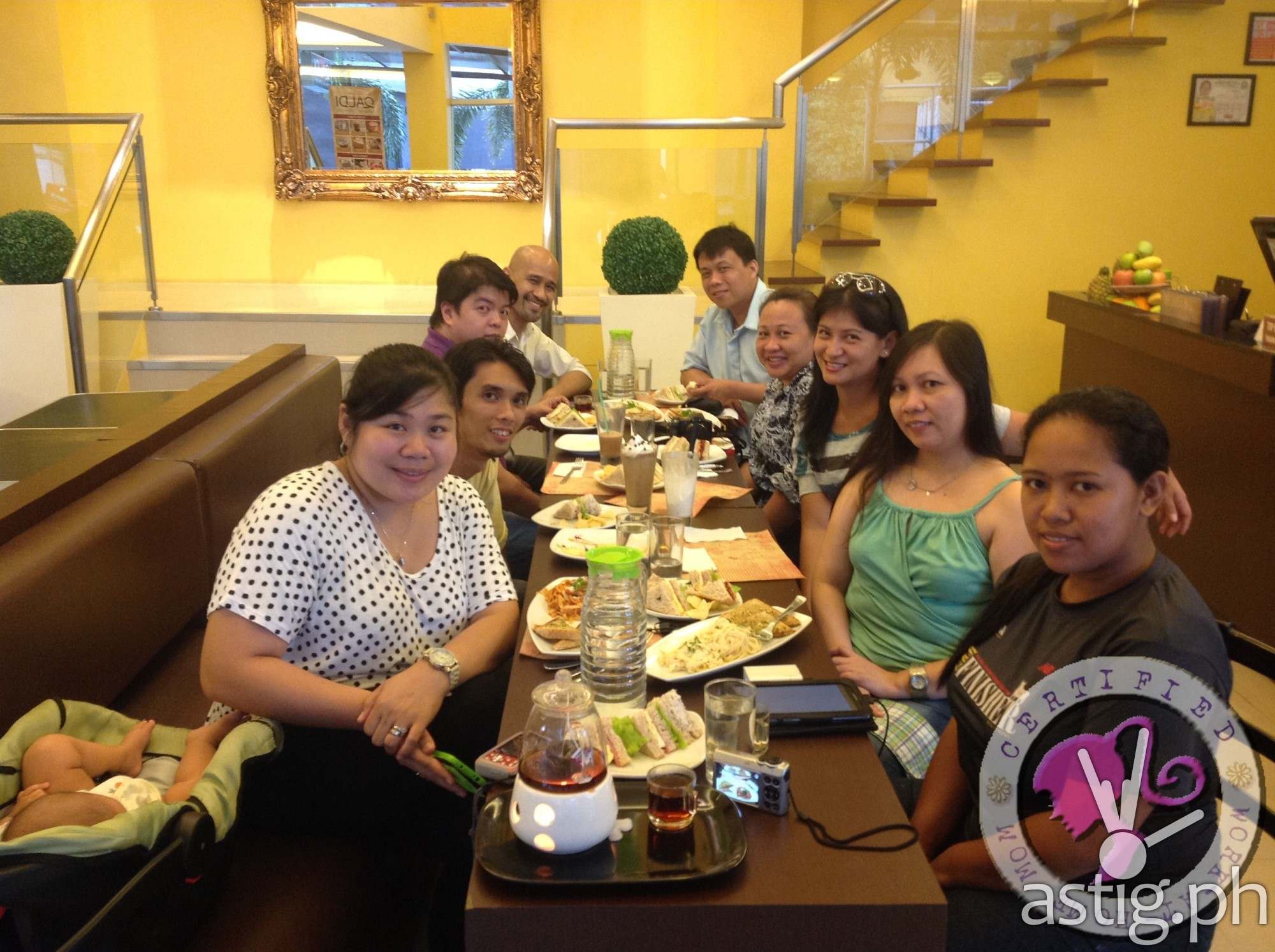 Here's to share my thoughts on the foods we ate during the bloggers night:
Qaldi Frappe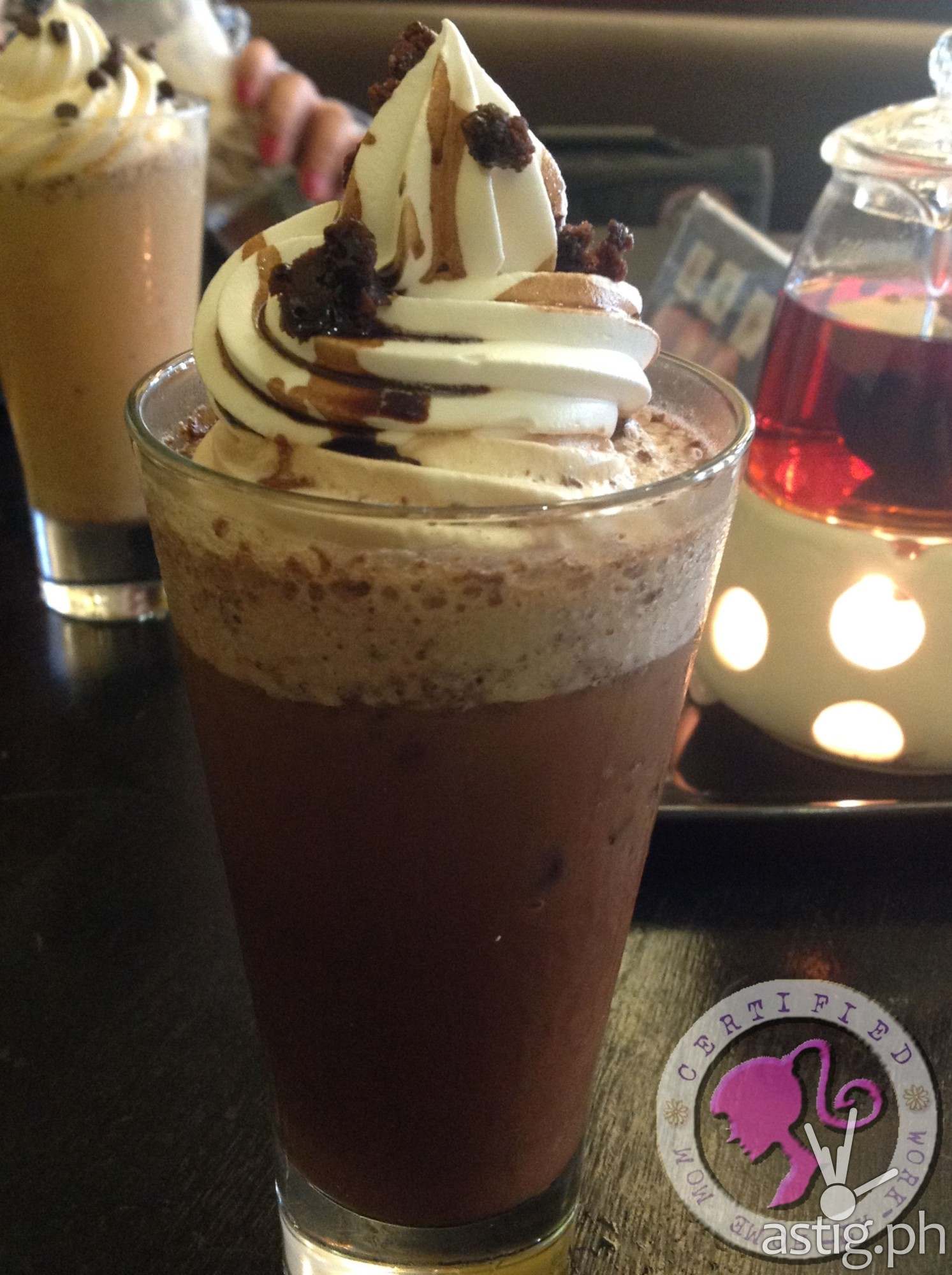 Since it was too hot outside, upon arriving there, I immediately tried their Qaldi Frappe which only cost P 150 for a Kabeer size.  Kabeer from what I understand, based from what I observed in their menu catalogue, is the larger version of every serving.  For a smaller version, Qaldi called it Sageer and cost around P 85 for frappes.  For the Qaldi Frappe I ordered, there's just one size available which I mentioned earlier as Kabeer.  It was really cool and what really amazed me is how do they put different layers of well-blended chocolatey flavor without losing its original taste.  When you look at it, it's like a simple regular float that you usually order from some known fast foods.  These floats which are really tempting, but mind you, when you remove the toppings or do not mix its frostings, it will just taste like a regular chocolate drink you that usually take at home.   So, I tried to sip from the bottom first without touching the toppings and found out that the taste was really irresistible.
Grilled Egg and Cheese Sandwich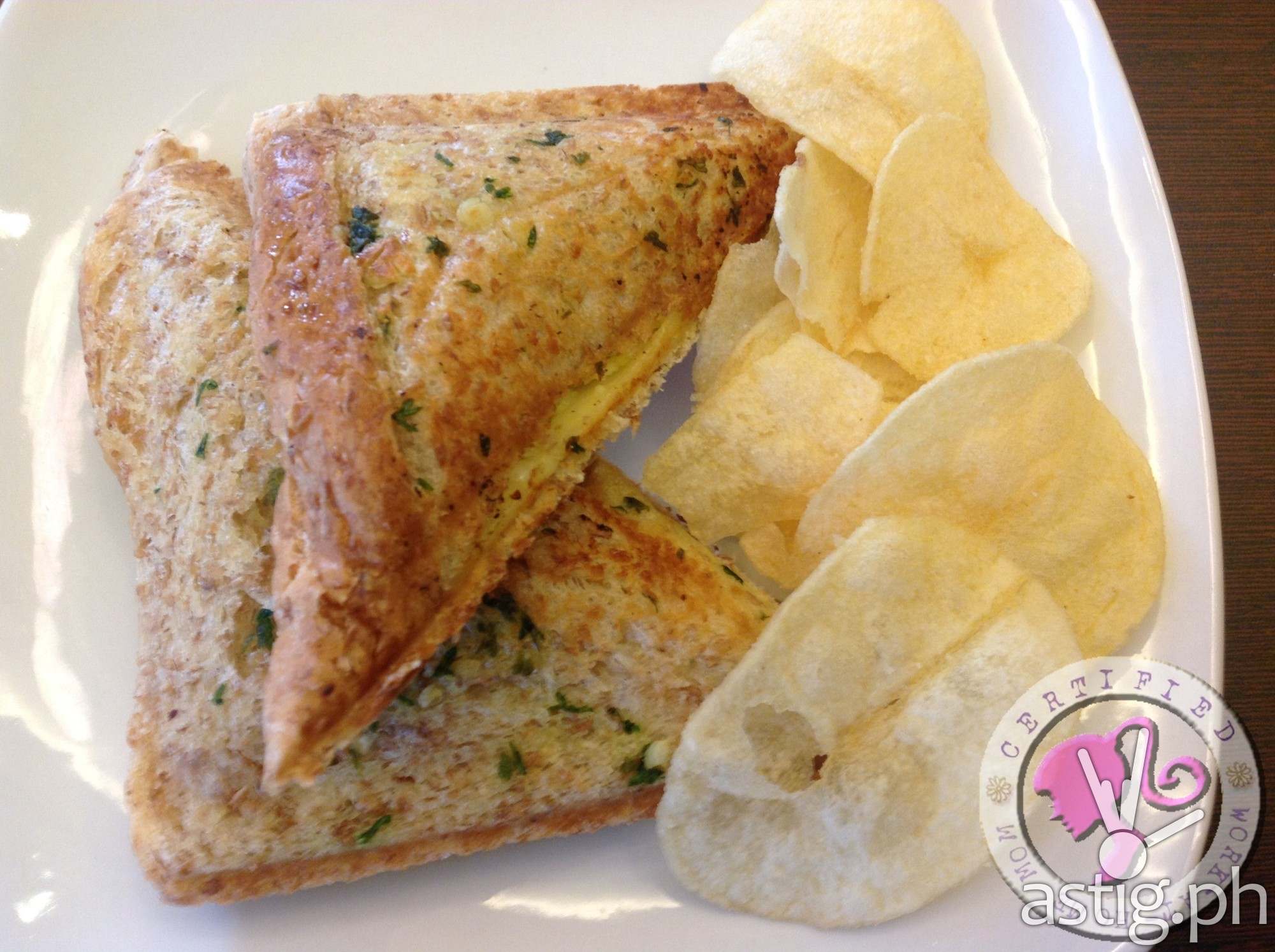 This actually gave me the idea to make my own, but a bit challenged since this Qaldi's version of Grilled Egg and Cheese sandwich was really powerful.  The egg and cheese fillings blend well with the wheat bread and it made my stomach full.  Ideal for early diners since it is also good for a power breakfast or even brunch.  The cost is P 95.00 per serving and served with crunchy potato chips.
Grilled Ham and Cheese Sandwich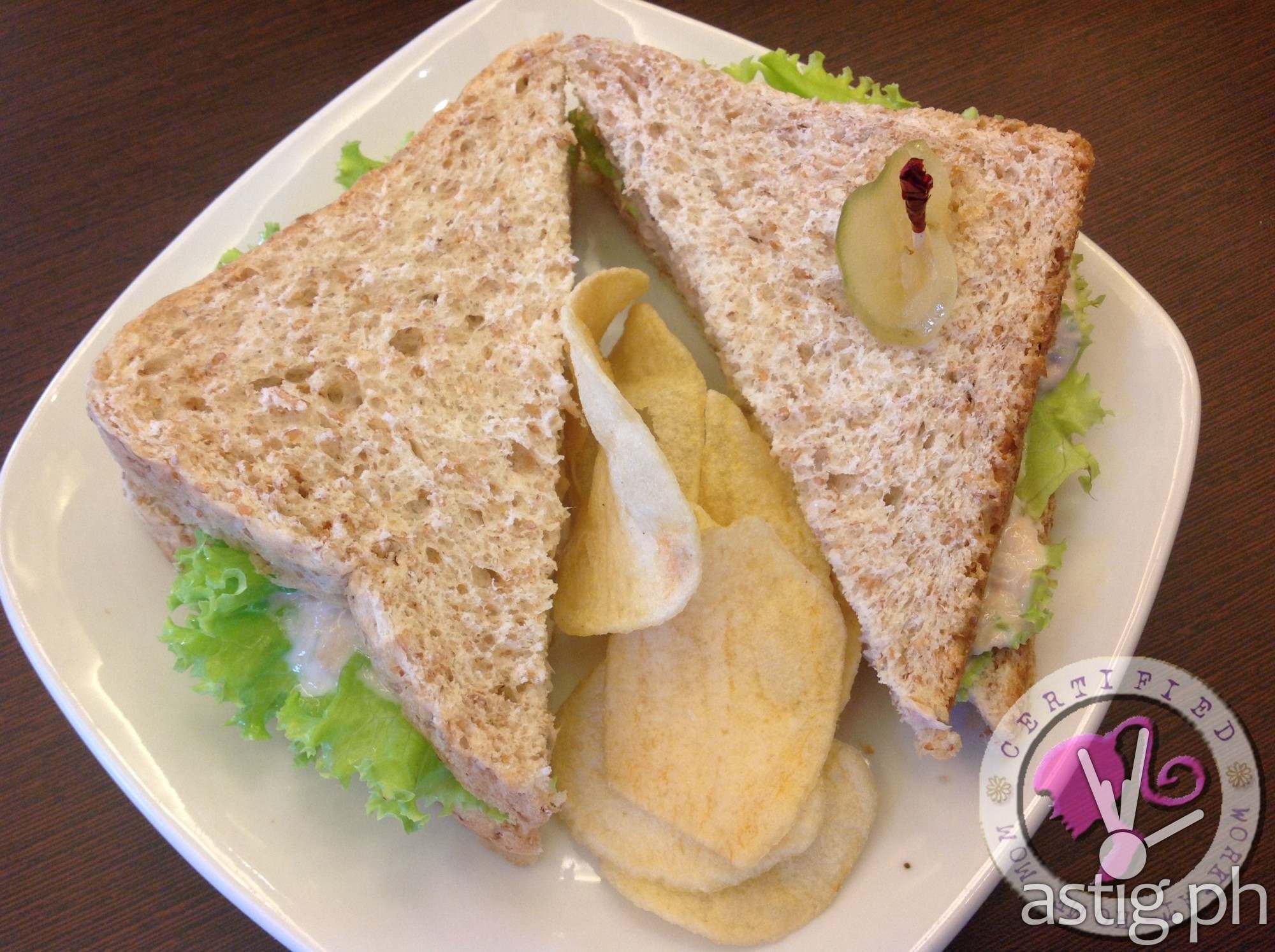 I was expecting that since it's a combination of ham and cheese, it's going to be salty but it's not!  So that fits my taste buds really well.  And like the Grilled Egg and Cheese Sandwich, this is another powerful sandwich!  Served with crispy potato chips as well,  this sandwich cost P 95.00 per serving.
Chicken Clubhouse Sandwich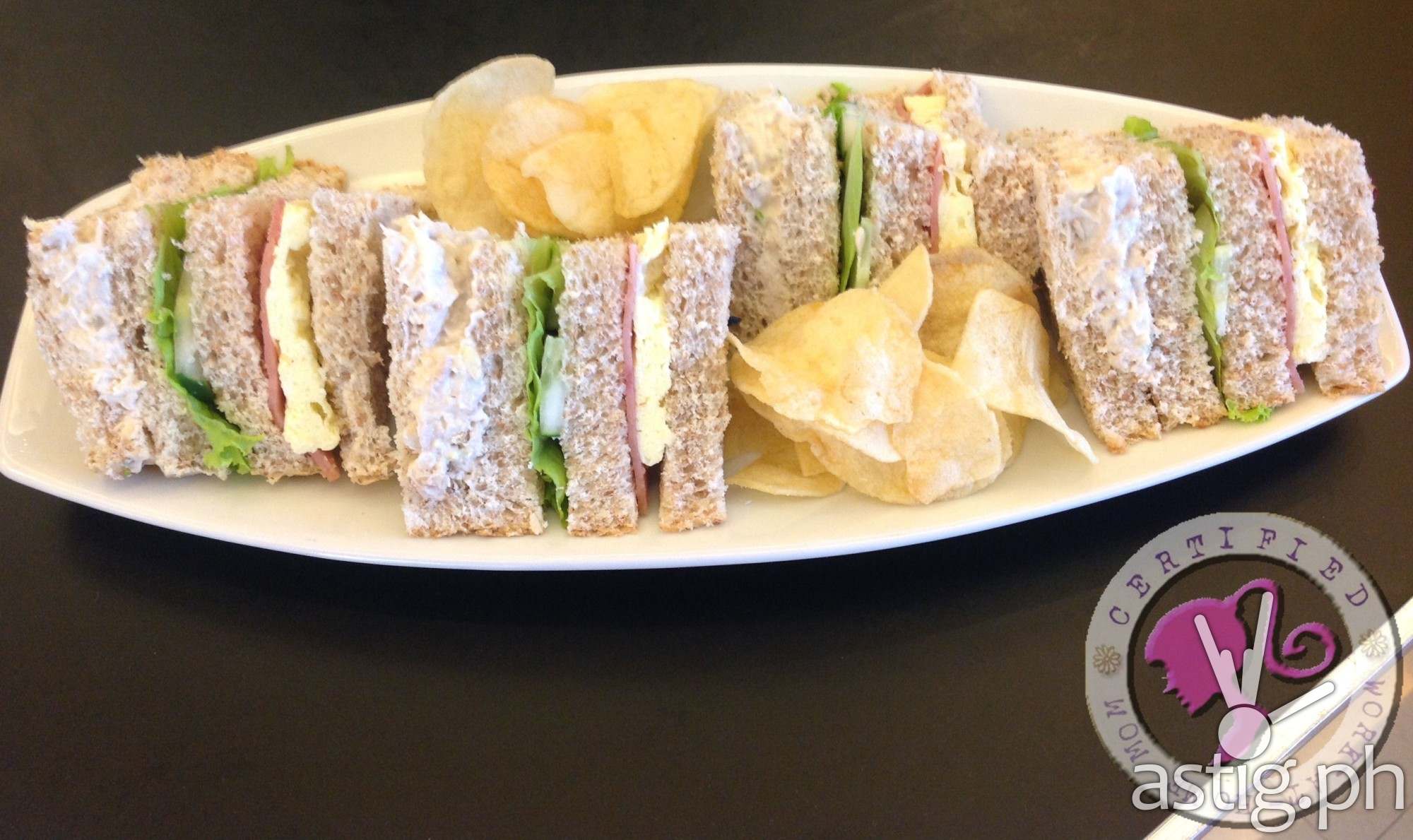 If you do not want to eat rice but wants to be full yet happy, Qaldi's chicken clubhouse sandwich is a must try, it only cost P 175.00 per serving together with their thin-crunchy potato chips.  The lettuce and  cucumber balanced the combination of ham and egg and makes the serving really yummy with their thick and creamy chicken spread with tasty bits of chicken breast.
Sweet Tomato Pasta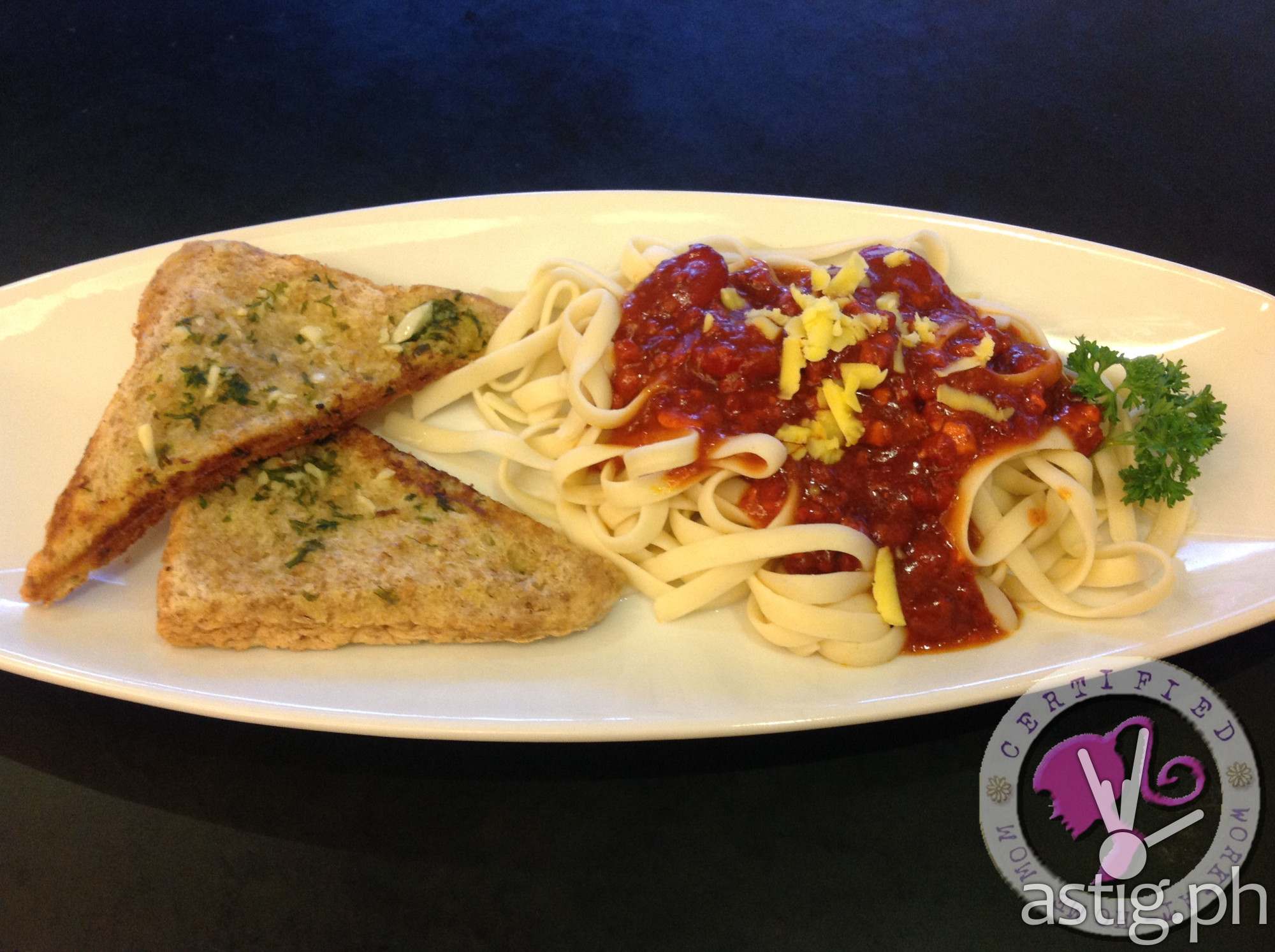 As the term implies, it's a sweet pasta, but well-blended with tomato and will surely be loved by kids as hotdogs are very visible.   Served with 2 slices of garlic bread, the serving is pretty much ideal for 2 persons for a platter which cost P 175.00  and P 140.00 for a la carte serving.
Seafood Marinara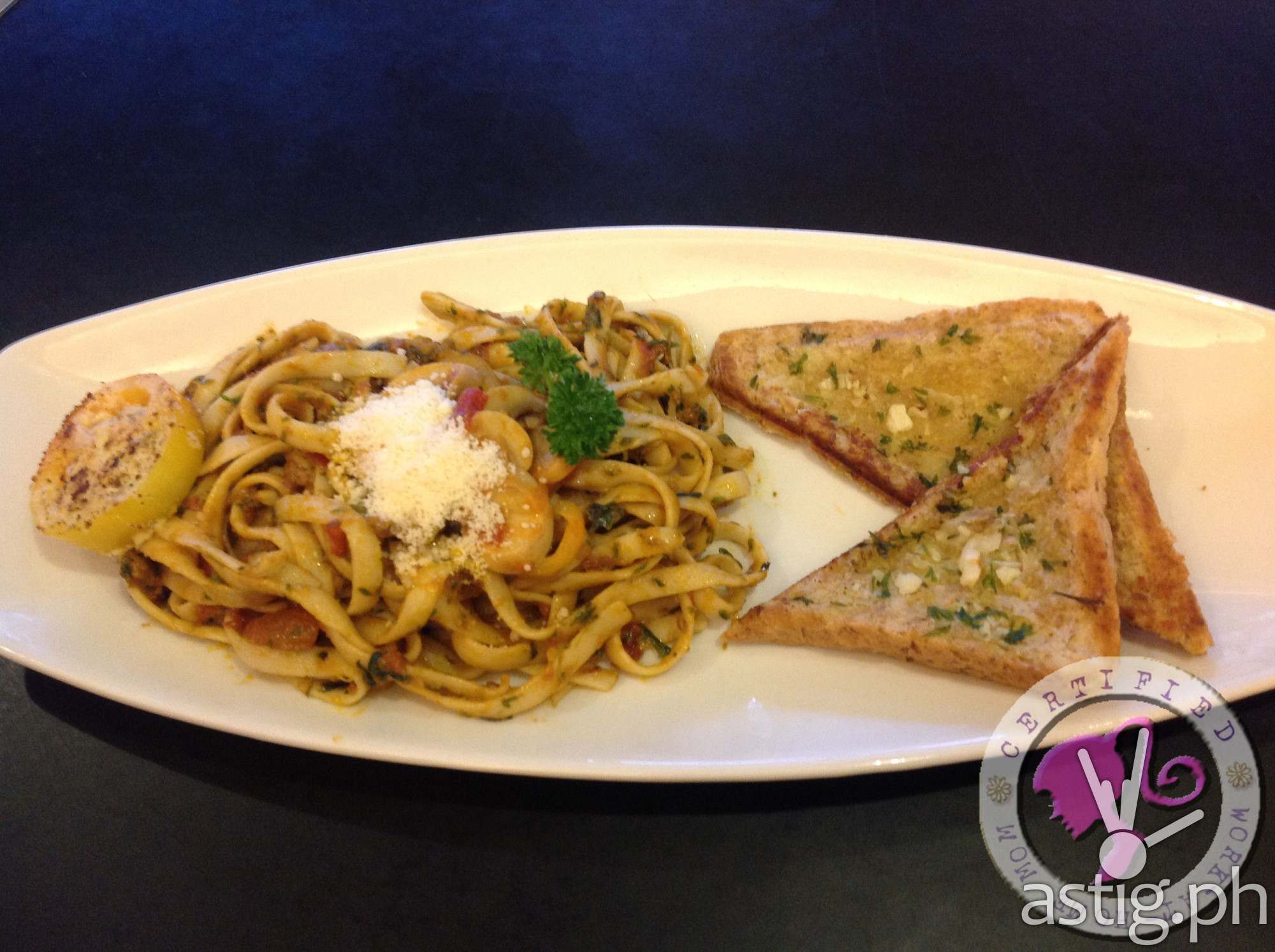 I do not eat some kinds of seafoods that's why I never ordered any seafood pasta in restaurants I had dined with but I bumped into this Qaldi's mouth-watering Seafood Pasta Marinara.  I see shrimps, slices of mushroom, bell pepper strips and bits of meat topped with fresh tomatoes and Parmesan cheese.  Dished up with two pieces of garlic bread, I extremely recommend this pasta, which only cost P 215.00 for a platter serving while an a la carte serving will only cost P 185.00.
Classic Pesto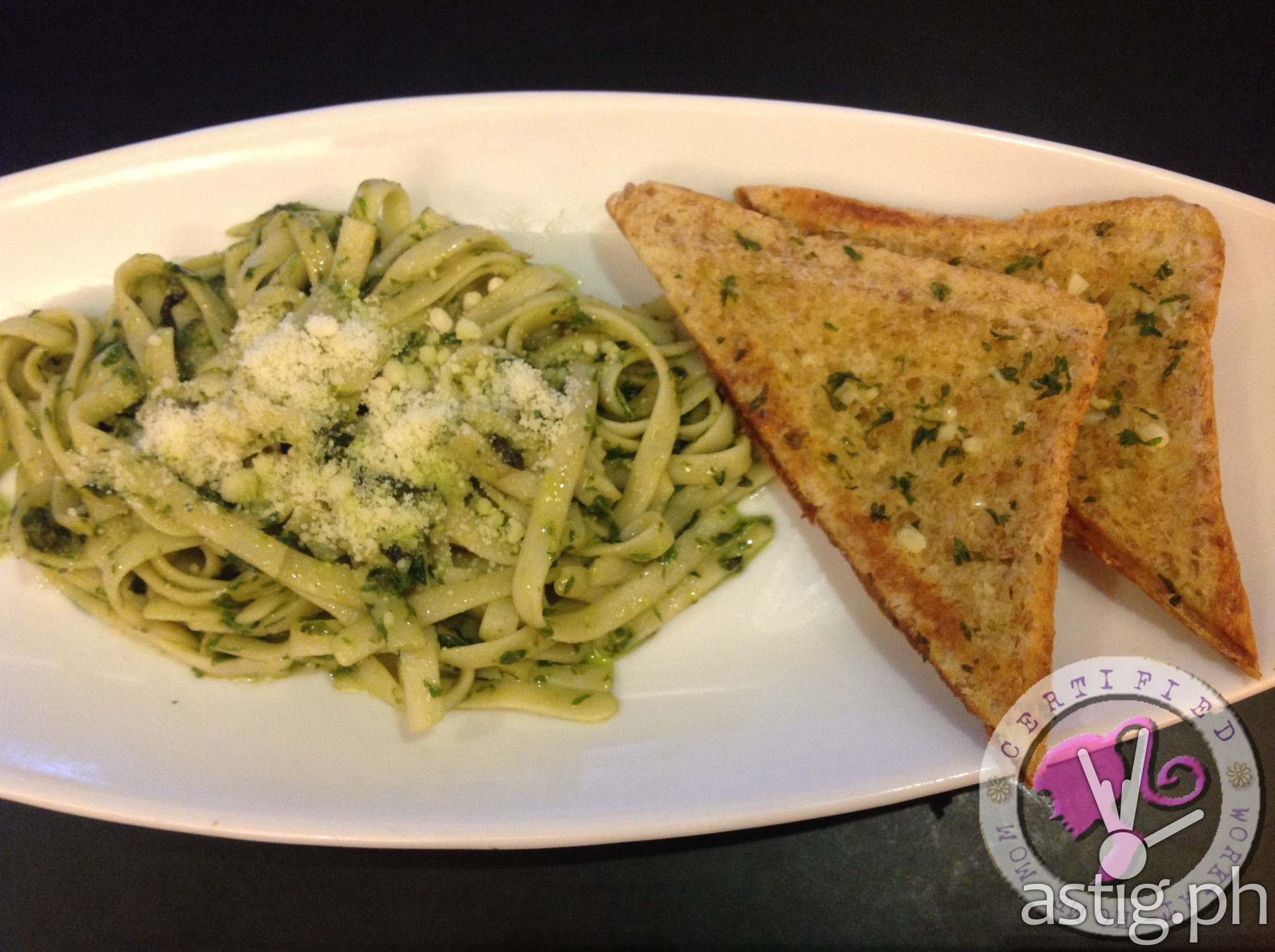 This one I really can't forget since I love pasta so much! Two thumbs up for I really appreciate how this Qaldi's Classic Pesto's recipe was made and how it was priced.  Per a la carte serving is only P 145.00 and P 175.00 for a platter serving.  I'm not familiar with the ingredients that was used, but I can taste, there's a lot of varying ingredients mixed with herbs and prepared with olive oil.   Topped with Parmesan cheese and served also with two slices of wheat bread in garlic and varieties of herbs, this is a sound-packed meal highly recommended for every health-conscious food trippers!
Aside from appetizing pastas, inviting rice meals is also being served by Qaldi Coffee Bar & Cyber Café.
Five-Spice Beef Rice Meal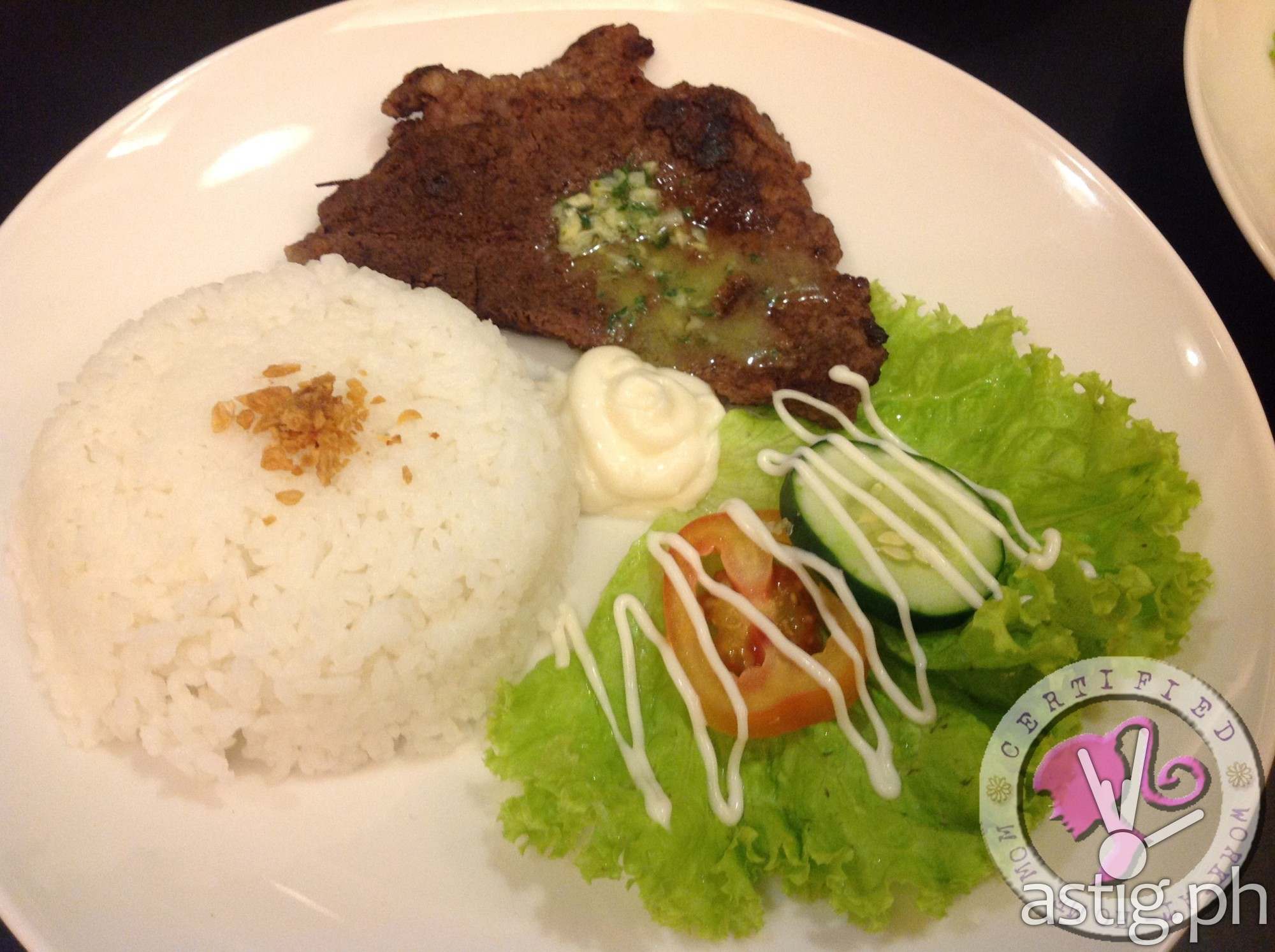 Tender beef deeply marinated through a different mixture of five special spices, for me this is Qaldi's savory version of a classy beef steak.  Cost is P 150.00 per serving.
Fish Fillet Rice Meal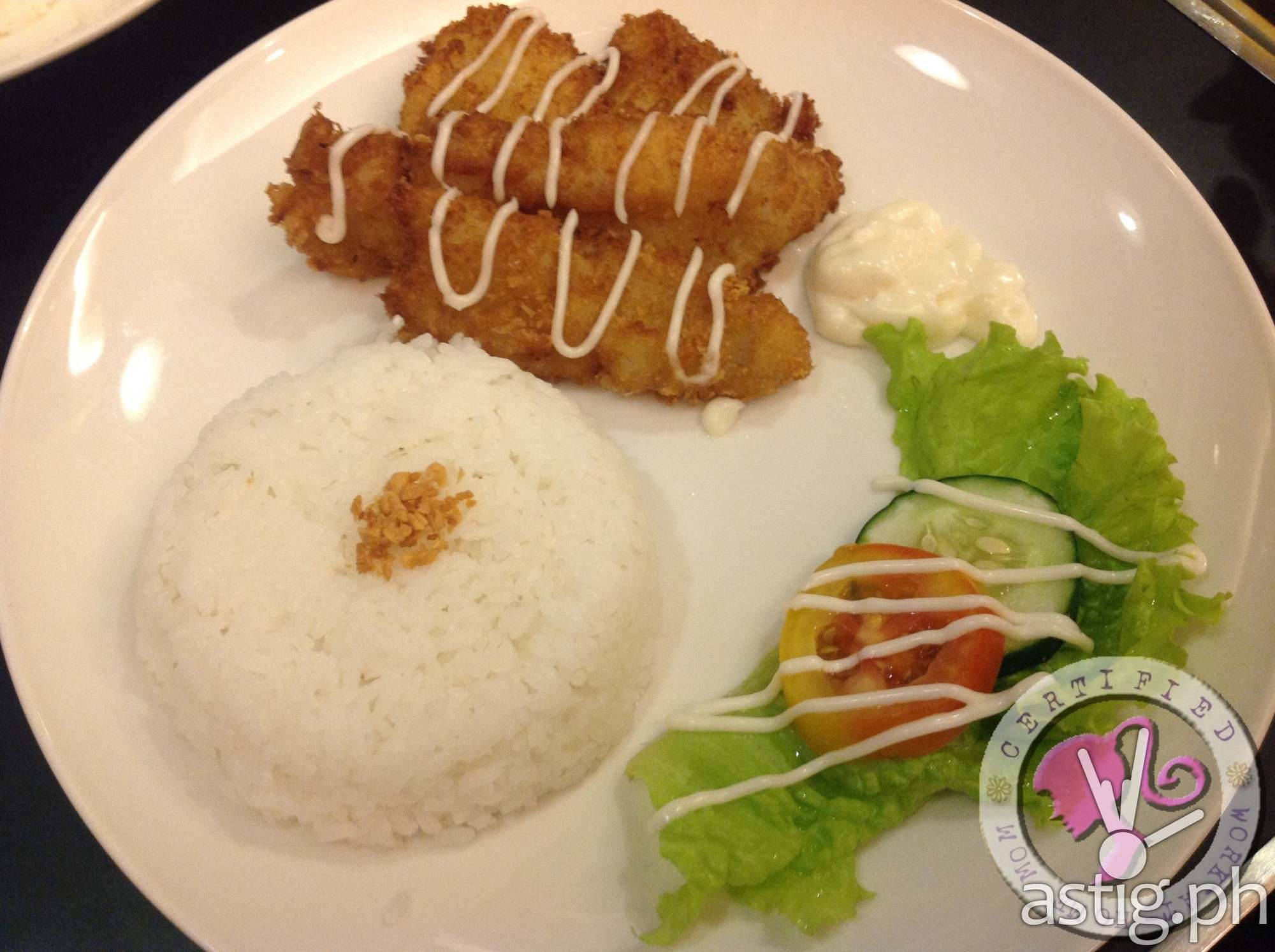 Deep-fried coated cream dory fish fillet served also with fresh and succulent tomatoes, lettuce and cucumber with a not so oily mayonnaise dip.
Spicy Chicken with Special Qaldi Sauce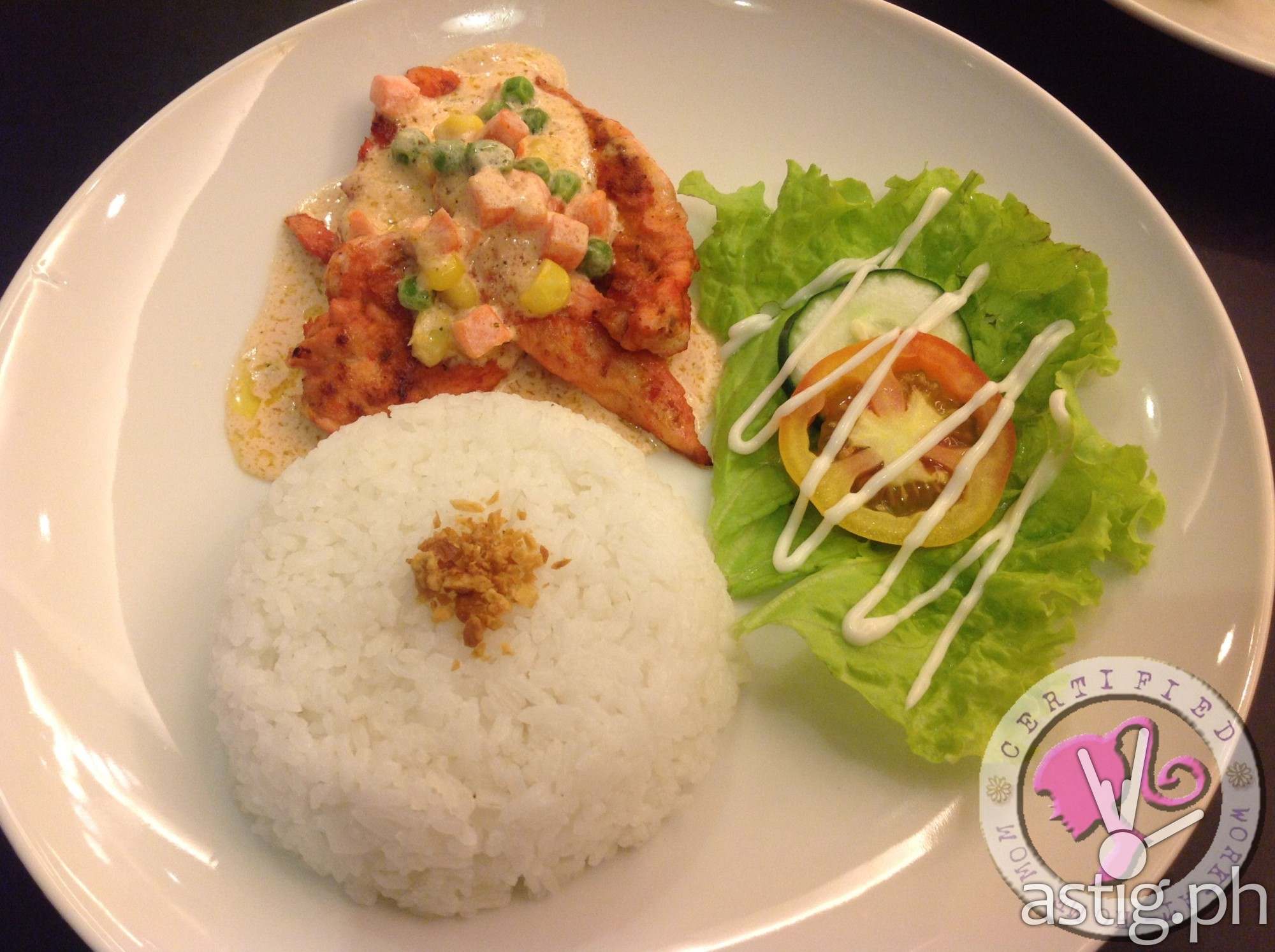 Marinated via chili powder, this spicy chicken meal is attractive with its colorful mixed veggies such as carrots, green peas and corns and taste great with a special sauce made by Qaldi.
Grilled Chicken Breast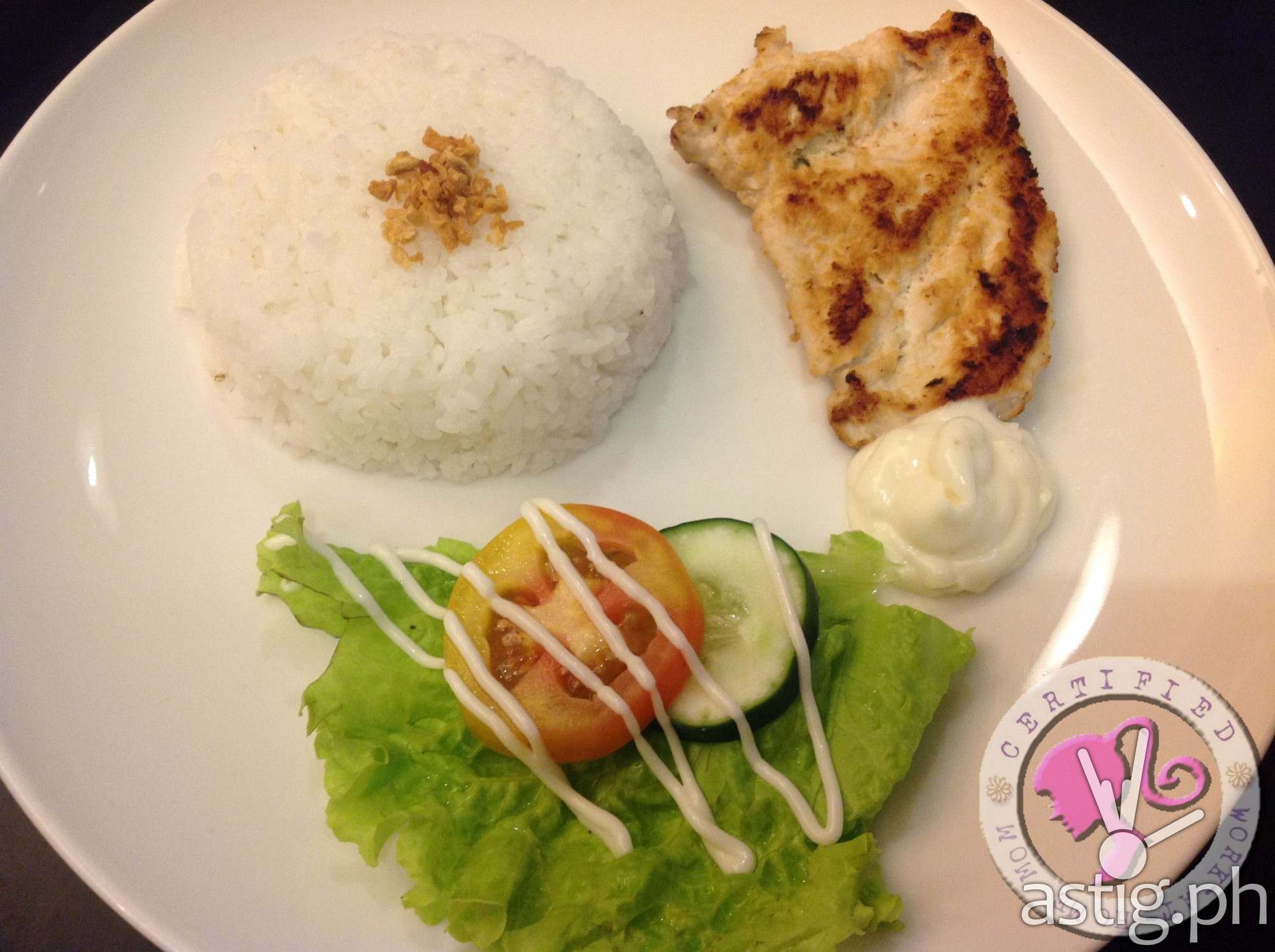 Also comes with fresh and crunchy cucumber, tomato and lettuce—Qaldi's Chicken Breast is another must try if you visit the café.
Greek Pork Belly with Oregano and Special Herbs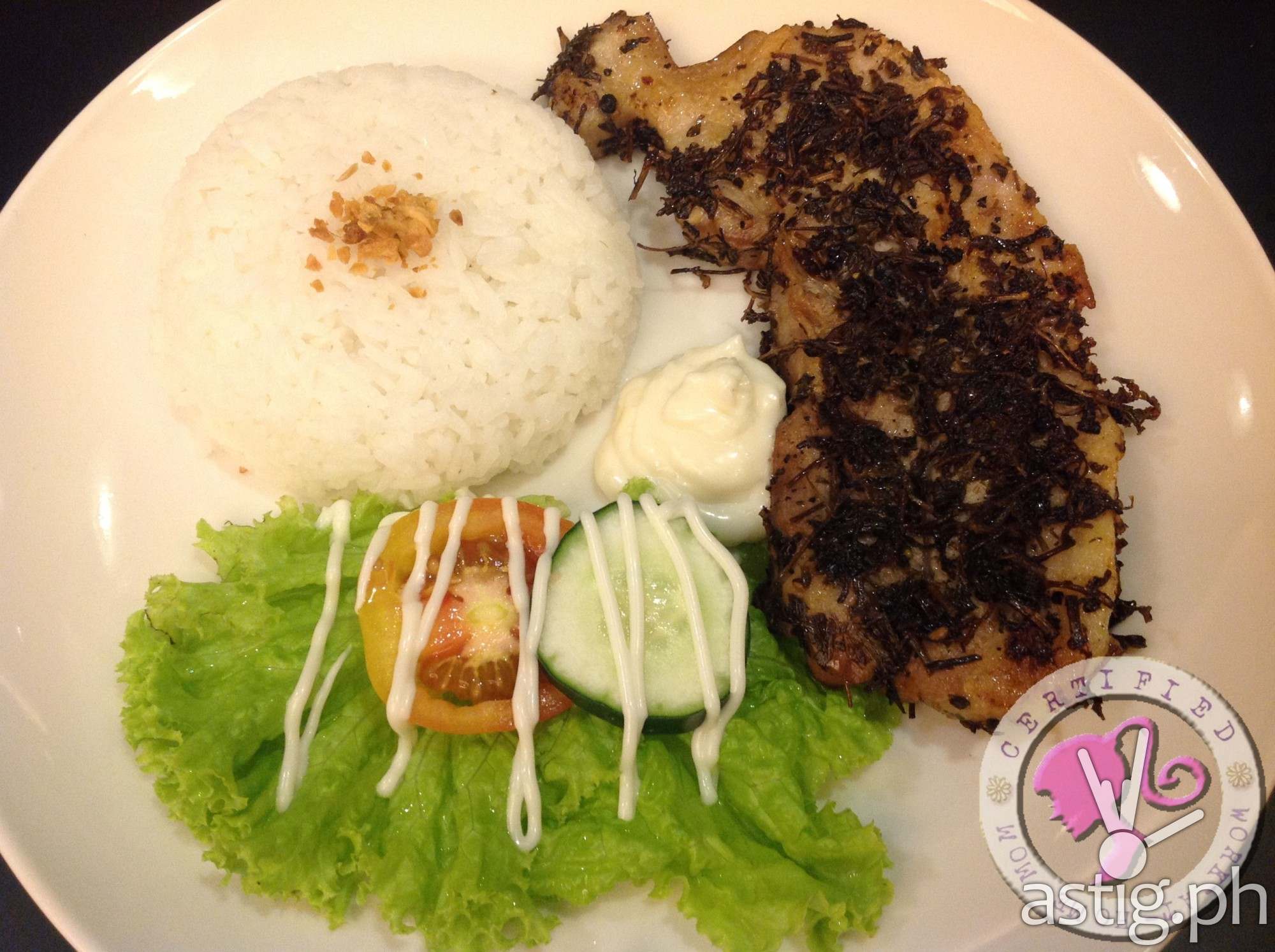 Every bit you can find out from the picture, I think the black toppings will intrigue you as well.  The pork belly was tenderly cooked and generously topped with oregano and other special herbs made perfect with the mayo dip and fresh vegetables on the side.  This is another highly recommended meal for food lovers especially if you are a meat fan.
And of course, a meal won't be complete without a delicious dessert!  Qaldi's special desserts will surely catch your mouth by not so sweet, but irresistible Blueberry Cheesecake, tempting Chocolate Cake and heavenly Chocolate Mousse.  Price for each mini cake ranges from P 175.00 up to P195.00.
 Blueberry Cheesecake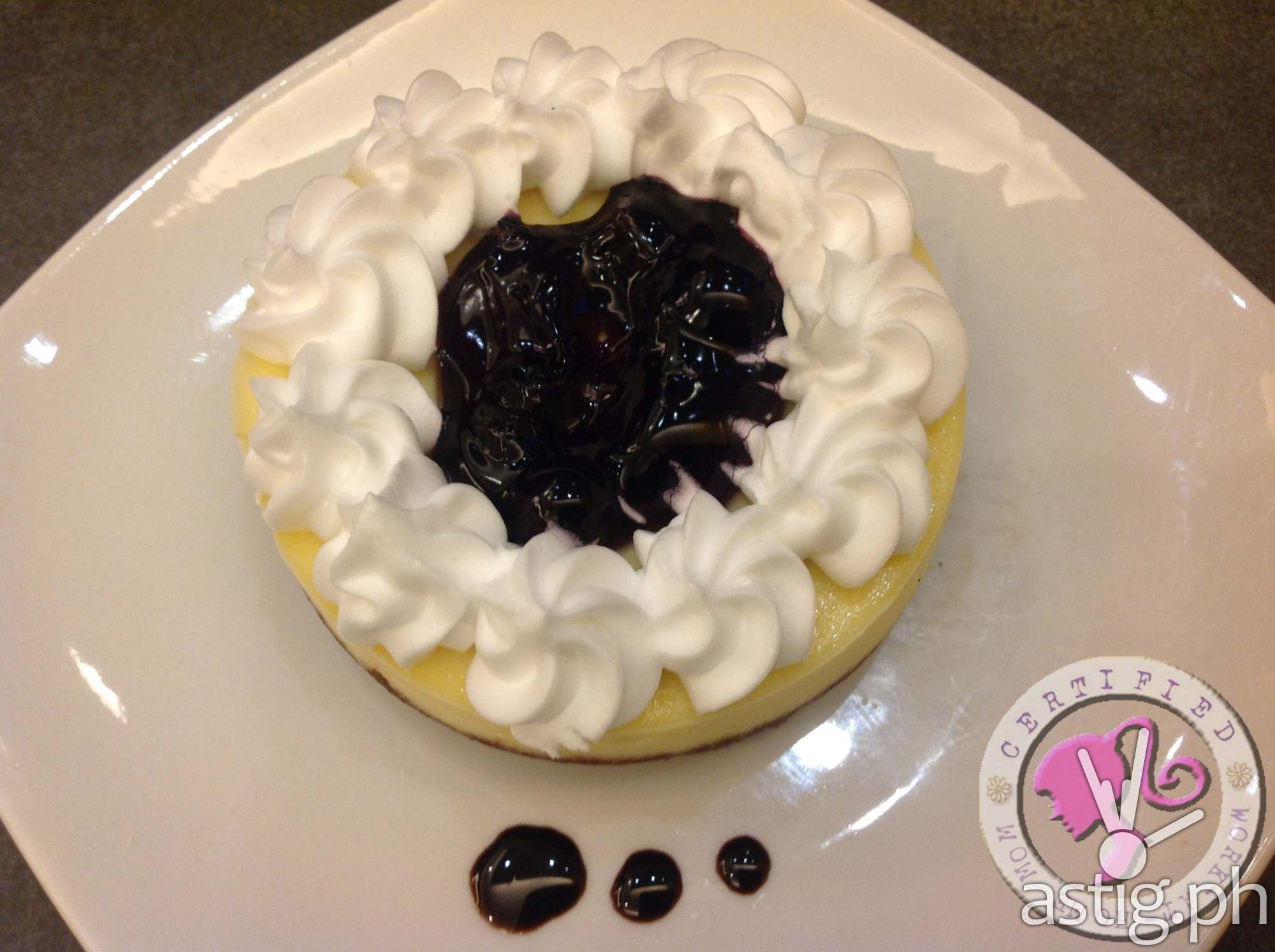 Chocolate Mousse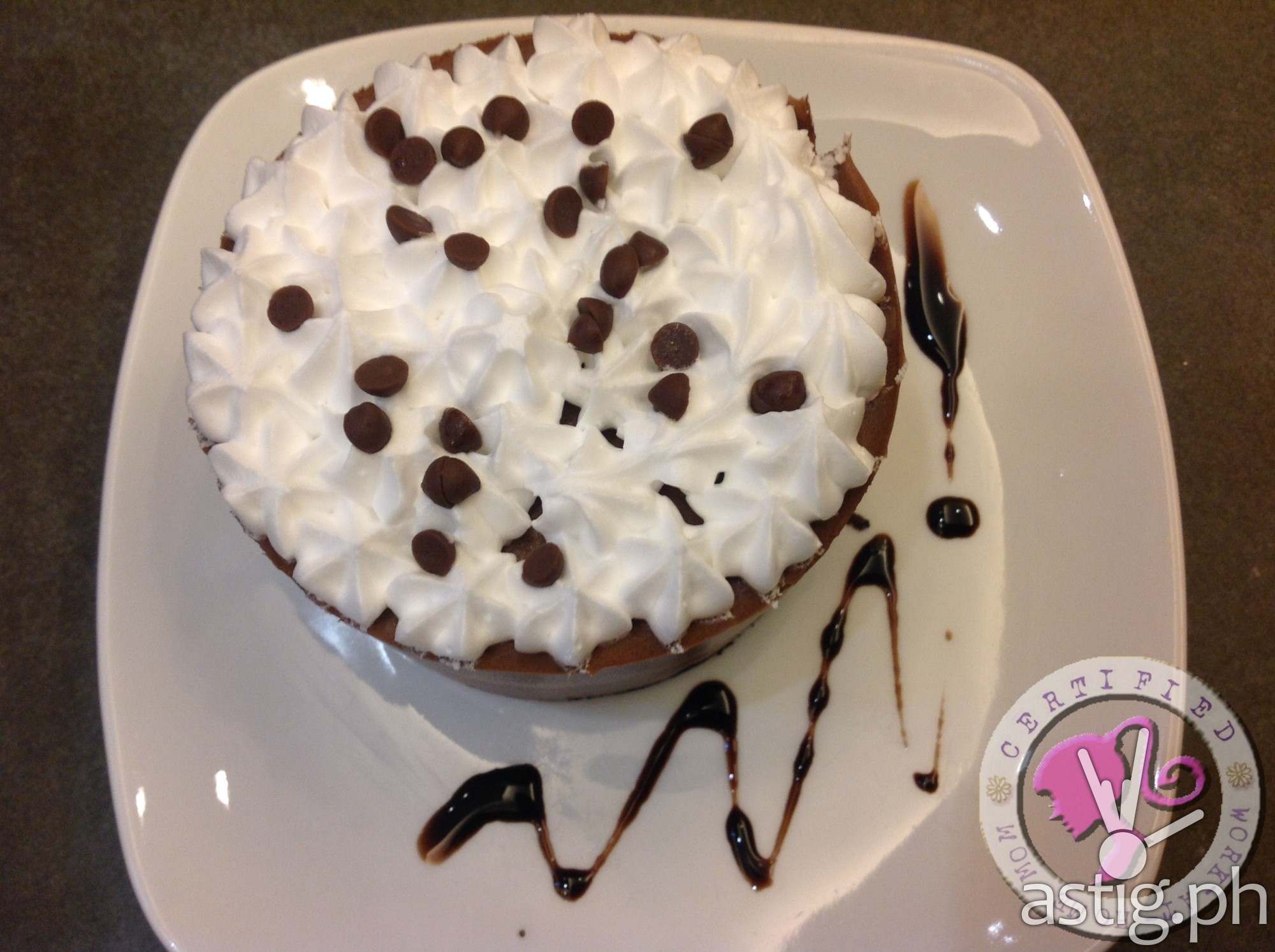 Chocolate Cake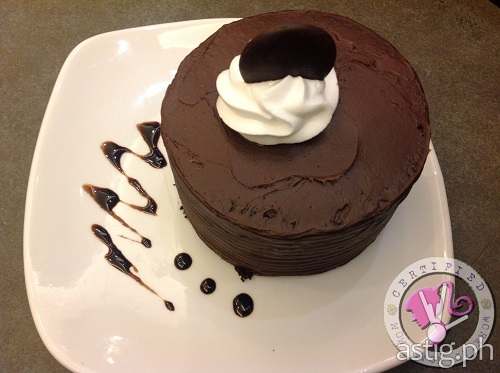 Yummy Cup Cakes are also available for P 95.00 each.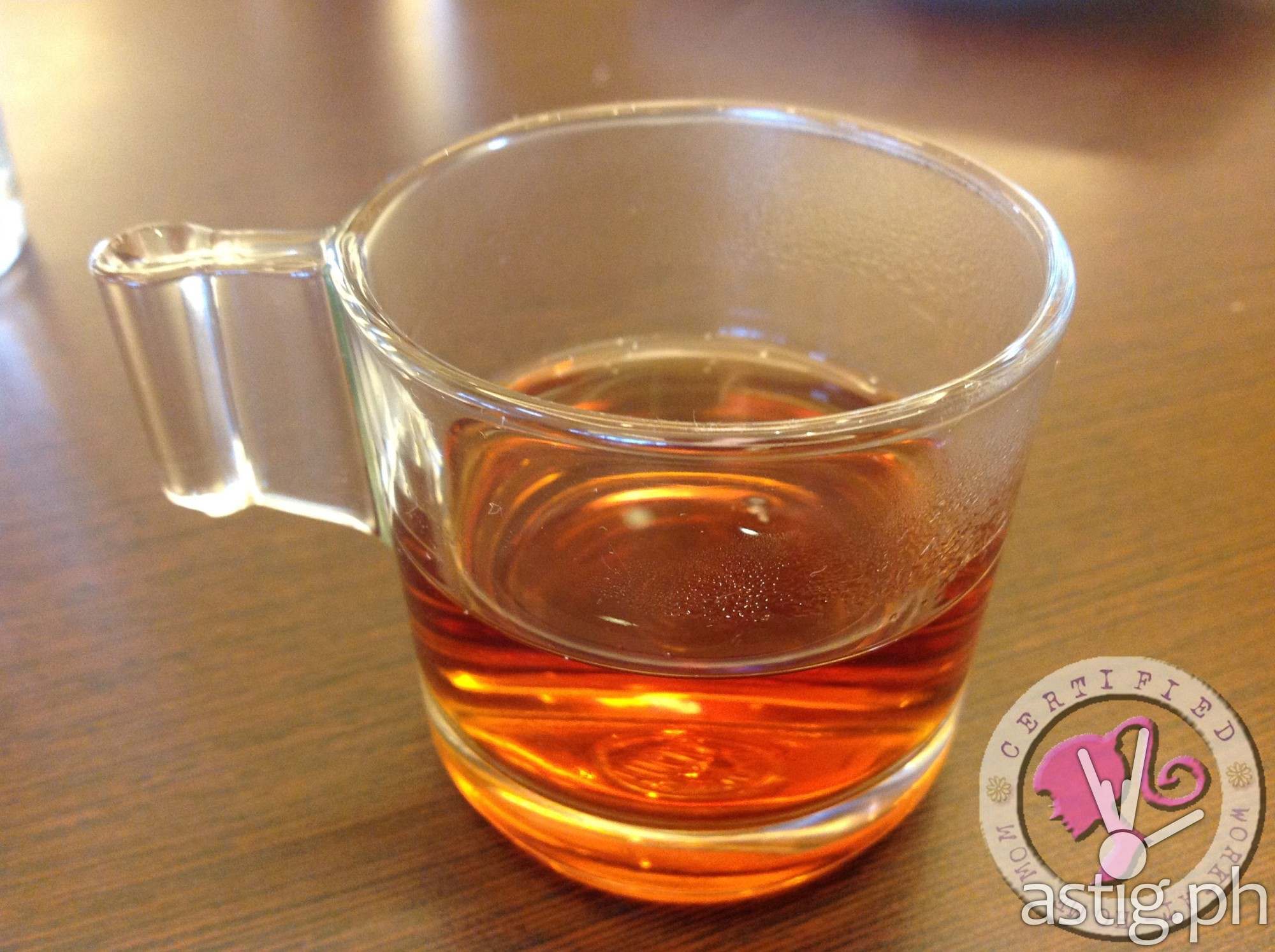 Generally speaking, what I like most of their dishes is that foods are perfectly blended and not salty neither bland or tasteless.  Each meal  was presented well, and the Berry Sensation Tea is actually ideal since it is refillable for only P 95.00, good for 3-4 persons and the aroma from the selection of different berries is truly comforting and feel like the natural fragrance will stick in my apparel.
So if you are looking for another great place to dine, celebrate a special occasion or merely wants to have a food trip, Qaldi Coffee Bar and Café is a highly recommended restaurant in the south.
Special thanks to Mr. Joon Tianzon for the wonderful treat and warm accomodation and to Miss Kathy Kenny Ngo of www.lifeiskulayful.com for graciously hosting the event.
QUALDI Coffee Bar & Cyber Cafe
QALDI Coffee Bar & Cyber Cafe is a new concept of coffee shop and internet cafe in town. Come visit and feel the difference!
Description
QALDI Coffee Bar & Cyber Cafe is a the only gourmet coffee bar in the national road of Muntinlupa City. Soon to be the first and only Cyber Cafe in Metro Manila that offers high-end touch screen desktop computers. The best place to hang-out with your family, friends and business colleagues.
Coffee Bar
Best coffee beans from India

Mix and match coffee flavors for those adventurous coffee lovers

Self-service coffee-making experience like syphon and french press

Offers best tea from Sri Lanka

Offers fresh fruits beverages (fruit shakes and fruit juices)

Serves best pastas and herb bread

Delicious cakes and pastries and sandwiches
Cyber Cafe Features
Touchscreen desktop computer on Windows 8 platform
Tablet and laptop rentals
Fastest internet connection
Fastest Wi-Fi Connection
Conference Room
Conference room for business meetings and small private gatherings
Amenities
Small Room (good for 5 to 6 persons)
Medium room (good for 6 to 10 persons)
Large Room (good for 10 to 15 persons)
Free use of 40″ LED TV's (for presentation purposes only)
Free use of laptop computers (for presentations purposes only)
[stextbox id="astig"]
QALDI Coffee Bar & Cyber Cafe
Phone: +63.915 631.1714
Email: [email protected]
Website: https://www.facebook.com/letsgoqaldi
Store hours: 10:00 AM – 12:00 AM (Mon-Wed) /10:00 AM – 2:00 AM (Thu-Sun)[/stextbox]